New features and innovations came almost every month from Christmas on. Here you will find all you need to know about what is new in Google Shopping in 2018!
---
January 2018: Updated Feed Rules
Along with the amazing Supplemental Feeds add-on, Google also updated Feed Rules in Merchant Center.
When the supplemental feeds were launched late last year, many new feed rules just announced were still "coming soon". This is how the Feed Rules section looks like today:

At first glance, it is clear how Google really wanted to couple Feed Rules with Supplemental Feeds. In fact, the latter couldn't work without the former.
Feed Rules can be applied on both Supplemental and Primary Feeds. Also, they allow to 'copy & paste' values from one to another through the 'Set To' rule.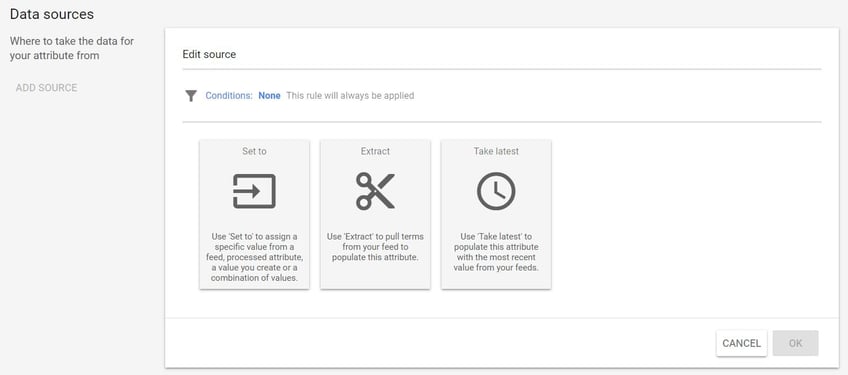 February 2018: Google Shopping started showing ads from competing shopping engines
In February 2018 EU advertisers might have got surprised in seeing something like this: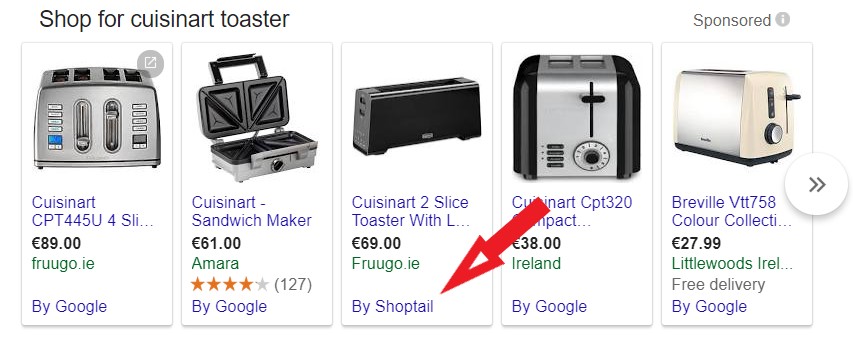 or this...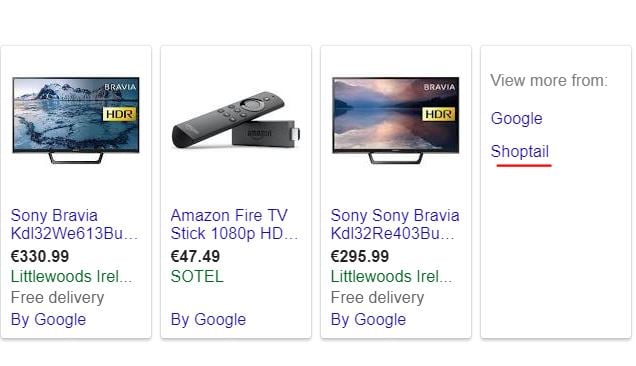 The inclusion of ads from competing comparison shopping engines (CSEs) is part of Google's response to an antitrust massive fine issued by the European Commission last summer.
It's hard to forecast if this change is here to stay or Google will pull back after the appeal process. What is certain though, it is the massive opportunity third party CSEs can get meanwhile.
With shopping ads eating text ads, everybody wants a slice of this super-profitable cake. The bad news for smaller advertisers here is that, as expected when competition grows, PLAs have become more expensive.
CPC growth on Google Search doesn't seem to stop with +13% year-on-year in Q1 2018.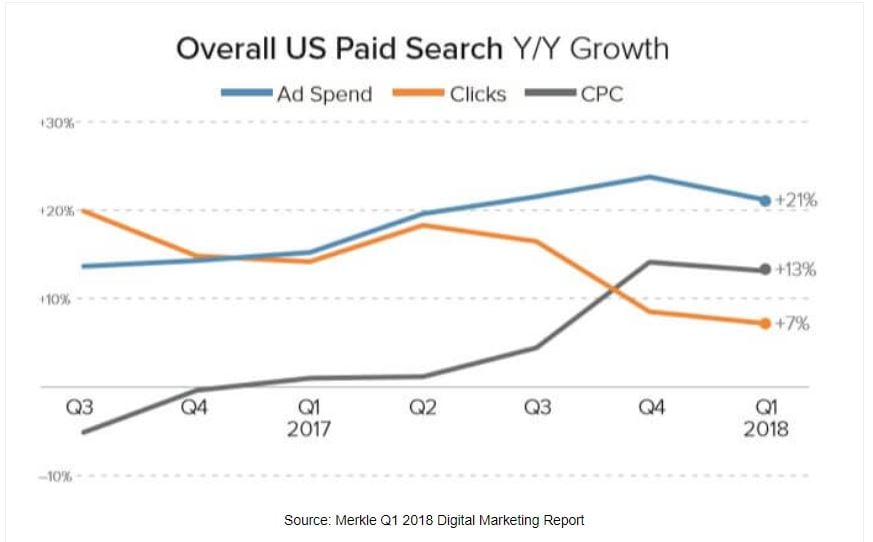 ---
March 2018: Google Shopping Actions
The launch of Shopping Actions was among the greatest news from Google in the first half of 2018. We covered it extensively in an early-June post.
Google Shopping Actions allow users to have a streamlined shopping experience across all Google properties and devices.
Customers can now shop effortlessly across Search, Shopping, desktop, mobile and Google Home devices using a universal cart, shipping and billing info stored in their Google account. Unfortunately, the program is currently only available in the US and reserved to advertisers who meet certain criteria.
You can express your interest in the program and apply using this form.
It is hard to tell when this will be available in Europe and across a wider range of clients. Definitely, it represents a massive opportunity for advertisers who can participate.
In fact, the possibility to checkout directly from Google and functions like click re-ordering, personalized recommendations, and a universal basket-building, increase customer loyalty and engagement turning one-time shoppers into repeated customers.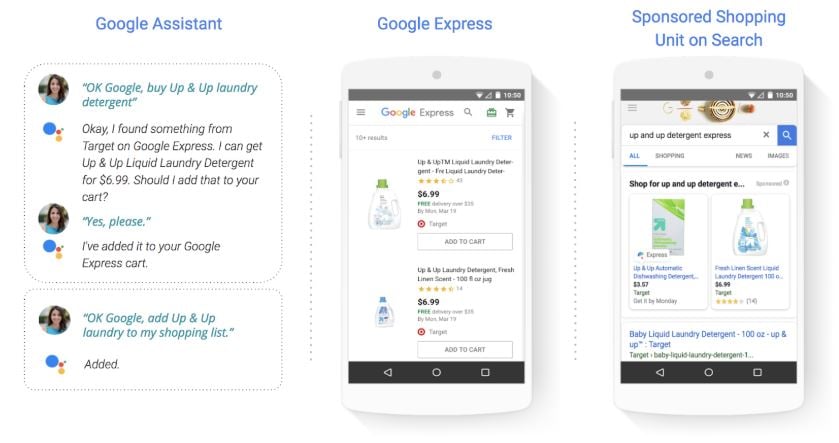 A streamlined, frictionless shopping experience across multiple devices is something smart shoppers have eagerly awaited for long time. Advertisers who will manage to capitalize on this need, will win a huge competitive advantage.
---
May 2018: Goal-Optimized Shopping Campaigns
In an effort to add more automation to AdWords (soon simply Google Ads), Google launched Goal-Optimized Shopping Campaigns, also known as Universal Shopping Campaigns.
Goal-Optimized Shopping Campaigns allow account managers to set a shopping campaign on AdWords in just a few clicks.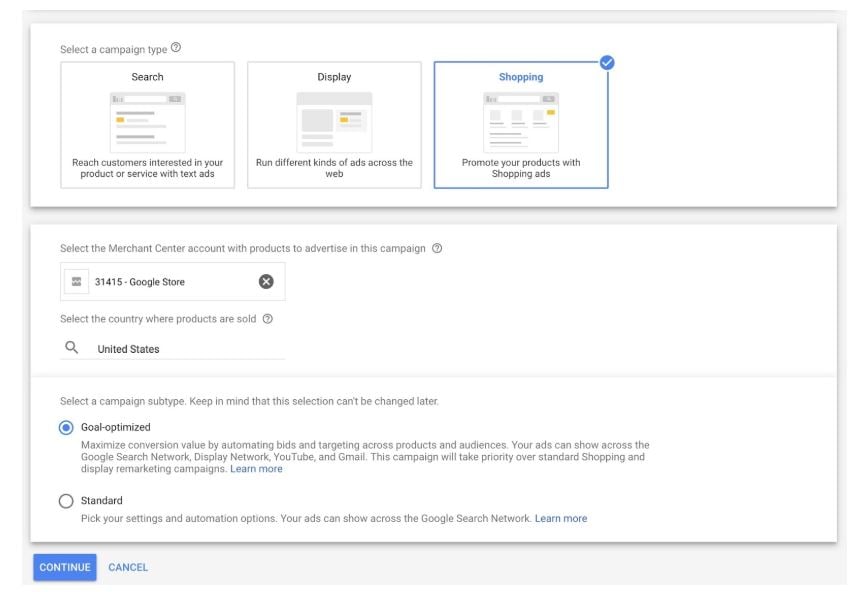 You will no longer need to spend time over-segmenting your products in small product groups or setting up multiple campaigns' priority.
In fact, the only bid strategy allowed for this campaign type is Target ROAS. Google argues that once you have a feed and a conversion tag set-up all you have to do is choosing a target ROAS, sit and relax.


The system will do the rest for you.
Which means showing the right products to the right audience at the right time. This is achieved through new AI algorithms which take into account multiple signals coming from devices, time of day, location, audience lists, customer behaviour etc.
The more signals you give to your campaigns the better. This is why Google always recommends adding as many audience lists as possible to your campaigns.
Another requirement needed for setting up Goal-Optimized Shopping Campaigns is having a functioning Remarking Tag enhanced with custom parameters. This is because, from now on, your products won't just show on Google Search, but on the GDN, YouTube and Gmail as well!
This is pure magic. Goal-Optimized Shopping Campaigns will also show dynamic ads on the Display Network, YouTube and Gmail. Basically, you won't need a Dynamic Remarketing Campaign anymore!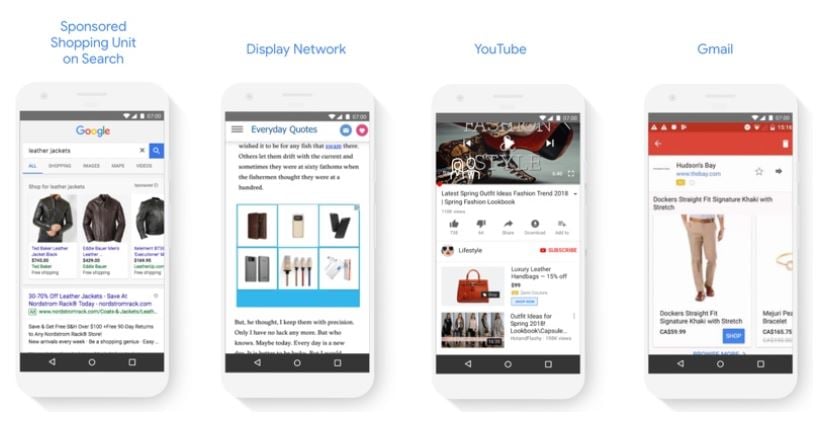 Early testers already experienced incredible results:
Brazil-based

Newlentes

saw an increase of 57% in revenue at a 61% higher return on ad spend (ROAS).

Turkey-based

n11.com

saw 23% more revenue at a 9% higher return on ad spend (ROAS), Google stated in its

blog post

.
The only downside we can think of at the moment is the lack of reporting transparency.
In fact, as of now, you can't report the display side of the campaign separately from the search one. This is quite a big issue given the massive difference in performance between PLAs and dynamic ads on GDN, YouTube and Gmail.
You might experience a lower conversion rate and possibly a lower ROAS for this campaign type than for regular Shopping campaigns. But the deal is that you should see an improvement overall when comparing its performance with Dynamic Ads, YouTube and Gmail campaigns combined
Google recommends starting to try them out targeting only a small product group. If the performances are satisfactory, then you can expand to the full feed and get rid of old shopping and dynamic remarketing campaigns.
---
Coming Soon: Product Price Benchmark and Local Inventory Ad Unit
Soon, Google Shopping advertisers will be able to compare their product prices against those of competitors through a new report in AdWords.
This will help marketers bid more aggressively on products that can compete price-wise and less on those that can't. It will also be an insightful report to see how price impacts performance.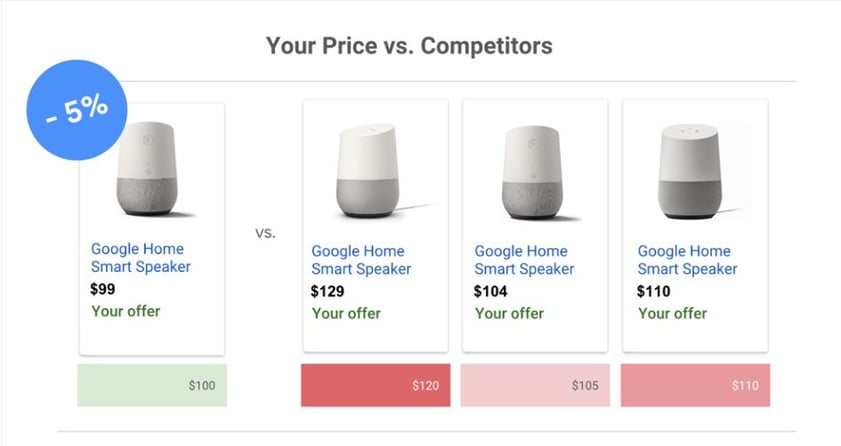 Local Catalog Ads in Display
Since the end of June, a new local catalog ad unit for the Google Display Network has been available to retail advertisers with physical locations. This mobile-only display ad unit features a hero image followed by product cards of inventory available locally.
The product cards show 'in-store' availability and pricing. In order to take advantage of this new ad unit, advertisers need to submit a local product inventory feed in Merchant Center. Find more information here.
---
Conclusions
With shopping ads getting more and more click share on the SERP and comparing shopping engines like Google Shopping becoming a must for online retailers, marketers need to keep the pace with industry news and innovations in order to stay ahead of competitors.
Taking advantage of all the new features Google releases is not an easy task, also because many of those are only available to a limited segment of advertisers.
However, taking the time every week to browse around and test new strategies and features is a must-do good practice to stay competitive in this ever-changing industry.