If you are wondering what can you do to further drive in-store sales, Facebook may have the answer. Facebook Dynamic Ads for Retail allows targeting by specific location and showing ads specific to the user's location.
To understand how Dynamic Ads for Retail can increase offline sales we have a look at how they are different from normal dynamic ads on Facebook, how to set them up and what are the best practices.
Facebook Dynamic Ads for Retail: How it Started
Last year, Facebook made the announcement that they will be expanding the capability of their PPC ads for retailers. To do this they have introduced further features aimed at helping businesses with a physical location. This comes after they recognized that 49% of in-store purchases are influenced by digital interactions - the majority of these happening via mobile.

You may also find useful: Facebook Product Ads for Retailers: All the INs and OUTs
To a user they look something like this:

Those familiar with Google Shopping may notice similarities between Local Inventory Ads and Facebook's Dynamic Ads for Retail. Both platforms are offering product ads to be shown to users within a local proximity and offer further information about both the product and the nearest store.
---
How Does it Work and How is this Different to Normal Dynamic Product Ads
So what has changed and how is this different to normal dynamic product ads? Here's how Store Visits campaigns work:
Facebook dynamic ads offer targeting based on a user's online behavior and expressed interests. Dynamic ads for retail has introduced layering this with information from the physical store.
Store visit campaigns direct users to the physical store in which the product(s) are being sold.
It also delivers information such as item availability, price, and special offers.
To further improve the start to end process and user experience, retailers are also able to target users based on their likelihood to shop in-store.

This not only helps retailers reach new audiences but maintain the relevancy of the ads they are showing to users.
---
How to Set up your Facebook Locations
First of all, you'll need to set up Facebook Locations. This is paramount as it allows you to connect and manage your business in all locations in just one business manager.
There are two ways in which this can be done:
Request Locations: This is where you request access to each of your locations and let Facebook collate and create pages for your business. For further help, this can be done on the request locations help page.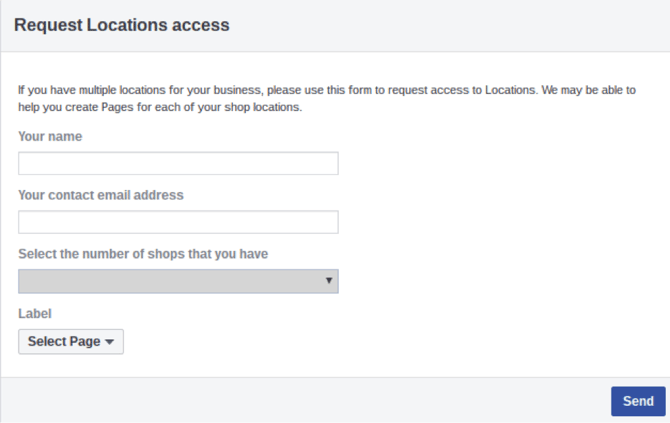 Add them with the Business Manager: Arguably the better way to add your locations is to add them manually within the Business Manager. This can be done by going to 'business locations' - clicking add location, selecting a current page or selecting 'add new page' and following the process to complete the creation of a new page.
Once these steps are selected, you will then need to connect the locations pages to your 'Main Page'.
---
Create a Store Visits Campaign
Now that you have your Business Manager and locations set up you can begin the process of creating ads specific to your page locations.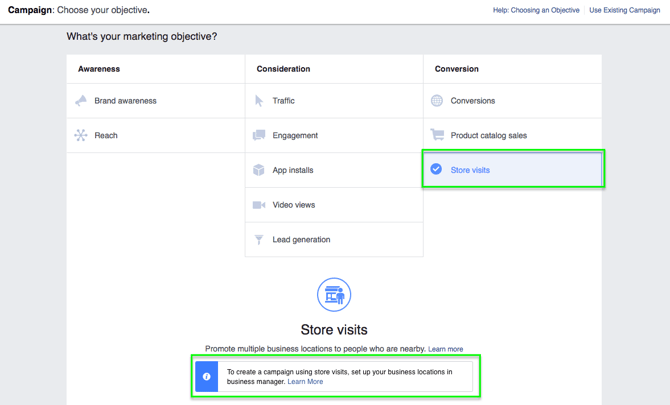 Create a Store Visits campaign by selecting 'Shop Visits' from the list of marketing objectives.
On the next page, you will have the option to select the business locations you wish to run your ads for. Your ads will automatically target a specific radius that reaches 50,000 people however, this radius can be reduced or increased.
Continue the process of creating ads the way you ordinarily would for Facebook ads, including layering with targeting and creating your single image, video or carousel creatives and subsequent text.
When it comes to reporting, as you would with any other Facebook campaign, go to Advert Manager where you will find the main stats per campaign. These statistics can be broken down by location and you will be able to see little extras such as shop visit and demographic breakdown should there have been over 100 visits to your store.
---
Facebook Dynamic Ads for Retail Best Practices
So now that you have your Store Visits campaign set up and you are ready to drive more customers to your store, there are a number of best practices to bear in mind to help you get the most out of your ads.
Take advantage of adding a map card: This is only available if you are using carousel ads. This will place a map in one of the carousel sections which will update its locater in order to show the shop location nearest to the Facebook user.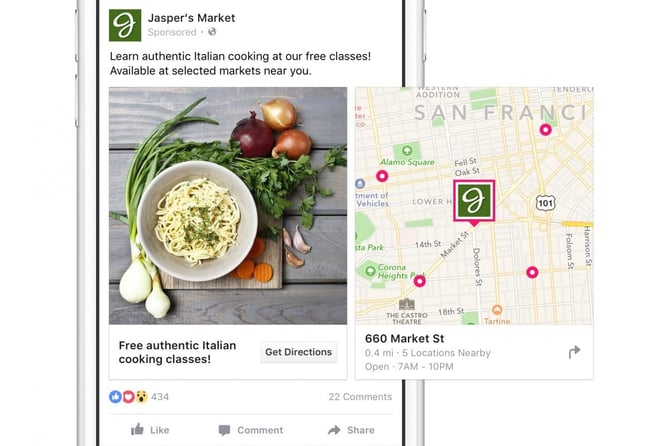 Dynamic Call To Action Buttons: This will use call to actions relevant to each location. Extra call to actions include 'Get Directions' available only when running a store visits campaign.
Follow Facebook's Design Recommendations: Whilst Facebook has become a little more lenient lately in terms of image requirements, it's still best to follow their recommendations. For example, your campaign may be hindered by being shown less often when using too much text in the image.
This could result in competitors being shown more often or doing your business a disservice with imagery that doesn't represent you as well as it should.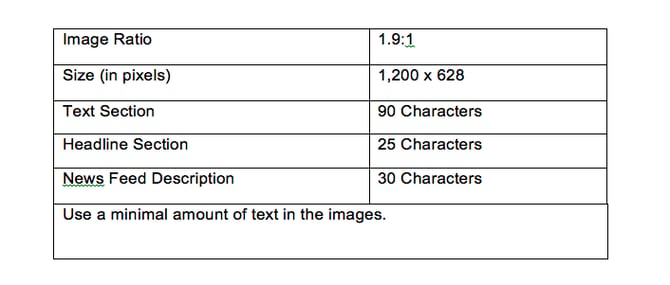 Split Test: You're probably already fed up of hearing it, but it is always worth split testing to find if the ad can be improved. Trial different ad text, final URLs and different images and so on. Also, changing your ads regularly (around every 2 weeks) keeps them new and exciting if you serve the ads more than once to the same person.
Frequency capping: Much like any other PPC campaign across all platforms, it's worth considering a frequency cap. This avoids the brand coming across as spammy or wasting money by throwing ads at the same person in a short space of time, especially if you're bidding on a CPM model.
---
Conclusion
When it comes to deciding whether or not you should be using Facebook dynamic ads to drive sales, the best thing you can do is try it. It has been designed to marry up the level of online interactivity prior to purchasing an item with the actual in-store purchasing process itself. If you have a number of brick-and-mortar locations, it could well be a game-changer for you.
If you are an online merchant and you have found this post useful, then you'll probably find our eBook How to increase your Facebook Product Ads ROI useful. Download it and learn how to improve your Facebook Dynamic Product Ads Campaigns.
Discover more Facebook-related content you may find useful: