Often receive incomplete product feeds from your clients
Want to save time and skip manual work that could be automated
Want to build a more efficient workflow for optimizing data sets for your campaigns
Manage eCommerce clients with highly dynamic store inventory
Collaborate on client accounts with other ad managers in your agency to manage multiple channels (eg. Google, Facebook, Pricerunner, Kelkoo)
Have eCommerce clients with similar needs or within the same POS systems
Use this guide for solving the most common problems found in PPC management teams.
---
Download the full Guide to Feed Management Tactics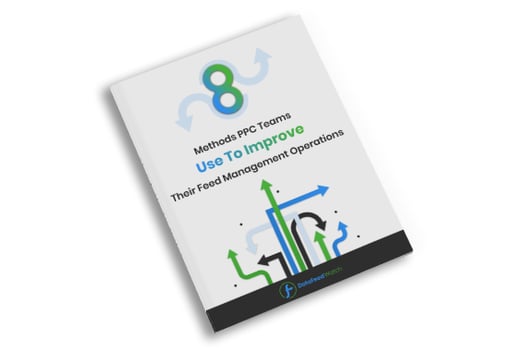 The 8 tactics covered in this guide
Below is a summary of the 8 tactics covered in the guide. Each method is further explained in the full guide with steps to put each one into action.
1. Make sure your clients' product data submitted to sales channels is always up-to-date
Use this method to:
Increase the relevancy of your clients' ads
Avoid irrelevant clicks
Optimize your advertising costs
Increase your ROI
As an agency dealing with your clients' product feeds, you need to make sure that they are always up-to-date and avoid situations when you run campaigns for products that are out of stock. In order to have this kind of control over your clients' product data, you need to automate the product feeds.
---
2. Centralize: Create and store your client's feeds for all channels in one place
Use this method to:
Speed up the process for getting products live on sales channels
Easily expand to other channels


Most of your clients probably want to sell and advertise on multiple channels. And, as we all know, there are different feed requirements on different platforms. Creating product feeds according to the rules of specific channels is made simple through pre-defined templates.
Download the full [GUIDE] Feed Management for PPC Teams
---
3. Validate feeds before submitting
Use this method to:
Avoid any disapprovals of the products
Avoid delays in displaying your clients' ads
Increase the quality and relevancy of your clients' ads
Optimize your advertising costs
Detecting discrepancies between your client's data and the channel's requirements prior to submission will ensure you avoid downtime, or even account suspension.
---
4. Create master feeds and copy feed set-up between clients
Use this method to:
Speed up the process of listing products
Simplify your work with feeds
Easily expand to other channels
You've certainly got clients with similar needs. For example, some of your clients have their store based on Shopify and have a similar structure of information in their store. In this case you don't need to start with each client from scratch. Instead, you can create one main feed set up and copy it to your other clients' accounts.
---
5. Merge your clients' product data
Use this method to:
Organize all your client's product data
Use consolidated product data across paid channels
Make sure your clients' feeds contain all the possible information
Create custom labels based on merged sources of data
In order to improve your clients' campaigns, a more data-driven approach is needed. A solution could be merging all the sources of data together and using them for feed optimization.
Download the full [GUIDE] Feed Management for PPC Teams
---
6. Shift the control of feeds from IT to the Marketing department
Use this method to:
Roll out changes for your clients' product listings at speed
Gain more control over quickly introducing new ideas and testing
The times when you had to rely on the IT department for all the work on your client's product feed are long gone. Nowadays, all campaign managers in the agency can learn how to do it and contribute themselves.
This solution allows you to equip your team with an independent feed tool.
---
7. Create a shared work environment and simplify accessing and managing your clients' feeds
Use this method to:
Improve cooperation in your PPC team
Make the work on the clients' feeds easy for everyone
Gain control over the level of access each team member has
Besides not relying on the IT department for making any changes in your clients' feeds, it is also important to reduce issues connected to working together as a team. Oftentimes, your coworkers within the PPC team work with one client. Using a shared account eliminates this problem.
Download the full [GUIDE] Feed Management for PPC Teams
---
8. Use custom labels
Use this method to:
Manage PPC campaigns more efficiently
Simplify the process for creating more and less complicated rules
Gain more control over the bidding strategy
Easily segment your clients' items in your campaigns
Custom labels can be seen as just another attribute that you can add to your client's product feed. These can be very useful when you run a shopping campaign for your clients. Custom labels allow you to identify, group, filter, and structure products in the feed.
---
Discover all 8 ways to eliminating common issues found in your PPC team
Download this guide and get an in-depth look at all 8 tactics. You'll learn about the solutions to common problems you and your PPC team frequently face and get practical advice on how to further optimize work within your team.