Online shoppers love feeling like they've gotten a special deal. And according to Google, 40% of shoppers use Google to find them. It's not always possible to have lower prices than your competitors, but there is another solution - Google Merchant Promotions.
Google Promotions allow you to show special offers within your Shopping Ads. Shoppers will be able to click on a link that opens a pop-up. This pop-up contains more information like a discount code that can be used at checkout, for example. Your ads will become more eye-catching and stand out from competitors.
The average consumer won't want to miss out on the special deal you're offering and will head to your site to take advantage of it. This will lead to a higher click-through rate (CTR) and consequently, a higher conversion rate.
We'll cover everything you need to know, like the requirements, how to implement Promotions, and essential best practices.
---
What are Google Merchant Promotions?
Google Merchant Promotionsenhance shopping ads by showing special offers such as:
Giving a lump sum discount (ex. $10 off)
Giving a percentage off of the price
Buy-one-get-one (BOGO) offers
Free shipping
Free merchandise with purchases
This is how they appear on Shopping ads on the SERP. You can see that one highlighted text mentions there's a special offer and the other advertises free shipping. The first is a promotion, and the second is just giving shoppers more information.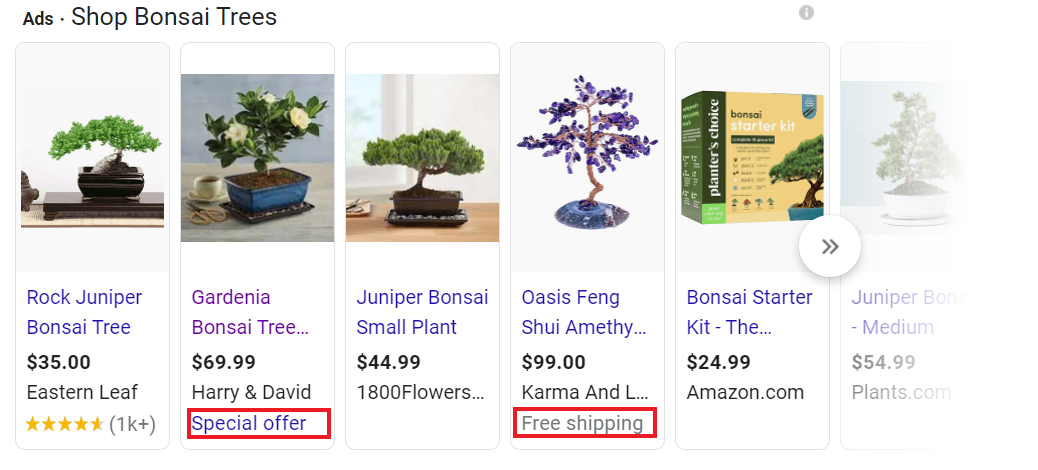 Promotions need to give shoppers an added value at checkout. You can tell that the one that says 'Free shipping' isn't a promotion, because you're not able to click on it and because their site offers free shipping on all orders in the US. But, after clicking on 'Special offer' a pop-up box appears with a discount code that shoppers can use at checkout.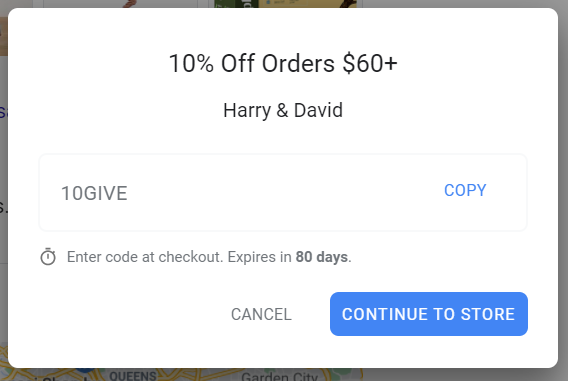 You can also see them used in action in Google's Help Center video:
Merchant Promotions are labelled in shopping ads with an annotation which triggers a pop-up with additional details and a "Shop" button. They proved to significantly increase CTR and ultimately Conversion Rate, Revenue and ROI.
Office Depot, one of largest suppliers of office products and stationery in the world, stated in a Google case study that thanks to Merchant Promotions it managed to increase CTR by 8.1% in the UK and 9.8% in Germany as well as Conversion Rate by 18.1% in the UK and ROI by 9.3% in Germany.
Those outstanding results don't come as a surprise. In fact, it goes without saying that online shoppers love discounts. It is how you communicate your offer and how many users you are able to reach that makes all the difference.
Google Merchant Promotions allow you to show your discount to a massive audience at no additional cost, securing the best ad placement you would ever think of: the very top of the Google Search Result Page.
Autumn of 2020 brought users the possibility to see if the price of the product is "high, low, or normal" compared to other prices on the internet and nearby stores.
Price statistics are displayed on the product purchase pages when the user clicks the listing in the purchases tab. If they want to try to wait for a better price, they can turn on "price tracking" to receive alerts by email or in the Google app.
They enable comparing prices and shipping options for both online and local retailers, including curbside and in-store pickup.
Shopping Ads always appear at the top of the SERP (Search Engine Result Page) and are one of the most prominent elements on the page. The way they appear on Google often changes.
Promotions can also appear on both free and paid listings on the Shopping tab (opt-into surfaces across Google in Merchant Center to enable free listings), Mobile Image Search, and Local Inventory Search Ads.
Learn about Free Advertising on Google Shopping
---
Pros and cons of using Promotions
Google Merchant Promotions are generally a great idea to use for retailers, and the drawbacks come mostly from the limitations. Let's take a look.
Benefits of using Merchant Promotions
The main benefit of using promotions with your Shopping campaigns is that it helps you stand out from competing items on the SERP. But there are some additional positive impacts:
1. Increase your conversions
Shoppers will be given an incentive to buy right away so they don't miss out on the good deal.
2. Works for multiple kinds of merchants
If you have a high end brand and don't want to decrease the value of your products with a discount, you can use something like the free shipping or free gift one instead - something that adds value without disrupting your brand's image.
3. They're free to add
Adding promotions to your ads only costs you the time it takes to set them up. It's important to note, however, that you'll still need to pay per click.
4. Multi-screen traffic
Promotions show up on mobile and desktop ads, so you'll be able to draw in clicks from both.
Drawbacks of Promotions
We'll go through the specifics of these drawbacks in the next section to help you work around them when possible.
1. Geographic availability
So far, there are only 7 countries where promotions are available to use.
2. They can be a bit tricky to set up
Along with being in the right country, you need to make sure that they follow all the policies in order to qualify.
3. You need to wait for them to be approved
The review process of a new promotion might take up to 3 days. Therefore, you really want to make sure you've created them correctly. Otherwise, the back-and-forth with the Google tech support might significantly delay your promotions going live.
Since October 2020 Google has started approving promotions much faster and advertisers are able to edit them once they are posted. In the past, slow promotion reviews often meant short-lived sales.
That should be less likely to happen starting from the 2020 holiday season. Editing promotions allows advertisers to counter check the time and duration of the promotion.
---
Before you get started: Google Promotion requirements
In order to start using promotions, you'll need to fill out the request form.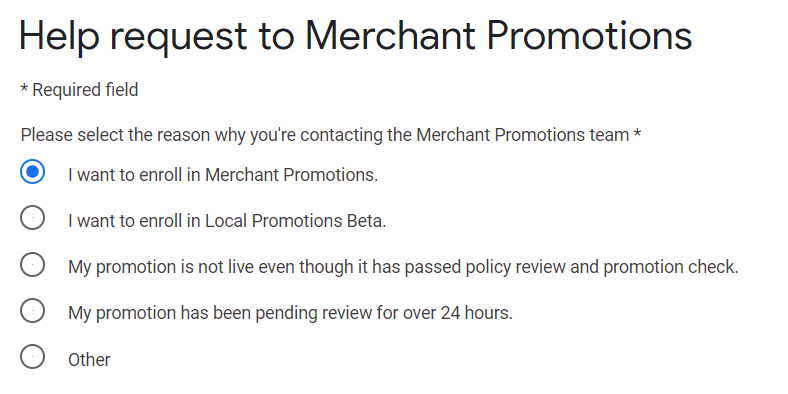 When filling out the form you'll need to provide your information related to you and your Merchant account.
But, before filling out the request form make sure you have:
A Google Merchant Center account
Products that are actively running

And are selling in one of these available countries:
Australia
Canada
France
Germany
India
the UK
the US
There are nine main policies to follow to successfully run Promotions.
Make sure your promotion adds value for your shoppers.


You'll need to be following all Shopping Ads policies.


Follow Google's editorial requirements for your titles.


Your shoppers should be able to redeem the promotion without needing to take additional steps like signing up for something first.


Your promotion can't be restricted to a specific group like first-time customers or teachers.


Your promotion needs to be super clear, especially if it's only for certain items.


The promotion needs to be made clear at the checkout stage of the purchase, because it's an added value.

You must provide a valid promotion code for shipping related promotions so that it's considered 'added value'.


Make sure you're following all the guidelines

for combined promotions.
In a nutshell: The most important takeaways from these requirements is that your promotions should always add extra value during checkout (not on the landing page), they need to be very clear, accessible for everyone, and shipping codes always need to be valid.
After your request is accepted, you'll receive an email with more information and the Promotions tab will appear in your Merchant Center account's sidebar.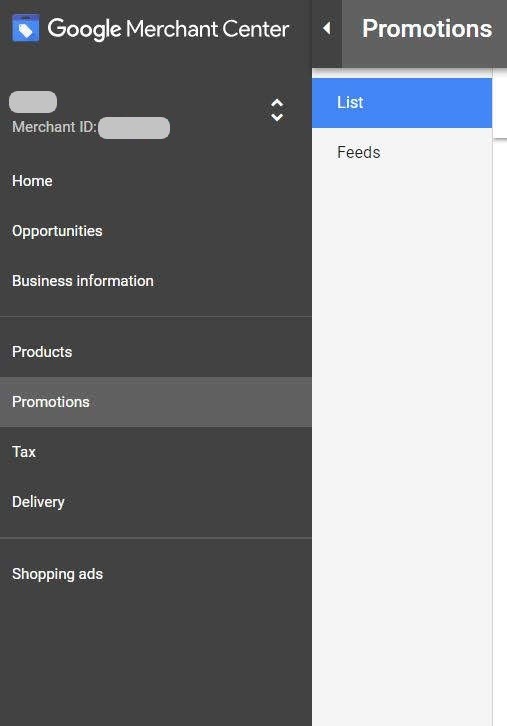 Now you're ready to get into the good stuff - creating your Promotions.
Learn about Free Advertising on Google Shopping.
---
Google Merchant Promotions approval process
The next step is deciding how many Promotions you want to set up. In fact, you can have up to 500 promotions running at the same time. They might be on different subsets of products or simply working with different mechanics.
Before we take a look at each method, it's important to be familiar with the approval process. It should take anywhere from 12-24 hours to complete so it's best to submit as soon as possible.
There's two steps to the process of getting your promotions approved:
The policy review - This review is done during weekday business hours, so it's good to factor that in when you submit your promotions. It just checks to make sure that they adhere to all the

editorial requirements

and

program policies

.


The validation review - This review happens once your promotions go live to ensure that they're all valid and working.
You can see an overview of the whole process in the map below: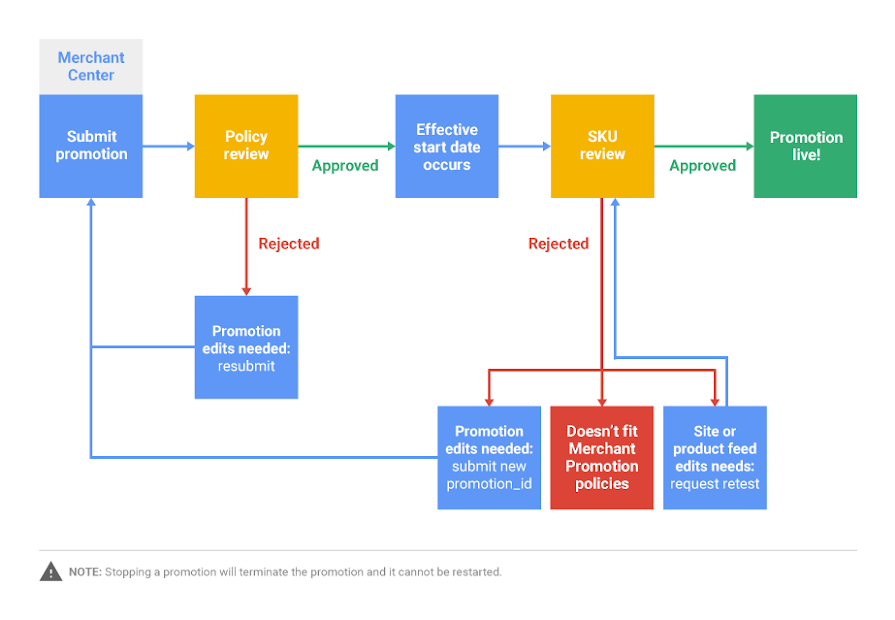 ---
Creating Google Merchant Promotions in a feed solution like DataFeedWatch
The option to add a Google Promotions feed in DataFeedWatch is activated after a Google Shopping channel is added.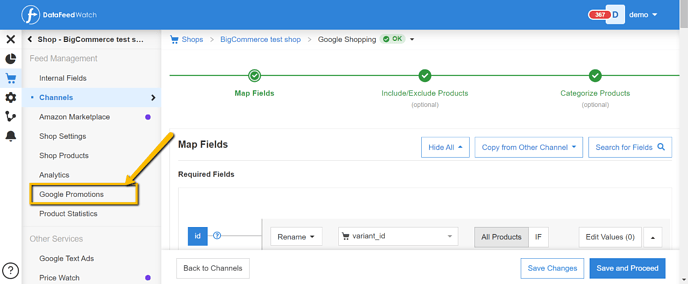 The promotion feed can contain multiple promotions, just like a product feed can contain multiple products. Each promotion must include the following fields:
Promotion_id

: the unique ID of the promotion.
It should not contain any spaces or symbols. If you want to limit the promotion to a specific group of products you need to provide the same promotion id for those products in your standard Google Shopping feed.
E.g. if you create a promotion with promotion_id = ASICS_PROMO, which should apply only to Asics products, then in your Google Shopping feed you would map promotion_id field something like this:

Product_applicability

: specifies whether the promotion is applicable to all products or only specific products.

Offer_type

: this attribute indicates whether or not a coupon code is required for users to redeem the offer.

Long_title

: this is the full title of the promotion. It should describe the promotion completely and accurately. Maximum length is 60 characters.

Promotion-effective_dates

: the date and time frame when the promotion is active.

Redemption_channel

: Indicates that promotion is valid online

Once the feed is created in DataFeedWatch it is available under a URL, just like any other feed. This URL can be later provided when adding a promotions feed in the GMC.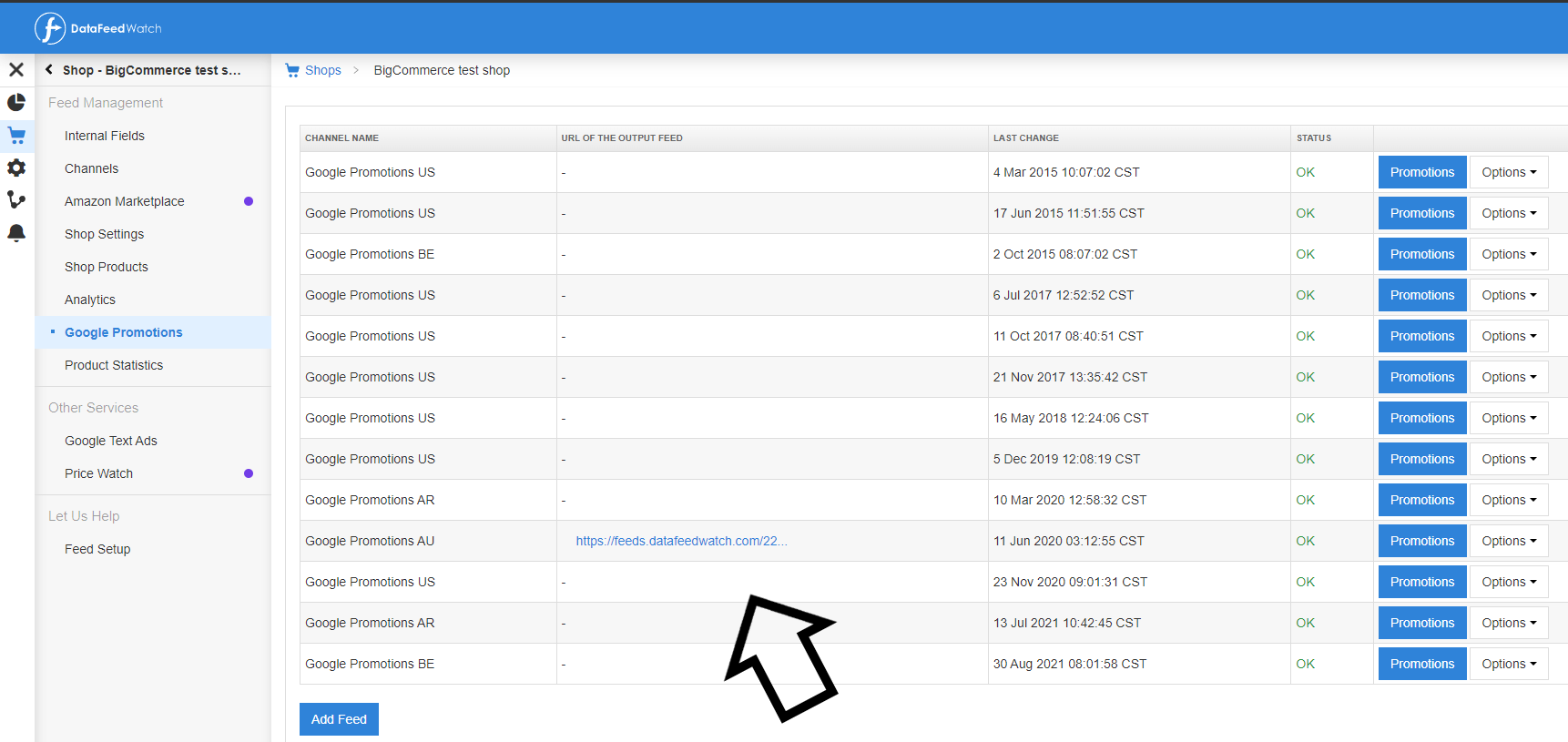 Once feeds are ready, you can upload your Promotions Feed by clicking the '+' button in the 'Feeds' tab under the Promotions section in Merchant Center.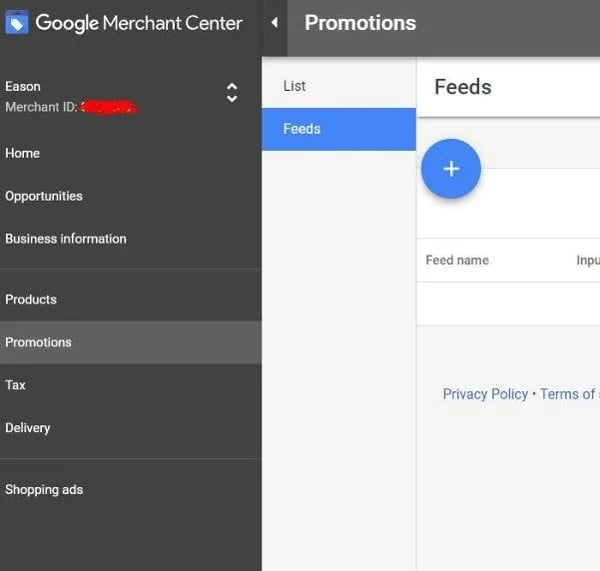 As for regular product feeds, promotions feeds can be uploaded via Google Sheets, scheduled fetches or a single spreadsheet upload.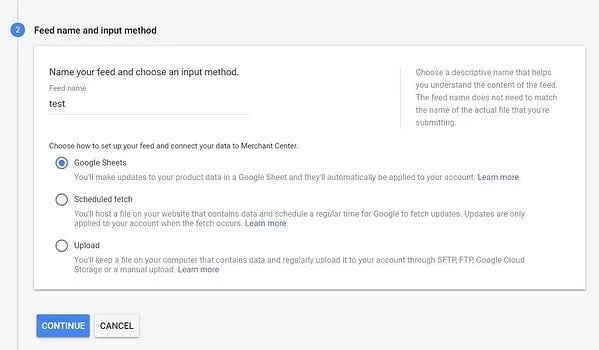 Just follow these steps and you'll be all good to go.
---
Other methods of creating Google Merchant Promotions
1. Adding Google promotions manually
If you think you're just going to create one promotion at a time, then you can comfortably use the built-in Promotion Tool in Merchant Center.
You can do it in two steps:
Simply click on the + button in the Promotion section.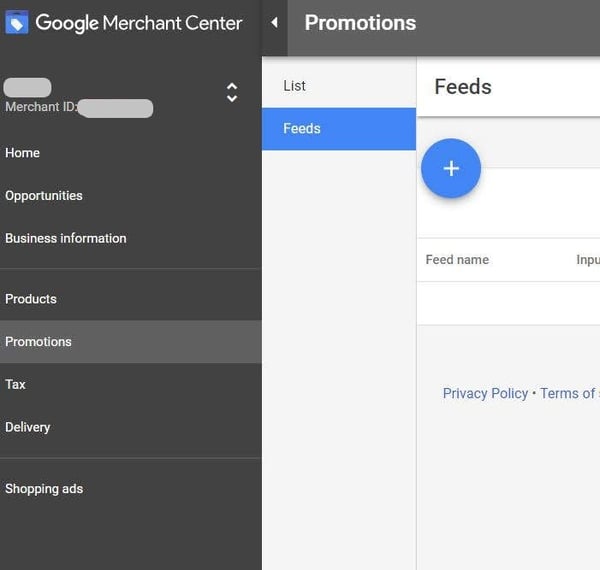 Start creating your first promotion.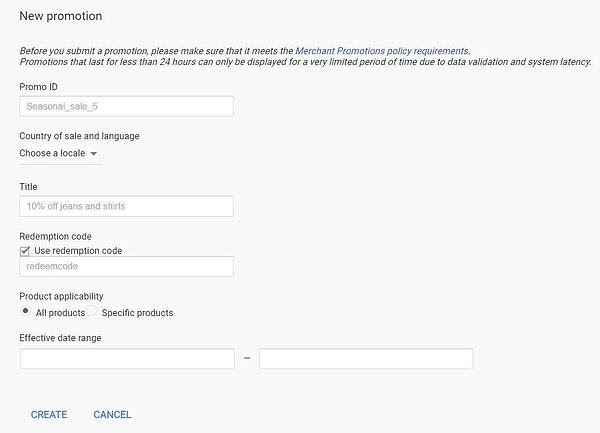 3 tips for success:
1. Be very careful when you complete the fields above. In fact, once a promotion goes live, you might not be able to edit it. And, if you do make edits, it may need to be reapproved.
There are 4 different categories related to this:
Editable with additional reviews
Editable without additional reviews, but with restrictions
Editable without additional reviews
Non-editable
You won't be able to edit the following:
Country

Currency

Destination (Not able to be added)

Language

Merchant ID

Promotion ID

Start time
2. Set the effective start date as early as possible, even the same day you are creating the promotion. Google will start to review your promotion only from that date. Therefore, you want to make sure everything is set and approved before the actual promotion start date.



3. If you mention specific products in the promotion title, make sure you select "specific products" in the product availability field. Instead, if your promotion title is something like "15% off all products", then you have to select "all products". Failing in doing so will result in the promotion to be disapproved.

If you have selected "All Products", all you need to do then is click on "Create" and wait for the review. Your promotion's status will look like this:

2. Using a Promotions feed
With the promotion tool you are able to run only one promotion at a time. But what if you want to run multiple promotions at the same time? The way to do that is by uploading a Promotions Feed. Check this feed template.
With Promotions Feeds you have the ability to create and run multiple promotions at the same time as well as to set the promotion_effective_dates to be different from the promotion_display_dates.
This is essential from a review point of view. You can set the promotion effective_start_date to be as early as possible so you make sure the promotion gets reviewed, but then set the display_date just a few days later when you actually want to start showing the offer in your listings.
All the other fields are basically the same as the ones you find in the promotion tool. Make sure you use the SPECIFIC_PRODUCTS or ALL_PRODUCTS values in the product_applicability attribute depending on whether you want to apply the promotion to all products or just a subset.
Next step is to map the main product feed with the right promotion_id.
You will need to add the promotion_id column to your product feed and populate it with the respective promotion ids to eligible products. Note that you can map multiple promotions to a single item by separating each promotion_id in the cell with a comma.
A product might be included in more than one promotion. See a
Mapped Product Feed Sample
.

Again, you would likely need the help of a third-party feed management tool to map your product feed with promotion ads.
---
What if Promotions aren't available in my country?
If Merchant Promotions are not available in your country there is still a card you might want to play:Sale Price Annotations.
In order to avail of this function, you need to add two new columns to your main product feed:sale_priceandsale_price_effective_date.
Through thesale_price_effective_dateattribute, you can tell Google when the sale starts and ends.
If you don't submit it, the sale price is intended as always-on. When Google finds a sale active, it will show a price drop label in Shopping Ads.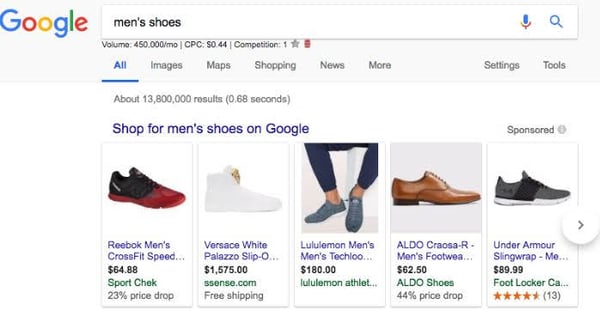 Unfortunately, even if you submit both attributes in the correct way, it might still be the case where Google doesn't show the price drop.
In fact, in order for your ads to show sale price annotations, you need to meet certain requirements:
The base price must have been charged for a period of at least 30 consecutive days in the past 180 days.
The base price must be valid.
The sale price must be lower than the base price.
The discount of the sale must be greater than 5% and less than 90%.

It's not really easy to meet all these criteria, especially the first one. In the fast-moving e-commerce industry even basic prices change all the time. If you want to use this Google feature you need to plan your pricing strategy in advance.

You can use

DataFeedWatch

to help you properly map the

sale_price

and

sale_price_effective_date

attributes.



Now, the main difference between sale price annotations and merchant promotions is that the former shows a discount that is already included in the product's price on the landing page and is available to all customers, while the latter shows a promo code which will trigger an additional discount at the checkout, only available to who enters the promo code.
It is essential to fully understand this difference as, in fact, you might want to use both strategies, but you need to be careful not to overlap them.
You may also find this interesting: How to Advertise Promotions with Automated Search Ads
Download the Complete Guide to Data Feed Optimization.
---
4 Best practices for Merchant Promotions
As more and more businesses catch on to using Promotions, it can get pretty competitive. Here's some best practices to make sure you're always the best in the game.
1.

Having a clear strategy and be prepared.
Start working on a new merchant promotion at least 5 days before the actual start of the promotion on the website. This is to allow for the time to fix potential disapprovals.


2.

Prepare for holidays.
By making sure everything is in place and approved before the holidays, you can ensure that this important time of year can go by with smooth sailing.
3. Set a product group on Google Search Ads for products eligible for the promotion.
This way, you gain full control over your promotion (you can start and stop showing those products whenever you want without stopping the promotion on Merchant Center) and you can get a detailed report on its performance.
4. Test, track your results, and test again.
The more you test and keep an eye on your results, the better understanding of what your potential customers are most interested in.
---
Troubleshooting your promotions
Merchant Promotions can be tricky to set up because of many policies and requirements to be strictly met. These are some of the main issues you might encounter and how to solve them, taken from the FAQs in the Merchant Center help center.
1. Google Merchant Promotion rejected
If your promotion was rejected after the validation review some it could be because:
it doesn't respect the policies and requirements
the price on the landing page is not the one advertised in the promotion
on the landing page you should display both base price and discounted price
2. Google Merchant Promotion approved, but not displaying
If you find yourself in this situation then check if:
The submitted start date time
If all feed items are processed correctly
If the promotion_id is mapped according to Google's requests
3. The Google Shopping promotion failed the validation review and I've made all the requested changes. How Can I request a review?
In your Promotions dashboard you can request the review in the SKU status column by clicking the speech bubble icon.
Learn about Free Advertising on Google Shopping.


---
Conclusion
Adding Google Merchant Promotions to your campaigns can help give your ads the extra boost needed to make a sale over your competitors.
Chances are you already have some kind of incentive to give your shoppers, so why not showcase it? Shoppers will appreciate the added value and you'll benefit from their presence as well.
Test out different promotions, see how they perform, and use them to increase the effectiveness of your Shopping ads.
Read more about other Shopping ad extensions: Ad Extensions Checklist for Google Shopping: 7 Must-Haves