GTINs, or Global Trade Item Numbers, are essential for identifying your products. In short, a GTIN is a numerical barcode and is found on a product, next to the barcode itself. Most marketplaces will require you to add a GTIN in order to list your product.
Read on to learn more about GTINs, how there is now a more accessible option for obtaining authentic GTIN, and how they work.
What is a GTIN?
A GTIN number (Global trade identification number) is a number that is unique to a product. It can take several forms depending on region and product type. Due to its international recognition and specificness, the GTIN is ideal for identifying products.
---
What type of product identification may you encounter?
You may come across many types and names of GTIN numbers. UPC, EAN, ISBN? It's easy to get confused.
Is a UPC number the same as a GTIN number?
A UPC is one of various forms of GTIN. It is the form that is used throughout the North American continent on all products, except those that are multipacks, or books.
Although they are often used interchangeably, no, a UPC is not the same as a GTIN number but they are related. A UPC is a type of barcode symbol and GTINs are encoded into UPC barcodes, as well as other types of barcodes. A UPC is the form that is used throughout the North American continent on all products, except those that are multipacks, or books.
So what types of product identifiers are there?
Here are the different GTIN numbers you might encounter:
UPC - North America
A symbol made of black lines and white spaces that is read by scanners at the point of sale, providing a 12-digit GTIN in a machine-readable format. Most predominantly used in North America.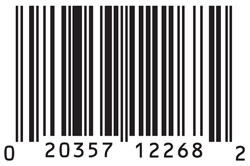 source: webinterpret.com
UPC code example
EAN - Europe
A symbol primarily used in Europe made of black lines and white spaces that is read by scanners at the point of sale, providing either an 8-digit or 13-digit GTIN in a machine-readable format.

source: https://www.activebarcode.com/
EAN code example
JAN - Japan
Similar to an EAN, it is a barcode used in Japan that provides either an 8 or 13 digit GTIN.
ITF-14 - Multipacks
The ITF-14 is generally used on higher packaging levels of a product, such as a case or carton. It lends itself well to be directly printed on corrugated material. It can provide 12,13, or 14-digit GTINs.

source: https://www.activebarcode.com/
EAN code example
ISBN - For books worldwide
This is a 13-digit number (ISBN-10 values should be converted to ISBN-13)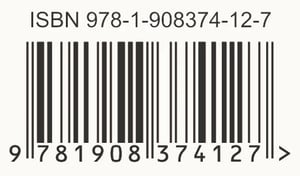 source: webinterpret.com
UPC code example
ASIN - Amazon
A number specifically used on the marketplace Amazon. It consists of 10 letters/numbers.

Related: How to get an ASIN
---
Why are product identifiers often required?
Product identifiers are required so that marketplaces can differentiate between products. This helps them to:
match products with search queries
compare products sold by different merchants
GTINs are valuable because of their worldwide recognition and common application. GTIN numbers are the best way to ensure every product has a unique identifier. That is why marketplaces tend to use them as a means of identification and comparison for products merchants use in their data feeds.
Many channels, such as Amazon Marketplace actually require merchants to provide GTINs in their data feeds so their products can be listed.
---
Why should you care about GTINs?
Caring about your GTIN numbers is important for a number of reasons, here are some of the main ones:
Firstly, there's the effect it can have on boosting your international sales. This is because GTIN codes allow you easily export you entire product catalogue, and as they're internationally recognised codes, identifying the product remains simple. This saves you time and hassle.


While UPIs aren't required, similar items with correct identifiers provided will receive a higher priority than those without. This makes providing GTINs worth the time in the long run.


If you're wanting to use a price comparison tool like our Price Watch, then your GTINs will come in handy. Price Watch finds competitors that are selling the same products as you and the GTIN is needed to match those products.
Correct GTINs allow for increased impressions and conversions. This is because searches are more accurate when you have a GTIN listed. This then increases your sales and profits!
Finally, caring for your GTIN numbers also improves user experience. This is because it makes your product easier to find and compare to others. This in turn is likely to increase your sales and will make it easier to compare yourself against the competition.
---
Is a GTIN number mandatory?
Many eCommerce channels require GTINs if you wish to showcase and sell your products within their platforms. This is because they make it easier to manage product inventory, stock levels and product comparisons. All of which contributes to a smoother commerce experience.
Although GTIN number barcodes are no longer mandatory on Google, they are still highly recommended by the platform. Any items with missing GTINs risk receiving a lower priority. Incorrect GTINs can also hamper your listings on Google, as they often make it more challenging for consumers to find your products.
---
How to find GTINs
GTINs can be found on your products packaging, or cover (in the case of books). Below are some example barcodes that will give you a sense of how the GTIN number can be displayed on your product.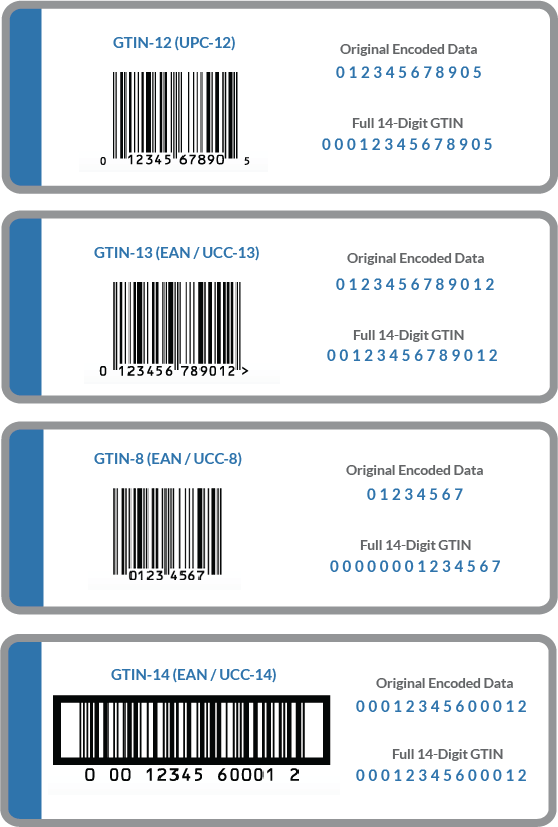 If you can't find the GTIN, you can always contact your supplier or the product's manufacturer to ask for the MPN.
MPN - Manufacturing Part Number
A number assigned by the products manufacturer. It uniquely identifies the product to the manufacturer and has no set structure.
---
How to create a GTIN?
Creating a GTIN number may seem like quite a daunting task, especially if you have a large product catalogue. However, it is not quite as challenging as it seems:
On that page, you can choose between two options to get GTINs. The single GTIN option allows you to get just a few barcodes for $30 each with no renewal fee. The Company Prefix option, which is for companies who need 10 or more GTINs, offers a cost per prefix depending on the quantity that you need (10, 100, 1,000, etc.).


Both options lead you through a process similar to that of an e-commerce transaction. GS1 US will ask for your brand name, company name, number of UPCs needed, contact information, and payment information in subsequent screens.
After this process is completed, GS1 US emails the GTINs or Company Prefix directly to you. You'll also receive instructions for logging into the tool GS1 US Data Hub, which helps you create JPEGs of UPC barcodes based on the GTINs or Company Prefix that you receive.
You can print your own UPC barcodes, or use a solution provider specializing in barcode labeling. GS1 US has a list of recommended solution providers available here.
---
Sending your identifiers to sales channels with a data feed
Should you have a large product catalogue, you may wish to avoid adding product identifiers manually when sending your feed to various channels. To bulk upload your products quickly and effectively, you can try using our data feed management service.
Using DataFeedWatch to upload a large product catalogue is automatic and fast. Here are some tips to ensure everything runs smoothly when uploading your product feed to Google Shopping:


Identifier exists (or not)
Marketplaces will generally want to know if unique identifiers exist for your products. In most cases, they do exist, especially with manufactured products, as they will always have an MPN. In this case, you would set the 'identifier exist' attribute to True.

The identifier will only ever be set to false if the goods are custom made.
Custom goods consist of homemade arts and crafts, gemstones etc.
However, you should aim to create a GTIN number of some form for these products too, as most marketplaces will not allow produce without a unique identifier to be listed. And even if it is allowed, it will often struggle to sell due to it being largely invisible to searches.
Ensure you have a brand listed
If you don't have a brand listed for a product, that could cause your product to sell poorly. This is due to less visibility. Therefore, it is important to have something in your feed for the brand attribute. This problem is relatively simple to resolve.
If all your products have the same brand, you can just add that one brand for all products:

Map Brand from Title or Description like above.
Alternatively, if it is another brand then it should be shown somewhere else in your feed. If the Brand is mentioned in the Title or the Description or another field, you can map it from there.

In the unlikely event that no brand is listed anywhere, contact the product manufacturer or supplier.
Fixing GTIN related errors - special tips for agencies and bigger companies who manage their client's feeds
According to eCommerce statistics from 2022, 5.53% of products with submitted GTINs are not approved because identical GTINs are repeated for several products or because invalid GTINs are submitted.

If you are a large company or agency and you manage many feeds, this might happen to you and some special GTIN-related issues may occur.
For example, if you do not control your customer's store setup and GTINs are not passed from the store's backend to the feed, there's a good solution.
You can upload your customer's missing GTIN to the feed from an external source using a lookup table (in a Google spreadsheet).

In addition using DataFeedWatch tool it's super easy to identify if any GTIN included in the feed is wrong (for example it has too many or too few digits) and easily exlude it - so it doesn't affect your shopping campaigns's results.

---
Final thoughts
Adding a GTIN to all your products in your catalogue may seem a little unnecessary and arduous at first. But it is certainly worth it.
The simple addition of a GTIN number will save you time exporting product data to different marketplaces in the future, whilst it will increase impressions, conversions, and sales in the present.
---
FAQ
Do all my products need GTIN numbers if I want to sell on Google Shopping?
All products that have been assigned a GTIN by the manufacturer should have a GTIN number in Google Shopping. It's not required but highly recommended for you to provide a GTIN in your product feed for all products that you sell, so that their performance is not limited in any way.
What should I do if I don't know the GTIN number of one of my products but I don't want its performance to be limited on Google?
If you sell on Google and you don't know your product's GTIN number, you can submit two other attributes for this product instead:
Which products may not need to be assigned a GTIN?
Certain product types do not have GTINs assigned to them. These include:
spare parts
custom made products
books published before 1970
antique products
vintage products