Google Local Inventory Ads drastically increase offline sales by turning nearby online shoppers into in-store customers. How can you seize this mobile opportunity?
Mobile and 24/7 connectivity have changed the way people live, interact and of course, shop. In fact, the vast majority of shoppers research online before heading to a shop and buy offline.
Smart retailers work for their customers, by helping them to shop whenever and however they want and not against them.
Since Google launched Local Inventory Ads numerous retailers have used them successfully to drive online shoppers to their brick-and-mortar locations.
Still, despite being an excellent opportunity to drive foot traffic to a physical location, not all retailers with an omni-channel presence are taking full advantage of the local inventory ads.
The lack of action is costing them a lot of money and so, they lose a golden opportunity to expand sales and enhance the customer experience.
That's why we're going to cover all you need to know about Google Local Inventory Ads, in case you're still wondering if LIAs are worth investing time and money.
---
Local Inventory Ad vs. Product Listing Ad vs. Multichannel PLA
The distinction between the ads that appear on Google is made through the type of inventory that a retailer uploads to the Google Merchant center: online only inventory, in-store only inventory or both online and in-store inventory.

Image Source: Local Shopping
With Product Listing Ads you push your online inventory in front of shoppers, while with Local Inventory Ads your in-store inventory. Clicking on a PLA will direct users to your online store while clicking an LIA will direct them to the page of the nearest physical store.
If a shopper is searching for an item that you're selling both online and in-store and is near one of your local stores, then you can choose to show them a PLA, a LIA or a multichannel PLA.
In short, the type of ad format shoppers will get depends on the device that they're using to perform the search:
Desktop search: online PLA, LIA and Multichannel PLA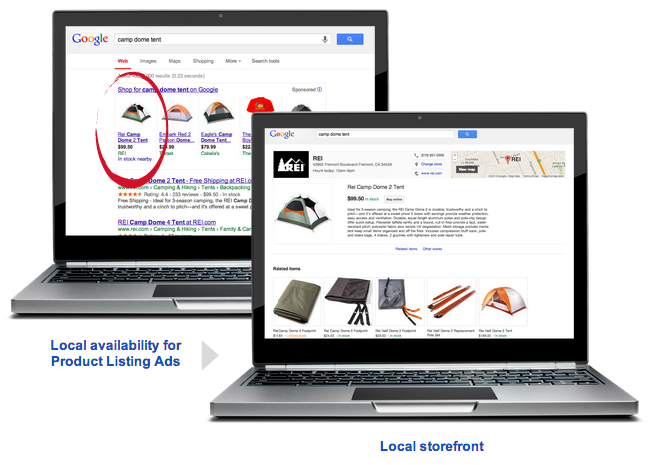 Mobile search: online PLA and LIA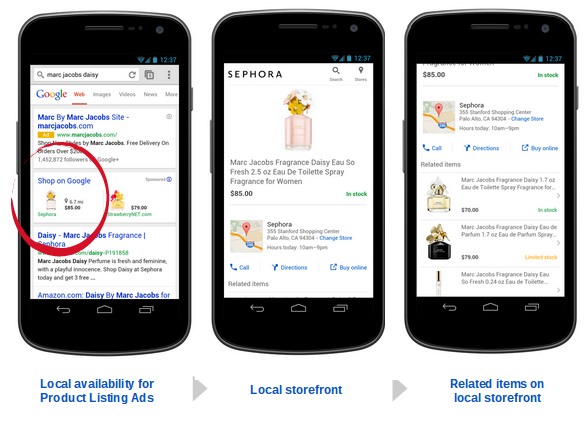 Image Source: Google Inside Adwords
---
How to get started with LIAs?
When a shopper is near a store and he's searching for a product on Google he will see a Local Inventory Ad.
The main purpose of a LIA is to direct foot traffic to the nearest brick and mortar store, therefore if he clicks the ad he'll be directed to the local storefront page.
Google will pull out the information about the nearest physical location and the user will get enhanced information about the product and the closest store where the product is sold.
Information such as local availability, price, name of the store, map, phone number, opening hours and complementary products improves the customer's experience and creates a connection between the online store and the physical location of a retailer.
If you already use PLAs to drive traffic to your website and want to build up your omni-channel strategy and start using Google Local Inventory Ads you need to create in addition to your Google Products Feeds three more feeds.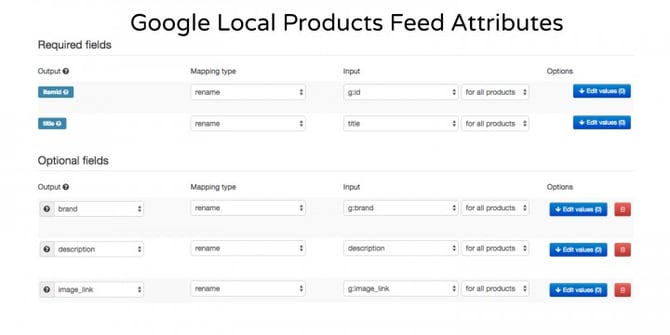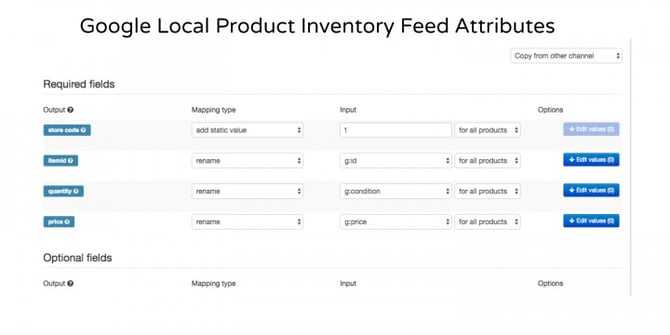 Matching the four data feeds: Google Business Locations, Google Local Products Feed, Google Local Product Inventory Feed and Google Products Feed will be done automatically by Google via the ''itemid'' attribute.
Using the store codes and the product identifiers (!! they need to be consistent across all feeds) Google will put together all the pieces of the puzzle and deliver LIAs or multichannel PLAs to shoppers.
Updating all feeds frequently is not only required by Google, but it's something that will have an important impact on your campaign performance. The recommended minimum upload frequency by Google is:
Local products feed - at least once a week
Local product inventory feed - at least once a day
Products feed - at least once every 30 days
but, more frequent updates will improve findability, visibility, and traffic quality.
---
6 reasons why Local Inventory Ads should be on your priority list?
Increase local store visits
Reaching nearby customers that have a buying intent has never been this easy. According to Google, searches including locations, cities, neighborhood, zip codes or simply words like ''near me'' have doubled in the past year.
More Sales
The retailers that have used Local Inventory Ads so far, are reporting excellent results. Sears Outlet for example, increased their store visit rate by 122% and grew their CTR by 16% and Office Depot generated 3X return on digital spending.
Advanced targeting
With remarkable targeting options retailers that sell both online and in-store have never had so much power to reach out to customers that are nearby one of their physical locations.
Using Google best practices for driving offline sales with online ads will help you cash in on those customers that are your business locations at the right moment.
Boost Campaign efficiency
The number of options you have to bring customers to your storefront is just amazing. For example, by using location extension targeting you can target shoppers by specifying a radius around your business locations.
You can schedule your bids for local inventory ads only during the opening hours or you can increase them for those days when shoppers are more likely to buy.
Better shopping experience
Showing to the customer information about the nearest store, opening hours and number of specific items on-stock will raise the customer's trust in the retailer and improve his overall experience.
Store Pick-up
Last but not least Store Pick-up, allows customers to buy online and pick up the product in store. Store pick-up has already delivered excellent results with pilot participants, Kohl reporting a 40% to 50% increase in clicks from the local storefront to the online store.
So remember, in today's competitive marketplace only staying abreast of trends and changes will get you those remarkable results that every marketer want to display in his portfolio.
If you want to start taking advantage of Local Inventory Ads you need to first check the Local Shopping Criteria and see if you are eligible and if so, at DataFeedWatch we can make this process straightforward and effortless.