Get your own copy of How to use Supplemental Feeds to Enhance Google Shopping Listings
---
What are Google Shopping Supplemental Feeds?
A supplemental feed is an additional data source that is used to provide additional attributes, both required and optional, that may be missing from the Primary feed.
Supplemental data files cannot be used as the Primary data source. The easiest way is to create them is through a Google Spreadsheet file.
Supplemental adj. Provided in addition to what is already present or available to complete or enhance it.
Supplemental feeds are used to improve listings by adding new or revised information to primary feeds to increase the effectiveness of your Shopping campaign. With additional files, you can include over 50 different pieces of information in your Shopping ads.
Primary vs Supplemental Feeds
Before we go any further into Supplemental feeds, let's take a minute to distinguish them from your Primary feed with a quick side by side.
In 2017 Google adopted a new naming convention for shopping feeds. Since then, retailers advertising on Google had to work with Primary Feeds and Supplemental Feeds.

The change is not only terminology, but it also impacts the use and structure of product feeds.
Primary feeds
You can think of the Primary feed as your regular old shopping feed. It's the feed that allows you to add and remove products from Google Merchant Center, determine country targeting and language.
If your primary feed includes all your data from all your systems, and is optimized, it can be the only feed you need to submit to Google Merchant Center.
Use Primary Feeds to:
Add or remove data from your feeds
Determine language and geographic targeting
Set optimization rules for your product feeds
Supplemental feeds
This is a secondary data source that merchants can add to their Google Merchant Center to enrich their Primary feed. It can only be used in addition to the Primary feed meaning it cannot be accepted as the main data source.
Use Supplemental feeds to:
Add or modify promotional information (sale items)
Add or modify custom labels
Replace and override item attributes
Add missing GTINs
Fix Google Merchant disapprovals and errors
Exclude specific products (via the excluded_destination attribute)
Add local inventory information for local inventory ads

Primary feeds and Supplemental feeds are linked together through the ID attribute. In this way, the product data in the Primary feed is updated or enriched when the IDs in the two feeds match.
---
Main benefits
Using Supplemental feeds can help you get the most bang for your buck, (especially if you're not using a feed optimization tool 😉)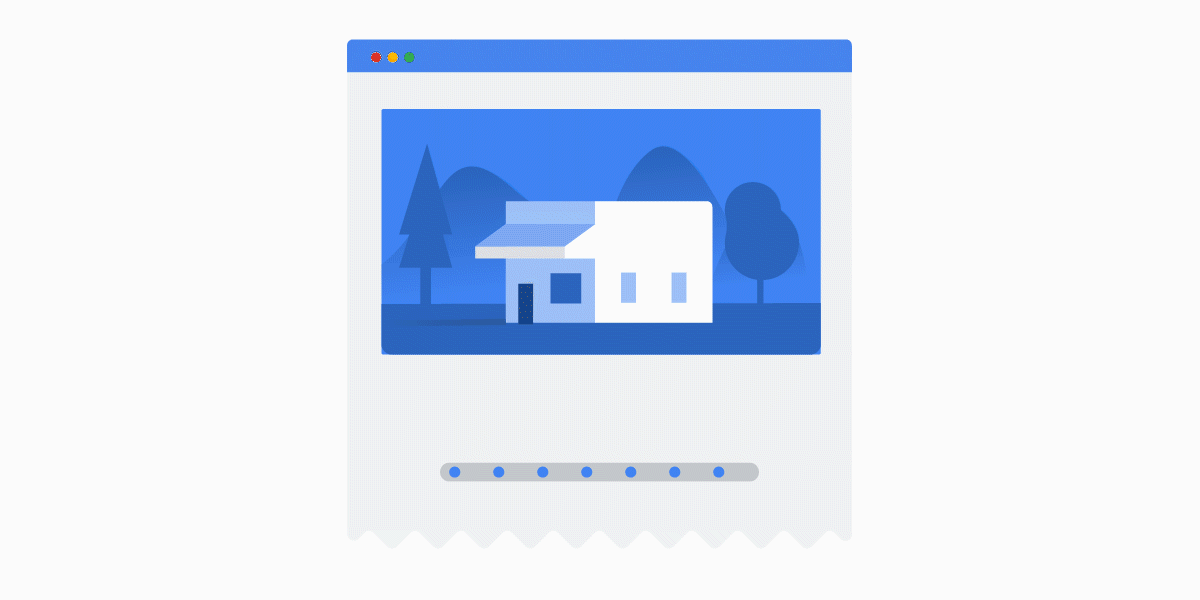 Gives Google more information
Google and data are a match made in heaven, and the same goes for the information you give Google. When you create your Primary feed there are 10 required attributes. But by adding a supplemental feed, you can increase that number to 50.
Better targeted ads
As a result of Google knowing more about your products, it will be better equipped to show your product for more relevant searches. Shoppers will also be happy that their specific search terms lead to the exact products they're looking for.
Rise above the competition
If your direct competitors aren't doing the same, you should be able to outperform them in this area. You'll thank yourself for taking the time to add Supplemental feeds later.
Make clean changes
You can easily make seasonal or promotional changes without your Primary feed getting messy and unorganized. For example, if all your Black Friday promos are in one Supplemental feed then you'll be able to seamlessly adjust when the event starts and stops.
Save time
Your time is valuable, and we're sure that you don't want to waste it by making endless individual changes to your Primary feed. With a Supplemental feed you can easily edit in bulk.
Have multiple feeds?
Creating Supplemental feeds will help keep you organized if you have multiple Primary feeds. This can especially come in handy if you're advertising in multiple countries with various languages.
Back to top or Download the Complete Guide to Data Feed Optimization.
---
How to Create Google Shopping Supplemental Feeds
The requirements for creating a Supplemental feed are pretty basic. You'll only need two things:
A column for Product IDs (must match the IDs in your Primary feed)
At least one additional column for an attribute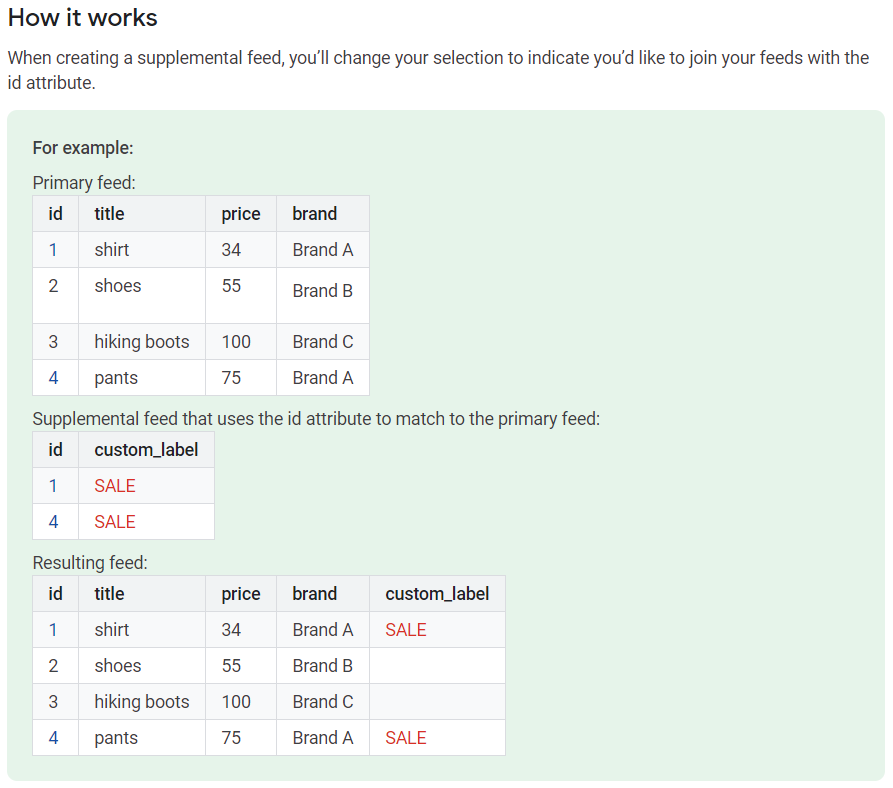 Source: Google
Along with that, there's some information and decisions you can prepare beforehand to make the creation of your feed even smoother.
Create a name to help you identify your Supplemental feed
Know how you're going to upload your feed (Google sheets, scheduled fetch, direct upload) For some upload types you may need to provide the exact file name you used.
Choose which primary feed to link to. You'll need to add the country and language too.
How often do you want Merchant Center to fetch your data? (It needs to be at least once a month, but can be daily.)
Now, if you are not using a third-party tool for feed optimization, and you need to rely on Supplemental feeds for creating certain types of optimizations, let's see how you can add them in your Google Merchant account.
Step 1
Primary feeds and Supplemental feeds are under Products>Feeds (new) in your Google Merchant Center Admin account.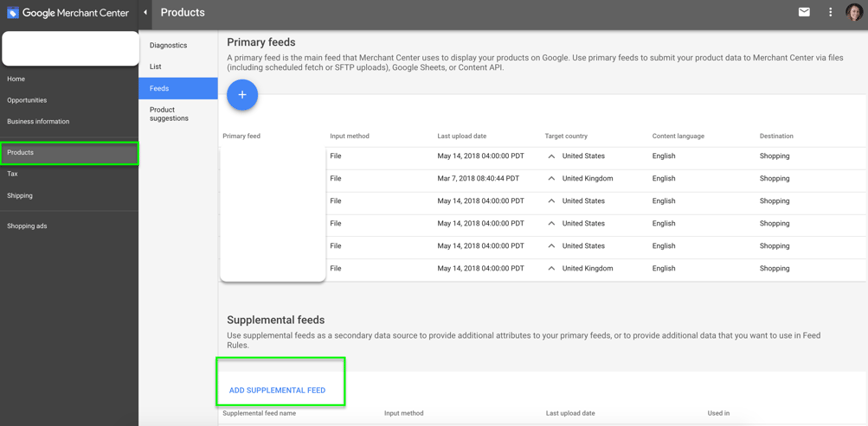 Step 2
Name your supplemental feed using a name that will help you easily identify the feed in the future. Select an input method that fits your needs best.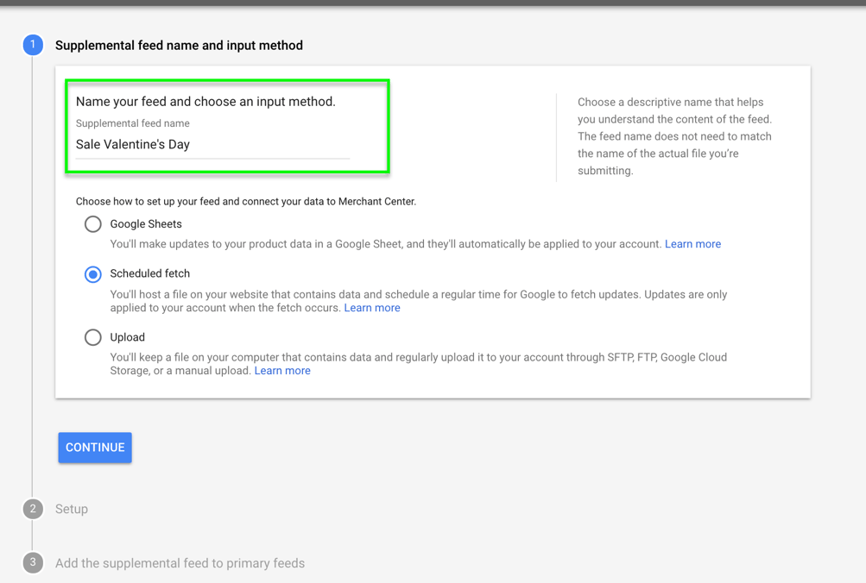 If you are using a third-party tool to manage and optimize your product data, then a scheduled fetch is the input method of choice.
Step 3.
Schedule the fetch frequency and provide the URL of the supplemental feed.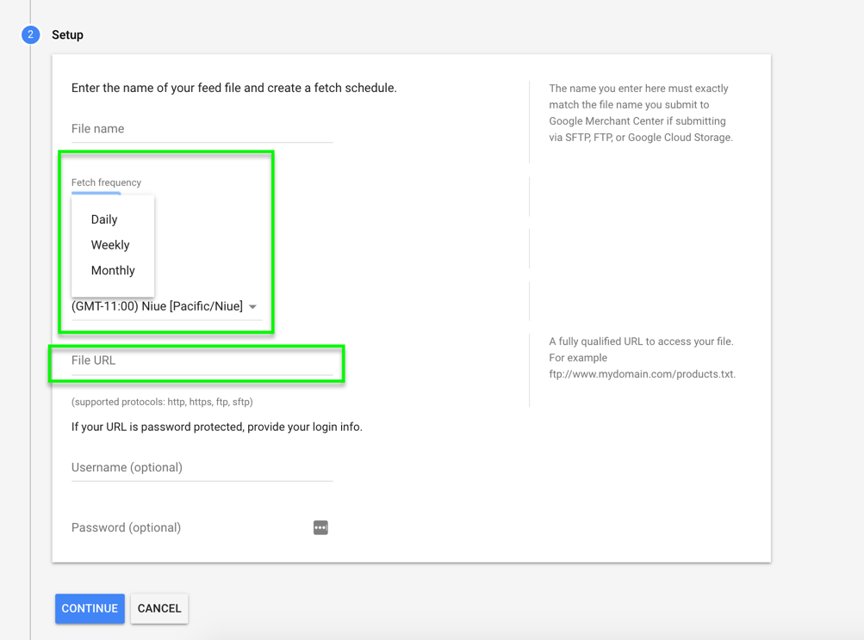 If you have created your supplemental feed in DataFeedWatch then simply copy paste the Feed URL.

Step 4
Add the supplemental feed to your primary feed(s).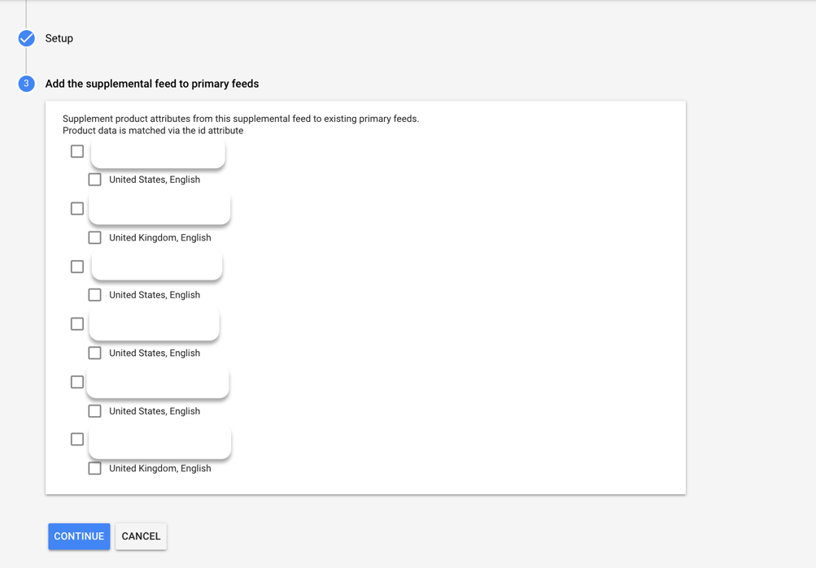 Once done, a rule will be created by Merchant Center automatically (found under the 'feed rules' section) that will connect your Primary and Supplemental feed through the use of the product IDs you provided.
Last step
Test and preview your added feeds to make sure they're being used and everything is correct.
Go to the Feed rules tab in Merchant Center and click on Test changes. It could take 10-20 minutes to see the results.
Make any needed adjustments.
Once you're happy with the way everything looks, click on Apply to save the changes.
Back to top or Download the Complete Guide to Data Feed Optimization.
---
Supplemental feed uses
Disclaimer: If you are already using a feed management tool, it's likely you don't need supplemental feeds, because all the rules and optimizations below can be performed directly in the tool.
Still, even if you enrich your feed through supplemental feeds in Google Merchant Center or in DataFeedWatch, the suggestions and examples below represent powerful ways in which you can get more from your data. We'll provide examples from our app as well.
1. Overwrite values
Let's say you sell barbecues and you know that some product titles include the keyword grill instead of barbecue. In most cases, customers search for barbecue. Thus, you want to use it for all your titles.
With supplemental feeds, you create a new feed where you upload a list with your product IDs and your new modified product titles where you've replaced all titles containing the keyword grill with the keyword barbecue. Then, upload it to Google Merchant Center.
Google will match the ID of the products and replace the old keywords with the new ones.
In DataFeedWatch, you can easily create a rule that replaces grill with barbecue, like the one below. This will automatically update all your titles and will use the new keyword.

You can also use Supplemental feeds to optimize your product titles to match the recommended formats for each product type.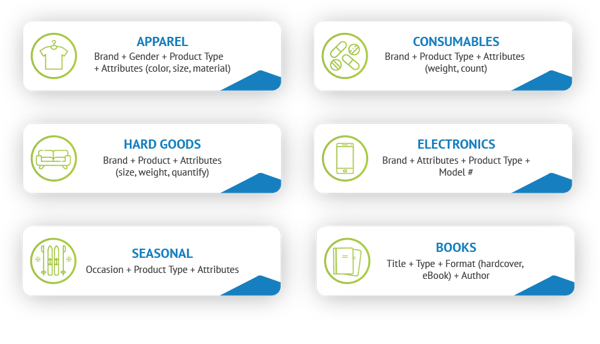 2. Fix Merchant Center disapprovals and errors
If you want to see which products Google has under its radar, thus hindering your Google Shopping campaigns, you have two possibilities.
Feed Review in DataFeedWatch allows you to check if the data you're sending to Google Shopping is complete. It will check your review for data such as: missing data, Uniqueness validators, and GTIN validators.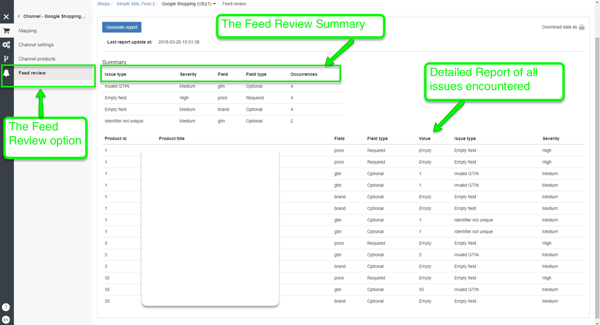 The Diagnostics Tab in Google Merchant Center is where you can get a list of all the issues that are preventing your feed from performing well.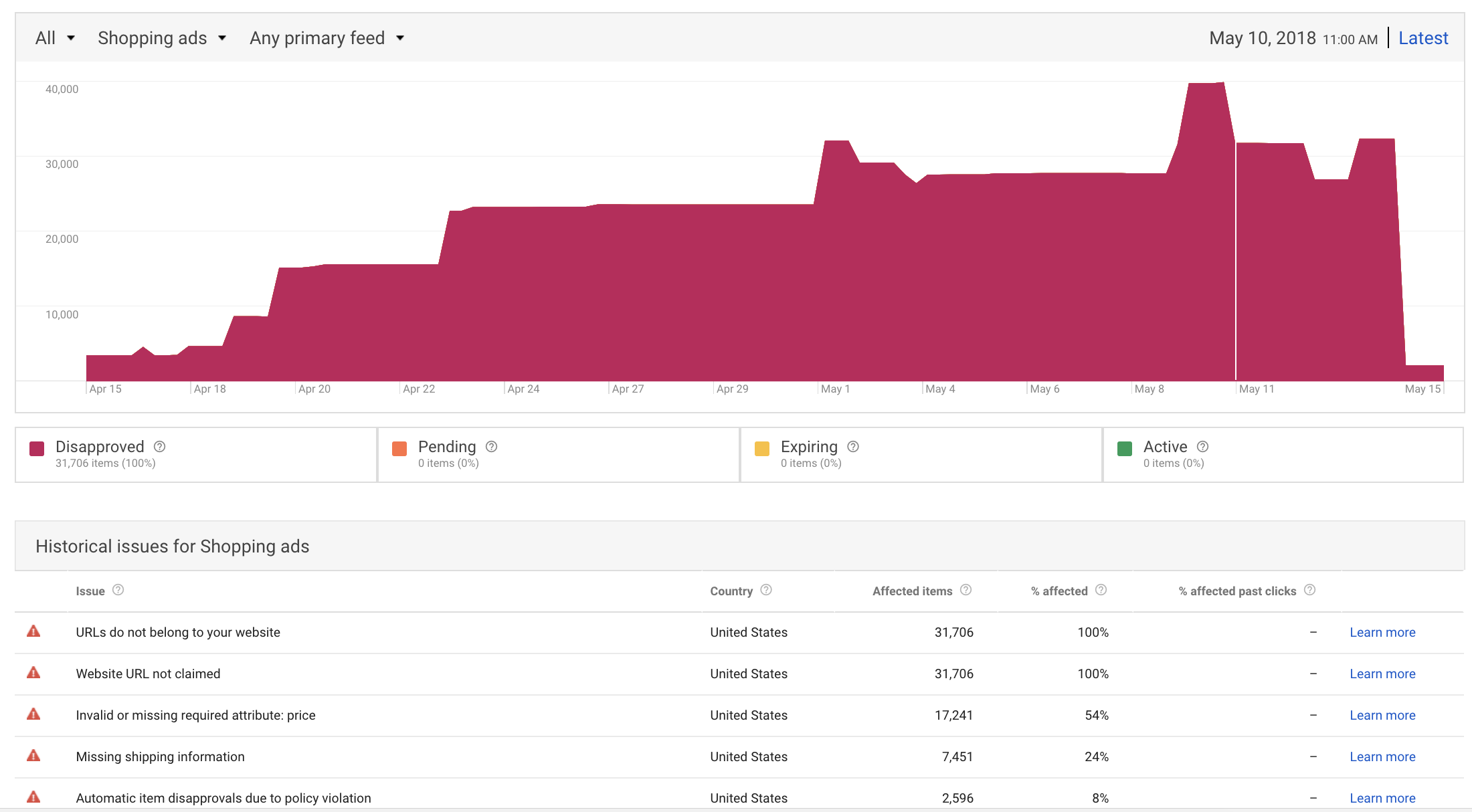 The advantage of using the Feed Review in DataFeedWatch is that you're saving yourself the back and forth to diagnose the products and make necessary adjustments before fetching the feed through Google Merchant Center.
In both cases, you can download the report of diagnosed products and start working on fixing those errors.
Again, the errors can be fixed directly in DataFeedWatch without having to go through Google Merchant Center, or through supplemental feeds.
3.Add missing data to your feeds
Let's say your primary feed doesn't have product types and you want to start using product types for custom labels and shopping bidding.
What can you do? In DataFeedWatch, you have a few options:
For low product count: if your product type is mentioned in your description you can create rules to set the product type based on the description.
You can find more details on how to use this optimization in this post: How to add product type to your Google Shopping feed.

For large feeds: Create a Google Spreadsheet with your product types and your product IDs and add product type as an optional field. If you want to know more on how to optimize your product feeds with Google Spreadsheets, we've got you covered.

4. Seasonal custom labels
Some products will perform significantly better in one season than another. So creating custom labels with Supplemental feeds is beneficial for products you don't want to show year round.
This also works for products you want to segment by performance, priority, or whatever else you'd like to do.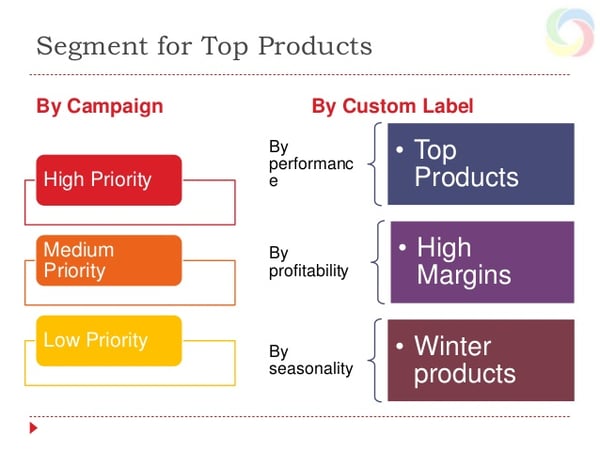 Source: Slideshare
When you create your custom labels in your Supplemental feed, it can look something like this: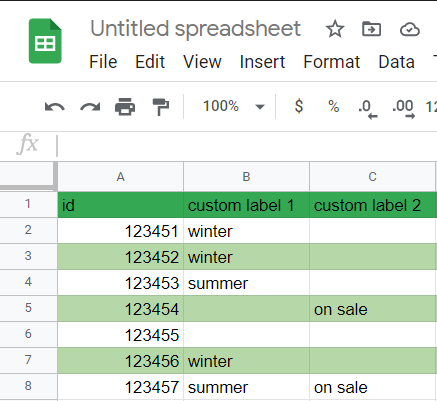 When you add this feed to Merchant Center, Google will know to segment your products accordingly.
You can segment your products similarly using DataFeedWatch:

5. Add local information
There might be some of your products that you sell at a physical location as well as online. And some customers might prefer to just purchase in-store if they live close.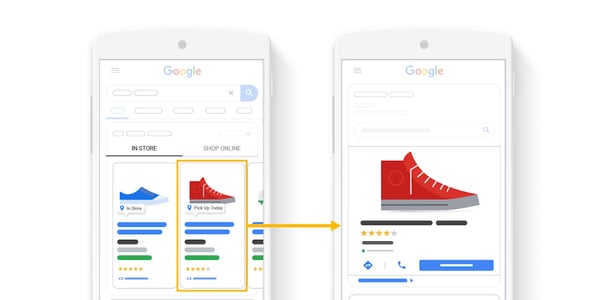 You can add the required and optional local attributes to increase your offline sales:
Required
store code
id
quantity
price
Optional
sale price
sale price effective date
availability
Optional for in-store pickup
Back to top or Download the Complete Guide to Data Feed Optimization.
---
A/B testing
There should always be some room for testing in your Google Shopping strategy. That way you can optimize on an ongoing basis and do what resonates best with your potential customers.
You can test when you notice products are underperforming or to find where results can be improved.
A prime example is testing your product titles to see what leads to more conversions (or your desired result). You can test different variables like adding more keywords. Other attributes you can test are product images and descriptions.
These are the most important points to keep in mind:
Divide your products in half
Only put the products you're making changes to in your Supplemental feed
Make sure to only change one variable at a time
If you're using DataFeedWatch, you can quickly set up a test in your feed mapping. The fields will appear in the order you set them.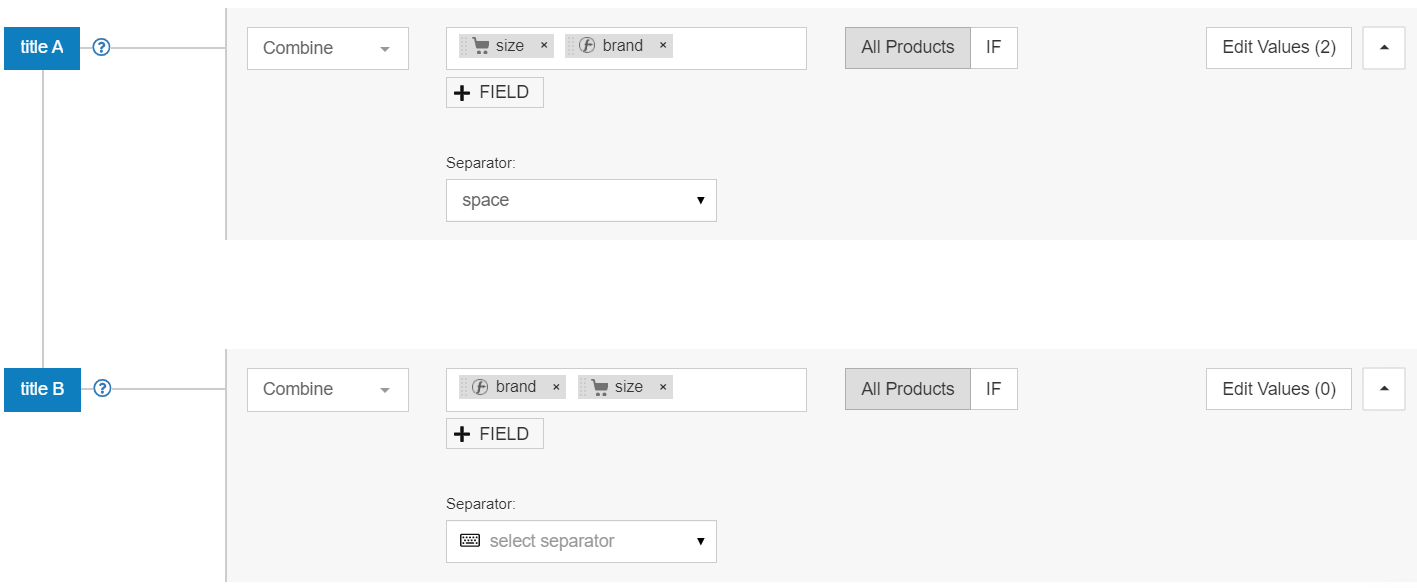 Back to top or
---
Using Supplemental Feeds to Maximize Shopping Success
Andrei Vasilescu, Co- Founder and CEO at DontPayFull has revealed his technique to get an edge over competing shopping ads with supplemental feeds:
Leveraging Pricing Through Supplemental Feeds
Supplemental feeds enable you to put more than 50 different fragments of information of your product in your Google shopping ads. Each of these 50 supplied information helps to provide higher algorithmic relevance which in turn sends more intense signals to Google crawlers. Hence, supplemental feeds offer better targeting when reducing the waste of your spent investment for your ads. Ultimately supplemental feeds greatly increase your ad campaign's performance.
Ads driven by supplemental feeds have great ability to showcase your latest prices.
This particular feature of adding product prices to your supplemental feeds enables you to let your audience know about the present prices of your products.
In addition to that, the audience gets to know the special discounted prices of your products even before visiting your business website.
You can even display your reduced prices alongside the usual higher prices of our products side by side. Your target audience learns how much they can save if they purchase your products now with the help of this pricing feature. The Sales Price Effective Date feature of supplemental feeds empowers you to set an end date on your present sales price. This particular feature creates the sense of urgency which drives the audience to immediately purchase your products before your special discount offer ends.
---
Supplemental feeds deep dive
Supplemental feeds are simply a feed-rule in the form of a file. If you don't use a feed tool, they are a great way to enrich your feeds with missing data, troubleshoot errors and improve certain attributes.
A good feed tool will allow you to do the same optimizations without over complicating your life with supplemental feeds every time you need to update your product data.
There are undeniable benefits to implementing them like saving time, better organization, and increased ad performance.