What is Microsoft Bing Ads?
Microsoft Bing Ads, now known as Microsoft Advertising, is a powerful and often underrated advertising platform that allows businesses to create and run ads on the Microsoft Search Network. The search network consists of Bing, Yahoo, and AOL, reportedly reaching a total of 7.3 billion monthly searches and accounting for a combined 33% of the U.S. search market share.
How Bing ads work
Microsoft Advertising offers a variety of ad options, including Bing search ads, display ads, and native ads, that cater to advertisers' specific needs. With its broad audience reach, it provides businesses with the opportunity to target a different audience than Google Ads (older/ more mature) and expand their campaign reach.
Thanks to Microsoft Advertising, businesses can cross-promote their products and services on other websites through the use of display ads. Display ads are similar to Google Ads in that they're based on an auction-based system that allows advertisers to bid on specific keywords. However, they differ in that they can be placed anywhere across Microsoft's network of websites and apps.
With Microsoft Advertising, your ads gain maximum exposure across the Microsoft Advertising Network, including both Microsoft sites and partner placements:
Bing search ads can appear alongside search results on popular web engines, including Bing, AOL, Yahoo, DuckDuckGo, Ecosia, and numerous other search partners.
With audience ads, your message can appear on trusted platforms like MSN, Microsoft Start, Microsoft Edge, Outlook, and multiple publisher partners based on Microsoft's deep understanding of potential customers.

Where can you run Microsoft ads?
Microsoft Advertising is currently available in most countries and regions of the world.There were recent additions in 2022 to the list of countries where Microsoft Advertising is available, which included many European countries. Therefore, it is best to check directly with Microsoft Advertising for an up-to-date list of countries where advertising is allowed.
Where do Bing Ads show?
Bing Ads ads are placed above organic search results. This means that they are displayed on every page of your website, even if there are no ads from Bing Ads.
Bing Ads also has the option to show ads on the right side of your website's pages. These can be useful for creating an effective call-to-action for visitors or driving them towards content such as videos or product pages that you want them to see first before clicking through to another site where they'll buy something from you directly from there instead!
Last but not least: Bing also allows marketers like yourself (if you're interested) use their platform so that ad space can be sold directly onto other networks like Facebook & Twitter - which means more revenue streams!!
---
Google Ads vs Microsoft (Bing) Ads
Google Ads and Microsoft (Bing) Ads are both pay-per-click advertising platforms, so they share many similarities and can be used to achieve similar goals. However, there are also some key differences that you should consider when deciding which platform will work best for your needs.
According to Disruptive Advertising, Google Ads reaches considerably more users, owning almost 75% of the market share for online searches. This is primarily due to Google's dominant position as the most popular search engine worldwide.
On the other hand, Microsoft Ads has a smaller audience size, holding approximately 12.18% of the market share for online searches.
Microsoft Ads is less expensive than Google Ads overall because it's less competitive than its rival service--and if you're looking for more exposure but don't want to spend as much money on ads, this might be important for your business!
---
Types of Microsoft Bing Ads
There are 9 types of ads that you can create with Microsoft Advertising. They include:
App Install Ads
Microsoft App Install Ads are a powerful ad format for online retailers looking to boost their mobile app downloads. With these ads, you can effectively reach relevant audiences across the Microsoft Advertising Network and drive more installs of your mobile app. So the focus is on app downloads rather than website traffic.
App Install ads work similarly to text ads, but with a clever twist: they include direct links to your apps along with a convenient button that sends customers straight to the relevant app store for hassle-free downloads.
Your customer's mobile device and operating system are automatically detected, seamlessly directing them to either the Apple App Store or Google Play.
Tracking conversions is also very easy as you can leverage the same conversion tracking partners used for app extensions, such as AppsFlyer, Kochava or Branch.
The intuitive interface makes it easy to create compelling ads that capture users' attention and entice them to download your app.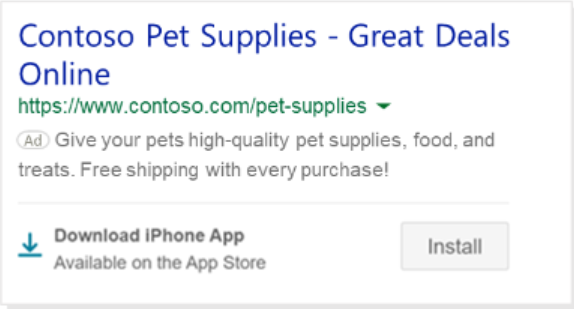 Microsoft App Install ad | Microsoft
.
Expanded Text Ads
Microsoft expanded text ads are (or used to be) compelling text ads with additional headline and description lines to drive engagement and conversions.
Starting from February 1, 2023, Microsoft has made a change to their expanded text ads feature. After this date, online retailers are not able to create new expanded text ads or make edits to existing ones.
Their already existing expanded text ads continue to serve, and advertisers can still keep track of their performance through reports. They also have the flexibility to pause, enable, or remove their expanded text ads as needed.
An expanded text ad consists of several key components, including ad titles with support for three headlines, ad text (allowing for two descriptions), an automatically generated display URL (which includes domain and subdomain, along with two customizable URL paths) and final URL.
As you adapt to this change, make sure to learn more about responsive search ads to stay ahead of the game.
Expanded text ad | Microsoft
Responsive search ads
With this Microsoft ad format you can provide multiple headlines and descriptions so that Microsoft Advertising can dynamically assemble the most relevant and compelling ad for each search query.
Microsoft Responsive Search Ads make the process of creating and testing ads easier and more effective. You can provide up to 15 headlines and 4 descriptions, and Microsoft Advertising will automatically create and come up with the most optimal combinations based on the user's query. This automation saves time and increases ad engagement by delivering highly relevant and personalized ads to potential customers.
Microsoft's intelligent system automatically identifies and reports the top-performing ad combinations to the advertiser, while filtering out all ineffective ads. Moreover you don't have to add any images manually to Microsoft. They can be automatically pulled from your website.

Responsive Search ad | Microsoft
With just a few simple steps, you can also leverage your existing responsive search ad assets to create engaging multimedia ads. Microsoft's system takes care of the conversion process, seamlessly adapting your content to the multimedia format.
Dynamic search ads
Microsoft dynamic search ads offer online retailers a hassle-free, yet powerful advertising solution that targets relevant search queries. Dynamic search ads simplify your workload by automatically generating personalized ads based on your website and make sure they match specific queries. They resemble Expanded Text Ads, but with a dynamic twist.
Whether it's your entire website or specific pages and categories, these ads intelligently adapt to match the query and deliver highly targeted messaging to potential customers.
This feature saves time by eliminating the need for keyword lists, bid management, or customizing ad titles. The process is simple, efficient, and intuitive, allowing for maximum engagement and high conversion rates.

DSA ad | Microsoft
Microsoft Audience Ads
Microsoft Audience Ads is a native advertising solution specifically designed to cater to search advertisers. The feature allows advertisers to drive more high-quality traffic from sources other than search placements. It helps advertisers to connect with their ideal audience and drive return on investment (ROI)
Microsoft Audience Ads provide users with engaging ad experiences seamlessly integrated within articles and seamlessly merging with the surrounding page content while delivering visually captivating ads for advertisers and delivering visually rich ads.
With Microsoft Audience Ads, advertisers can reach groups of people based on demographics, interests, and behaviors and are able to serve highly relevant ads to an audience that is ready to convert, improving the effectiveness of their advertising campaigns
Microsoft Audience Ads are part of the Microsoft Audience Network, which offers a wide reach across Microsoft properties, partner sites, and apps to help advertisers effectively target and engage their audience.

Microsoft Audience ads | Microsoft
Microsoft Audience Ads offer two types of ad formats: image-based ads and feed-based ads. These ad formats are used in Audience Campaigns within the Microsoft Audience Network.
Responsive Audience Ads
Responsive Audience Ads are image-based ads that are created within an Audience campaign. These ads are designed to adapt and optimize based on the placement and audience viewing them.
Feed-Based Audience Ads
Feed-Based Audience Ads are used in an Audience campaign and are designed specifically for Microsoft Shopping campaigns. These ads utilize a product feed that contains information about the retailer's products.
You can easily create your product feed using DataFeedWatch.
Multimedia Ads
Multimedia ads are designed to capture potential customers' attention with visually appealing imagery that showcases a brand and its products. These ads utilize large visual elements and are intended to increase traffic and sales on a website. To match users' search queries, multimedia ads incorporate optimal combinations of headlines, descriptions, images, and logos.
With Multimedia Ads, you can expect them to appear in prominent mainline and sidebar positions without replacing your existing text ad placements.
There are three ways to create multimedia ads. Advertisers can:
manually create their own ads.
apply recommendations from Microsoft Advertising.
Leverage existing content by copying responsive search ads to multimedia ads.
Dynamic ad groups within Microsoft Advertising also offer the convenience of automatically generating multimedia ads based on your specific website content and campaign information.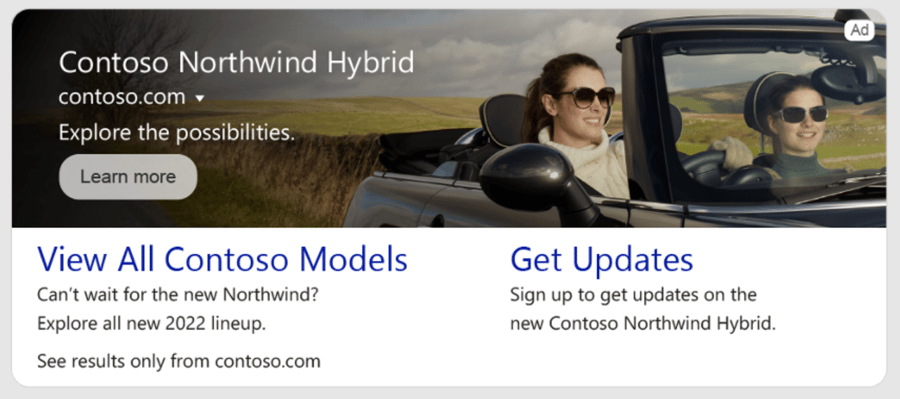 Microsoft Multimedia ads | Microsoft
Product Ads
Microsoft Product Ads are a type of advertising that allows advertisers to showcase their products using custom images from their own product catalogs within the Microsoft Merchant Center. These ads include relevant information such as promotional text, pricing, ratings and seller details.
The visual presentation of the ads helps capture the interest of potential customers and supports them in making purchase decisions even before clicking on the ad. This can lead to increased engagement, higher click-through rates, and improved conversion rates.
Product ads in Microsoft Advertising utilize specific product information to determine when and where the ads appear. If a user's search query is relevant to the advertiser's products, the product ad has the potential to appear in the search results.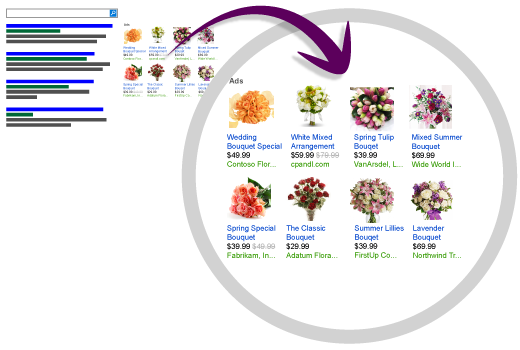 Microsoft Product ads | Microsoft
Vertical ads
Microsoft Vertical Ads are a new type of advertising that leverages dynamic data feeds to generate personalized ads aimed explicitly at specific industry verticals. These ads can include Automotive, Credit Card, Cruises, Health Insurance, Professional Services, Real Estate, Tax, and Tours & Activities categories.

Microsoft Vertical ads | Microsoft
Unlike traditional text ads, Microsoft Vertical Ads don't require keywords. Instead, Microsoft AI dynamically generates personalized ads to improve click-through rates and lower cost per click rates based on historical performance data. The ads are delivered in a dedicated block allowing more ad content, but the position operates independently and in addition to existing search text ads.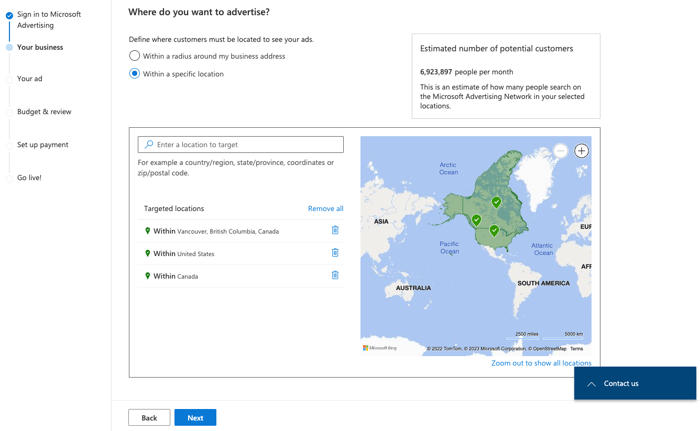 Microsoft Vertical ads | Microsoft
Advertisers can download standard performance reports in addition to accessing feed item reporting and utilize best practices such as comprehensive feeds (try DataFeedWatch), negative keywords, tracking templates, conversion goals, and location targeting to optimize their vertical ads.
Overall, vertical ads help advertisers improve ad performance with high-quality placements and achieve better results for their business.
Microsoft Advertising in Bing Smart Search
Microsoft advertising in Bing Smart Search refers to the display of ads in the Windows 8.1 Smart Search results. These ads are similar to text ads found on the Bing, AOL, and Yahoo search network sites but are specifically designed for the modern touch experience provided by Windows 8.11.
They are formatted to be visually appealing and optimized for touch screens, providing a seamless and engaging user experience. Additionally, when feasible, these ads may include a preview of the landing page associated with the ad, giving users a glimpse of what to expect before they click.
Microsoft Advertising in Windows 8.1 Smart Search is currently available in the United States, United Kingdom, and Canada in the English language.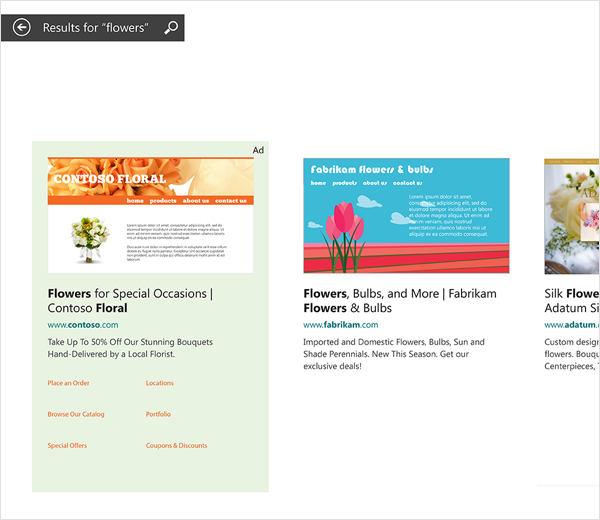 Microsoft Smart Search ads | Microsoft
---
Microsoft ads specs
The size of the ad, placement and format are all important factors to consider when creating an ad. The size of your ad will affect how many people see it and potentially click on it. Placement refers to where your ads are shown on Bing Ads' search engine results page (SERP).
Microsoft Display ads, native ads, and video ads are different types of advertising formats offered by Microsoft Advertising.
Microsoft Display ads
Microsoft Display ads are visual advertisements that appear on websites, apps, and social media platforms. These ads can be in the form of static images, interactive banners, or even video content. They are designed to capture the viewer's attention and drive traffic to a specific landing page or website. Microsoft Display ads come in various sizes and formats, such as banners, pop-ups, and interstitial ads.
Understanding the creative specifications is key to running effective campaigns. Here are the supported ad dimensions for MSN, Outlook, Mobile, and Xbox:
Mobile Banner: The dimensions for this ad type are 320x50 pixels.
Inline Rectangle: Use 300x250 pixels for this ad type, which fits seamlessly within the content.
Half-page: With dimensions of 300x600 pixels, this ad format allows for more visual impact and engagement.
Skyscraper: Reach new heights with a skyscraper ad that is sized at 160x600 pixels.
Billboard: Grab attention with a wide 970x250 pixel ad format, ideal for high visibility placements.
Leaderboard: This ad type has dimensions of 728x90 pixels and offers prominent placement on web pages.
Xbox Home: For Xbox ads on the home screen, the specified dimensions are 416x216 pixels.
Xbox Store: Display ads for the Xbox store should be sized at 468x263 pixels.
Xbox Video Gallery: For immersive video experiences, the recommended dimensions are 1920x1080 pixels.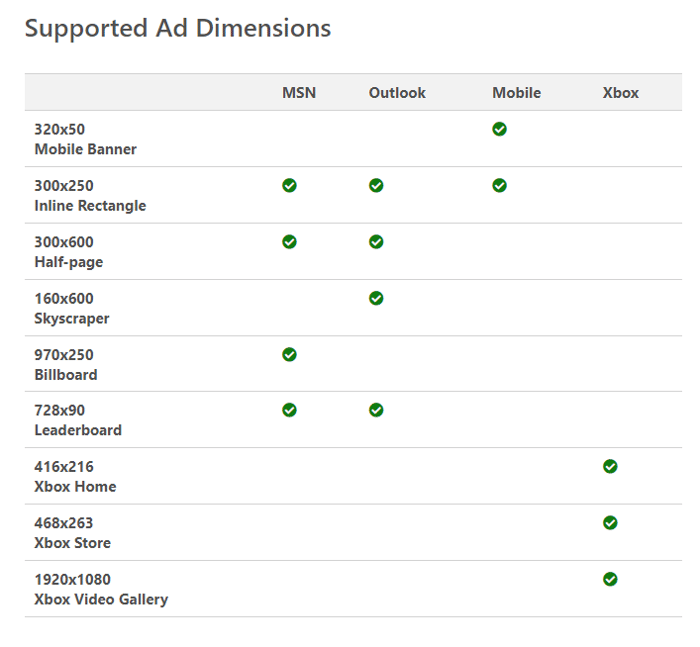 Microsoft Display ads specs | Microsoft
For backup images, the required file formats are GIF and JPEG. Remember to keep the file sizes within the maximum limits, ranging from 50 KB to 250 KB, depending on the ad dimensions.
HTML5 files are required for initial, secondary, and user-initiated file downloads, with maximum file sizes ranging from 100 KB to 500 KB.
For host initiated and user initiated videos, use MP4 format with specified durations: 15 and 30 seconds and maximum file sizes: 1.1 and 2.2 MB.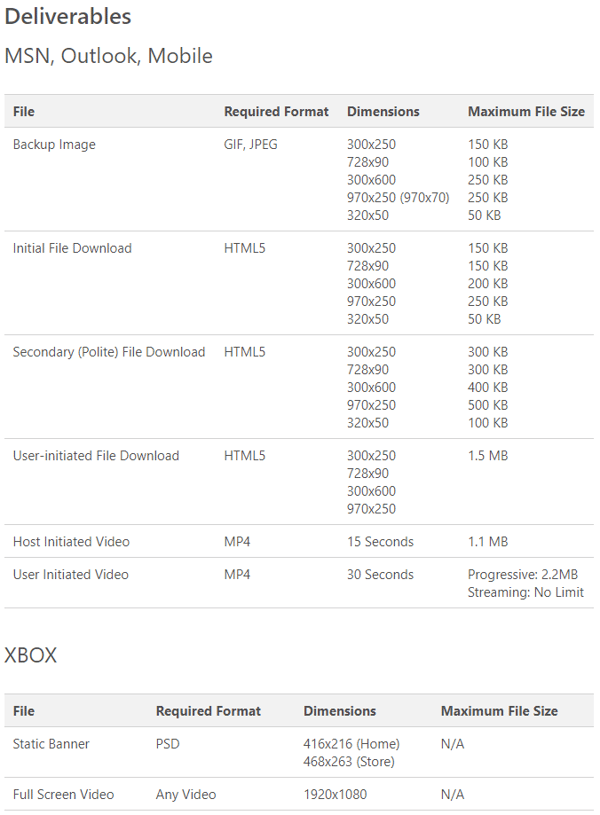 Microsoft Display ads specs | Microsoft
To learn more about Display ads specifications visit Microsoft's help page.
Microsoft native ads
Native ads are a type of advertising that blends seamlessly with the content on a website or platform. These ads are designed to match the look and feel of the surrounding content, providing a more non-disruptive and engaging user experience. Native ads are often presented as sponsored articles, recommended content, or in-stream ads on social media platforms. They blend into the platform in terms of appearance and functionality, hence the term "native."
The native ads specification differ depending on the placement your ads are shown at:
MSN ads
Native ads enable advertisers to seamlessly integrate their brand within the MSN sites, effectively connecting with their target audience.
As for deliverables, let's review the ad components and their specifications. The main image can be in GIF, JPEG, or PNG format, with an aspect ratio of 1.91:1. Ensure your main image does not exceed 200 KB in file size. For the logo, again, GIF, JPEG, or PNG formats are accepted, with an aspect ratio of 1:1. The maximum file size for your logo is 600 KB. When it comes to the title, keep it concise and captivating, with a maximum of 25 characters. The sponsor or brand text should also be kept under 25 characters. Lastly, provide the URL associated with your ad in simple text format.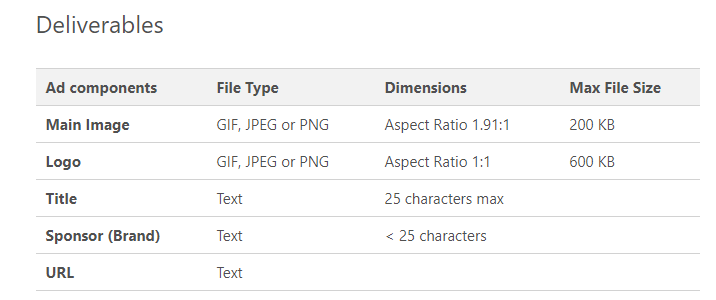 Microsoft Native ads specs | Microsoft
Outlook
Microsoft native ads on Outlook provide a powerful opportunity for advertisers to fully immerse their brand within the Outlook site, ensuring they connect with the right audience at the right time and in the right context.
You have the freedom to craft a compelling description with no character limit. Just remember that only the first 40 characters will be displayed. The title needs to be captivating to grab attention. There is no character limit, but keep in mind that only the first 38 characters will be visible.
Sponsor (Brand) has a text limit of fewer than 25 characters. An icon helps visually represent your brand. You should upload a JPG file with dimensions available in 150x150, 300x300, 100x100, or 50x50 pixels.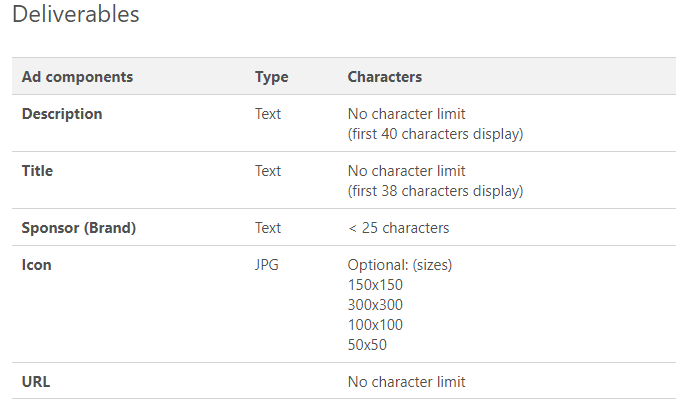 Microsoft Native ads specs | Microsoft
Microsoft Audience Network
With Microsoft Audience Ads, you can seamlessly integrate your brand within publisher sites, ensuring that you connect with the perfect audience.
When it comes to image-based ad deliverables, we've got you covered with the essential specifications. First, ensure your image is in JPEG or PNG format. For optimal visibility, we recommend dimensions of 1200x628 or higher, but don't go below the minimum of 703x368. Crafting effective headlines is crucial, so keep your short headline within 30 characters, while your long headline can reach up to 90 characters. Grab attention with concise yet compelling ad text, limited to 90 characters. Represent your business with a name of up to 25 characters. And don't forget to include your URL and mobile URL, both with a generous limit of 1024 characters.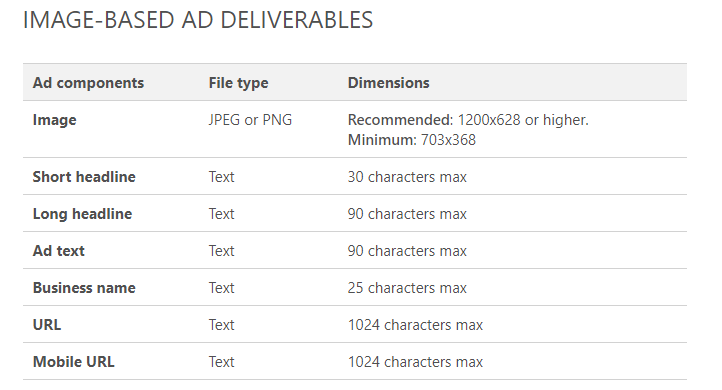 Microsoft Native ads specs | Microsoft
Microsoft Video ads
Video ads are advertisements that utilize video content to deliver a message or showcase products and services. Video ads can appear on various online platforms, including websites, social media platforms, and video-sharing platforms. They are visually captivating and typically aim to evoke emotions or effectively communicate a message in a short span of time. Video ads can be in the form of pre-roll, mid-roll, or post-roll ads depending on their placement within a video player.
Microsoft Advertising categorizes video assets into three quality levels: Fair Quality, Good Quality, and Excellent Quality. When you upload your videos, the system rates them on a three-star scale, with three stars representing the highest quality.
To understand the requirements for each quality level, refer to the Microsoft guidelines. The most crucial ones are:
The maximum file size for video creatives is 2 gigabytes across all quality levels. Accepted video file types include MP4, MOV, WEBM, MKV, VOB, OGV, OGG, AVI, QT, WMV, RM, ASF, M4P, M4V, MPG, MP2, MPEG, MPE, MPV, M2V, 3GP, 3G2, SWF, and TS. MP4 format is preferred.
Video bitrate varies as follows: Fair Quality should have a bitrate of 2,500+ kbps, Good Quality should have a bitrate of 8,000+ kbps, and Excellent Quality should have a bitrate of 15,000+ kbps for MP4 or 42,000+ kbps (720p) and 80,000 kbps (1080p) for MOV (Apple ProRes).
Video resolution ranges from 960x720 to 1920x1080 pixels, depending on the quality level. Video duration should be between 6 and 60 seconds, with recommended durations of 6 seconds (minimum), 15 seconds, 30 seconds, 45 seconds, or 60 seconds (maximum), depending on the quality level.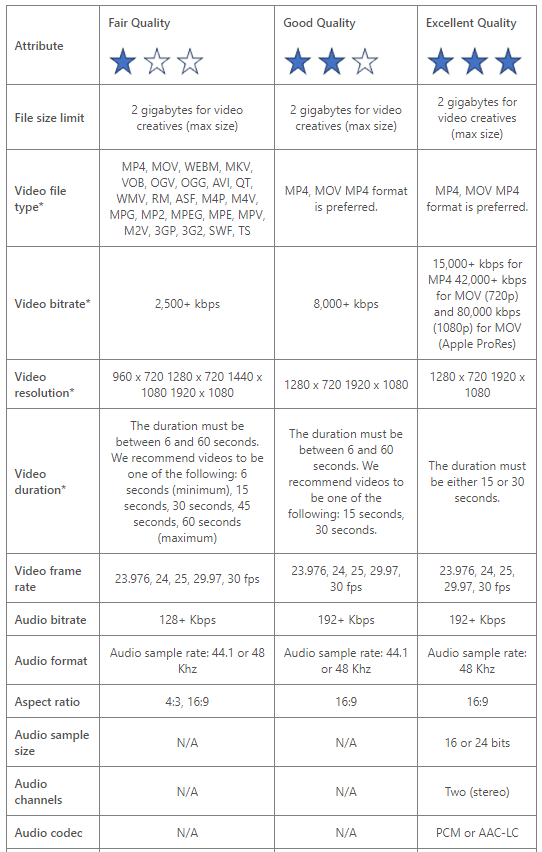 Microsoft Video ads specs | Microsoft
You can read more about different Microsoft video ads on Microsoft's help page.
---
How to set up Microsoft Ads campaign?
Setting up a Microsoft Ads campaign and Bing Ads management is easier than you might think. Here's what you need to do step-by-step.
1. Create a Microsoft Advertising account
To start using Microsoft Advertising, simply visit Microsoft website and choose either to Sign up or Sign in. Then, follow the straightforward prompts to create your own account with ease.

Creating Microsoft Advertising account | Microsoft
2. Import an existing Google Ads campaign (optional)
If you're currently running an ad campaign on Google, replicating it on Microsoft Ads is a breeze. Simply ensure that your Google Ads campaign is set up and optimized and import the campaign.
Once you've done that, all the settings you've chosen for your Google Ads campaign, including filtering options, keyword creation, and ad patterns, will automatically transfer to Microsoft Ads when you replicate the campaign. The replication process is seamless and saves you valuable time.
The only thing you need to decide on is your bids and budgets for your Microsoft Ads campaigns. You have the flexibility to adjust them by a certain percentage or keep them at their original levels.
Here is a step-by-step process to guide you through the import:
Sign in to your Microsoft Advertising account.
Go to the "Import" tab in the top navigation bar.
Select "Import Campaigns" and choose "Import from Google Ads" from the drop-down menu.
Sign in to your Google Ads account through the pop-up window that appears.
Select the Google Ads account containing the campaigns you want to import.
Choose the campaigns and ad groups you wish to import.
Adjust bids, bid strategies, budgets, and associate UET tags if necessary.
Review your selections and click "Next" to start the import process.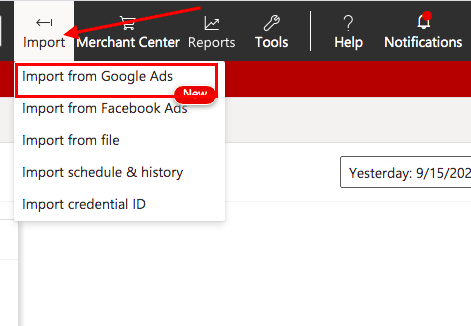 Importing Google Ads campaigns | Microsoft
With DataFeedWatch, replicating your Google Ads campaign in Microsoft Ads is a breeze. Our user-friendly tool allows you to effortlessly transfer your campaigns between platforms, saving you time and effort.
As of today, DataFeedWatch supports the replication of three campaign types, making it even easier to expand your advertising reach on Microsoft Ads:
Product text campaigns
Product-Group text campaigns
Product Dynamic Search Ads campaigns
3. How to create Bing ads?
Now that your account is set up and you've finished conducting your keyword research, it's time to embark on creating your very first Bing ad campaign. If you haven't imported any campaigns in step two, or if you're starting from scratch with a new Microsoft Ads campaign, this step is crucial.
A. Click Create Campaign
To get started, head over to your Campaigns page. In the center of the screen, you'll find a prominent Create Campaign button. Give it a confident click, and let's dive into the exciting process of crafting your Microsoft campaign.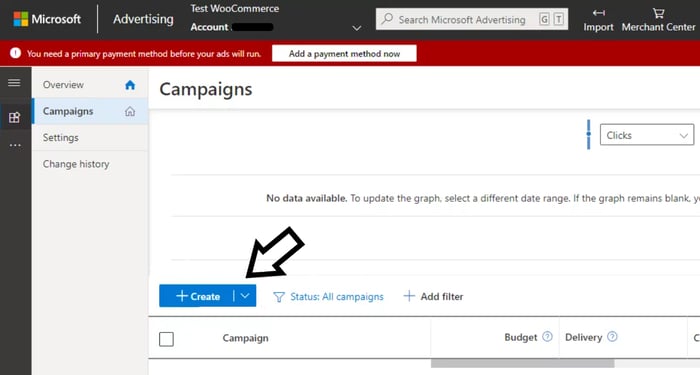 Creating Bing Ads campaigns | Microsoft
B. Choose your advertising objective
Next, set up the purpose of your Microsoft Ads campaign. It's essential to define your goal, which can range from driving conversions to your website, utilizing dynamic search ads, or promoting sales from your product catalog. Microsoft will guide you through the various options at your disposal, making the entire process streamlined and user-friendly.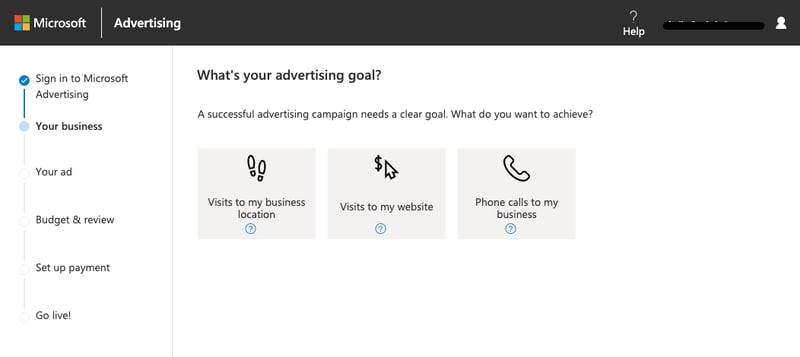 Choosing advertising goal | Microsoft
C. Fill in information about your business
Give Microsoft information about your business and indicate which worldwide location you want to target with your ads.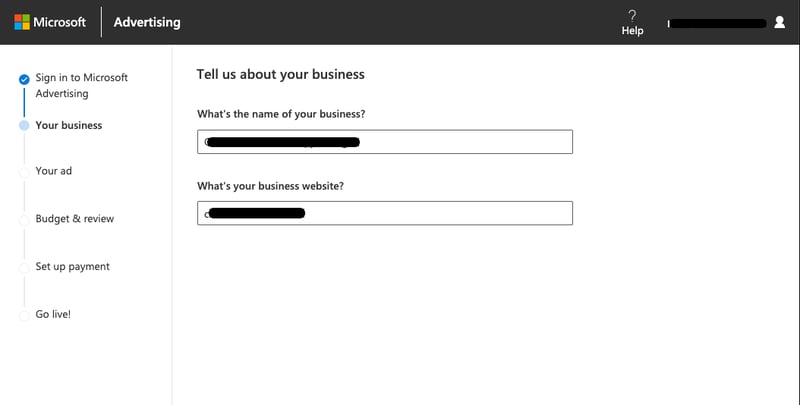 Filling in business information | Microsoft
Choosing target location | Microsoft
D. Choose the right keywords
Keywords are the words that people use to find your products or services, so it's important to choose keywords that are relevant for your target audience.
To ensure your Microsoft Ads campaign reaches the right audience, it's crucial to select the perfect target keywords. By choosing the right keywords, you can maximize the effectiveness of your ads.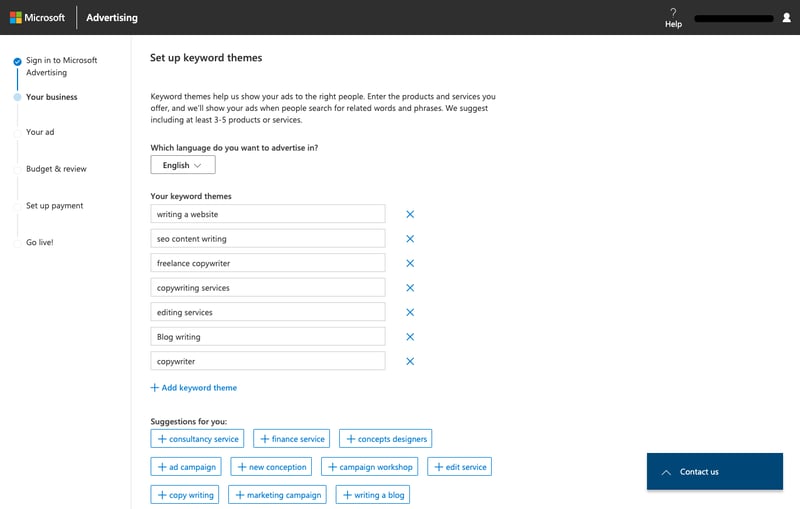 Creating Bing Ads campaigns | Microsoft, source: Hootsuite
E. Create your first ad
Add text to your ad. When creating it, you can easily preview how it will appear on the right-hand side of your screen. Not only that, but Microsoft also keeps you informed if you exceed the recommended character limit. This feature ensures that your ad won't get cut off or truncated, maintaining its effectiveness and visual appeal.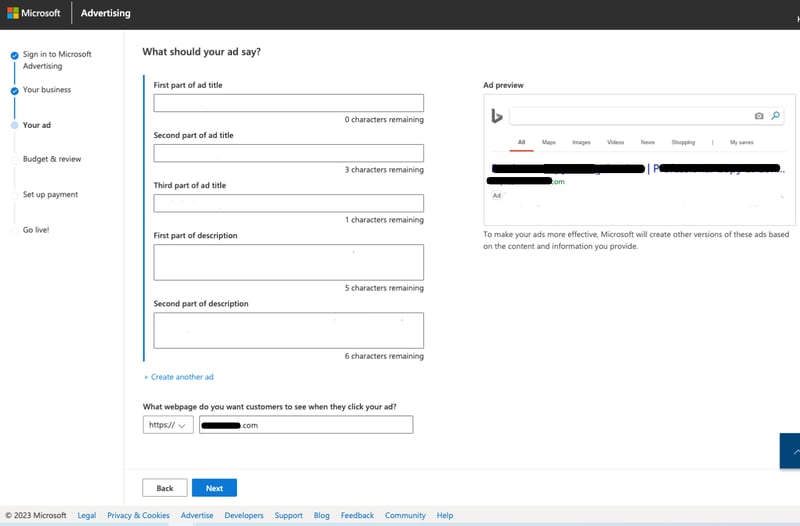 Creating Bing ads | Microsoft
F. If necessary, configure advanced settings (optional)
You can go ahead and take even better control of your ad's targeting by setting customized parameters. This way, you can increase your odds of reaching the precise audience that matters most to your business. For instance, you have the freedom to select specific times when you want your ad to be displayed or specify the age groups you want to target with your ad.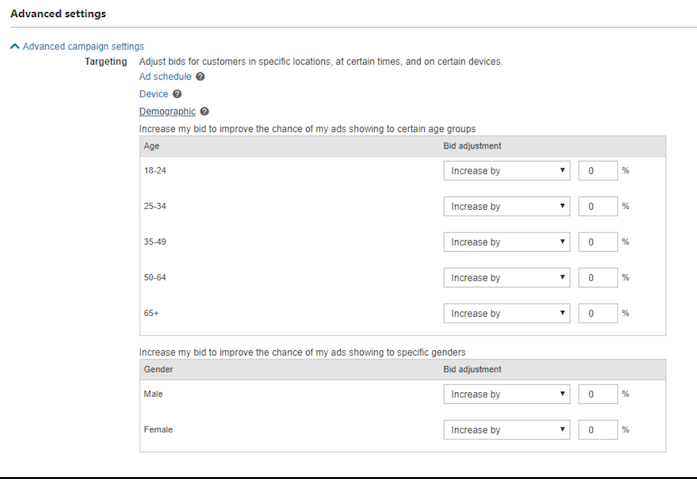 Advanced settings | Microsoft
G. Decide on a budget
Microsoft provides you with a convenient Estimated Performance box on the right side of your screen. This feature allows you to easily visualize the potential monthly impressions and clicks your ad can generate. It's a valuable tool for understanding the reach and impact of your campaign.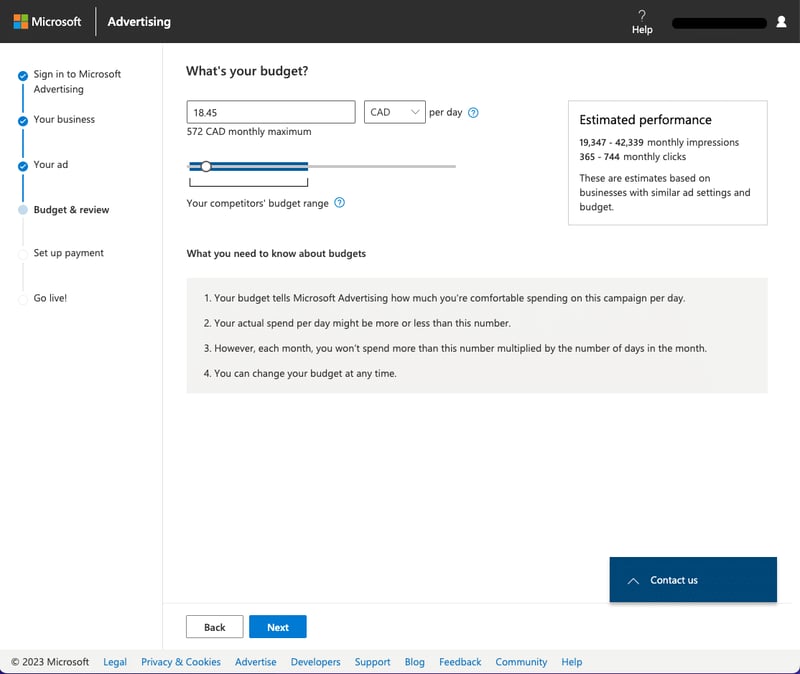 Setting up budget| Microsoft Ads
You need to consider your ad budget. This is a tricky question because there are many factors that go into determining how much money you should spend on ads, including:
You can't just pull out the calculator and say "OK, I have $1000 available for ads per month." Instead, think about what kind of ROI will be generated by your campaign (i.e. how many new customers will it bring in) and then calculate how much it would cost to get those customers through other channels (such as social media or search engine optimization).
A good starting point is to set your daily budget at $50. You can always increase this later on if you want more clicks, but it's important that you don't set too high a figure or else you won't be able to afford any ads at all!
The higher the budget, the more clicks you will get from Bing Ads (Bing). The lower the budget is set at - and this applies equally for both Google AdWords and Bing Ads - then less people will see those ads and therefore fewer people will click onto them; meaning that not only do we have less exposure overall but also fewer opportunities for conversions (sales).
4. Track Your Results
You should be able to track the performance of your campaigns using several tools in Bing Ads. The first step is to use the Performance tab to see how many clicks, impressions and conversions have been generated by each campaign.
Use the Campaign Performance Report: This report will show you whether or not your ads are meeting their goals. You'll know if they're performing well or not based on which columns are green (good) or red (bad).
Use the Keyword Performance Report: This report shows you how well an ad group's keywords are doing when it comes to click-through rate (CTR), cost per click (CPC), average position, conversion rate and average position over time.
Use the Ad Performance Report: This report shows you how well your ads are performing, including average position, CTR and CPC.
Use the Search Query Report: The search query report will show you which keywords are generating impressions and clicks for each campaign.
Microsoft Ads - Switch to Expert mode
Unlike the set-it-and-forget-it approach of Smart Mode, which is the default Microsoft ads mode, Expert Mode allows you to really manage your campaign putting you firmly in control.
With Expert Mode, you gain the ability to add more content to your ads, enabling you to deliver impactful and engaging messages to your target audience. On top of that, Expert Mode provides additional performance reporting and tracking capabilities, giving you invaluable insights into the effectiveness of your campaigns.
Expert mode is designed for advanced marketers and advertising professionals who want to be hands-on. It's important to note that once you make the switch, there's no going back, so be sure you're fully prepared to embrace the power of Expert Mode.
To make the switch from Smart Mode to Expert Mode:
In the top menu, locate the Tools section and select Switch to Expert Mode. Confirm your selection when prompted, and you're ready to dive into the advanced capabilities of Expert Mode.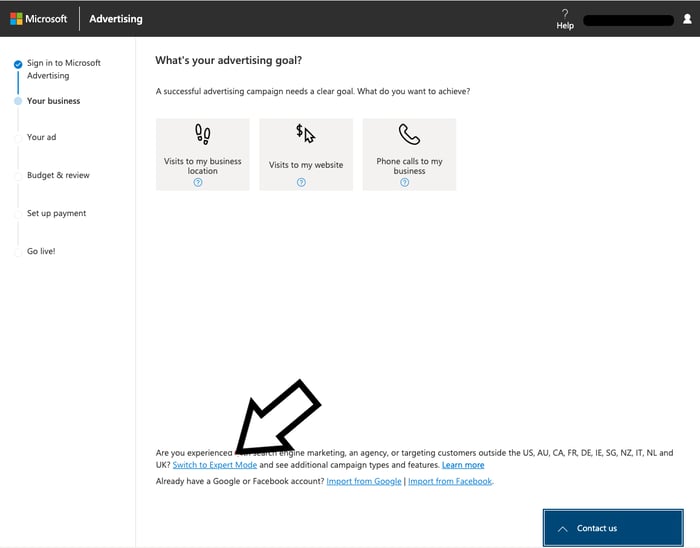 Switching to Expert Mode | Microsoft Ads
In Microsoft Ads Expert Mode you have the ability to take control of the few other settings for your campaign:
A. Enter the URL to target
Easily import data from Google Ads or Facebook Ads accounts. Or, target a specific URL and create a campaign instantly.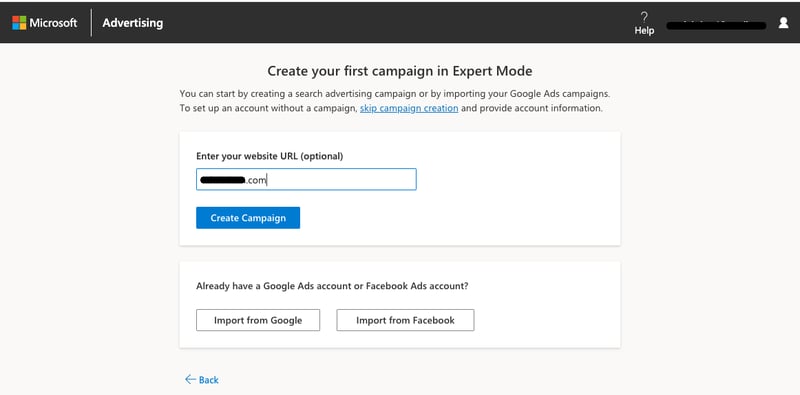 Creating a campaign in Expert Mode | Microsoft Ads
B. Select your Microsoft campaign bidding strategy
Choose the best bidding strategy for your campaign right at this point. Once you've made your decision, simply click Next to move forward.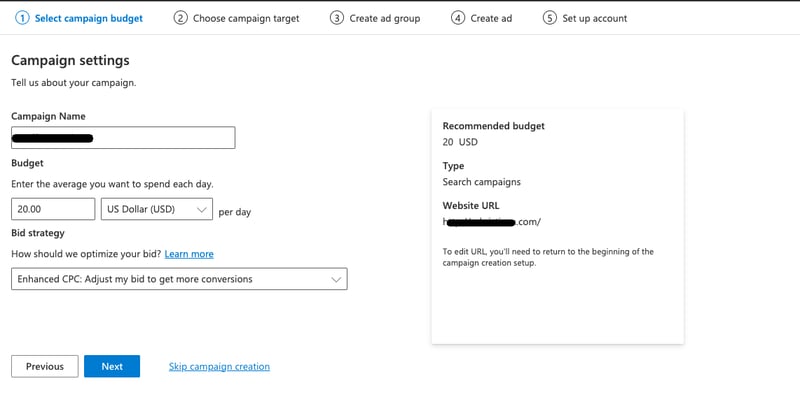 Choosing bidding strategy | Microsoft Ads
Bid strategy is a bidding method that determines how much you are willing to pay for a click on your ad. It can be set to manual or automatic, depending on your preference and budget needs.
Here are the key strategies available:
Manual CPC (Cost-Per-Click) : This is the default bidding option where advertisers manually set the maximum amount they're willing to pay for a click.
Enhanced CPC (eCPC): This automated bidding strategy adjusts your manual bids using real-time data to increase the chances of conversion. It can adjust your bids up or down based on the probability of a sale or conversion.
Maximize Clicks: This is an automated strategy aimed at getting as many clicks as possible within your budget.
Target CPA (Cost Per Acquisition): This strategy adjusts bids in order to obtain as many conversions as possible at a set cost per acquisition.
Maximize Conversions: This strategy uses Microsoft Advertising's algorithms to get the maximum number of conversions within your set budget.
Target ROAS (Return On Ad Spend): This bidding strategy helps you get as much conversion value as possible based on a target return on ad spend percentage you set.
If you're not sure what bid strategy is right for you, start with automatic and if needed, move on to manual later on.
C. Pick your campaign target
Customize the reach of your ad by selecting either a global or specific location targeting. Make your choice and simply click Next to proceed.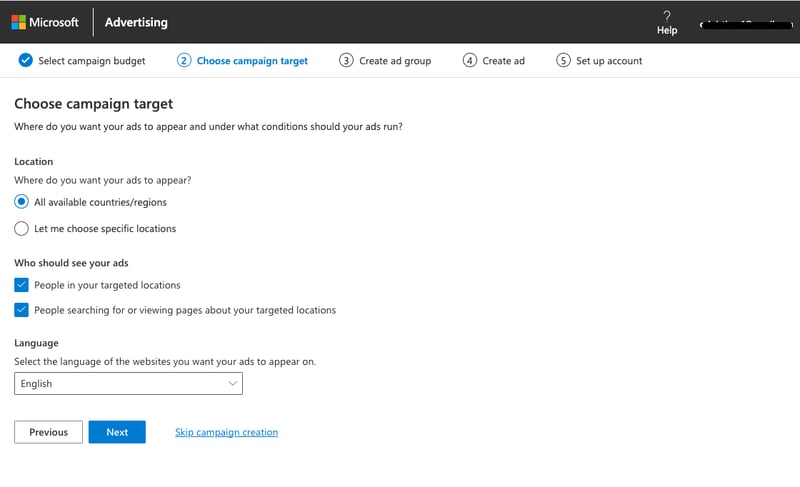 Choosing campaign target | Microsoft Ads
D. Create Microsoft ad groups
Optimize your ad's searchability by including all relevant keywords in the designated area. Or, for further keyword ideas, enter the specific website URL to be scanned (on the right).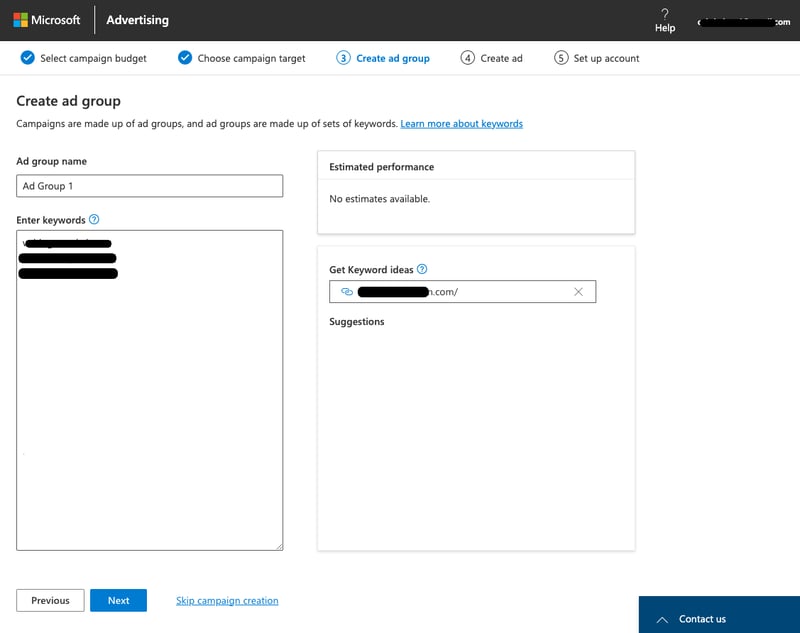 Creating ad groups/ choosing keywords | Microsoft Ads
E. Start creating Microsoft ads
Fill in your ad's headlines and descriptions to create the perfect message that resonates with your target audience. On the right side, Microsoft provides valuable tips on optimizing your ad for improved results. Then, simply click Next to proceed.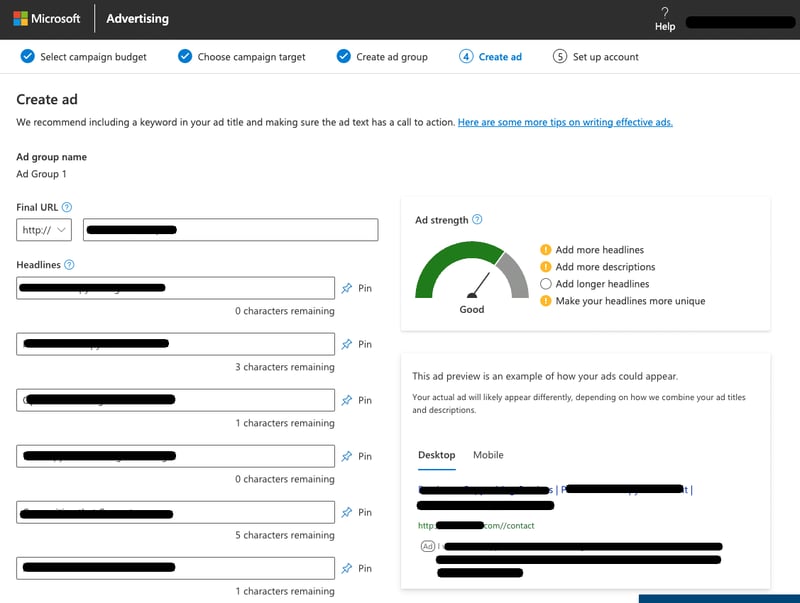 Creating ads| Microsoft Ads
F. Fill in your business information and set up your account
Provide Microsoft with essential details about your business by completing the prompts. Simply click Next to move forward once you've finished.
---
6 tips on how to optimize Bing ads
We're here to guide you with six valuable tips that will simplify the process and help you achieve stellar results. From optimizing your keywords to leveraging audience targeting - get ready to create your Bing Ads strategy to boost your visibility, drive conversions, and maximize your ROI.
1. Do a thorough keyword research
Keyword research is a crucial part of any advertising campaign, but it can be time-consuming and difficult if you're new at it. Luckily, there are several tools available that make keyword selection easier than ever before!
The first step in keyword research is to find out what people are searching for. There are many ways to do this, but the most popular by far is using the Keyword Research Tool, which in this case is a free tool provided by Microsoft that allows you to easily access search volume data for different keywords.
To get started:
sign in to your Microsoft Advertising account and navigate to the Tools section in the top menu.
Scroll down and select Keyword Planner.
From there, you can enter details such as your business name, location, and service.
The keyword planner will then generate a list of suggested keywords that you can bid on.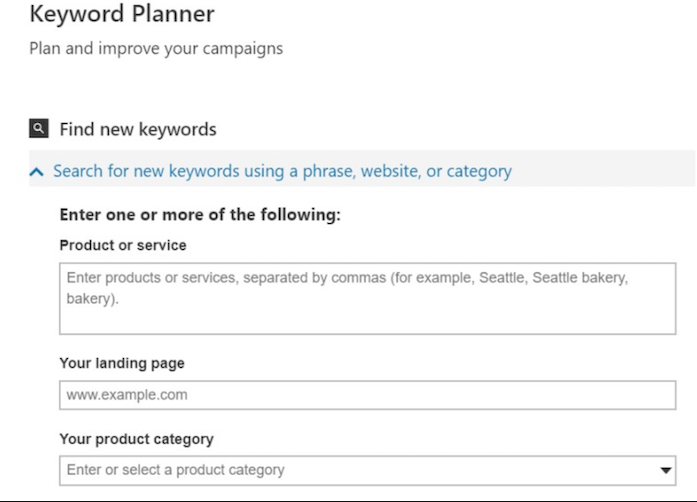 It is also a great tool for getting ideas for new keywords to target. If your business is selling dog leashes and you want to find out what people are searching for related to leashes, simply type in "dog leash" and it will show you the most popular keywords associated with this phrase.
2. Get to know your audience
If you want to make sure your Microsoft Ads are effective, it's important to know your audience and tailor your Bing Ads strategy accordingly. It's all about optimizing your advertising approach and reaching the right audience for maximizing your ROI.
For instance, if you specialize in selling orthopedic pillows for user 60+, Bing might be an ideal platform for you. This is because slightly older and wealthier demographics may prefer Bing over Google for search.
Building a detailed customer profile and identifying their preferences can help you determine if Bing is the right choice for you. If you're already using Google Analytics, assessing your demographics data can help you determine if your target audience falls on the younger side, in which case Microsoft ads may not provide the desired results.
3. Import high-performing Google Ads campaigns into Microsoft
Microsoft gives you the option to import your Google Ads campaigns to Microsoft and shorten the time of launching ads on this platform.Instead of starting from scratch, importing your successful campaigns will save you valuable time and effort.
In which case should you do it? If your Google Ads campaigns are already performing exceptionally well, it's a smart move to import them into Microsoft Ads.
Consider importing the campaigns that are most likely to resonate with your target audience on Microsoft Ads and begin from there. If needed, you can always remove these campaigns and import others at a later time. Before going live, it's crucial to double-check that everything transitioned smoothly from Google Ads to Bing.
4. Optimize your targeting
Most people express a preference for ads that are personalized to their interests. To maximize the effectiveness of your Microsoft Ads, it's crucial to ensure they are reaching the right audience. So how can you measure this? By utilizing multiple analytics reports.
These reports offer valuable insights into the performance and audience targeting of your ads, empowering you to make data-driven decisions for optimal results.
You can maximize your conversions and get the most out of your budget by strategically targeting the optimal time for your ads to appear. Imagine this: after analyzing your data, you find that the majority of your conversions come from the desktop on weekends after 7 p.m.
By increasing the visibility of your ads during this time, you can effectively capture the attention of your target audience when they are most receptive.
How can you target Microsoft?
Targeting is the process of choosing the audience that will see your ads. This can be done by geographic location, demographic, behavioral targeting (e.g., people who have been to your website), bidding strategy and keyword targeting. For example:
Location Targeting: Microsoft Ads enables advertisers to target customers based on their geographic location. For example, if you own a restaurant, you could use the mobile ad targeting feature to show your ads to customers within a one-mile radius of your restaurant during lunchtime. This way, when users search for lunch options nearby, they'll see your ad and consider visiting your restaurant.
Device Targeting: Microsoft Ads allows you to reach customers on specific devices that best suit your business needs. For example, if your target audience is more likely to engage with your ads on mobile devices, you can choose to focus your ad campaign on mobile users.
Time and Day Targeting: Microsoft Ads lets advertisers target users based on the time of day or day of the week. For example, if you run a campaign with location criterion set to the U.S. and the day and time criterion set to Monday from 11 am - 3 pm, your ads will be displayed only to users in the U.S. on Mondays between 11 am and 3 pm.
Gender & Age Targeting: Microsoft Ads allows you to hone in on your audience by combining both age and gender targeting. If you're promoting a local soccer coaching program for young boys, you might set your ad campaign to primarily target males within the 13-17 age group. By combining both gender and age targeting, you can make sure your ads are primarily displayed to parents of young boys interested in soccer coaching.
5. Take advantage of the UET Tag
To ensure accurate tracking of your conversions, setting up the Universal Event Tracking (UET) tag is crucial.
This tag provides detailed insight into user behavior after clicking on your ad and visiting your site. With a UET tag, you can determine whether a user quickly leaves your landing page or follows through with a purchase.
The process of setting up this tag is simple and user-friendly.
Navigate to the Campaigns tab
Select Conversion Tracking
Then select UET tags.
Customize the tag name and description
Add your URL or website name.
Remember to save the newly created tag and copy and paste the code into the pages of your website you wish to track. Additionally, adding conversion goals to the tag is an essential step to track important metrics like a visitor's overall site usage or purchases.
Explore Microsoft's support page for more guidance on running UET tags.
6. Monitor Your Quality Score
When it comes to Bing Ads, understanding your quality score is key to staying ahead of the competition. This score is primarily determined by three factors:
your click-through rate (CTR)
ad relevance
landing page experience
Simply put, a low-quality score means your ads may not appear as frequently as you'd like, while a high-quality score indicates that your ad has competitive keywords and CTR, so it's likely to be displayed more often.
To check your quality score click on the Keywords tab located on the "Campaigns" page and look for the Qual. Score column. It's important to frequently monitor this feature to ensure that your Microsoft Ads are delivering optimal results.
---
Conclusion
Microsoft Bing Ads is a great way to advertise your business and increase sales. It's easy to set up, has plenty of features and offers a lot more flexibility than Google Ads.
If you're new to Microsoft Bing Ads, we hope this guide will help you get started by answering some of the most common questions about advertising on this platform.
So, do you already know how to advertise on Bing? Yes, you do!
Read also:
7 Feed Optimization Tips for Bing Shopping Campaigns
Microsoft Automotive Ads Guide: How to get started?
---
FAQ
Can I use Microsoft Bing Ads for my online retail business?
Absolutely! Microsoft Bing Ads is an excellent platform for online retailers looking to reach a wider audience and drive more traffic to their websites. With its extensive reach and user-friendly interface, Bing Ads allows you to create targeted ads, optimize your keywords, and track conversions, all with the goal of increasing sales and maximizing your ROI.
Can I import my existing Google Ads campaigns into Microsoft Bing Ads?
Certainly! Microsoft Bing Ads offers a convenient feature that allows you to import your existing Google Ads campaigns seamlessly. By importing your campaigns, you can save time and effort in setting up new campaigns from scratch, ensuring consistency across platforms, and quickly reaching your Bing audience.
Can I track the performance of my Microsoft Bing Ads campaigns through conversion tracking?
Definitely! Conversion tracking is a powerful tool provided by Microsoft Bing Ads. By implementing conversion tracking, you can easily monitor the performance of your ads and measure the effectiveness of your campaigns in driving desired actions, such as purchases or form submissions. By analyzing this data, you can make data-driven decisions to optimize your campaigns and improve your return on investment.
---