Download the full article here
When is it time to start thinking globally?
Before we start, we want to highlight three common challenges you will face in your eCommerce journey and why it is so important to prepare for your multi-language shop.
Never forget, we are here to support you in your growth!
The three challenges eCommerce sellers typically face are:
The need to scale their business
The need to find new, flourishing markets
The need to find balance within the rising costs of advertising
For these situations, you will need to figure out different strategies and solutions. But there's one key thing in common that will make all the difference:
The ability to speak the language of your customers, no matter where they live or browse.
We've divided this guide into two main sections:
and
Let's start with the technical part!
Back To The Top or
---
Specific eCommerce requirements for selling worldwide
Many retailers are frozen by the idea of selling internationally because they don't know what eCommerce requirements there are at a tech level.
These questions may have run through your mind:
Are the product listings ready to receive traffic from non English-speaker countries?
Do the payment gateways accept different currencies?
The lack of answers often leads to abandoning the idea of selling all over the world, missing interesting opportunities.
But don't worry, in this article you will find all your questions answered! First, we need to clarify the way you sell online.
For that, we assume you are using one of the most common eCommerce solutions.
In this article we'll focus on three of the most-used platforms:
And if you are using Magento or PrestaShop, don't worry. We will have some info for you too.
Before we go any further, keep these essential aspects for your store to sell everywhere in mind:
Catalogues
Product Cards
Product Feed(s)
Customer Support
Terms & Condition (shipment fares)
With these in mind, let's dive into the perfect setup.
Back To The Top or
---
Shopify
If you are a Shopify-based store, and your eCommerce sales are thriving, now is the time to scale worldwide.
Although you are an ads expert and your conversions are skyrocketing, the mission to sell in new markets will not be easy without speaking the language of your new users.
So how can you fix that if, for example, you want your English-speaking store to approach the Thai market?
Let us introduce you to 3 interesting language translation apps.
Translation Lab ‑ AI Translate
This app will give you the possibility to translate your entire site in no time, with zero effort.
Sounds crazy? That's not even the best part...it's free!
With the combo of AI plus the native integration with Shopify you will be able to translate every part of your store without coding.
And if you are asking if you will need to buy new domains for the new translations - the answer is no! This app will create public URLs for you (with a max of 5 free) for the new language versions.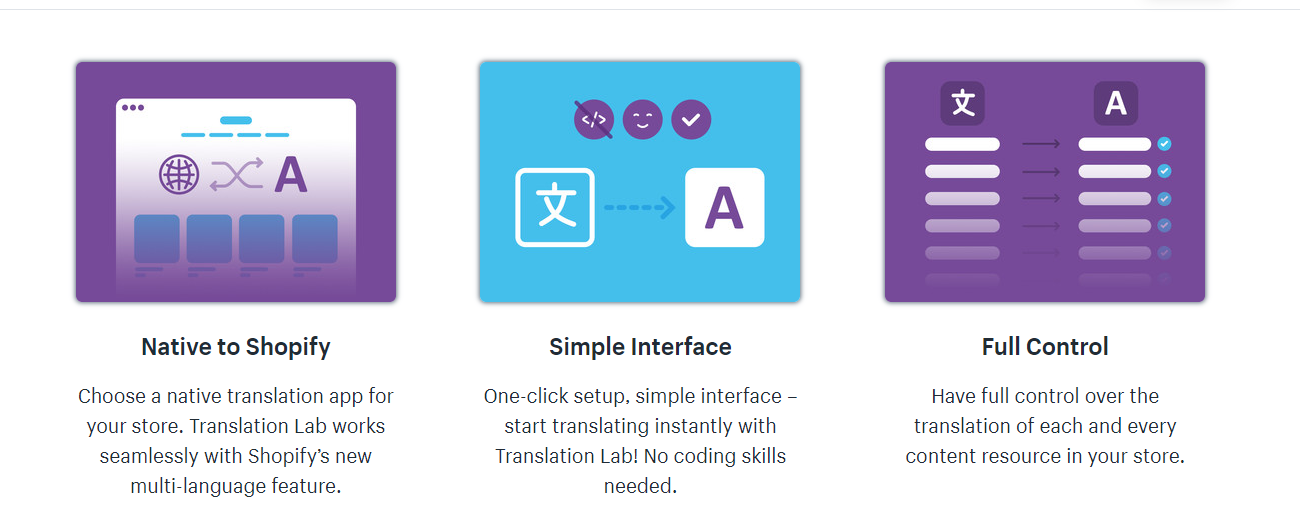 What are you waiting for? Grab the app here.
Langify
This app is one of the most complete apps for translating. You will be able to translate your site in just a few steps, creating a beautiful dropdown menu with different flags.
You don't need to configure subdomains by yourself, or any other tech stuff. Just set the minimum options required, and bang! You are now ready to sell everywhere.
Not only will this app do all the dirty work for you for just $17.50 /mo (plus a 7 day free trial), but you can also take advantage of our integration to download and process the translations generated by them to easily create multiple product feeds in one place.
Great, isn't it?
Don't waste any time, here's the link.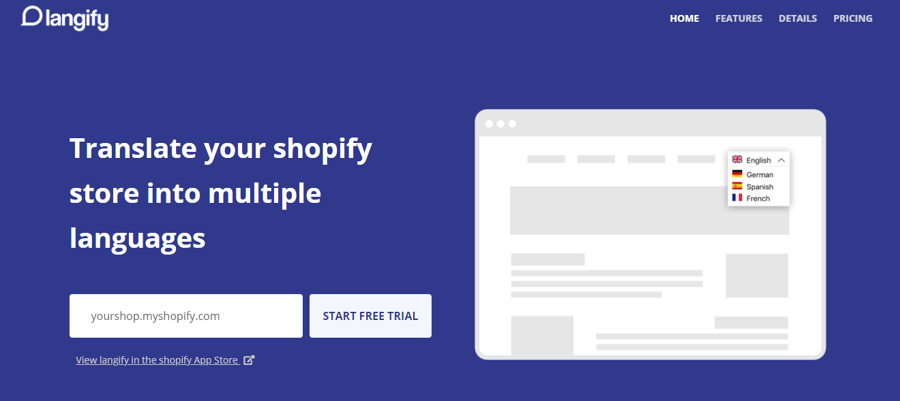 Translate Your Store ‑ Weglot
Last but not least, you can translate your Store using Weglot. This app work differently in respect to the others. Basically, you can translate 2000 words for free in 1 language. After that you will have to pay to unlock other features.
With more than 100 languages available, you'll be ready to sell in every part of the world. There is also another good reason to start using it!
You can integrate these translations with your feeds directly with DataFeedWatch. Find more info here with the official app link.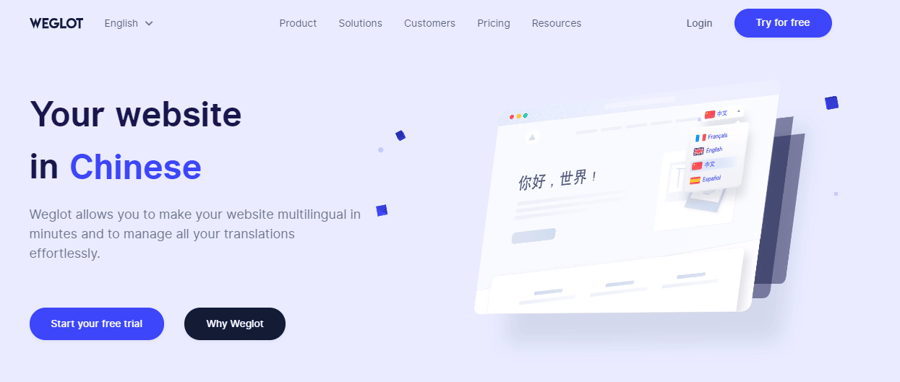 Back to The Top or
---
Woocommerce
This plugin is one of the most used to sell online, specifically for WordPress users. There are several add-ons to unleash the power of translation.
WPML
This add-on will help you with 2000 free credits per month to translate your store, element by element.
But this is just the appetizer!
WooCommerce Multilingual will give you full access to a great suite of features:
You can translate all the WooCommerce products and all the variants.
You can translate buttons and other website sections, such as the checkout page, contacts etc.
It's SEO friendly!
You can set up other currencies and start to receive payments from all around the world.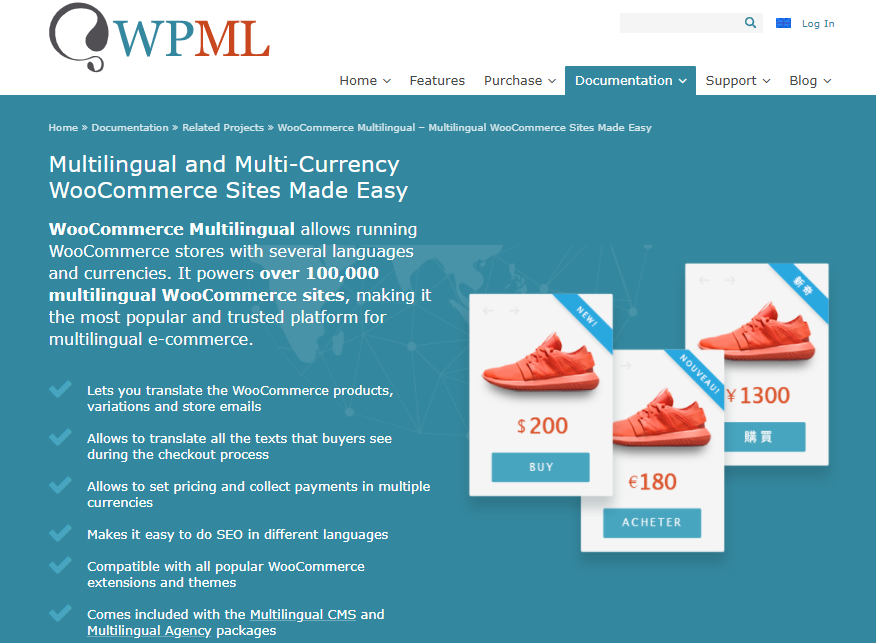 WordPress Translation Plugin – Weglot Translate
As mentioned before with Shopify apps for translation, the Weglot Team has also developed a plugin for WordPress, with similar features.
But what can you do with this plugin?
Well, you can create the new versions of your site inside the panel, you only need to select the new language and decide where this translation will go into effect. You can also display a friendly flag on the header section, with all the languages available.
With DataFeedWatch you are able to download the translations generated by Weglot to create multiple product feeds in one place.
Translate WordPress with GTranslate
If you go to the WordPress marketplace and search for the keywords "translation app" you will find the GTranslate plugin on the front line.
The functions are a bit different here:
First, this freemium plugin will give you the possibility to translate the entire site for free. But to create a subdomain (like .ES for your Spanish version of the website) you will need to upgrade to a premium version.
And, if you are using WooCommerce to sell, the free version will only allow you to translate the shop, but not the products.
Catch Weglot for Wordpress here
Back to The Top or
---
BigCommerce
If you have your store built on BigCommerce then we have some advice for you regarding the possibility of translating your product sheets and selling worldwide.
Weglot Translate
As we have seen before, the advantages of this app are many.
To name a few:
The ability to translate your website into more than 100 different languages
The fact that you don't have to be a developer to do all this
Using this plugin lets you take advantage of DataFeedWatch by keeping the processed translations in one place and then use them in multiple sales channels

You can find the official app for BigCommerce here.
ConveyThis
Another app you can use with your BigCommerce store is called ConveyThis.
This freemium app is developed to give you the ability to translate your entire website without having to get your hands on code, quickly and easily.
There's the possibility of being able to delegate the translation of various content to your internal team, so that you can concentrate on selling internationally.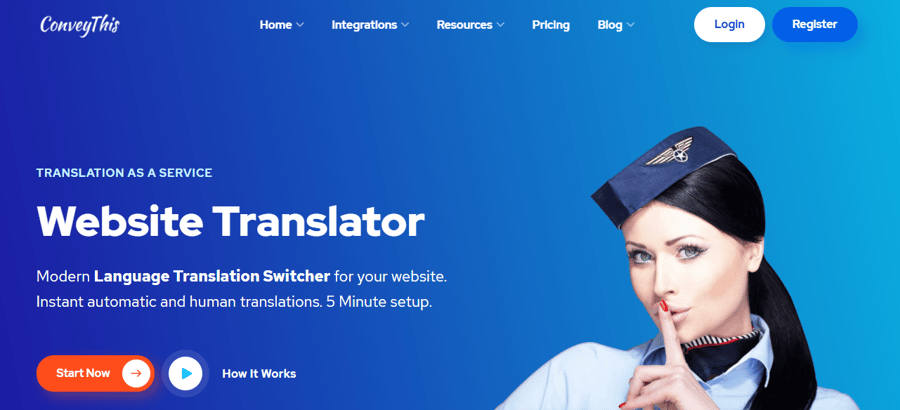 Back to The Top or
---
Magento + Prestashop
If your shop does not use one of the platforms mentioned above, it's possible that you're using Magento or Prestashop.
These are two other important names in the eCommerce landscape that have been innovating this sector for years. They offer innovative platforms designed to guarantee you a bulletproof eCommerce setup.
We have some tips to help your eCommerce sales go international and stop worrying if the users who access your site do not speak your language.
Since these two types of software already offer the ability to translate the website into other languages within the themes, you may not need any external additions.
We've still brought you some of the coolest apps you might want to consider:
Autotranslator - Prestashop

Weglot - Magento
Appjetty - Magento
Back to The Top or
---
Should you translate the entire shop or just the feed?

When it's time to expand and start advertising heavily, you might ask yourself if you need to translate the entire site or just the product feed.

This is a good question, and the answer depends on your vision. If you are here to build a strong brand and community around your customer, we suggest you translate the entire website and think long term.

In this way you will reduce the entry barriers, such as language, to make sure your new users feel more comfortable.

But, above all, you will be sure that your user understands what they are doing when they are browsing your store.

On the other hand, if your purpose is to grow fast without being concerned about the perception of your brand, you could think about only translating the product feed and start advertising after that.

Back to The Top or
---
Translate all the titles of your products or not?
This is a good question that needs a thorough explanation.
Here's the premise: there is no precise rule, different stores act in different ways.
We need to frame each individual case well and remember one essential thing - putting the customer at the center of our sales process.
This is why it is important to remember that the easier and simpler you make things to understand, the easier it will be for your user to make a purchase. That's why you should think about translating certain parts of your website including the descriptions of each individual product.
But what are these parts, and are the titles of the individual products part of them?
Well, when it comes to the titles of individual products, it is not always possible to translate them because they may have names that do not correspond to the target language.
Think Apple and its flagship product, the iPhone. How do you plan to translate the title of such a recognized product?
Not only would it create confusion in the minds of your users who would not buy the product, but it would also do damage to the branding that has been built up over the years.
For this reason, each case must be evaluated as each product has its own story. Not only that, but it is also necessary to consider where you will sell the product.
However, it is important that the users who browse understand what they are buying. So it's important that you translate all the descriptions of the individual products.
But does this alone need to be translated?
Well, not really.
Here is the list of elements that we believe are useful to be produced for each language you want to target:
Product descriptions
Checkout / order forms
FAQ
Chatbots
Policy pages
Back to The Top or
---
Are new domains needed for international campaigns?
Time is ticking, your creatives are ready and your ads manager is ready to launch abroad. But hey, are you sure you're going to send traffic to the right URL?
Many marketers and business owners undervalue the importance of domains, so they tend to use the same URL for every country.
Is this correct?
Well, if you're targeting Italian people, for example, you shouldn't send these users to your .com English-speaking store. This is because not all Italians understand English, so you will be missing out on sales and contacts.
For this reason we suggest creating subdomains or subdirectories specific for which country and/or language you want to target. And the best part?
Many apps we mentioned earlier already have this function inside their settings so you don't need to buy new domains or set up "techie stuff". You just need to enable this function and translate:
Labels
Product titles
Descriptions
and so on
The end result will be: From www.yourbeautifulstore.com to www.yourbeautifulstore.com/it
You can set this condition as IP geo recognition or direct by the link you will set inside your advertising platforms.
Google recommends using different URLs for each language version of a page, rather than using cookies or browser settings to change the language of the content on the page.
Here's the Pros and the Cons of creating different path URLs:
The Pros are:
The possibility to create instant subdomains with apps (easy as well for subdirectories)
The possibility to send traffic to the right URL (specific for language)
The possibility to track everything (cross tracking) without buying new domains
The fact that you don't need to buy other domains
The fact you could be more granular in analytic reports and making decisions
The Cons are:
You need to create all the variants for each country you want to target
Some apps will allow you to create a max of 5 subdomains for free
You need to translate all the parts of your store for each subdomain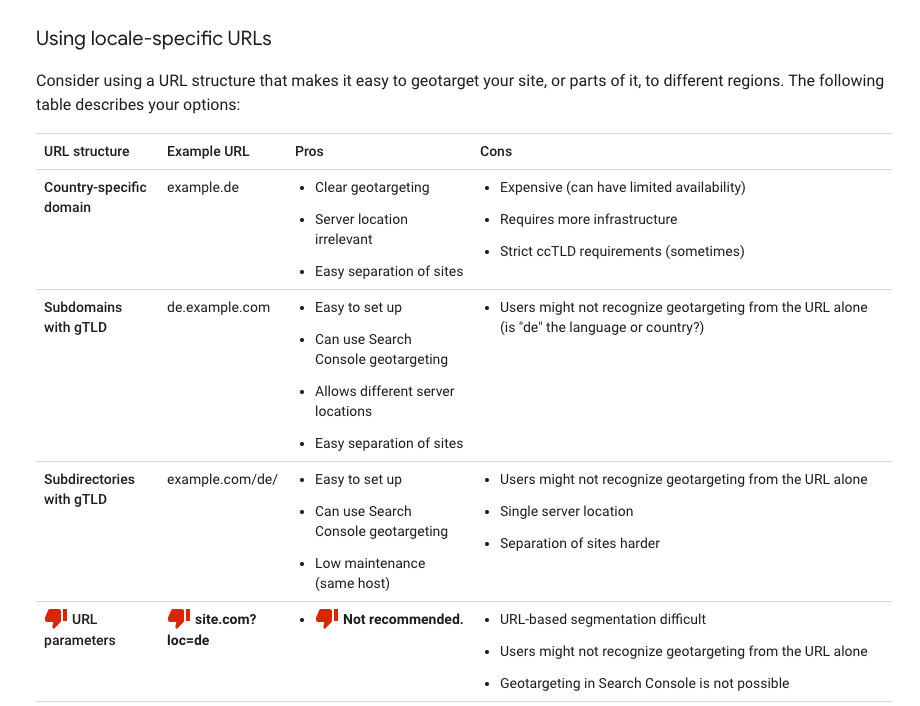 Back to The Top or
---
Why you shouldn't worry about currencies - no matter where you sell
Here's the point - when you start selling abroad you will probably appear on your new customers' phones thanks to advertising.
It's a good way to land in new overseas markets and, for sure, the quickest!
If you start pushing your products using Google Ads then you will rely on Google Merchant Center.
We won't be explaining its functions here, but you can find numerous guides about it on our blog.
We mention it now because, thanks to the information of the products that you will insert in your feed in Google Merchant Center, it will be able to automatically translate the current currency when you sell to countries that use different currencies. And, it will do so with the exchange rate conversion based on the current currency value.
You don't have to worry about this, because Google Merchant Center will take care of it directly and offer your customers the best experience.
You can explore more with Google's official guide.
Let's talk about payment methods for a moment. Some of you may be wondering if your current payment method will accept certain foreign currencies.
If you use the most common payment gateways you will be able to accept payments in other foreign currencies as well. PayPal for example gives you the possibility to accept foreign currencies by enabling the option. In this way you can receive payments from all over the world.
In any case, we recommend that you first choose the countries in which you want to offer your products and then check the local currency and see if your payment method accepts it.
Back to The Top or
---
The top 5 channels to attract new customers from all over the world
Now that you understand how to prepare your technical setup to go to international markets, it's time to talk about the best shopping channels you should consider advertising on.
We have selected 5 of the best main channels:
Facebook Ads
With approximately 2.7 billion monthly active users, Facebook is the largest social network in the world.
For companies and eCommerce owners this channel represents a very interesting traffic source to use, especially for advertising.
The ads system works through a specific auction for the audience you want to target. You'll compete with your competitors and the advertising objectives are different and specific to achieve your goal.
Facebook, unlike other platforms, is able to quickly spread your advertising message to the right people in a granular way through its algorithm. That way you get the estimated results.
Google Ads
The world of Google and its network is undoubtedly a channel to be considered in an expansion advertising strategy, especially when we have a product that responds to a need for conscious demand.
Here we have the opportunity to use different types of advertising - from Display that takes the spaces contained within the websites that adhere to the AdSense program, to Search that's based on the keywords that are entered by users.
Whether it is Display or Search, the Google Ads machine also works with its own algorithm so that you can find the right people you indicated during the campaign setting phase.
YouTube Ads
YouTube Ads is part of the world of Google. Lately it has been receiving a lot of interest from companies and marketers who are starting to allocate a specific budget for their strategies.
This type of advertising, used mainly in the discovery and awareness phase, allows your brand to reach an important number of people, as YouTube is a social media where people, on average, spend more time.
Many brands also use it in the branding phase and then remarketing on the people who see the proposed content.
Amazon Marketplace
The Amazon marketplace allows small and large businesses to sell their products, as well as their main brands.
Amazon's brand is increasingly present in people's lives and has become a place not only for shopping, but also for researching product information.
It has in fact been highlighted that in recent times, this mega store is being used as a means of research as an alternative to Google.
You can then imagine the daily traffic that Amazon collects from all parts of the world and the potential you could have in publishing your products here.
In addition to this, it must be said that you can take advantage of the Amazon Ads system if you want to highlight your product over the others for specific keywords.
eBay Marketplace
The eBay marketplace was one of the first online places to shop and one of the first to introduce the auction system where people can buy a product based on an offer they make. And, if this is not exceeded, at the expiry of the fixed time can secure the object to the last offer made.
This marketplace gathers visitors from all over the world and often contains niche products not easily found elsewhere, it is undoubtedly to be taken into account if we have a differentiating product that we want to bring to new international audiences.
Others:
These 5 channels we have talked about are the top 5 that we recommend you use. But depending on the type of products you are selling, they may not be the only ones.
For example, if you sell a handmade product, you should be selling on the Etsy marketplace, which is famous for promoting handmade products from all over the world.
If, on the other hand, your product is suitable for a very young age group, you could consider using TikTok as an advertising and communication channel. In fact, TikTok ads have recently been introduced to allow brands to be found and let people buy.
The channels where you can promote your products are endless, just check our DataFeedWatch integration to understand how many different ways your product feed can reach your potential customers.
It's up to you to figure out where the right users are based on the type of product you are offering.
You may also find interesting: Bonanza vs eBay: Which Platform is Better for Selling Online
Back to The Top or
---
Conclusion
In this article, we found out how to start selling internationally and set up your shop to approach foreign markets.
We've seen the different recommended platforms for starting in international eCommerce, and how you can use add-ons and plugins to translate your products.
Not only that, we have also analyzed some of the situations for which these plugins will be essential, especially in terms of business expansion.
We have also recommended the 5 sales channels that we believe to be indispensable in 2021, but as mentioned before, it depends a lot on the type of product you sell - there could be others to consider.
We hope we have helped make it easier for you to switch your eCommerce stores from selling locally to internationally.
For further questions you can write in the comments and we will be happy to answer you.