---
What are Shopify and BigCommerce?
In essence, both Shopify and BigCommerce are browser-based shop-building platforms. So as long as you have internet access, you can create and manage both platforms without needing to know any coding or being a design savant.
Both sites provide easy-to-use templates allowing you to customize your shop in terms of how it looks and where your products go. It also provides a simple cart/basket option to make your customers' shopping experience as easy.
You can upload your products, set your pricing structure, and hit 'Go'. It is very easy and very intuitive, whichever option you go for.
So how do they square off? Let's see them go head-to-head over 10 rounds.
---
Round 1: Ease of Use
Both platforms are straightforward to set up. But, before you start, consider the type of products you want to sell.
Consider your product variants
Shopify allows for up to 100 product variants and 3 options for each product. BigCommerce allows for 600 SKUs/variants for each product.

But, for both of these platforms, if you need more variants then you're able to modify your account. You can do this either with coding or apps in order to allow more. It all comes down to your specific needs and the most convenient option for you in the long run.
Setting up your store
Once you have decided which platform is better in terms of your products then the ease of use with both platforms makes getting started very simple.


The next steps are:


Uploading your products
Setting your prices
Making sure your theme looks smart


Both platforms are great for this and feel intuitive. Side note: BigCommerce does have a free page builder that makes this even easier.
You can use .csv files on both Shopify and BigCommerce to upload products if needed. This makes it easy to populate your store from a pre-existing feed. Both platforms are very easy to use and, truth be told, there aren't huge differences between them.
SCORE: Draw
---
Round 2: Pricing
Both Shopify and BigCommerce are subscription-based platforms, otherwise known as SAAS (Software as a service) where a monthly hosting fee is required.
There are also free trials available from both Shopify and BigCommerce so you can try them for free before committing.
The selection of pricing options available from both parties listed below:
BigCommerce Pricing:
| | |
| --- | --- |
| Plan | Price |
| BigCommerce Standard | $29.95 per month |
| BigCommerce Plus | $79.95 per month |
| BigCommerce Pro | $299.95 per month |
| BigCommerce Enterprise | The costs here vary depending on your business, what you require and what you add-on to the service. |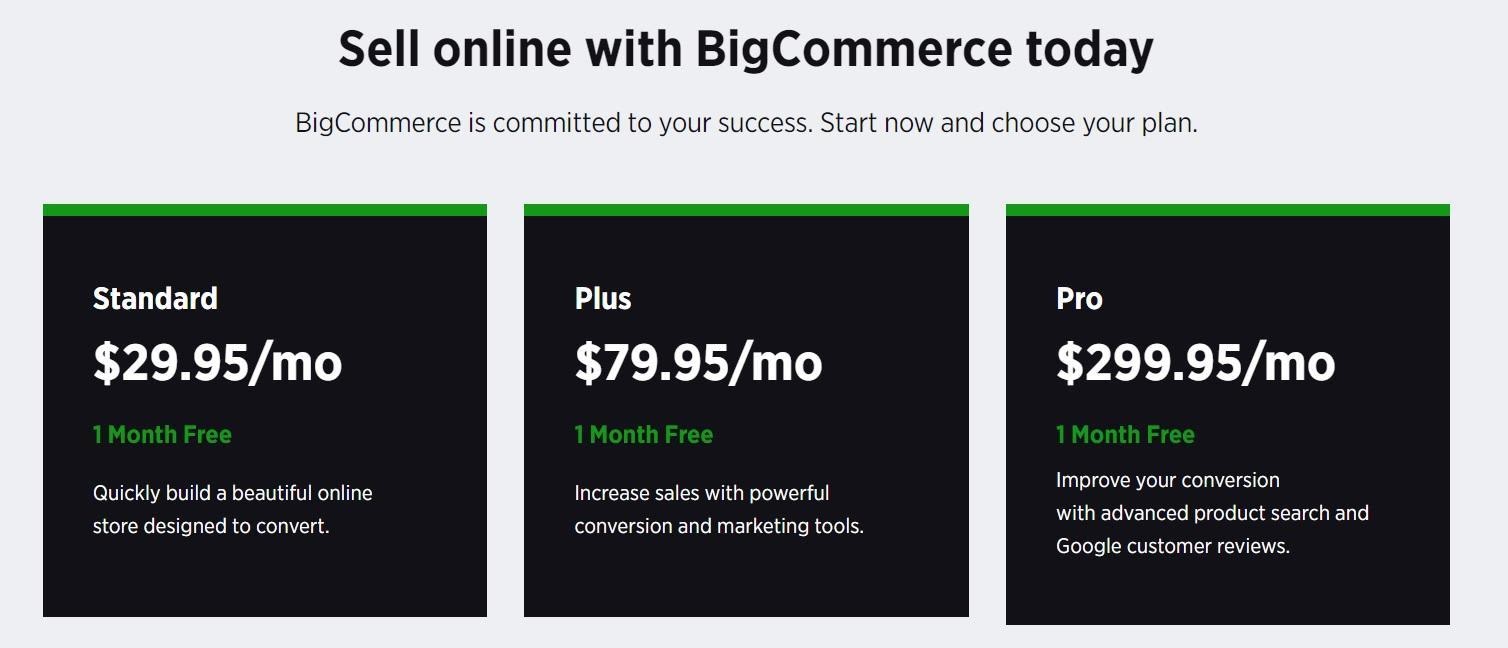 Shopify Pricing:
| | |
| --- | --- |
| Plan | Price |
| Shopify Lite | $9 per month |
| Basic Shopify | $29 per month |
| Shopify | $79 per month |
| Advanced Shopify | $299 per month |
| Shopify Plus | Costs here vary. You'll need to do more digging to get an accurate cost - but this package is designed for very large retailers or high-volume sellers. |

Considering the prices, is Shopify Lite the most economic option? Well, not exactly. While $9 per month sounds like a bargain, the functionality can be very limited. This option is designed for physical shop vendors who might benefit from the payment portal and inventory management systems.
Shopify lite is useful if you want to monetize your existing website or social media page by adding a 'Shopify Button' similar to a 'Buy Now' button and using the payment and inventory features.
If you run a blog page and want to sell some of the items listed, then this is a great option for your site.
What you don't get is an actual Shopify webstore (as in a web page hosted by Shopify). Instead, you get access to the backend features.
This is useful if you are a small mobile retailer and you'd like to use the payment and stock control features, but don't rely on a website or eCommerce for your business. So while this is a very useful option, it doesn't really fit the needs of people looking to use data feeds.
The win here is a decision of extra value. Both offer discounts for paying upfront (10% off) for the year.
How much do the Enterprise plans cost?
Well, as we said earlier, these options are generally aimed at very large organizations with a high turnover and high volume sales. This service offers a more bespoke and custom approach.
The fees are worked out based on a conversation with a Shopify or BigCommerce account manager. They work out what you need from your store, show you how everything works. Their offers guarantee:


Quick responses to server downtime
Fast-response support
An SSL certificate (to show your site is safe and genuine)
An IP address


Fees are thought to generally hover around $1500 - $2500 per month but can vary quite a bit depending on the complexity of your business needs and the level of ongoing support required.
For many of our online retailers looking to dip their toes in the world of Shopify or BigCommerce, the standard plan variants from each would be the best comparison:
Basic Shopify
BigCommerce Standard


However, BigCommerce gets the points this round as they offer currency conversion and a decent review function.
SCORE: BigCommerce 2: 1 Shopify
---
Round 3: Extra Fees & Costs
BigCommerce lands a telling blow with its lack of transaction fee charges. They also have slightly more favorable credit card transaction fees. Because of that, BigCommerce takes the round.
There is a standard fee of 2% for most vendors to budget for in their pricing strategies. BigCommerce actually forgoes this charge. That can be a pretty big deal once your sales start rolling in!
Shopify's transaction fees
But for those interested in using Shopify, let's take a look at their fees as well.

If you opt in to using Shopify payments then you won't need to pay any transaction fees. However, if you go with an external payment gateway then you'll have the following fees:

2% for Shopify Basic

1% for Shopify

0,5% for Advanced Shopify
SCORE: BigCommerce 3: 1 Shopify
---
Round 4: Annual Sales Limits
Shopify doesn't have annual sales limits which is great if (and when) your store starts to become really successful.
BigCommerce forces you to upgrade when you have reached:
$50,000 on the standard plan
$400,000 on the Pro plan (with negotiable limits to be confirmed for the Enterprise version).
Clearly, this is where Shopify excels. No sales limits apply to any of their offerings. This makes the functionality, not the level of sales, determine which platform is best to use. Here we have a decisive win for Shopify.
SCORE: BigCommerce 3: 2 Shopify
---
Round 5: Template Choices
Themes and templates are important when setting up your store. Ask yourself these questions:
Which theme speaks to you?
Which theme will attract your customers?
Which one will make them purchase your products?
There are a few free, customizable themes included for each platform You can also purchase themes that tend to cost in the $150-$300 range.
BigCommerce offers 150 to Shopify's 64. But, there are quite a few BigCommerce themes that look very similar to each other.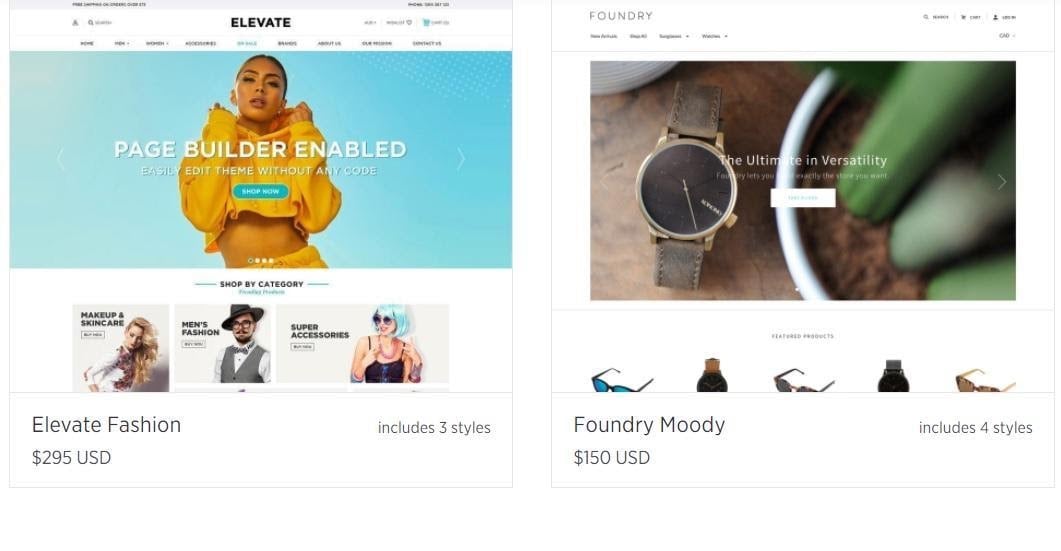 Shopify's themes are generally seen as more distinct, but this could be considered personal opinion rather than a defining annotation.
It's also worth bearing in mind that BigCommerce is probably easier to manipulate with their free page builder software.
You can purchase plug-ins to do the same with Shopify. Or, you can hop into changing without a builder if you are confident enough to do so. Free always sounds good to us though!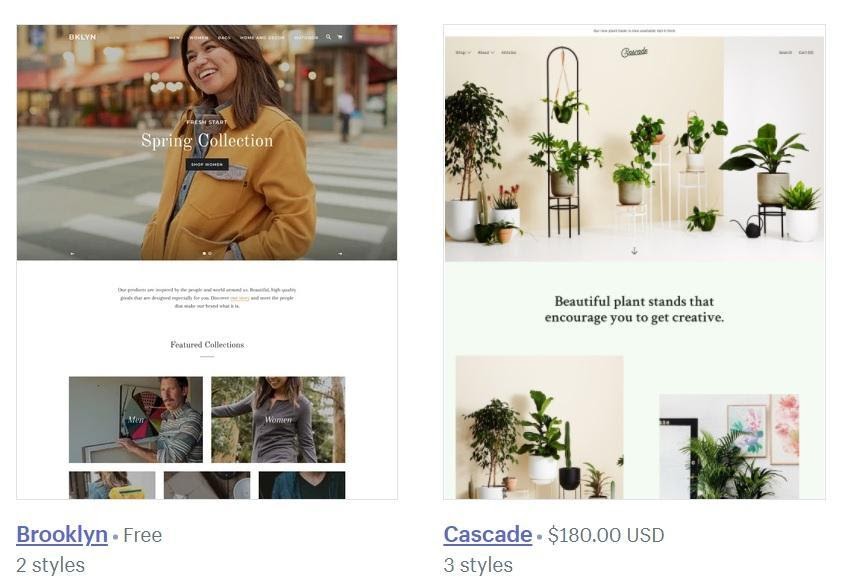 There are purchasable themes and templates from both Shopify and BigCommerce.
For those looking to make the most out of the free templates, then Shopify offers 9, whilst BigCommerce offers 12. BigCommerce wins this round.
SCORE: BigCommerce 4:2 Shopify
---
Round 6: Customizability
While themes help make your store look good, you might want to consider apps to help make it function better. If you love to use apps then you'll get a kick out of the sheer number of options on Shopify.
BigCommerce has the advantage of more built-in features. So arguably it requires fewer app options. Going down the app route makes Shopify the most customizable in this regard, but BigCommerce feels easier to manage. Especially in a small store setting with limited products.
Shopify offers a broader range of apps and functionality for mobile store management, so that is worth considering if you want to run your business from the road.
Shopify offers a paid plug-in (Buildify) that makes customizing easier. Some apps like Rewind Backups have bridged the gap to provide services such as daily backups for both Shopify and BigCommerce.
BigCommerce has the edge in terms of ease of customizability with a free editor included, coupled with the greater choice of free themes from the last round. All in all, this one is a draw.
SCORE: BigCommerce 5: 3 Shopify
---
Round 7: Apps available
BigCommerce arguably has more useful features straight out of the box than Shopify but Shopify has a much larger app store than BigCommerce. Shopify does have considerably more options for mobile, however. Since this round is about apps, we have to call it for Shopify, due to the huge variety available.
With many of these apps being free, it really comes down to if you prefer to utilize apps or manage one platform.
Types of apps offered
Both platforms offer a wide variety of app categories, like:


Analytics
Marketing
Fulfillment
In-store
and more
And of course, you can find DataFeedWatch in both app stores for the perfect data feed management integration.
Top free apps on BigCommerce
Here are some of the most popular free apps that you'll find on BigCommerce:


Top free apps on Shopify
And these are some of the top free apps on Shopify's store:
Since this round is about apps, we have to call it for Shopify due to the huge variety available.
SCORE: BigCommerce 5: 4 Shopify
---
Round 8: Sales Channels
Both Shopify and BigCommerce are pretty adept at integrating seamlessly with your existing sales channels. This allows to manage all the channels you're selling from one, convenient place.
All the top channels are there, like:
SCORE: BigCommerce 5: 5 Shopify
---
Round 9: Payment Gateways
This round we look at payment gateways. These are the systems for accepting online credit card payments. Both platforms connect with the major players such as Paypal and Quickbooks.
However, Shopify offers connectivity to more payment gateways.
Where Shopify does have a distinct advantage over BigCommerce is the built-in POS (point of sale) system.
You'll need a third-party solution for BigCommerce, like Sage Pay for example. If you plan on using a third party anyway, then this doesn't matter. Use what you prefer or are used to. It's worth bearing in mind if you prefer not changing or adding too much to your store.
We've got another win for Shopify.
SCORE: BigCommerce 5: 6 Shopify
---
Round 10: Blogging & SEO
As you may already be aware, both platforms lack a little functionality on the SEO and blogging front. This is especially true when compared to more plugin-heavy platforms such as WordPress.
For example, if you are used to using WordPress, then you won't find the same plugins that are aimed at improving your SEO such as Yoast with either Shopify or Bigcommerce. You may also find that there's no functionality for categories, just tags.
Despite this, blogging is very important and both sites offer basic functionality for blogging.
Who wins this round? Again, it's a draw.
SCORE: BigCommerce 6: 7 Shopify
---
And the winner is…!
Basing it off of points, the clear winner is Shopify. But, it does really depend on what you want.
If you're looking for ease of use and simpler management, then BigCommerce is right for you.
If you want the extra functions and add-on apps that can make a basic store grow with your business, then Shopify wins.
Why BigCommerce?
It's the basic functionality and 'out of the box' ease of use that sets BigCommerce apart. Both platforms provide a ton of features and it's worth exploring both options via the free trial to see what works best for your business. But if push comes to shove and you want to crack on quickly and easily then it's hard to look past BigCommerce as the best eCommerce platform for your online store.
It's a great platform with loads of benefits, competitive pricing and transaction fees, and easy to manage and integrate with your existing sales channels.
Why Shopify?
You can ultimately do much more in the long run with Shopify. There are tons of add-ons and extra features you adapt to make your store stand out. Shopify also has a much larger customer base and more support staff. So for a business that wants to move past being a small Etsy-type store and wants to maintain growth, then Shopify is the best platform for you.
Read how to map your Bigcommerce feed correctly for Google Shopping.