In the meantime, we would like to show you how to best use Price Watch to get ahead of the competition. As it's a very broad topic, in this post, we will focus entirely on competitor metrics. You can expect more articles on similar topics in near future. So what are the most important metrics?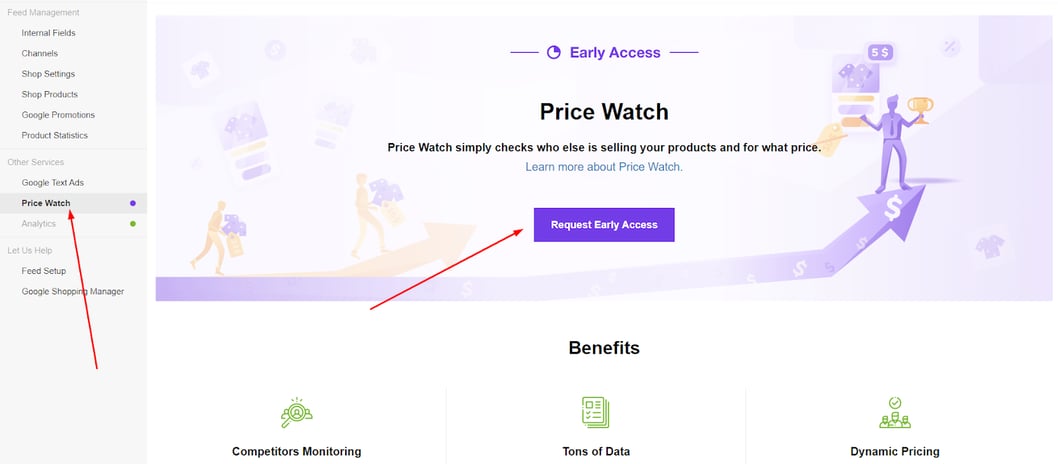 Table of Contents
---
The Cheapest Competitor
The most popular metric among our customers is the cheapest competitor metric. This metric shows us which of your competitors are offering the same products as you, but for the lowest price. The cheapest competitor metric is very important for a lot of reasons. Especially if you are a new seller on a channel like Google Shopping, or you are just starting your new business.
In many cases, the product with cheapest or most competitive price is ranked in first position on Google Shopping. Google has a very sophisticated algorithm that determines the position of a product. The algorithm takes into account the quality of the website, maximum CPC and many other factors. Despite that, product price is always a major factor.
Unsurprisingly, the product that ranks in first position is often cheaper than the average price. Therefore, a consequence of a poor pricing structure can be ranking lower down the page of search results. This can have a negative impact on business due to lower impressions, and thus directly impacting your ROI.
Despite this, many experienced sellers will know that having the lowest price in the long run isn't always sustainable. On some occasions, it can even create a standoff between competitors, which doesn't benefit anybody.
A standard practice for advertisers includes advertising a few popular products for the lowest price, even if that means losing money on each sale. This practice guarantees high levels of traffic and impressions, due to being positioned first on Google Shopping. According to Outbound Engine, it is usually five times more expensive to acquire a new customer than retaining a current one. This justifies the negative margin on the initial sale. Once acquired, the rate of selling to an existing customer is 60-70%. Comparatively, new customers have a purchasing rate of just 5-20%.
As part of your overall marketing strategy, it makes sense to identify a few key products from your catalog. You should try to ensure you have the lowest offer to maximize your chances of being in first position in Google Shopping or any other channel. However, this should not necessarily be maintained in the long run and you should pay attention to your whole shopping campaign structure. Then judge how to proceed from there.
The cheapest competitor metric will help you identify your competitors who are selling the same products for the lowest prices. It will also show the difference in price numerically or as a percentage. You can choose to identify the overall cheapest competitor on Google Shopping. Alternatively, you can choose to filter by specific competitors. This is a good option if you have already identified your top competitors.
Pro tip: Knowing your price position you can isolate products into individual campaigns based on poor, good, or excellent price vs. your main competitor. It's a straight way to better ROI! Read more about this tactic here.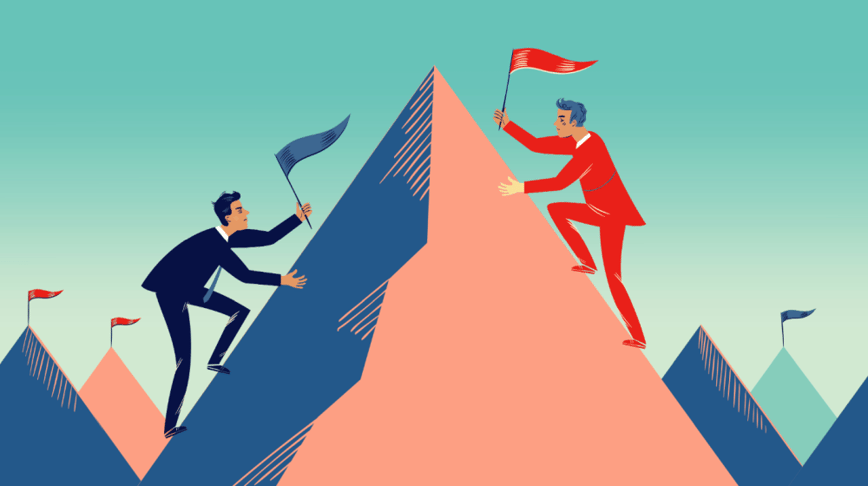 Return to top of page or Download The Ultimate Google Merchant Center Handbook
---
The 2nd Cheapest Competitor
This metric shows you the second cheapest competitor, whilst disregarding the first. This is intended as a precautionary metric, as we have often noticed the cheapest competitor on Google Shopping can be slightly misleading.
The most common reason for this is competitors entering the wrong GTIN. This can create substantial differences between prices, due to the products being entirely different. Should you encounter such an issue, the second cheapest competitor metric is ideal.
In addition to that, not everyone wants to beat the cheapest competitor. This could be down to a variety of reasons, such as profit margins or delivery costs swinging the price at a later stage. However, if the difference between yourself and the second cheapest competitor is still a large one, it is something that may be worth looking at fixing.
Return to top of page or Download The Ultimate Google Merchant Center Handbook
---
The 3rd Cheapest Competitor
If for any reason, comparing yourself against the cheapest or second cheapest competitor doesn't work out, there is the option of the third cheapest competitor metric. This can be used as a baseline in the same way the cheapest competitor and second cheapest competitor are used.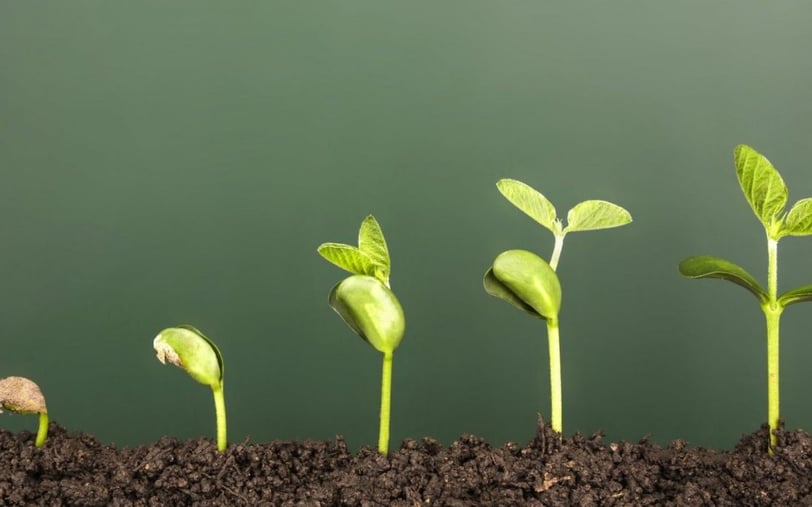 Return to top of page or Download The Ultimate Google Merchant Center Handbook
---
The closest cheaper competitor
This metric allows you to see the closest cheaper competitor in relation to you. We believe this is a useful metric to use prior to the others. This is because it allows you to better understand the difference in price between yourself and your nearest competitor.
Assuming that product margins are similar for most of the merchants in your region, pricing between competitors shouldn't be far apart. If that is the case, you should prioritize closing the gap with your nearest competitor.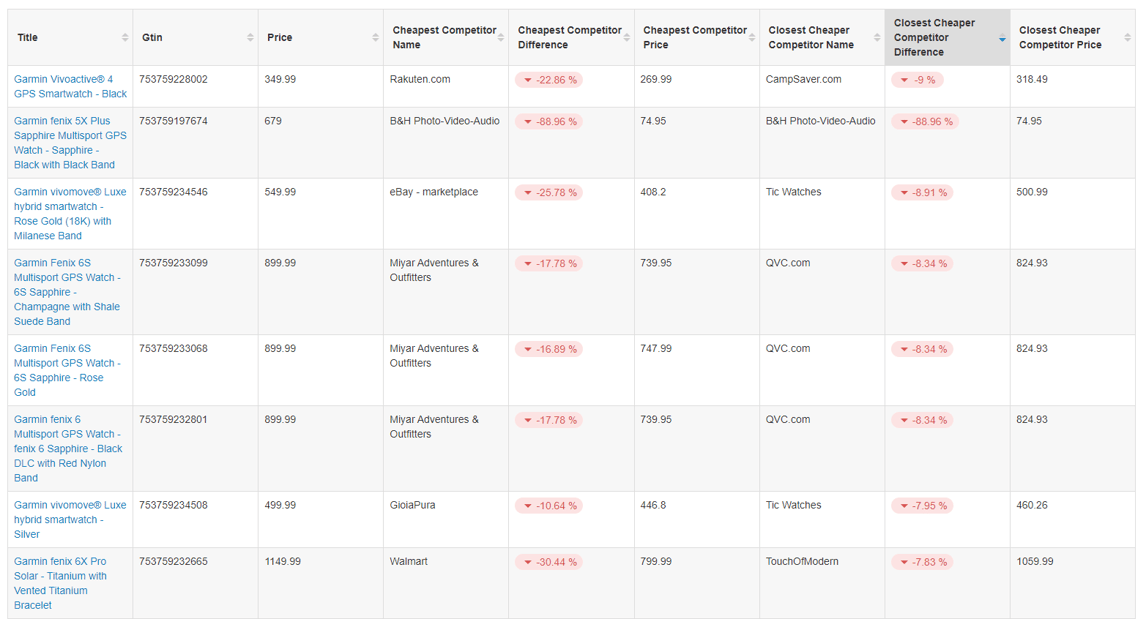 Beating the competition is a long process and it starts with beating your closest competitor.
Return to top of page or Download The Ultimate Google Merchant Center Handbook
---
Specific Competitors
Price Watch also allows you to see data from specific competitors. This means you can use the program to identify where you stand among competitors on a certain channel, for example Google Shopping. Alternatively, you can choose a competitor for a comparison over all channels.
At times, the amount of data can seem overwhelming. This can often be the case when comparing electronics or apparel products from popular brands, due to the extensive competition. In cases like these, selecting a specific competitor can be very useful and help to narrow down data.

However, in order to use this feature, that specific competitor needs to be on Google Shopping. Furthermore, they need to have the correct GTIN number listed on their products (Google enforces this anyway with incorrectly listed products being removed).
Return to top of page or Download The Ultimate Google Merchant Center Handbook
---
Final thoughts
With the introduction of Price Watch, we aim to make it easier for our users to stay competitive. We hope this article provided a brief insight into the use of Price Watch, along with its features. This will be the first of many posts on the topic, and we hope to delve more into the features in later articles.
If you are as excited as us for the introduction of Price Watch and simply can't wait for the final release, then make sure to request early access through your account. This will give you access to our imminent beta release!


Check Out More Resources on Price-Watch: