Article last updated 04-May-2023
Google Shopping has become an essential tool for both consumers and retailers, providing users with a streamlined shopping experience and businesses with an effective platform to showcase their products.However, as the eCommerce landscape continues to evolve, keeping up with the latest Google Shopping updates can be a challenge.
That's why we've created this overview of the top Google Shopping updates, which we'll be regularly updating to ensure that our readers stay informed of the most relevant developments.
Be sure to bookmark this post so you can stay up-to-date on the latest changes to this crucial eCommerce platform.
From the Google Shopping AR experience to the expansion of Google Vehicle Ads to new countries and the ability to advertise new items. Scroll down for the latest Google Shopping updates!
Google expands vehicle ads into Canada - April 2023
As of April 2023, Canadian advertisers have gained access to vehicle ads. This ad format is designed for vehicle advertisers to promote their entire vehicle inventory to customers who search for vehicles on Google.com.
Vehicle ads feature an image of the car, along with relevant information such as make, model and mileage. Interested customers can click on the ad, which will take them to the advertiser's website, where they can take further actions such as contacting the dealer or submitting a lead form.
It's important to note that vehicle parts, accessories, tires, and services are not supported with vehicle ads. Auto advertisers can participate in this program by uploading their vehicle feeds in the Merchant Center and running Vehicle ad campaigns in Google Ads.
How can you start running Google vehicle ads for your inventory?
In order to display your vehicle ads on Google, you are required to provide Google with information about your business and dealerships.
Additionally, you need to upload a data feed that includes all the necessary details about the vehicles you're selling, such as the make, model, price, mileage, etc.

Uploading a product feed | Google Merchant Center
To run vehicle ads on Google, you also must have three distinct accounts associated with Google: a Google Merchant Center account, a Google Ads account, and a Google Business Profile (if you're not submitting a store feed). Once these accounts are set up, you must link them together to gather information from all sources.
If you use DataFeedWatch, it's very easy and quick to create a Google Vehicle feed.

Creating a Google vehicle feed | DataFeedWatch
---
Google bans products containing more than 10% concentration of sodium nitrite on Google Shopping - March 2023
In March 2023, Google announced changes to its Dangerous Products Policy. The revised policy will specifically prohibit the advertisement of products that contain more than 10% concentration of sodium nitrite (often can be found in cured meats, bacon, ham, smoked salmon, dried fish, jerky etc.). This is a very recent Google announcement and this update will come into effect on May 23, 2023, and it applies to both Shopping ads and free listings.
How can you prepare?
If your business sells products that contain sodium nitrite, it's important to take the following steps to optimize your advertising:
Review your product inventory: Review your product inventory and identify any products that contain a concentration of more than 10% sodium nitrite. You may need to remove these products from your advertising campaigns or update their formulation to comply with the new policy.
Update your ad copy and landing pages: If you sell products that contain sodium nitrite, update your ad copy and landing pages to ensure that you comply with the new policy. Your ad copy and landing pages should accurately reflect the ingredients in your products and their concentration levels.
Stay up-to-date with policy changes: Google's policies and guidelines can change at any time, so it's important to stay up-to-date with any changes that may affect your advertising campaigns. Make changes to your campaigns accordingly.
Use negative keywords: To prevent your ads from showing for keywords related to products that contain sodium nitrite, use negative keywords. For example, you may want to use negative keywords such as "sodium nitrite," and "nitrite," to prevent your ads from showing for searches related to these terms.
By taking these steps, you can ensure that your advertising campaigns comply with Google's policies and guidelines, and reduce the risk of account suspension.
---
Google allows ads for electric bikes in the U.S. on Google Shopping - March 2023
Starting from March 2023, Google's unsupported Shopping content policy has been revised to permit ads for electric bikes in the United States that have a maximum speed of 46 km/h (or 28 mph).
When displaying electric bikes for sale, it is required to clearly mention the speed of the bicycle. This information must be included on the landing page AND either in the product title or description.
The landing page of the product listing must explicitly mention the bike's speed in either the title or description. If the speed is not indicated, the product will be considered a violation of Google's policy and will not be approved.
Retailers must also ensure that their ads follow local laws in the areas where they intend to advertise, in addition to complying with the standard Shopping ads policies.


How best to advertise your electric bikes?
To successfully advertise your electric bikes, it's essential to have a well-optimized product feed that contains all the necessary information to effectively promote your products.
The first step to optimizing your product feed is to ensure that it contains all the required attributes, such as the product title, description, image links, and price. It's also important to add additional attributes, such as product type, brand, and color, to provide more information to potential customers.
Once you've added all the necessary attributes, it's crucial to optimize your product feed for search engines. By using relevant keywords in your product titles and descriptions, you can increase the likelihood of your electric bikes appearing in relevant searches.
Titles
The title of your ad is one of the most important factors that determine its success. It should be informative and contain relevant keywords to grab the attention of potential customers who are searching for electric bikes.
Including keywords related to the benefits, features, and types of electric bikes can help your ad appear in relevant searches and boost your ad visibility.
Google allows up to 150 characters in the product title, but only displays up to 70 characters in a Shopping ad. Using all the space available ensures that you have the best chance of reaching your target audience. By placing the most important information first and the rest second, you can make sure that your ad captures the interest of potential buyers.
Don't forget to add the bike's speed in either the title or description, otherwise your ad might be disapproved!

Combining different attributes to create a Google Shopping title | DataFeedWatch
Images
When shopping for products online, customers cannot physically test the product, which makes it crucial to provide high-quality product images that accurately represent your electric bikes.
The main product image is the first thing that customers see and should capture their attention while accurately depicting the product. It is important to choose the best possible image that clearly showcases the electric bike. With DataFeedWatch, you can easily map images via the image_link attribute:

Mapping image_url | DataFeedWatch
However, one image is not enough to give potential customers a comprehensive understanding of the electric bike. Google allows you to add up to 10 additional images via the addition_image_link attribute in your product feed.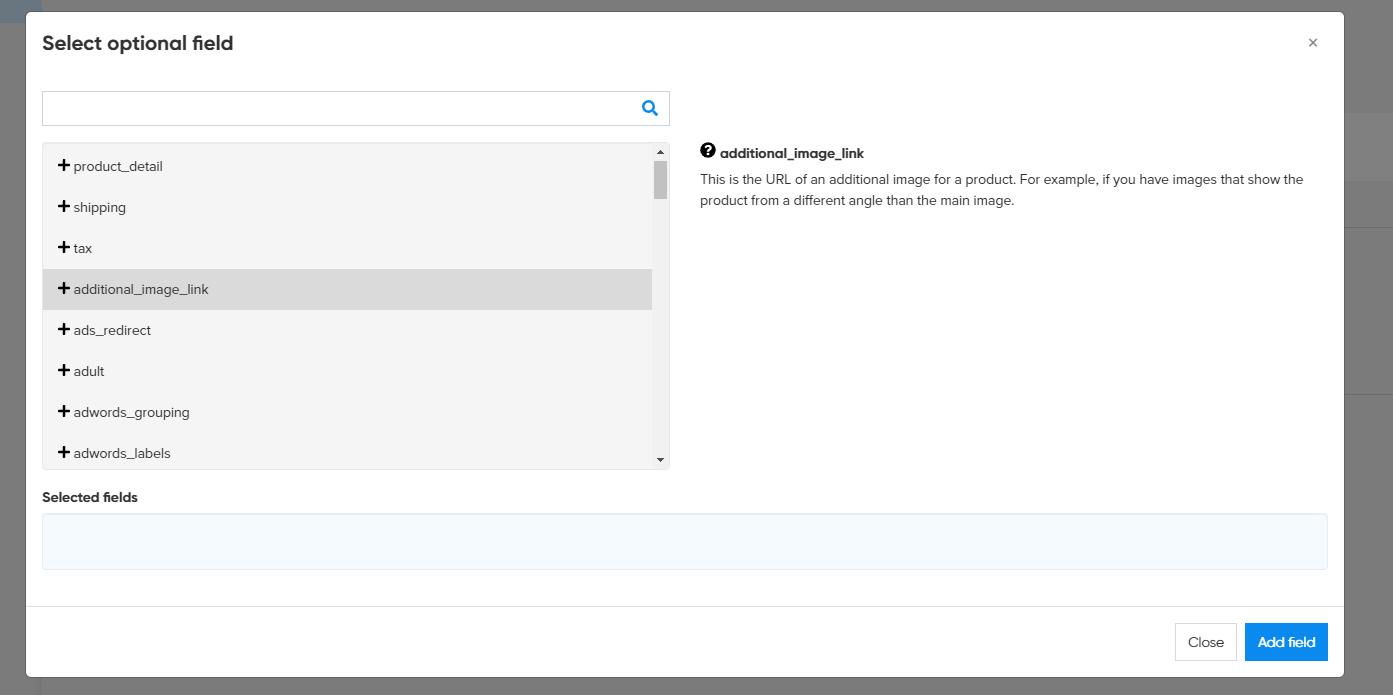 Adding additional attribute | DataFeedWatch

Mapping additional_image_link | DataFeedWatch
We highly recommend taking advantage of this opportunity to showcase your electric bikes from multiple angles and perspectives. By including both regular and lifestyle images, you can make customers feel like they know your electric bike before making a purchase.
You can also try testing different images and ultimately pick the best ones for your main Shopping campaign.
Price & Sales Price
Price is a significant factor in customers' decision-making process, and it is crucial to optimize your product feed with accurate and competitive prices for your electric bikes.
Your prices must be submitted in the correct currency, and the amount and currency in your feed must match those on your landing page. It's also important to update your product prices frequently, as shoppers expect to see correct prices on your shopping ads.
By using sale_price annotations in your Shopping ads, you can showcase products that are currently on sale on your listing. These annotations are indicated in the ad by crossing out the regular price and displaying the new price next to it.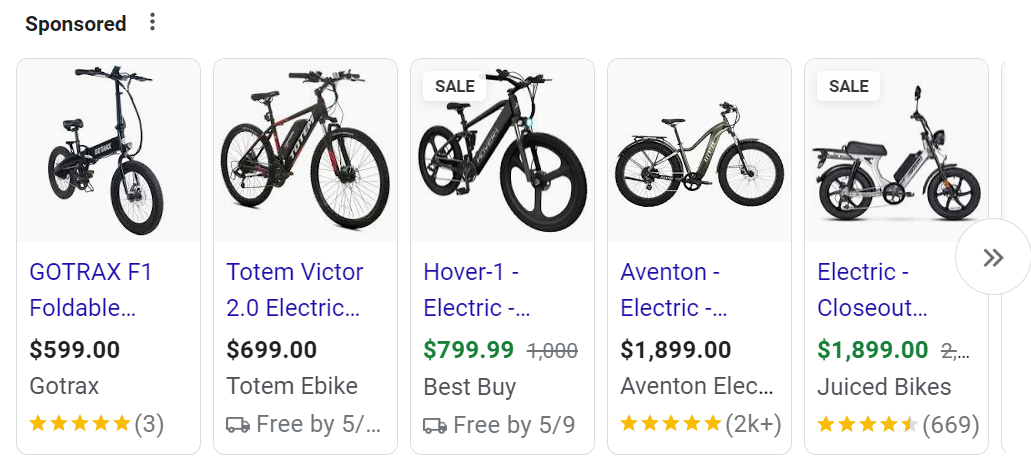 Advertising electric bikes | Google
---
Google allows direct advertising of N95 masks on Google Shopping - December 2022
As the COVID-19 situation continued to change, more types of masks were allowed to be listed on Shopping ads and free listings. Previously, only Project N95 was authorized to list approved N95 mask offers on behalf of N95 merchants.
However, starting from December 21, 2022, approved N95 mask merchants can directly advertise or list their offers on Shopping ads and free listings. Project N95 will still need to approve N95 mask offers for listing in the United States. After the approval, the merchants can list the offers in the Merchant Center by themselves.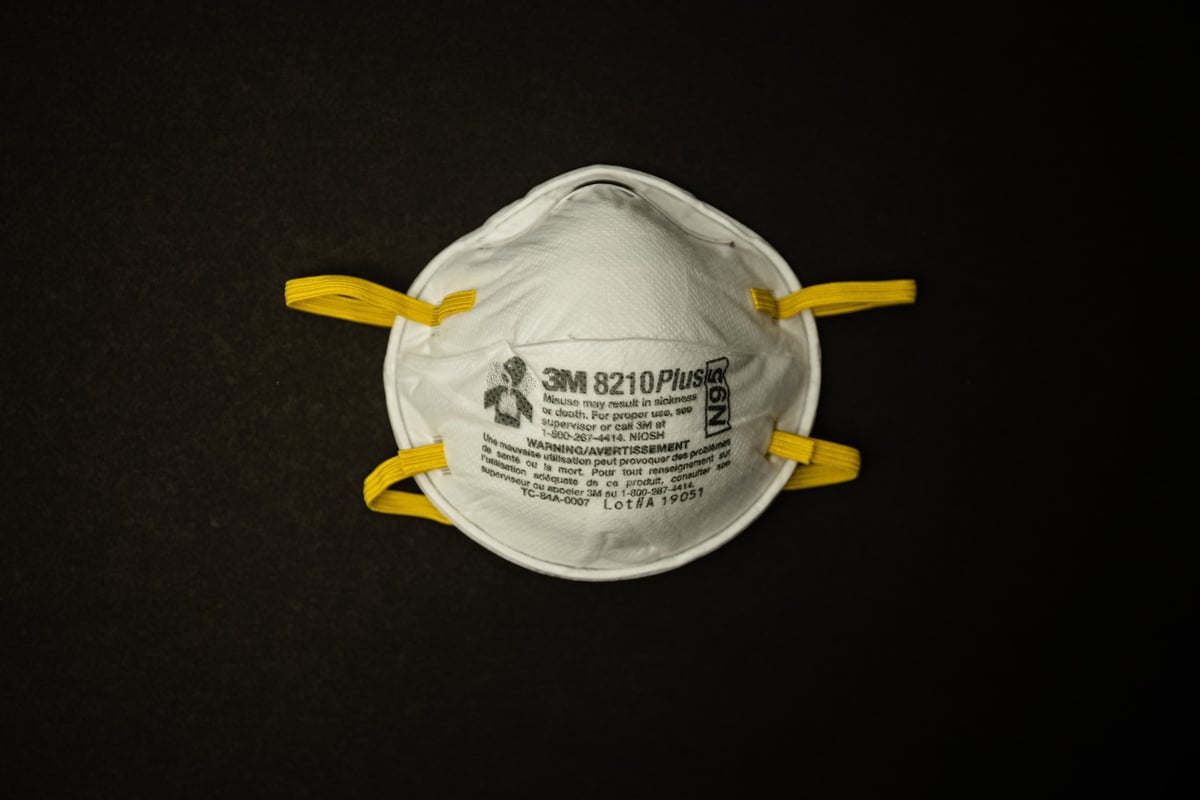 To get approval for N95 mask offers, merchants can apply via Project N95. The listing of N95-adjacent masks (including KN95, FFP2, and KF94) will remain unaffected.
N95-adjacent mask offers still require LegitScript's authorization. Merchants can apply for N95-adjacent listing approval here. More information on how to feature N95 and adjacent masks on Shopping programs can be found here.
---
Google adds linked account suspension to its policy - December 2022
Recently, Google has updated its prohibited practices policy to include linked account suspension. This means that if your Google Ads account is found to violate Google's policies, then any account that is linked to it may also be suspended (e.g. your Google Merchant Center account).
This update is part of Google's ongoing efforts to combat fraudulent activities and protect users from harmful content. With the addition of linked account suspension, Google hopes to further deter bad actors from using multiple accounts to engage in prohibited practices.
The updated policy also details specific prohibited practices such as circumventing Google's enforcement mechanisms, selling or promoting the sale of fake reviews, and creating or promoting content that misleads users.
Your Merchant Center suspension review can only take place after resolving the Google Ads suspension issue.
Why should you care?
If your Google Ads account is suspended and linked to your Merchant Center account, you will not be able to have your Merchant Center suspension reviewed until the Google Ads suspension is resolved.
A Google Ads suspension can be challenging to resolve, as it may require you to provide additional information, such as proof of identity, to Google. The process of getting your account reinstated can take time and effort, which can further impact your business.
This means you may experience disruptions in your advertising and sales if one or both your Google accounts are suspended. You will no longer be able to advertise on the platform, which could result in a significant loss of sales and revenue.
It can also damage your business reputation, as it may indicate to potential customers that your business is not compliant with Google's policies or guidelines. This could lead to a loss of trust and credibility, which can be challenging to regain.

What to do to avoid linked account suspension?
Here are some tips to help you avoid Google Ads account suspension:
Follow

Google's policies and guidelines

and stay up-to-date with Google's changes: review the policies and guidelines regularly to ensure that you are complying with them. Some common reasons for account suspension include advertising prohibited products, promoting misleading or false information, and engaging in fraudulent activity.
Maintain high-quality ads and landing pages: Google wants to provide its users with the best possible experience, so it rewards advertisers who create high-quality ads and landing pages. Ensure that your ads are relevant to your target audience and lead to high-quality landing pages that provide the information or products promised in the ad.
Use accurate and honest ad content: Avoid using misleading or false information in your ads. Use accurate and honest ad content that accurately represents your products or services.
Monitor your account regularly: Regularly monitoring your Google Ads account can help you identify any issues that may cause a suspension. Check for policy violations, low-quality ads, and low-quality landing pages. Address any issues promptly.


---
Google Shopping introduces new AR features - November 2022
In November 2022, Google rolled out an update for its Google Shopping platform that introduced new augmented reality (AR) features and it might be a significant change in Google Shopping advertising 2023. The new AR features are an important step towards revolutionizing the way people shop online, making it more personalized and convenient.
Customers are now able to try onbeauty productsand shoes virtually using the AR technology, making it easier for them to find products that suited their needs without having to visit a physical store.
Using AR shoppers are able to rotate, zoom in and visualize the shoes in their environment. This will help them to determine if the color, laces, tread, or sole are suitable for their taste and preferences.
To use the new AR features, shoppers simply need to:
search for a product on Google Shopping
then click on the View in 3D button
This will bring up a virtual image of the product that can be placed in the real world using a smartphone camera. Customers are now able to see the product from all angles and even walk around it to get a better idea of how it looks on them.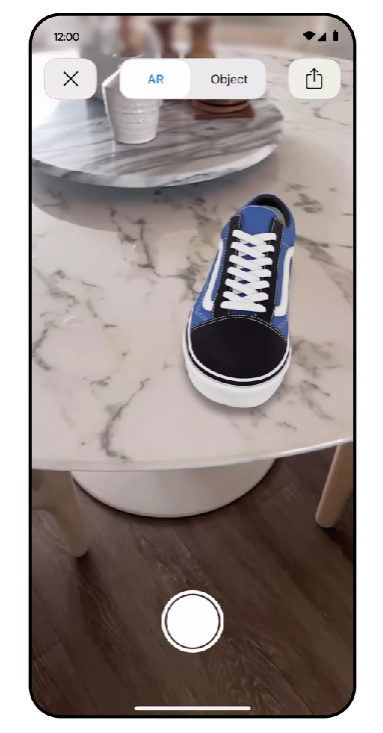 The new AR features are part of Google's ongoing efforts to enhance the online shopping experience for customers. By making it easier for customers to visualize products in their space and try on beauty products and shoes virtually, Google hopes to reduce the number of returns and make online shopping more convenient and enjoyable.
Read also: 12 Most Important Product Feed Attributes for Fashion Retailers
Shoppers can also find their foundation shade using AR!
Google has also announced a new AR shopping feature that aims to make it easier for people to find the right foundation shade. Developed with input from beauty brands, the feature features a photo library with 148 models that represent a diverse range of skin tones, ages, genders, face shapes, ethnicities and skin types.
Users can search for a foundation shade on Google and see what it looks like on models with a similar skin tone, including before and after shots. Once they find a foundation they like, they can select a retailer to buy it. The new feature is part of Google's efforts to change the way people shop for makeup online and make it easier for shoppers to visualize what different products will look like on them.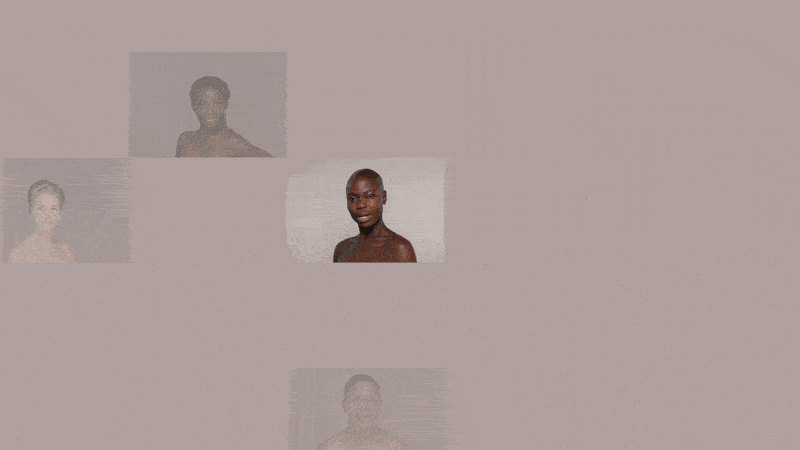 Source: SearchEngineLand
How to implement the Google AR features?
You should consider creating 3D models of your products to enhance the AR experience. You can start preparing your product feeds with the necessary information for AR: update your Merchant Center feed with URL links to your hosted 3D models and sync the feed with the Manufacturer Center.
You need to ensure that your 3D models are properly hosted and accessible online. Once you have the URL links to these models, you can add them to your product feed. If you are using DataFeedWatch, you can map this attribute using a custom field for now (soon you will be able to add it as an optional field as well).

Mapping virtual_model_link | DataFeedWatch
In addition, you should monitor the progress of this new feature and keep an eye on how it affects customer behavior and conversion rates. If successful, you may want to allocate more resources to implement AR on your product pages to stay competitive and provide your customers with a unique shopping experience.
It might be a good idea to label products that are included in the AR experience so that you can keep track of their performance easily at the product group level. DataFeedWatch can be very useful to do this. For example, you isolate AR items by putting the IDs of all relevant products in a list.

Labeling AR products | DataFeedWatch
---
Conclusion
In conclusion, staying up to date with the latest Google announcements and Google Shopping updates is essential for any online business looking to improve customer conversion in 2023. From optimizing your product feed and images to taking advantage of new ad formats and features, there are numerous ways to enhance your Google Shopping strategy.
By following our tips and continuously adapting to changes in the digital marketing landscape, you can maximize your visibility and drive more sales in the year ahead.
---