---
Growing with, and for, our Customers:
DataFeedWatch started off in 2013 as a feed tool, aiming to simplify the process of submitting product data from online stores to various advertising channels, such as Google Shopping, Facebook, Amazon and many more.
Since then, with the help of our Customers and Partners, we've become a fully-fledged, scalable Feed Marketing Solution. Able to support the complex needs of digital businesses - from growing retailers to enterprises, to forward-thinking agencies.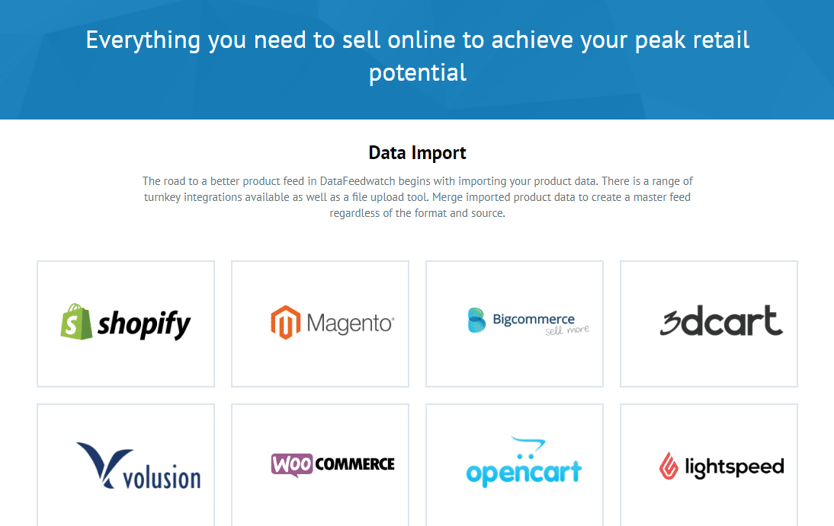 Today, DataFeedWatch incorporates the key factors needed to achieve your peak e-commerce potential:

feed marketing optimization

automated order management,

marketplace selling,

managed services,


and advanced product intelligence.
---
New, Exciting Opportunities
The ever-changing e-commerce landscape poses a lot of challenges to brands and online retailers.

Seeing a growing demand for a one-stop solution, we have worked on enhancing our software by launching numerous new functionalities, as well as diversifying our services - to ensure we can fully support our Customers' business goals, in this fast-paced environment.

As a result, the 3 most prominent additions of recent months have been launched:


Feed Driven Text Ads
A complete and powerful tool, enabling online retailers to automate the entire process of Google Search Ads Creation.

It will not only save you a lot of tedious work, but will also improve your campaign results - by considerably increasing your online visibility, ad relevance and sales.
Feed-driven text ads and keywords are always up to date and specific to every product.
💡 According to a Google study - customers who view both text ads and PLAs are 90% more prone to go to the retailer's website.


Price Watch



DataFeedWatch Price Watch gives you valuable insights into your competitors' pricing strategy, revealing the difference between your price and the lowest one of your competitor(s).
Knowing your 'price-position' for each of your products will provide answers to the burning questions such as: 'Do I have the best price or not?' or 'Who is undercutting me and by how much?'
That is a goldmine of information that will help you significantly boost your ROI.
How to use the Price Watch data?
⇒ Adjust the prices in your store to stay competitive
⇒ Strategically determine your bids based on price-difference
⇒ Exclude un-competitive products
Google CSS Program
You might remember that the EU fined Google in 2017 for breaching EU antitrust law.
Their response was to start including ads from competing CSEs in the Google Shopping Carousel.
To counterbalance the issue Google also created a Partner Program: Product Ads on Google Shopping can be offered through a CSS Partners with bids that are up to 20% lower.

Thanks to the above, our DataFeedWatch Comparison Shopping Service (CSS) can now buy the same click for a much lower cost. And of course, we've decided to pass that benefit to our Customers.

This has become an amazing opportunity for retailers advertising in the EU to either make a higher turnover at the same cost or simply save up while keeping the same sales levels. Or a mix of the two!

Related: Everything You Need to Know About Google Shopping CSS
---
Improved Design & Navigation


We hope you'll find the key sections more prominent and easy to locate.

When designing the new website, we wanted to give it a fresh, modern look, but primarily - ensure easier, more intuitive user experience.

We've taken efforts to make sure that all the most important resources are right at your fingertips. DataFeedWatch Blog and Free Educational E-books being great examples of that.

What's left to mention here? Go ahead and explore for yourself! 😉
---
To wrap up on the release...
"Panta Rhei" - the immortal words spoken by a great Greek philosopher, Heraclitus, are nowadays truer than they have ever been...
With the digital settling into our lives for good, it is the change and progress that becomes the only constant - and the best we can do about it is to embrace it.
We wanted to say - Thank you - to all our Customers, as it is thanks to the challenges we have faced together over the years, that we've managed to develop and grow to the point we are at today.

It is a well-known fact that change induces change. We're truly excited to turn a (web)page together, and start a new chapter of excellence - digital and beyond! 🌐🌃🌄
---