5 Types of Shoppable Content
What Is Shoppable Content?
Shoppable content is any type of online content that allows consumers to either add products to the cart directly or go to a product page. The biggest difference between traditional and shoppable content is the ability to contain product tags.
Shoppable content offers a convenient way to find and shop for products, which is a powerful business strategy. Over 25% of consumers between the ages of 16 and 64 now begin product searches on social media, so the ability to shop directly from there matters.
Back to The Top or
---
Advantages of Shoppable Content for Brands
Because so many people search for products and inspiration on social media, shoppable content became an important marketing tactic.
Unlike the traditional counterpart, shoppable content:
Makes it easier to add products to the cart

Allows to sell multiple related products, e.g. clothing

Doesn't interrupt the viewing or reading experience

Enables merchants to measure conversions easier

Shortens consumer journey and speed up product discovery
Traditional content has many benefits, too, but shoppable content is better for driving traffic to your store. The reason is the ability to buy instantly and provide a personalized experience for customers—which also helps with omnichannel marketing strategies.
So, what are your options for making shoppable content?
Many people think that shoppable content is mostly images like Instagram posts, but you can shop also from many other content types.
Back to The Top or
---
5 Types of Shoppable Content
In this section, we'll review the five most common types of shoppable content that brands use to attract customers. The perfect choice depends on your business's sales channels and target audience's product discovery preferences, so taking a look at all is a good idea.
Let's begin with the most popular one, Instagram.
1. Shoppable Instagram Posts
Shoppable Instagram posts contain images of products along with tags. Tapping on a product opens a small window with information like titles and prices.
Example—
This shoppable post from NYX Cosmetics announced a new collection of lipstick. A viewer who wants to make a purchase just has to tap the product and then the tag with the price.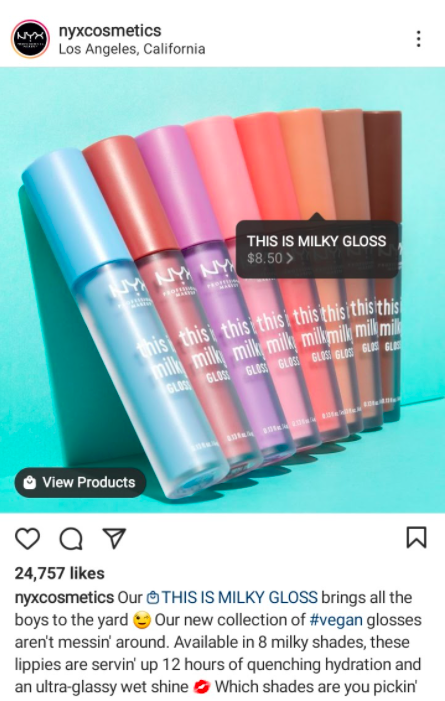 Image source
Shoppable Instagram posts first appeared a few years ago, and the technology was a huge hit. Now, more than 130 million users tap on shoppable posts to learn more about products every month.
A marketing tactic like shoppable Instagram posts should work well for B2C companies selling physical products. The technology is especially popular among clothing brands because they can showcase several products in one image (for example, a model can wear them to show a specific look).
How to add the shoppable feature to your Instagram posts?
Easy— This official guide from Instagram has all the information you need. But know right away that you need a business account (not a personal one) to enable the feature. When it's enabled, you'll be able to add your product feeds to Instagram and link to product pages.
Want to make Instagram a source of revenue for your business? Check out this
eCommerce Guide to Instagram
to know how to build your brand and sell more.
2. Shoppable Pinterest Pins
Just like on Instagram, business users can create shoppable posts on Pinterest. This social media platform has started exploring marketing options only recently, but it's already becoming a popular source of inspiration for shoppers.
A shoppable pin has a few distinct features:
Pricing information

Link to the product page

Small section with products (in case the pin has several)

"Buy it" button.
Here's how a typical shoppable pin looks like.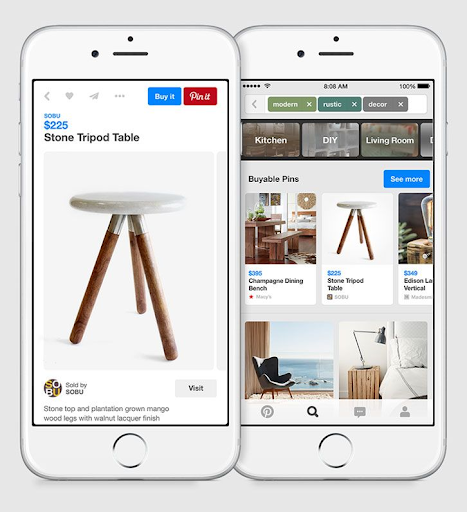 With 367+ million active monthly users, Pinterest could be another way for your brand to sell your products. You can share product images for customers to research and get inspired.
Here's what you need to know to start with Pinterest marketing:
You need a business account.

Get a merchant's account to start sharing shoppable pins on Pinterest
Integration with eCommerce platforms. Popular platforms like Shopify and BigCommerce have integrations with a Pinterest business account, so creating and sharing shoppable pins is much easier
Shoppable pins vs. Promoted Pins.

It's easy to confuse the two, but they're actually very different. Promoted Pins are those that the platform guarantees to be shown in users' feeds while Shoppable pins allow shopping directly from them
You can add several products in one pin

. Clothing retailers, for example, can show "looks" and furniture sellers can showcase room designs for inspiration
Shoppable pins have keywords

. Adding keywords is necessary to ensure that the pin is appropriate for a customer's search intent
Create organized product lists to display your products. Pinterest has business profiles and "Similar products" sections, so the more products you have, the better are the chances to sell more.
If you'd like to read more about shoppable content on Pinterest, this official "Shopping on Pinterest" guide has all the answers.
3. Shoppable Videos
Video is the most popular content, and it can help eCommerce merchants to improve customer experience. Already, 84% of customers say they have been convinced to buy a product or a service after watching a branded video.
If the traditional videos have such an effect, shoppable ones can generate a lot of sales. By featuring products in videos and allowing customers to find them right away, you can simplify the product research process and inspire shoppers.
Example—
This video from IKEA features special shoppable pins showing products in action.
So, where could you create and share shoppable videos?
Many video platforms have already enabled the shoppable video feature. YouTube, for example, has been rolling out this update to selected content producers, but it should be available to more users soon.
If you'd like to try shoppable videos, get a merchant's account in your chosen video sharing platform to see available options.
4. Shoppable Articles
Well-written and optimized blog articles have a lot of value for customers. Brands can write about helpful tips and advice to solve specific problems that their customers might have. In some cases, a detailed, step-by-step article can be as helpful as a video.
To make a blog article shoppable—
Assign a button to every product image to allow readers to go to that product's page.
B2C example — the best website for writing papers can share a blog article with the top 10 paper service packages with images or buttons leading to each respective package's product page.
B2B example — SaaS business selling an email marketing service can share email templates and add a "Use this template" button to redirect the user to the service (like below).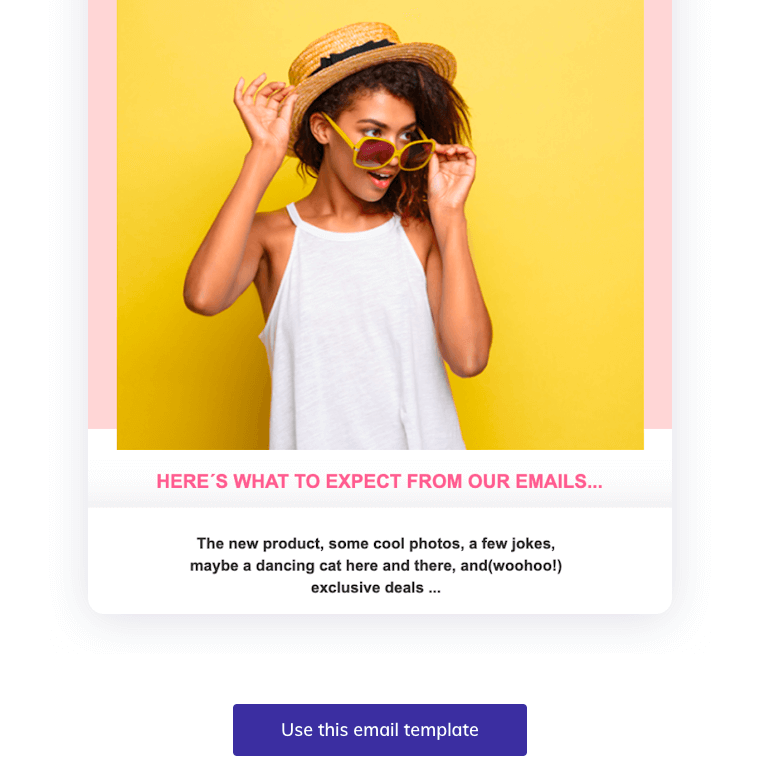 Also, buttons in articles can be made to add a product directly to a shopping cart. This technique works to minimize disruption to the reading experience, but requires giving the customer as much information as possible about that product to minimize hesitation.
Customer reviews are one way to reduce hesitation in shoppable articles. Getting back to the B2C example from above, a customer looking for writing services will need to read paper writing services reviews before deciding whether to consider any of the top services listed in the article.
5. Shoppable Video Ads
Another way YouTube and other platforms are investing in shoppable videos is shoppable video ads. Google has announced the availability of this feature on YouTube back in June of 2020, and many sellers have taken advantage of this new, exciting opportunity.
A shoppable video ad is a video that's complemented with browsable product imagery including the featured items. The imagery is located under the video and contains product titles, prices, and links to product pages.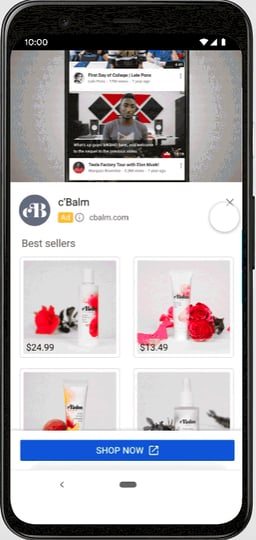 Image source: Google
Want to try shoppable YouTube ads?
Connect your Google Merchant Center product feed with video ads. The platform will then allow you to choose among products to include in the ad. The technology is still getting off, so many of your competitors might not use — or even be aware of it. So, there might be an opportunity to make your products more accessible and get ahead.
Back to The Top or
---
Shoppable Content: Summary
Shoppable content is a wonderful innovation that benefits both brands and customers. On the one hand, brands can make their products more accessible and improve the product research experience. On the other hand, customers can find products faster, and get inspired by the content.
Shoppable content can be a great idea for omnichannel marketing, so consider investing in this tactic if you're using this strategy. At this point, though, we hope that you know where to start with shoppable content and how it can help your business.