What does ZMOT mean?
ZMOT is an acronym for Zero Moment of Truth.
ZMOT is a model that explains the discovery and awareness stage of the customer journey, when the consumer investigates a product before making the final purchase decision and without the knowledge of the seller. The purchase decision is often made already at the ZMOT stage (70% of all purchase decisions) without the need to see the product in real life or to talk to a shop assistant. We just find enough information online.
The concept was created by Google in 2011 and supported by many articles and extensive analysis.
In our digital age, we as consumers are keen to seek information online. Whenever we are inspired to buy something new, the first thing we do is go online and research the available options. We seek answers to questions such as:
Which online store sells it?
What do the reviews say about the product?
Does the product have high or low

ratings

?
Does the webshop have good reviews on Trustpilot?
Could I buy this product cheaper in another online store?
Which product has all the features I need?
According to Google, about 60% of shoppers research the product online before making a final purchase decision. Google's analysis also shows that we consult over 10 digital sources at ZMOT.
In Google's book Winning the Zero Moment of Truth we can find such a ZMOT definition:
ZMOT is that moment when you grab your laptop, mobile phone or some other wired device and start learning about a product or service you're thinking about trying or buying
Download The Ultimate Google Merchant Center Handbook
---
What has changed in the purchase decision model over the years?
Historically, all merchants have worked with a classic 3-step purchase decision model, which consists of a Stimulus stage, followed by the First Moment of Truth (where the decision is made), and finally the Second Moment of Truth (the post-purchase experience).
Then came the internet era and the world of shopping and advertising was turned upside down.
In 2011, Google introduced the Zero Moment of Truth (ZMOT), which describes a revolution in the way consumers search for information about products and services online and make decisions based on it. Since then, the idea of search and ZMOT have continued to grow in importance and scale. Therefore, the way companies engage consumers needs to evolve in line with changes in consumer behavior.
Over the last 10 years, we've seen people increasingly make purchase decisions at the Zero Moment - the precise moment when they have a need or question they want help with online.
These questions can be anything:
"Which juice on the market is healthiest?"
"Which toothpaste will make my teeth brighter?"
"What will remove red wine stains from my sofa?"
An online retailer or store that answers these questions at the right time wins: they do so by improving the customer's life and gaining a competitive advantage over other retailers/businesses that don't. Web search is always available - on any digital device, anytime, anywhere.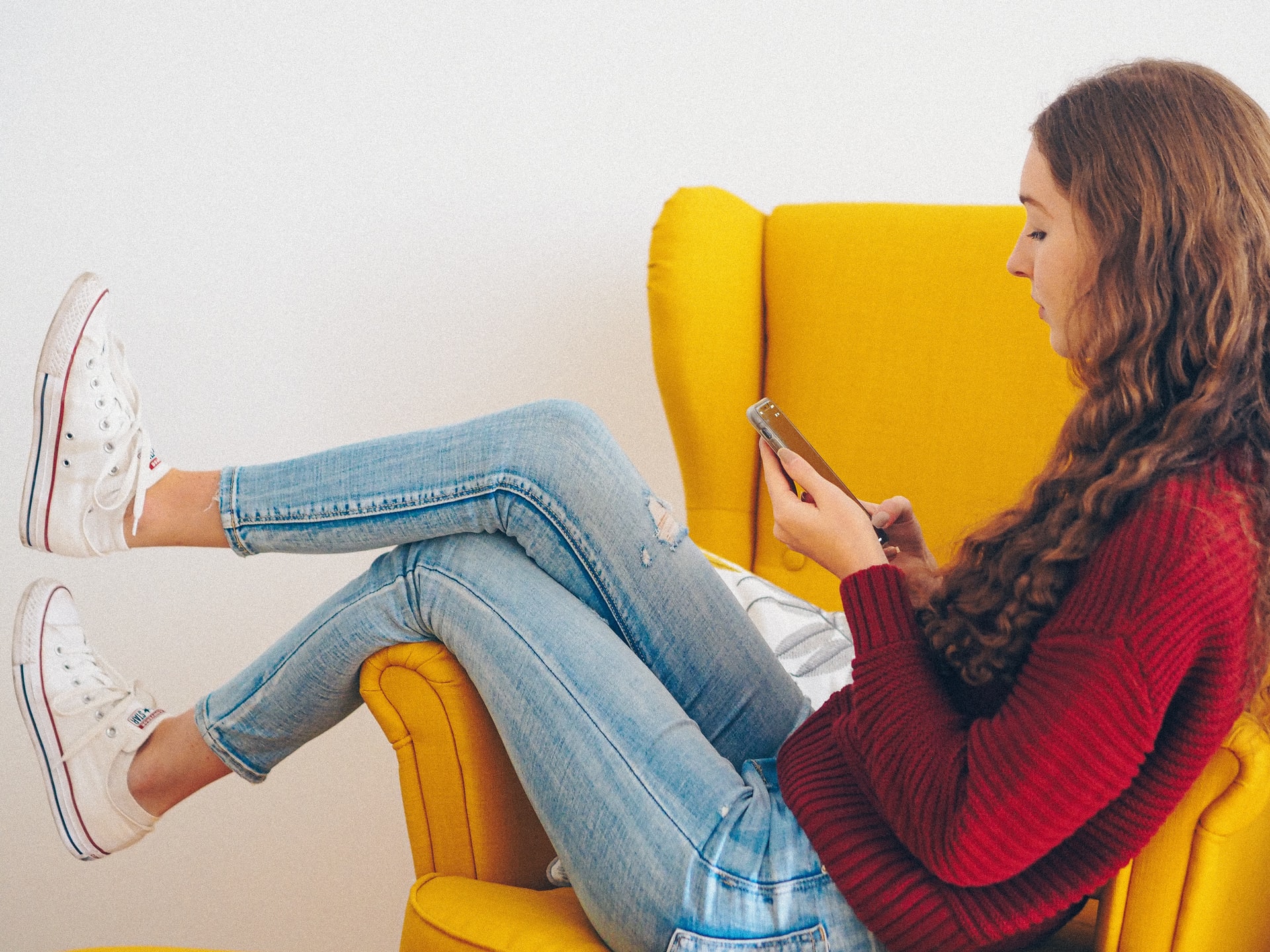 ---
Why is ZMOT relevant for online retailers?
You need to focus on ZMOT to reduce abandoned carts, gain your customers' trust and acquire returning customers. Seven out of ten customers who placed items in an online shopping cart did not actually make the purchase. Many of these customers instead turned to search engines to find a better price, a discount code or perhaps a product with better features at a similar price.
ZMOT is based on the comparison of goods. Customers use smartphones to check competitors' prices, look for special discounts and measure shipping costs. If they see a better deal, they move on.
How much research we do before making the final purchase decision depends on how expensive the product is and how much risk we are taking with the purchase. But in general, we are doing more and more research online on products we are interested in. The risk of wasting a lot of money or time used on returning the product makes us willing to invest 15-30 minutes reading about the product itself or finding reviews online.
The increase in the popularity of ZMOT does not mean that less emphasis should be placed on advertising or introducing new products. On the contrary! Stimulus starts the whole buying decision process and it is extremely important to optimize it! But once a customer has become interested, it's all about maintaining interest. You need to provide answers to all relevant questions that your customers can potentially think of. Buying decisions today are more often made on Facebook or Google than on company websites. That's why it's important to always have comprehensive answers, both in ads, online reviews and on your website.
Download The Ultimate Google Merchant Center Handbook
---

What does a digital buying journey look like today?
Let's look at a simple scenario where a consumer enters the ZMOT stage:
Caroline sees a PPC ad on Google showing a vacuum cleaner. The ad is a Stimulus in this example because it piques her interest to learn more.
Caroline decides to do some additional research. This is the Zero Moment of Truth, where she looks at product reviews and buying guides to find the right vacuum cleaner for her needs.
Next comes the First Moment of Truth, where Caroline decides to buy one of the vacuum cleaners.
Finally, there is the Second Moment of Truth, which is the experience Caroline has after purchasing the product.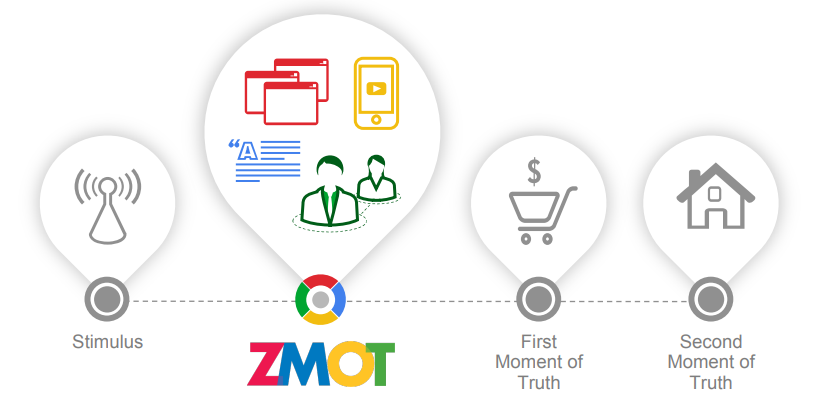 Stage 1: Stimulus
Stimulus is the start of a consumer's buying journey. It is the moment that occurs when the customer is first exposed to your brand through an ad or piece of content (blog, video, ad).
All your marketing channels: organic search, paid advertising, social networks, etc., are sources of stimulus. They introduce your brand to your customers at the beginning of their customer journey and deliver first click conversions.
In the old model, advertising was about reaching as many people as possible with a single message. This was done through mass media communication and often resulted in very high advertising costs. After that, you just waited for the result.
Now we have much more power over what the buying journey will look like and we can control it all the way from the Stimulus stage to the final buying decision and experience after the purchase.
Examples of Stimulus in practice:
Seeing an ad on Facebook
Getting an email
Reading a company newsletter
Seeing a banner on a news page
Stage 2: Zero Moment of Truth
The next stage in the buying journey is ZMOT. Your customer experiences the Zero Moment of Truth when he or she experiences a need and starts searching for a product and comparing the available options online. In other words, ZMOT is an initial research stage before a customer decides to make a purchase.
Examples of Zero Moment of Truth in practice:
Searching for products online with a search engine
Comparing products online in terms of price or features
Reading product reviews online
Talking to friends about products
Stage 3: First Moment of Truth
The First Moment of Truth is the third stage of the buying journey. In e-commerce, however, it is divided into 2 smaller stages.
The first part describes the moment when a user lands on your site and gets a first impression. Your visitor asks themselves a question: "Should I stay or should I leave?"
Then comes the second part, when a customer is first confronted with a product in the online store and asks themselves a question "Should I buy this product?" or "Should I buy this product from brand number 1 or from brand number 2?".
If you have optimized the stimulus in the right way, it will still have an impact at the ZMOT stage and lead to the FMOT stage. The stimulus in this model plays a role in building your brand's recognition and trust with consumers, as well as answering their most important questions and providing resolution to their problem. Stimulus optimization should be done in the hope that a customer, when faced with a buying situation, will choose your product over the competitor's product.
Examples of First Moment of Truth in practice:
Reading information about a specific product
Talking to online store associate about the specific product
Buying a product
Stage 4: Second Moment of Truth
The Second Moment of Truth occurs when the customer actually uses your product. SMOT is the customer's experience and satisfaction with your product. It is also about verifying the quality and functionality of your product in line with your company's promise.
You can acquire as well as retain customers at SMOT by consistently delivering a great user experience and wonderful after-sales service.
It is very important that you nurture your customers at SMOT so that you can maintain customer loyalty, generate repeat sales and a high customer lifetime value.
SMOT boosts ZMOT as it helps to maintain a positive brand image.
Example of Second Moment of Truth in practice:
Michael saw a Google ad for a stain remover that said "removes stains 100% of the time". He expects the product to remove 100% of stains when he uses it.
Now it's up to Michael to decide whether he will buy the product again because it lived up to expectations, or whether he would choose a competitor next time.
---
Tips to optimize for ZMOT
With today's digital capabilities, you can influence ZMOT and every other stage of the buying decision process. Below are tips for optimizing your sales to acquire customers in stimulus and ZMOT and retain them at FMOT and SMOT.
1. Optimize stimulus: SEO and paid advertising
It's super important to optimize stimulus, as it starts the entire buying process. Your goal with the first stage is to get your shoppers' attention in such a way that they still remember you at ZMOT. Two of main sources of stimulus are organic search on Google and online paid advertising.
First, you need to optimize your web store according to SEO, so that when customers search for specific products, they can find your website. However, this is often not enough to get many customers, especially if you have many large competitors.
When organic traffic hits a plateau, paid ads on social media and Google are an effective tool to target high-intent users with the right keywords to increase visibility and ROI. That's why you need to make sure you have perfectly optimized online ads that reach the right audiences. You can create them if you have a fully optimized product feed.
Your ads should give your customers the best possible experience. Links to products are not enough to pique customers' interest. Through your ads, you need to provide your potential customers with catchy phrases and as much information as possible.
Your product feed should include optimized product titles (what is there, what your product can do, size, color, etc.). And the same goes for product descriptions, where you can add even more information. To create a perfectly optimized product feed, and therefore the best ads, you can use the help of a feed optimisation tool, such as DataFeedWatch.
2. Build strong brand loyalty
It's very hard to compete in a world full of low-cost products, better products and better deals. The fact is that you can always find someone selling the same or similar product at a lower price. You can also find someone offering a better deal, a better discount or a product with better features.
You need to create a strong emotional bond with your customers so they think of you when they are at ZMOT. Creating user engagement is essential to building brand loyalty, and thus getting your customers to buy again and again.
What you need to do is constantly remind your customers about your business or brand. You can achieve this, for example, by collecting contacts via newsletters and taking advantage of available marketing automation opportunities. Using the right email marketing software, you can send automated emails where you give some extra discounts. You can also send messages about new products you offer.
Social media can also be a great way to increase awareness of your business. Aside from running ads on Instagram and Facebook, you can run contests for your followers and just communicate with your customers on a daily basis.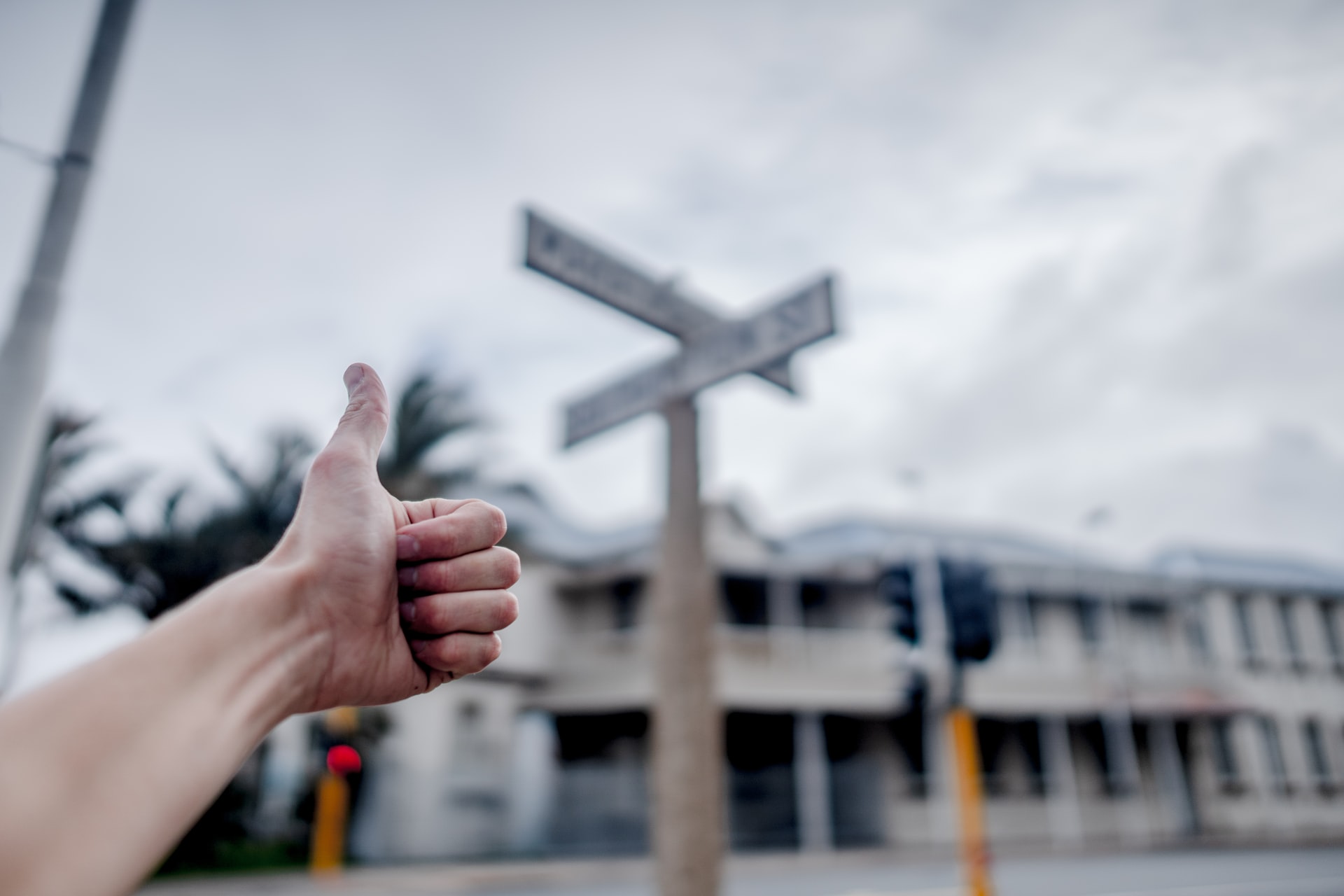 3. Prepare content for all stages of the customer journey
You need to have your content ready for all stages of the buying journey. Shoppers research products online to find content that will help them make the final purchase decision. Each stage of the buying process requires slightly different content. It starts from your ads, where you can already include lots of important information, through various guides, reviews and ends with very detailed product specifications.
Consumers will search for the following types of content to make a decision:
customer reviews
buying guides
user guides
case studies
etc.
4. Get good reviews from customers
Product reviews and ratings matter a lot at ZMOT, so at the stage when shoppers are doing research online. Your job is to provide a good after-sales service and encourage customers to write reviews. You need to pay attention to the reviews that your customers leave. It's impossible to please everyone, so there are always good and not so good reviews. A large number of bad reviews can easily ruin the possibility of many sales in the future. That's why it's so important to get a handle on your reputation and monitor your brand, to maintain a positive brand image and be successful at ZMOT.
5. Use remarketing
Remarketing is a very effective tool to acquire customers at ZMOT.
With remarketing, you can target people who have already shown interest in your product but have not yet made a purchase because they have forgotten about you or your offer in an attempt to search for a better price/offer on the internet. With both Google remarketing and Facebook retargeting, you can also effectively target existing customers in order to retain them and build customer loyalty.
When a customer becomes interested in a specific product at the Stimulus stage, they move to ZMOT where they do research on the product while being exposed to your remarketing ads, reminding them of your company or brand. These kinds of remarketing ads can really influence a customer's buying decision.
The best way to use remarketing is to use dynamic remarketing ads. You can do this by uploading your optimized data feed to Google Merchant Center or Facebook (in the case of Facebook retargeting). You create an ad template and the system automatically uses product information and images from the feed for the products or services you're advertising. From the users' side, the ads change according to which of your products or services they have previously looked at online.
6. Find your ZMOT sources and always be visible
A big part of the success in acquiring customers at ZMOT is that your helpful content is visible in the right place at the right time. You need to be present at all the moments when your customers need you most.
Using a range of digital solutions, you can check whether you're visible on both computers and smartphones, how many people search for your products online, how often they choose your product, and how many times your competitor shows up but you don't.
Diversify your traffic
Make sure you get traffic from different sources (organic search, paid search, emails, affiliate marketing, referral, etc.)
Get your products featured on comparison sites
Online comparison services have become really popular places to do product research. Therefore, submitting your product feed to such a comparison site, e.g. Price Hunt ( where you can even advertise to gain even more visibility) can be very beneficial.
Comparison sites are for customers who already know your product and want to compare its price and features with your competitors' products, but are also a good place to introduce your business to brand new customers. You can win the hearts of customers at ZMOT if your product offers the best value for money on such a site.
Examples of ZMOT sources:
Organic search
Word of Mouth
Online comparison services
Online ads
Review websites, e.g. Trustpilot
Etc.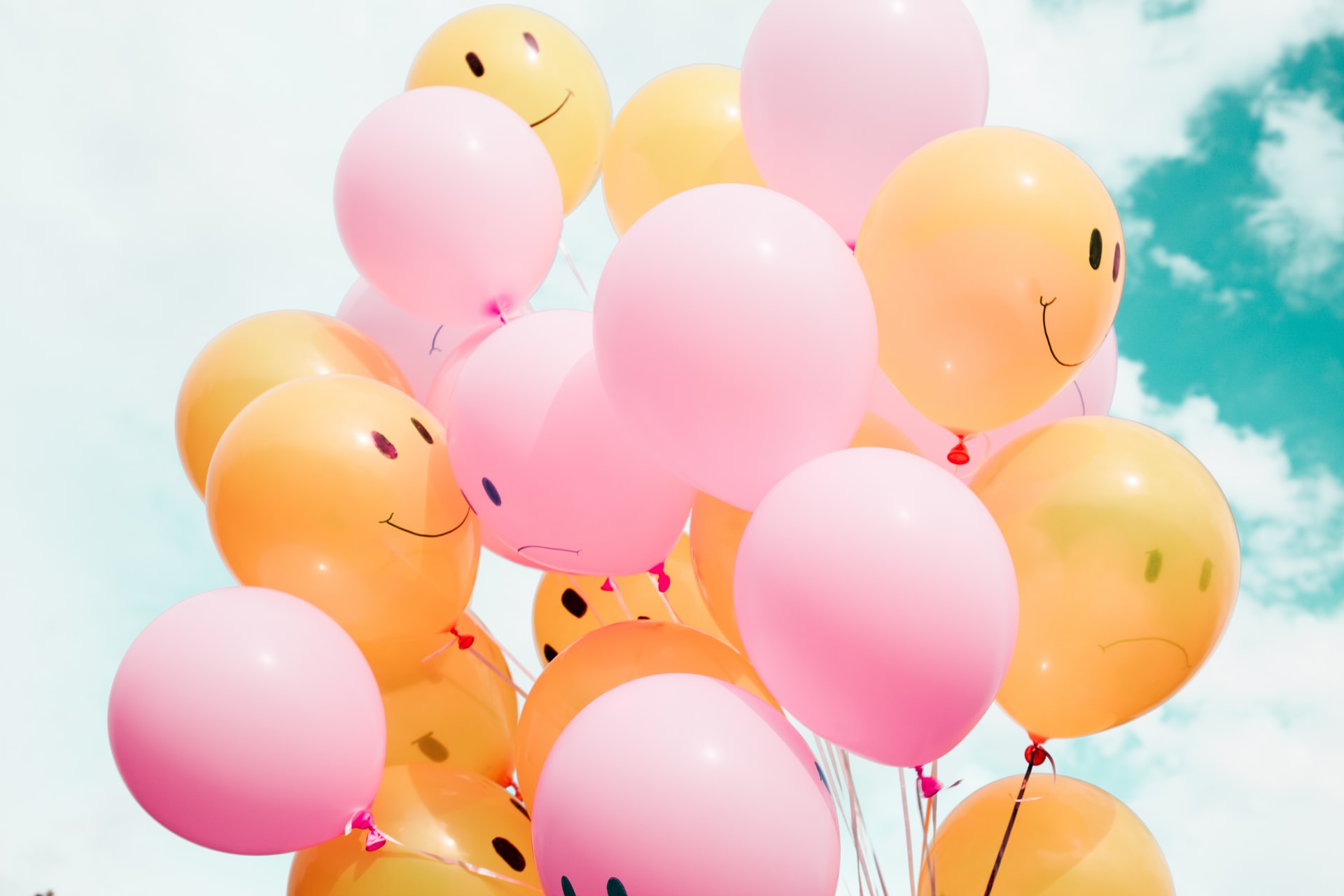 7. Have a good and mobile-friendly website
When your customers come across your website while researching products, they are essentially asking the question: "Should I stay on this website or should I leave?" It's important to create a professional looking site (web store) that provides a good experience and clearly communicates your value to influence your visitors atZMOT. In other words, optimizing your landing pages is essential to success at ZMOT.
Important!
You need to provide a good user experience on all devices. In today's world, people can go back and forth between different devices at the ZMOT stage. It's therefore crucial that your website delivers the same great experience whether shoppers are doing research on a computer, a smartphone or a tablet.

Download The Ultimate Google Merchant Center Handbook
---
Conclusion
The first step for a business to make good use of marketing opportunities and be competitive in these times is to recognise and accept that the buying journey has changed permanently.
Sometimes it's about starting from scratch to develop a successful digital marketing strategy. In other cases, you just need to make some smaller or bigger improvements to your sales process.
No matter how developed your business is, adapting to the new buying models and to the internet era in general is exactly what needs to be done to keep your brand or business competitive in 2021 and beyond.