With so many people using it to search for product solutions, it's likely that you're about to open a new way to create sales for your business and make some additional money online.
Similar to using LinkedIn for sales, you can utilize the FB Marketplace to harness the power of a huge and, more importantly, relevant audience.
In explanation, it's not only the size of the market that's important. Unlike advertising to a user's Facebook News Feed, this is a place where buyers expect to make a purchase, which means less buyer resistance to your sales messaging.
Interest-based targeting comes built into the Marketplace and it's also simple to navigate product categories.
So, you're in the right place.
I'll lay out what this selling platform is all about and how you can use it effectively to build a bigger subscriber list and create more product sales.
---
What Is Facebook Marketplace?
The best Facebook Marketplace explanation is that it's a digital "buy & sell" community where businesses can discover customers and sell locally.
Both individuals and established businesses can use the Marketplace to list products and touch their local customers.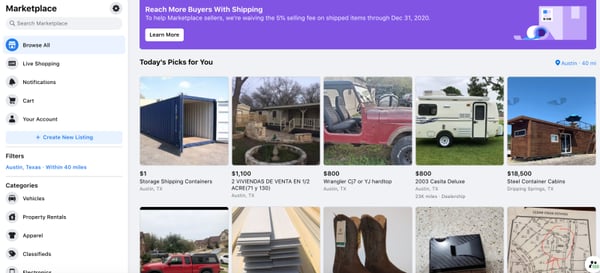 As a business, you have the ability to do the following:
Create unique product listings
Customize your products bids
Use up to 10 images per listing
Access customer messages
Browse all transactions
FB Marketplace offers a personalized peer-to-peer approach to selling and makes it easy for your customers to reach out to you via Messenger.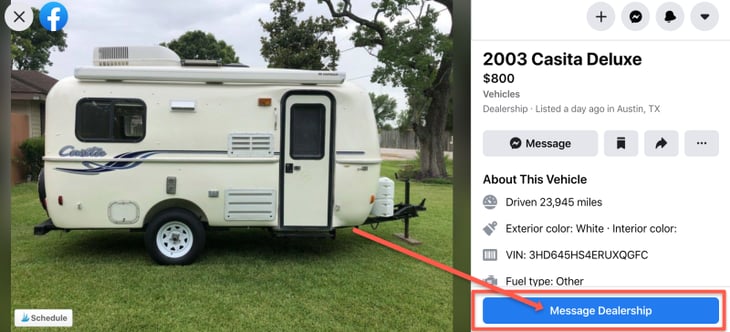 It even provides customers with suggestions for their outreach: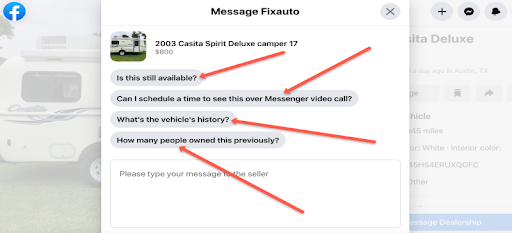 Don't worry, however.
It's not all about a 1:1 approach.
The platform allows you to connect your favorite payment processor, such as BigCommerce, 3dcart, or Shopify, and accept orders effortlessly.
Facebook makes sure that every transaction gets processed via the shopping cart software you connect to your merchant listing account.
Return to top of page or Increase Your Facebook Product Ads ROI
What Are The Overall Benefits To Using FB Marketplace?
Audience Size
Consider how the sheer size of Facebook means that you're fishing inside a pond of over 3 billion people.
This is especially useful if you don't have an effective paid ads campaign up and running already. Or, if your website's SEO results haven't hit the stage where it produces enough leads and sales yet.
Get listings up on the Marketplace and immediately put your sales messaging in front of people actively looking for your products.
Organic Exposure
One aspect of this platform that you'll find familiar is the ability for your customers to comment on, like or share the status updates and images your selling activity naturally produces.
This means that your broad brand exposure goes viral over time.
In a similar fashion to other social media outlets, you'll find that your reach improves steadily over time the longer you remain active on your Marketplace profile.
Custom Seller Page Design
Facebook gives you the ability to customize your business page in any way you see fit so that your branding remains consistent.
Use the brand images and design that you've already put together on your website or other social media accounts.
Direct-To-Consumer Connection
The platform encourages personal 1:1 contact between buyer and seller. This sets the stage for a strong connection and fosters the ability to create sales more easily.
As I mentioned above, Messenger is one point of contact to take advantage of with FB Marketplace. You can also use the following means of communication:
Video chat
Voice calls
Status update and post commenting
Analytics
Don't depend only on organic reach.
One of the ways to maximize the power of Marketplace is to create Facebook ads inside your FB Ads Manager.

You can then use the wealth of advertiser data that Facebook offers to gain a deeper and more effective understanding of your best target market.
Return to top of page or Increase Your Facebook Product Ads ROI
---
Getting Started On Facebook Marketplace
You should be aware of Facebook's Commerce Policies before placing your first listing.
Follow those guidelines to get accepted right out of the gate.
There's no need to set up any different accounts to get started because you can use your existing business account. Click on "Create New Listing" to begin the process: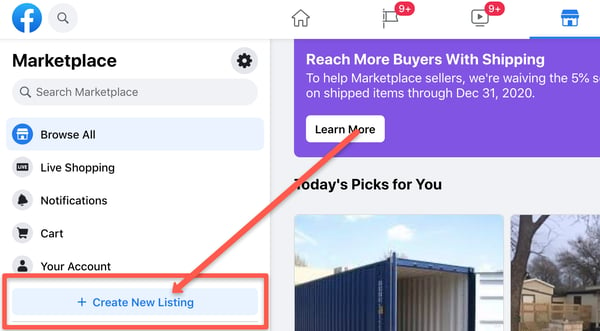 Next, select one of the Listing Types: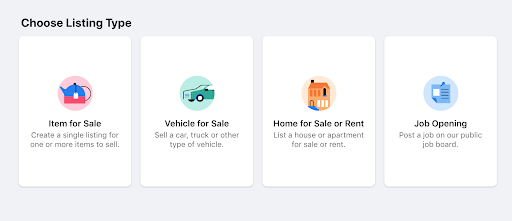 On the left side of the page, you'll enter the data for your listing, such as Title, Price, Condition and Description: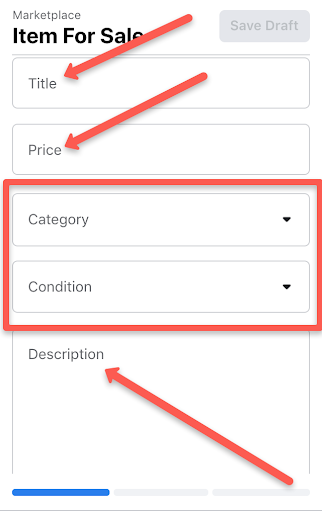 You'll also notice the area where you can upload your product photos: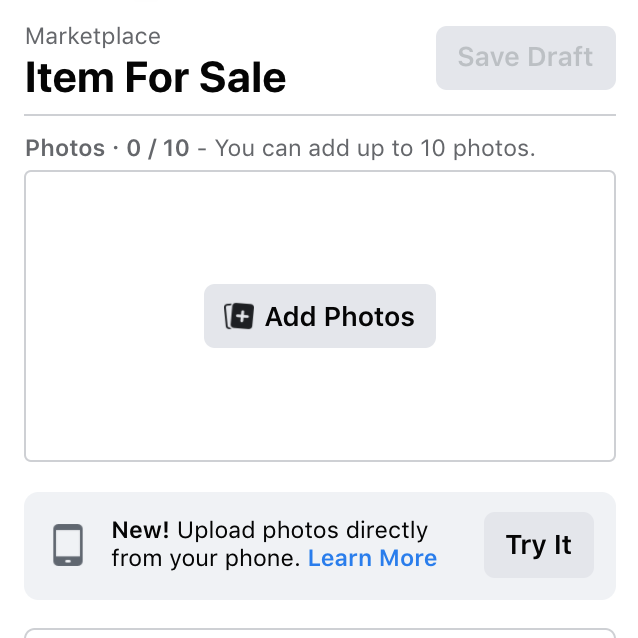 Photos are an important aspect to closing sales on Facebook so be sure to make use of the 10 photos allowed on Marketplace. To make sure your photos look appealing to your potential customers, you can use a photo editing tool like Instasize to help make your non-professional product photos look clearer, brighter, and more eye-catching.
Fill in your product's information, click the "Next" button and then "Post" it.
That's it! Your first listing is complete.
Return to top of page or Increase Your Facebook Product Ads ROI
---
Marketing Your Product Successfully
When marketing your product, it's best to have a planned out product roadmap to manage priorities and goals. Here, we'll briefly describe how to make sure your product is seen by potential customers.
Posting a listing is the easy part. In fact, some businesses tend to put their products out when they're in the Minimum Viable Product (MVP) stage.
It's now time to get to work on the more difficult part: getting your product sold.
Your new listing will automatically get added into the Marketplace by Facebook. Anyone browsing for products to buy in your category has the ability to see your product listing.
Your Marketplace Store profile is also created automatically by Facebook the moment you post your first product for sale.
Find your Store by clicking on "Shop" or "Your Account."
Return to top of page or Increase Your Facebook Product Ads ROI
---
Focus On a Strong Seller Record
Think about how to maintain a strong seller record from the very first listing that you post inside Facebook Marketplace.
Two badges are available from Facebook that reflect how well you perform all your customer interactions.
Very Responsive Badge
Community Recommended Badge
The Very Responsive Badge goes to any seller who responds in a timely manner to their customer requests.
The Community Recommended Badge is awarded to a seller who obtains a high rating from customers.
Take these two badges seriously as you go about your Marketplace selling activity.
Doing well in both areas improves your reputation and increases the likelihood that potential customers will choose to do business with you.
Return to top of page or Increase Your Facebook Product Ads ROI
---
7 Strategies For Optimal Facebook Marketplace Results
Keep the fact that Facebook is a social media website at the forefront of your mind as you use Marketplace.
The social aspect helps make the platform a quality place to find and nurture relationships with customers you wouldn't have found otherwise.
On the other hand, you must be strategic with your selling efforts because you're competing against individual sellers as well as other businesses.
Here are a few ideas to help you market successfully with FB Marketplace.
1. Increase The Odds Of Being Discovered By New Customers
Brand awareness needs to become a focus. It's a quick way to get discovered by customers on Facebook.
The fact that Facebook users trust the platform already means some of that trust is transferred over to your brand.
The next factor that helps you get discovered via the Marketplace is that your future customers are already looking for something to purchase.
This is an advantage over cold Facebook ads where you're interrupting users during their News Feed scrolling activities.
It's similar to the way prospects searching on Google are further down the sales funnel process. But the difference is that FB Marketplace users are already in the "buying mood" when they enter the community.
However, you still must get strategic. Gaining an understanding of Marketplace categories helps in this area.
Eighteen categories exist in FB Marketplace and you'll see them laid out in the left-hand navigation area: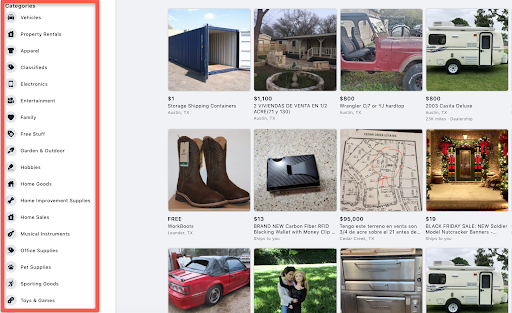 These are then broken down into subcategories: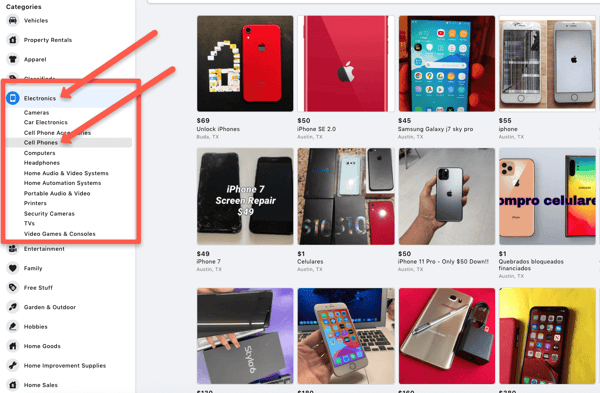 The key?
List your products inside the correct Category > Subcategory tree so that your target audience finds them easily.
2. Run Facebook Ads For Marketplace Placement
One way to maximize visibility is to run and test a Facebook product paid ads campaign.
You can show your listings in both the News Feed and in Marketplace.
Pay close attention to creating well-written titles and descriptions. As well, consider how these objectives fit into your marketing plan:
Traffic
Brand awareness
Conversions
Reach
Store traffic
Video views
Messages
Catalog sales
Use Facebook's Marketplace ad advice to help with your paid campaign.
3. Create Trust With Customers
Brainstorm ways to build trust with your audience.
The way Facebook Marketplace inherently works helps with this objective. Each transaction starts via Messenger and this process creates an immediate personal connection.
Use your store page to build credibility and trust. Here are three ideas:
1.Give potential customers your business information so that they can more easily become familiar with your brand.
2. Answer questions on your store page.
3. Provide any additional information about your business that you think will help foster a better connection with your customers. As stats suggest, people with an emotional relationship with a brand recommend them at a rate of 71% compared with the average rate of 45%.
4. Use Tracking
Track your results using Facebook analytics tools and pay close attention to what sells well on FB Marketplace.
You'll find that some items sell well on your website or inside your Shopify store and then they don't pan out well on Facebook.
The opposite will prove out, as well.
Do some upfront research by visiting categories and taking note of what's already listed as best sellers.
Use this information when creating your listings.
Visit other business pages and pay attention to what top sellers are already doing to maximize their selling results.
You'll find that your own listings and ads should perform well out of the gate if you do this type of research first.
The data you've gathered from your research could help you make informed decisions regarding your listings. To make sure your data lists are easily comprehensible and useful, you can manage them using a suitable reporting tool. This would make the process much easier especially when you need to work with large data sets.
5. Make Use FB's Personalization
Over time, people who have browsed your listings will follow your page. Others will become paid customers.
Use the power of personalization and point paid ads back to these people.
They've already shown an interest in your business and products and it's likely that they'll purchase in the future.
Facebook provides advertisers personalization tools like interest-targeted and lookalike audiences.
Set up those audiences and create ad campaigns around them.
6. Use Chatbot Technology
Did you know that you don't need to be available to chat on Messenger 24 hours a day?
Instead, use chatbots to start the conversation.
This technology allows you to set up automatic followup messages that go out via Messenger each time a lead or customer reaches out.
Your chatbots will start the conversation and then turn it over to you or your team once human interaction is absolutely necessary.
7. Keep Testing New Products
FB Marketplace is an excellent place to test out new product ideas.
The listings are easy to set up, FB starts the targeting process for you and you gain the opportunity to see which products "take off".
There's no initial cost to test in this manner. Remember that paid ads are an option, not a requirement, to start getting traffic over to your product listings.
Post a new product on Marketplace and gauge the results.
If it does well, you can drive additional traffic via paid ads and add the product to your other marketing channels.
FB Marketplace is also a valuable testing ground for your pricing.
Post a price increase or discount and test how your audience responds.
To take things a step further you can try the retail arbitrage business model using the Facebook marketplace as explained here by Ron at OneHourProfessor.com. While this will require some work on your end to find the right products, it can be a very lucrative side hustle if you're willing to put in the effort. The key is to find the right products at a good price.
Return to top of page or Increase Your Facebook Product Ads ROI
---
Are You Ready To Start Using FB Marketplace?
I hope I've provided you the knowledge needed in order to motivate you to start using Marketplace.
As you can see, this platform is no longer a "garage sale".
It's a robust marketing platform where you have the ability to:
Find new prospects
Sell to a new pool of customers
Test new prices
Test new product ideas
Test promotions
Build relationships
Using it effectively means creating a brand new channel that produces more traffic for your blog and more leads and sales for your business.
I can't stress enough how the personal nature of Messenger creates a tight bond between you and your customers.
Take advantage of this tool to find some of your raving fans who then help you build brand awareness across their social networks.
The end result should help you to diversify your income and bring your business additional sales.