Utilizing Google Feeds for Facebook Product Ads
When expanding to social channels, in most cases, we decide to work with existing feed - especially if our Google Specialists are familiar with it. As we all know, there are several similar factors across Facebook or Google's feeds. But also there are many that need to be adjusted before they can be adapted on any platform.
For example, Facebook demands product_ID for its Dynamic Product Advertising to ensure that the advertised product is exactly the one that the user has seen at the customer's web-shop.
If the feed does not contain product_id then we cannot run dynamic advertising.
The below table outlines some of the most important differences between Google Shopping and Facebook feeds: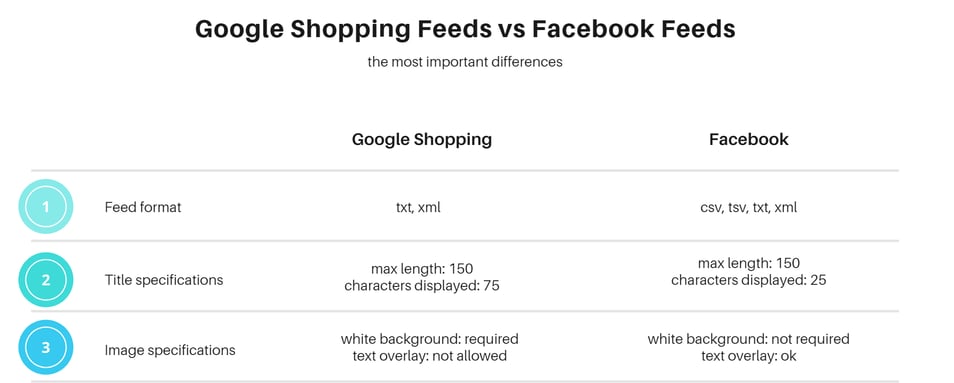 As we don't want to multiply work efforts and we want to avoid an adverse impact on one another's work, we always create a copy of the existing feed in DataFeedWatch. We adapt the feed to a particular platform afterwards.

Thanks to that we save a lot of time with rewriting, mapping, feed error and so on.

At the same time this enables making changes via automated processes. There is no need for the client to spend hours or even days on optimizing every feed and make it more conversion friendly.

Back to top or Get your Complete Guide to Data Feed Optimization
---
Feed Adjustments and Optimizations
We often receive feeds with missing information. This could be missing GTIN, MPN values or brands. Instead of matching those feed attributes with shop fields that are empty at times, we can assign appropriate values manually through "add static value".
For example, if the feed does not carry a brand, we can define it by utilizing the product title. Here's an example of how the rule would look like if the product name contains "Tommy Hilfiger":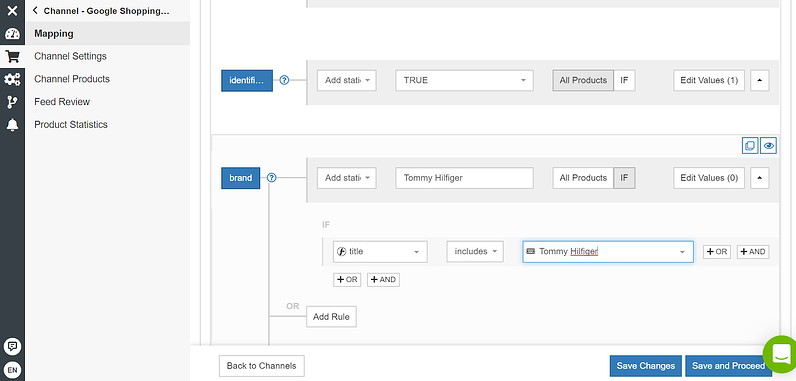 Thereby, we ensure that the feed includes all brands and this way it is possible for us to create brand-based product sets on Facebook. It also gives us the possibility to display the brand in our advertisements on Facebook.
Another important optimization opportunity that is not offered by many other feed-providers - is to freely adjust product titles in the feed. From adding additional data, to shortening the title, to replacing certain names with high quality keywords. This possibility gives a tremendous advantage of creating more precise ads that truly speak to the audience & generate engagement.
We have had several clients who only have brand and model in their product title. It could be "Tommy Hilfiger Dress". Here we edit the feed so the title tells you a little bit more about the product than just name and type of product:
Before:

The way we do this is by combining the brand with type of product, color, and size instead of using the standard provided by the feed.
After:

This means the product title is turned from "Tommy Hilfiger Dress" to "Tommy Hilfiger Dress size 56 Blue". The enriched title serves well for more specific queries with higher purchase intent. Therefore increasing the chances of making a sale.
We can also include or exclude different elements in the feed to create more conversions at a much better ROI. The options for modifying the feeds are limitless.
Back to top or Book an expert feed consultation [FREE]
---
Improve Instagram Shopping Tags
More and more webshops start to use Instagram shopping as a way to give the user a direct shortcut from the post to the product. Very often in this case, only price and title are shown.
We include more attributes and more information in the title which can have an effect on the user's purchasing process. This is caused by the user now knowing brand, color, type of a product and its size.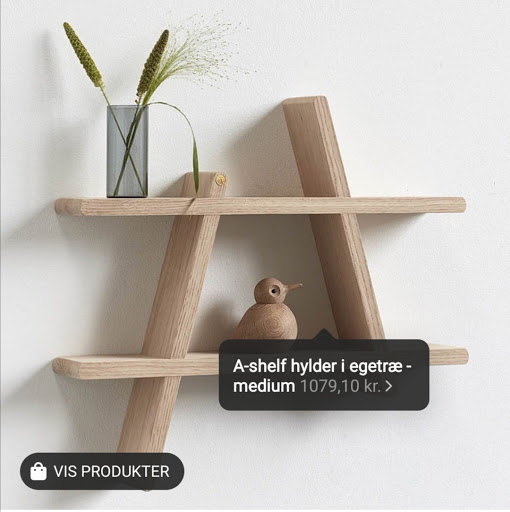 In the example above, the client had included "A-shelf hylde", but with simple changes via: "combine title" we can now display both: color and model, so the title becomes "A-shelf hylde in oak tree medium".
You may also find interesting: How NOT to Sell on Instagram: 12 Common Mistakes & How to Avoid Them
Back to top or Get your Complete Guide to Data Feed Optimization
---
In conclusion
As a marketing agency, we are always seeking ways to optimize and deliver outstanding results to our clients. At the same time, we care about saving our customers' time and money. We continuously evaluate the processes and look for methods to optimize and improve our workflow.
One of those ways of optimizing our work procedures and saving money is using DataFeedWatch. Copying Google feed as a base for other feeds, like for Facebook, for example, is how we can easily expand our customers to new channels. Thanks to which we have more time to focus on optimizing the campaigns themselves.