---
Shopify vs. WooCommerce at a glance
First of all, it's best to set out the key facts about each eCommerce platform and what sets them apart in the market.
Shopify
Shopify is often described as an all-in-one third-party eCommerce platform as it includes a variety of different functions. It allows users to build an online store environment where their products can be listed, and to be ordered and bought by customers. Shopify can be used on websites, on social media platforms, and even in face-to-face environments like physical stores. It also incorporates security, web hosting, inventory and a range of other backroom functions that are important to the smooth running of an online store.
Shopify Pros and Cons
In order to understand whether Shopify or WooCommerce is right for you, it's important to understand the benefits and drawbacks of each one.
Shopify's pros are:
Fully hosted software: Shopify gives you everything you need to build a professional, seamless online store within one platform
Easy scalability: Shopify handles some of the world's biggest online retailers, so they can easily handle your needs as your store grows
24/7 support: help and advice is always available from Shopify across multiple platforms, helping you fix issues or learn more, any time, anywhere
Shopify's cons are:
Budget limitations: Shopify is unique in charging transaction fees, and their limited range of plans means you won't have full control of costs as you grow
App costs: a variety of add-ons can be applied to your Shopify store, but many of these will come with additional monthly subscription costs
Smaller design range: Shopify only has around 100 themes, which all look professional but limits the choice available to you
WooCommerce
On the other hand, WooCommerce is a plugin that has been developed for use on WordPress-based websites. It incorporates product listings, product sales, shipping, inventory, soft taxes and secure payments, and includes integration for use on mobile devices. WooCommerce is open-source, meaning that it's often enhanced and customized by developers to provide a service, design or user experience that's tailored to a specific store.
WooCommerce Pros and Cons
Compared to Shopify, the WooCommerce plugin offers a significantly different approach.
WooCommerce's pros are:
Value for money: the initial WooCommerce plugin is free to install, and most of the add-ons and extensions available are relatively cheap
Controlled scalability: a wide choice of WooCommerce hosting options means you can find an ideal option for you and only pay for what you need
Total customization: there are tens of thousands of good free or paid plugins available to personalize your store, and you can even create and implement your own
WooCommerce's cons are:
Technically complex: getting a basic WooCommerce store up and running is straightforward, but a more customized environment will probably need coding or developer help
Self-hosting responsibility: it will be up to you to manage updates, security and other important technical duties to keep your site up and running - and pay for them if required
No live support: although there are lots of developers and online resources who can help, there is no direct live support available to help you resolve urgent issues.
WooCommerce or Shopify - which platform is best for you?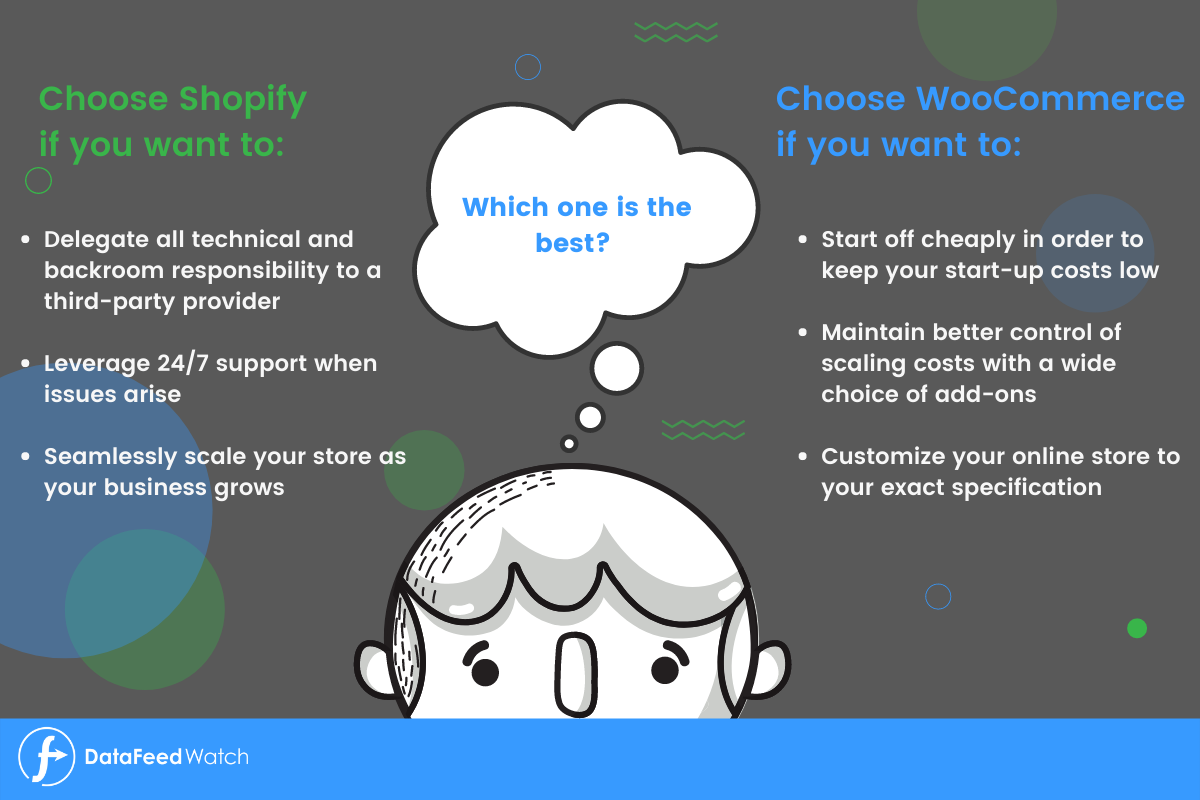 As this graphic demonstrates, Shopify and WooCommerce serve somewhat different roles in a similar marketplace.
Shopify is more of a 'hands-off' approach: you pay for the plan you want, you choose your style, and they more or less take care of everything else.
WooCommerce, however, is much more 'hands-on': the initial platform and all the styles and plug-ins are there for you to use as you wish, but it's up to you to manage all the technical responsibilities and to source support.

Recommended Next Read: Shopify Plus vs. Magento Commerce 2: Which Is Better in 2021?

Go to Top or
---
Shopify vs. WooCommerce: A head to head comparison
We've made a checklist you can use to follow along with. Tick the checkbox for the platform you like better in each category and tally up your results at the end.
1. Selling and usage fees
An important aspect to consider when choosing a platform is how it's going to fit into your budget. Let's take a look at the plan costs and fees of each.
Shopify
Shopify offers three main plan tiers:
And two additional plans:
Shopify Lite: $9 USD/mo which just allows you to add products and card payments to websites and blogs.
ShopifyPlus: Starting at $2,000 USD for large, enterprise-sized businesses.
Payment fees
As well as the monthly prices, there is a charge per transaction which depends on the price plan you're on.
WooCommerce
WooCommerce is a free, open source platform. That means that there are no set monthly fees to pay. But in order to make your site functional it does require money, from setting up your website to talking advantage of the many plugins. Let's break down what you'll need and the costs of each.
Payment fees
For most payment gateways (including WooCommerce Pay, PayPal, and Stripe) there is a 2.9% + $0.30 charge per transactions by card.
For WooCommerce Pay there is an addition 1% charge for cards issued outside of the United States.
Hosting and domain name
Unlike Shopify, you won't get a hosted site with your account. Instead, you'll need to set up your own. There are a lot of options out there and they vary in price, especially if you're wanting to buy a specific domain name that's been reserved.
Setup

When setting up your WooCommerce account, you can choose how you'd like to install it. If you pick the 'Get WooCommerce pre-installed' you'll have two WooCommerce-trusted hosts and plans to choose from.
Security
You need to ensure that your website is absolutely safe for your shoppers. In order to do this, you'll need an SSL certificate. It could be that your website host offers a free basic SSL certificate, so that's something you'll want to check for. However, since your website will be dealing with payments and people's sensitive information, a more secure and advanced certificate is the way to go. Using an anti-malware tool should be considered as well.
Consensus
If you're looking for a one-stop package for your eCommerce store, then Shopify could be the way to go even if it is potentially the more expensive option of the two.
If you're willing to host your own website (or already have one) and are wanting to customize features exactly how you want them, then WooCommerce could be the winner here.
2. Account setup
Let's take a look at what's required for each account setup and its difficulty level.
Shopify
You can start your Shopify experience with a 2 week free trial. To do so, you will need to come up with a unique store name and provide your email address. No payment information is necessary at this stage.
After adding your email address, password and store name, you'll need to answer a few questions and fill out a form with your personal details like your full name, address, and phone number.
Once your free trial is up, you'll need to choose which plan you want and provide your payment info.
WooCommerce
When creating your WooCommerce account you'll be taken through a 6 step questionnaire to assess your shop and your needs. By creating your account, you'll also be automatically creating a Wordpress account.

The very last question will ask you which installation method you'd like to choose. Like we mentioned earlier, choosing one of their recommended host sites is the easiest way to go. If you want to do this, then the first option 'Get WooCommerce pre-installed' will lead you to the next stage of choosing your host.
But if you were already using a WordPress site you can just install WooCommerce as a Wordpress plug-in. And if you're a skilled developer or have one on your team, you can go the DIY route and download it.
Consensus
WooCommerce offers a lot of flexibility and options when it comes to how you want to install your store and set it up. But if you're looking for a more straightforward solution and don't want to worry about the technical side of things, then Shopify is for you.
3. Customer Support and training
Depending on your knowledge, experience, and skill level you may need assistance from time to time or additional resources. Let's see what each platform has to offer.
Shopify offers:
24/7 support
Dedicated help center
Community forums
Dedicated developers help database
Youtube channel with tutorials
Free daily webinars
Business courses
WooCommerce offers:
WooCommerce Docs - a searchable database with documents, reference materials and tutorials
Troubleshooting guide
Customer support (available if you've purchased a product)
WooCommerce Forums
Blog posts and guides
Open-sourced developer resources
Consensus
Both platforms offer extensive knowledge resources. But if 24/7 live customer support is important to you, then Shopify might take the cake on this one.
4. Ease of use
Depending on your skill level and time you have for maintaining your store, one of these platforms may stick out to you as being more convenient.
Shopify
Shopify is very beginner friendly, and if you do run into any issues, you'll be able to get it solved through their live chat.
WooCommerce
WooCommerce might be the best choice if you're just starting out, but if you know what you want to accomplish and perhaps have a developer on your team, then it's a great choice.
Consensus
Both platforms can be considered beginner friendly when it comes to the basics. Navigating both platforms is clear and simple, and you shouldn't have any trouble finding the information you need.
If you're just starting out and extensive customization isn't important then Shopify could be your best bet. But, if you're wanting to go beyond the basics and have some more control, then the point goes to WooCommerce.

5. Scalability
Most merchants are interested in growing their business, so let's see how each platform will support you as you make more and more sales.
Shopify
Shopify allows for bigger expansion with their Advanced and customizable Enterprise plan, but it will cost you. Each plan includes an unlimited number of products, so if you're just selling more volume but your staff and physical locations aren't changing then you might get away with keeping your basic or regular plan. However, the higher the plan you have, the lower your fees will be.
For example, the online credit card rates and in-person credit card rates for basic Shopify plans are 2.9% + 30¢ USD and 2.7% + 0¢ USD respectively, but drop down to 2.6% + 30¢ USD and 2.5% + 0¢ USD with the regular plan.
WooCommerce
In a WooCommerce help doc about scalability, they mention that they believe in the philosophy of 'dogfooding' which means that they run their website on WordPress and WooCommerce and use it to process a high volume of transactions.
This can assure users that they're constantly working on improving their system and that it has a high potential for merchants and businesses to scale successfully. They do note however, that part of a well-oiled strategy is having a robust team to support the growth of your business.
Consensus
Both platforms do a good job of supporting merchants and retailers as they grow. If you do the math and the Shopify monthly fees aren't going to be cost-effective for you in the long run, then WooCommerce could provide the flexibility you're looking for. If the cost isn't going to be an issue for you, then you could go with Shopify.
6. Special features
Tools, add-ons, and special features can really lend you a hand, make for added convenience, and save you time. What makes each platform unique and sets them apart?
Shopify
POS system
All Shopify plans come with free POS Lite. This feature comes in handy if you're doing the occasional in-person sale and want to accept debit and credit cards for payments. If you have an established brick and mortar store, you might want to consider adding POS Pro. It's $89 USD a month, no matter which plan you're using.
Themes
It's super easy to make your store look beautiful, well-designed and eye catching with their free templates.
Fraud analysis
Each plan
WooCommerce
Open-Sourced
Part of the strength of WooCommerce comes from the fact that it's open-sourced. This means that outside developers can create add-ons and extensions that might be difficult to find other places.
Data
Thanks to the fact that you're hosting your own website, you'll have complete control over your own data.
WordPress
The two are completely integrated, so if you're already working with WordPress then your current theme will work.
POS plugins
WooCommerce offers their own POS plugin for $199 USD annually which is considerably cheaper than Shopify's POS Pro. They also offer a few other plugins to use, like Square.
7. Integration with 3rd party shopping channels and marketplaces
If you plan on creating a multichannel strategy, are going to use paid advertising for your products, or want to add additional features, then integrating with 3rd party apps and channels is important. Here's how each platform fares.
Shopify
There are about 5,760 apps in Shopify's App Store. On the main page they show trending ones you might be interested in, as well as top apps for different categories.
When clicking on an app, you're able to view all the details along with customer reviews.
WooCommerce
If you are currently using Shopify but your store isn't able to cater to your business as you wish, you might consider migrating from Shopify to WooCommerce. As you can see, WooCommerce is considered one of the best alternatives to Shopify by offering customization. It also has a wide range of apps and extensions available to expand your store in the market.


Since this platform is open-sourced, plugins and integrations are really where it shines the brightest. There are almost 1000 free and paid plugins to choose from (the exact number isn't known).
They also have curated lists of essential plugins for different categories like:
Launching your store
Growing your business
Marketing solutions
It's possible for customers who have purchased an app to leave a review, but they're not always available for each app.
Consensus
Although they are different platforms and approaches, one thing Shopify and WooCommerce do have in common is in how easily they can be integrated with online shopping channels and marketplaces.
For example, you can connect your store to tools like DataFeedWatch and simplify the act of creating and optimizing feeds for all the products on offer within the store. This information can ensure that the advertising that appears on Google Shopping, Facebook, Amazon and other channels is coordinated with the listings that appear on your online store. This end-to-end approach can help boost your sales by getting your products and store to a wider audience.
Also, If you are using Shopify and your Shopify store isn't able to cater to your business as you wish, you might consider migrating from Shopify to WooCommerce. As you can see WooCommerce is considered one of the best alternatives to Shopify by offering customization and has a wide range of apps and extensions available to expand your store in the market.
8. Payments
Giving customers an easy way to purchase your goods is important for any business. It's also important for you to have an easy way to access your revenue as well.
The most common ways for shoppers to pay are:
Debit and credit cards
Google/Apple Pay
Stripe
PayPal
Square
Shopify
If you use Shopify payments then there are no transaction fees, but if you are using a 3rd party payment gateway like the ones listed above, then the fees apply.
Getting paid
How you receive your income varies depending on what payment provider was used.
WooCommerce
Right now, WooCommerce Payments is only available in the US.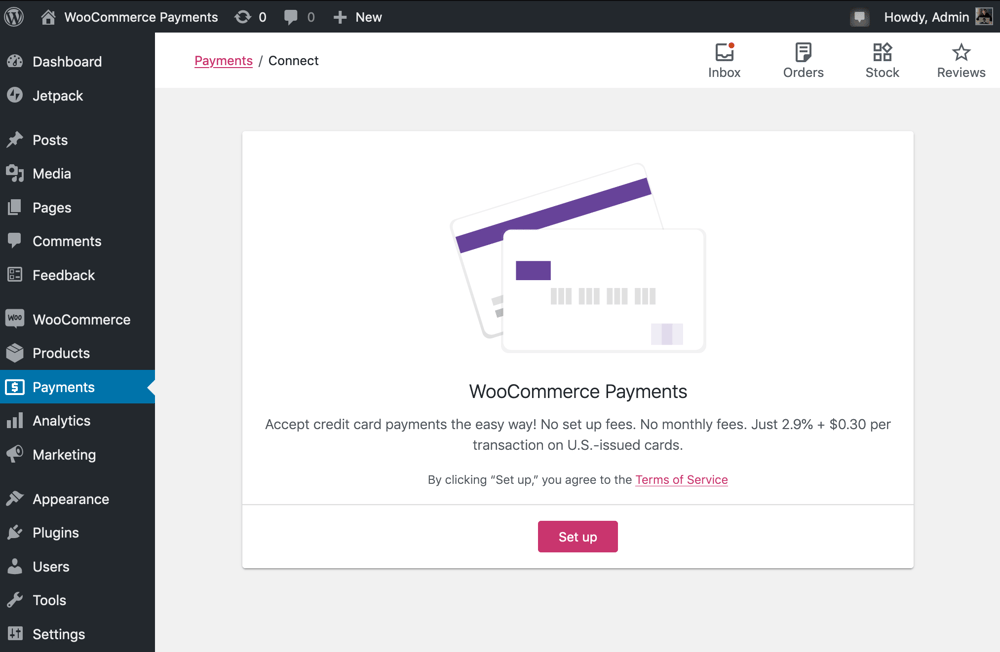 If you're outside of the US, then there are other core payment options you can go for. They include:
Cash on delivery
Direct bank transfers (BACS)
Klarna Payments

in limited countries

Stripe (built in with Google and Apple Pay compatibility)
PayPal Standard
Each comes with their own fees and requirements.
How you get paid
If you are in the US, then using WooCommerce Payments is the easiest way for you to get paid. You'll be able to keep track of your payments on your Dashboard and can receive them within 2 days making your sale.
If you're outside of the US, then you could go with a popular payment gateway like PayPal.
Consensus
The benefit of Shopify here is that if you choose to use their Payment system that there are no fees and you can
9. SEO friendliness
Sure advertising plays a big role in making sales, but you want to make sure that people are finding your store organically as well. Here's what each platform can do for you.
Shopify
SEO management is pretty straightforward with Shopify. You're able to edit the title and meta descriptions for your products, as well as add keywords to:
The titles of your pages
Your meta descriptions
The ALT tags
The entire page's content
WooCommerce
You'll be able to choose from a vast range of SEO plugins here, and they also offer their own free version that you can download. It includes features such as:
Social media optimization
On-page optimization tool
Ongoing addition of features
Consensus
Whichever platform you choose, you should be taking advantage of the fact that setting up a blog is easy to do for both. It can really boost your organic traffic when used to publish good content related to your specific niche.
10. Reports and analytics
Who runs the eCommerce world? Data! Keeping track of how your business is doing is vital to the success of any online business.
Shopify
With each plan, you'll get a good range of analytic reports that will give you helpful insights and data like:
Value of recent sales (can compare to another time frame)
Monitor trends
Where your traffic is coming from
Summary of sales, payments, gross profit data, and liabilities
Product analytics and more
Here's a full list of all that's offered (there are also custom reports available for some plans):
WooCommerce
WooCommerce Analytics offers users a customizable dashboard with a complete overview of your data and advanced filters.
Some reports you'll be able to check are:
Orders
Coupons
Revenue
Shipping
Taxes
You can also install the free WooCommerce Google Analytics plugin to check things like where your traffic is coming from and seeing what your customers are interested in.
Consensus
Both platforms do a good job of providing robust data that you can use to analyze how your business is performing and make knowledgeable decisions.
Go to Top or
---
Is there a clear winner?
As you have probably concluded by now, both platforms are very viable solutions for any eCommerce business. A lot of it comes down to preference and where you see yourself going in the future.
It's also interesting to note that for most website categories, WooCommerce takes the lead, except in Lifestyle where Shopify does.
Source: Colorwhistle
If you are a retailer who wants to have more flexibility, control, and the ability to customize everything down to the last detail, then WooCommerce is for you.
If you're looking for an all-in-one package where you can upload your products and have the security of knowing there's a team to help you 24/7 with any issue you face then Shopify might be your platform.
You may also find interesting:
Go to Top or
---