What is Performance Max?
Performance Max is an innovative campaign approach offered by Google, allowing ads to be displayed across a wide range of Google ad channels, including search, shopping, YouTube, display, discovery, Gmail and maps.
Unlike traditional campaigns tailored to single ad formats, such as Standard Shopping campaigns, Performance Max takes a holistic approach, covering all ad formats within a single, unified campaign structure.
This innovative campaign strategy leverages Google's advanced machine learning and artificial intelligence capabilities. These technologies are used to dynamically determine the most appropriate ad format for each user, optimizing the ad experience and increasing the likelihood of successful engagement.
Back to the Top or
---
Performance Max ad examples
Let's explore some illustrative examples of Performance Max ads in action. We'll discuss what Google's advertising channels your Performance Max ads can be displayed on.
Then we'll give you the exact illustrations of ads on these different channels. These examples will showcase the dynamic and versatile nature of Performance Max campaigns, as they seamlessly adapt to various Google advertising channels to maximize engagement and deliver impactful results.
Google Network
The Google Network refers to a collection of websites, apps, and platforms where Google offers advertising opportunities. Google Performance Max campaign aims to deliver ads across multiple Google advertising channels, including Search, Shopping, YouTube, Display, Discover, Gmail, and Maps.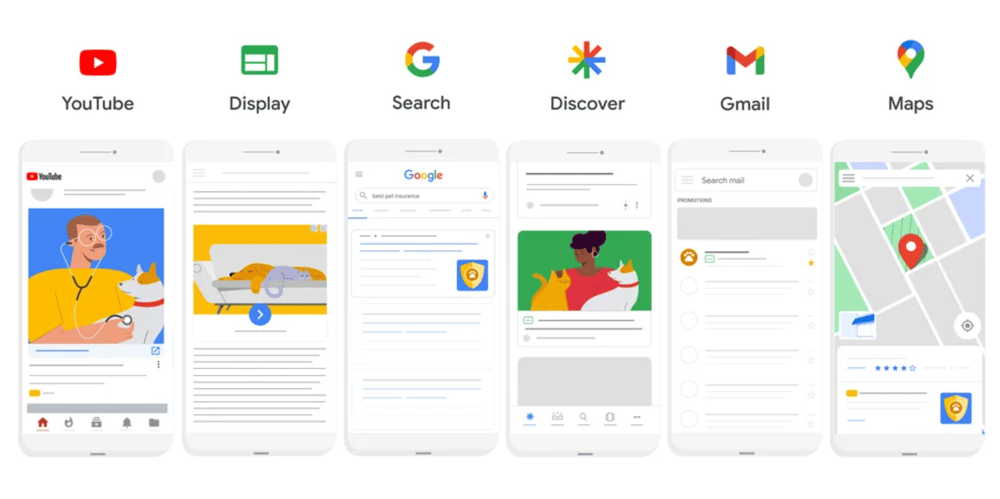 Google Network | Source
Examples of ads on different Google channels
The appearance of a Performance Max ad can vary a lot depending on where it is shown.
Performance Max ads can appear as text ads on search results pages, as interactive banners on various websites, as video ads on YouTube, and even as promotions in Gmail, Discover, and Maps.
Performance Max ad example on

Search

channel
The Search channel within Google Performance Max (PMax) is a dynamic advertising platform targeting users actively searching for specific keywords related to your products or services. With PMax's intelligent capabilities, ads can appear prominently at the top or bottom of Google search results, exactly when potential customers are looking for relevant information.
A search ad is a concise text-based ad that typically includes a headline, description lines, and a link to a landing page.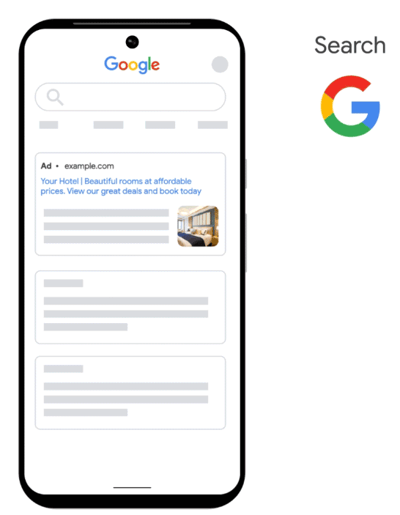 Source: Google
Performance Max ad example on

Shopping

channel
The Shopping channel within Google Performance Max (PMax) is a powerful platform designed to showcase your products in a visually appealing and informative way. The content in your ads is based on the information included in your product feed. By leveraging PMax's advanced machine learning and AI, your product ads can be displayed across Google's Shopping tab and other relevant placements.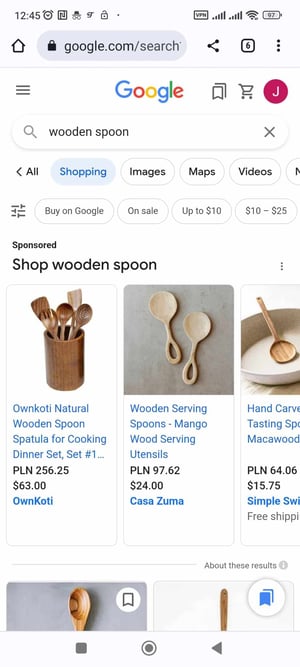 A shopping ad is a visual product ad that displays an image, title, price, and store name directly in search results. These ads often appear when users search for specific products or product categories. Shopping ads provide users with a quick overview of products and prices, helping them make purchasing decisions directly from the search results page.
Performance Max ad example on

YouTube

channel
The YouTube channel within Google Performance Max (PMax) harnesses the power of video to captivate and engage your audience. Through PMax's sophisticated machine learning and AI capabilities, your video ads can be strategically positioned on YouTube, reaching viewers who align with your target demographics.
A YouTube ad is a video-based ad that plays before, during, or after YouTube videos. These ads can vary in length and format, such as skippable or non-skippable, and often include visuals, sound, and a call to action.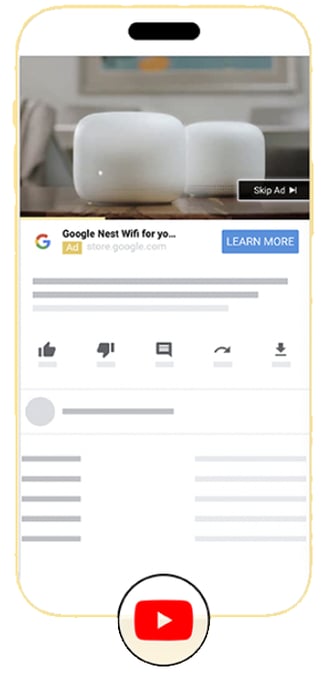 Source: Adlucent
Performance Max ad example on

Display

channel
The Display channel in Google Performance Max (PMax) provides a comprehensive platform to display your ads across a wide range of websites and apps. Utilizing PMax's advanced AI and machine learning, your display ads can adapt to fit various formats and contexts, appearing on websites and apps that align with your target audience's interests.
A Display ad is a visual ad that can take the form of banners, images, interactive media, or videos. Display ads are designed to capture users' attention while they browse content online and encourage them to click through to the advertiser's website for more information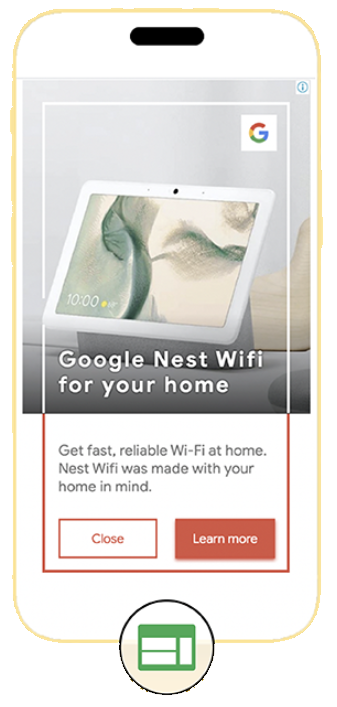 Source: Adlucent
Performance Max ad example on

Discovery

channel
The Discovery channel within Google Performance Max (PMax) offers a unique platform for reaching users as they explore personalized content on Google Discover. With the help of PMax's advanced AI and machine learning, your ads can seamlessly blend into users' discovery experiences, presenting them with relevant and engaging content based on their interests and behaviors.
A Discovery ad features a compelling image or video, a headline, and a description.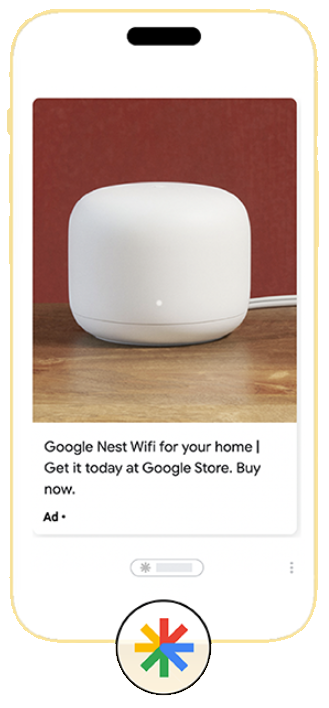 Source: Adlucent
Performance Max ad example on

Gmail

channel
The Gmail channel within Google Performance Max (PMax) offers a direct connection to users' inboxes, enabling personalized and engaging interactions. Using PMax's artificial intelligence and machine learning, your ads can appear as native promotions in users' Gmail tabs, tailored to their interests and behaviors.
A Gmail ad resembles a promotional email, featuring a subject line, a teaser text, and a call-to-action button. These ads are designed to capture attention and entice users to engage directly in their email environment.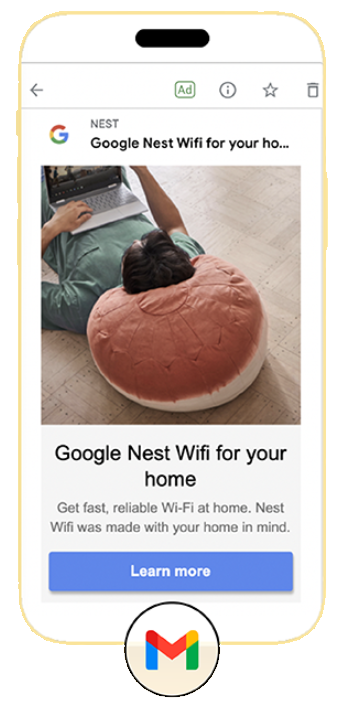 Source: Adlucent
Performance Max ad example on

Maps

channel
The Maps channel within Google Performance Max (PMax) taps into users' navigational experiences by strategically placing your ads on Google Maps. With PMax's advanced AI and machine learning, your location-based ads can reach users as they search for directions, explore nearby businesses, and plan their journeys.
A Maps ad showcases relevant businesses or services as icons on the map, often with additional details like store name, address, and ratings. These ads help users discover nearby options and provide businesses with a prominent way to attract local customers.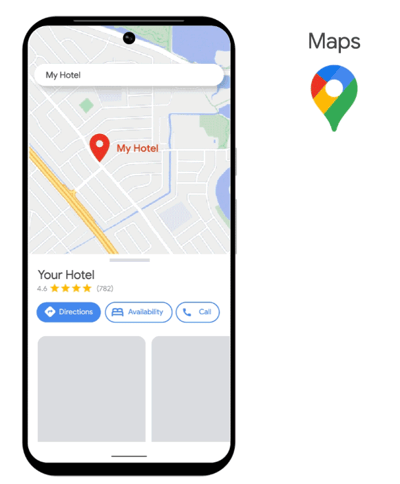 Source: Google
Back to the Top or
---
Performance Max creative examples
Creative elements in Performance Max include your entire array of creative assets, including headlines, descriptions, images, and videos. They are strategically combined and tailored based on the target audience's characteristics and behavior to maximize engagement and conversions.
Performance Max creatives aim to achieve the best possible results by leveraging data-driven insights and creative strategies.
Performance Max assets
The success of Performance Max campaigns relies on the quantity and quality of the creative assets you offer. The more suitable assets you include, the higher the chances that your ad will appear for the right audience at the right time across Google networks.
Optimizing assets is crucial for getting the most out of PMax campaigns. It's important to have appealing and relevant ad creatives that match the audience signals provided in your asset groups. Effective assets should look good, clearly present your product, and have a strong and convincing Call-to-action button.
Experimenting with different creative elements can help figure out what resonates best with your audience. PMax provides performance rankings for each asset: Low, Good, and Best and it's a good base to identify which creatives aren't performing well and replace them with better ones.
Here are examples of assets you can add to your Performance Max campaign.
Headlines & Description
Headlines play a crucial role in capturing attention and driving engagement in your PMax campaigns. These concise but impactful phrases act as the first point of contact with your audience and convey your message quickly and effectively. Creating compelling headlines that resonate with your target audience is essential to creating a lasting impression and curiosity.
In PMax, you add regular headlines and long headlines. Each has slightly different requirements for this type of campaign.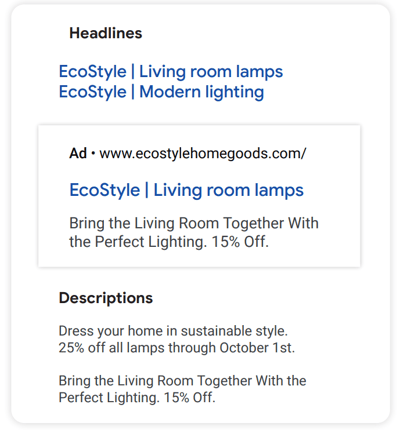 Headline and description examples | Leren Loont
When it comes to descriptions, they provide context and depth to your offers. These concise blocks of text provide an opportunity to elaborate on the value, features and benefits of your products or services. Crafting compelling descriptions that resonate with your target audience is essential for conveying a clear and compelling proposition.
Headline & Description checklist
How many of these do you already have among your assets?

Images
Images are the visual key to capturing your audience and conveying the essence of your brand. Through carefully selected and thoughtfully designed images, you have the opportunity to showcase your products, services or messages in a visually appealing and memorable way. The right images can evoke emotions, tell a story and make a lasting impression on potential future customers.

Image asset examples | Leren Loont
You can add five types of images to your Performance Max campaign: landscape Image, square Image, portrait Image, square logo and landscape logo. Remember to follow Performance Max image specifications.
Image checklist
How many of these do you already have among your assets?

Videos
Videos are the dynamic storytellers on your advertising journey, breathing life into your brand and offerings. Through the power of sight, sound and motion, videos have the ability to immerse your audience in a compelling narrative that showcases your products. Whether it's a product demonstration, a customer testimonial or a captivating brand story, videos offer a powerful medium to create emotional connection and convey complex messages effectively.

Video asset examples | Leren Loont
Video checklist
How many of these do you already have among your assets?

Other examples of PMax assets
In addition to headlines, descriptions, images, and videos, Performance Max campaigns incorporate other crucial assets to create a comprehensive and engaging advertising strategy. These are Call-to-Action buttons, audience signals, landing page URLs, ad extensions or business information.
Read also about Final URL expansion functionality: should you keep it ON?
Other assets checklist
How many of these do you already have among your assets?

Example of an asset group
The way it works is that you upload assets to a specific asset group. This means that an asset group is made of creatives that you provide: images, logos, videos, headlines, descriptions or audience signals. You can come up with different creative asset combinations using the ad preview.
To minimize overlap among listing groups, it is advisable to ensure that each of your asset groups consists of different products. This categorization could be based on your strategy or simply alphabetical divisions.
Furthermore, you are able to enhance individual assets within an asset group. Performance Max provides access to the Asset Detail report, which displays the performance outcomes of each asset (found in the Performance column).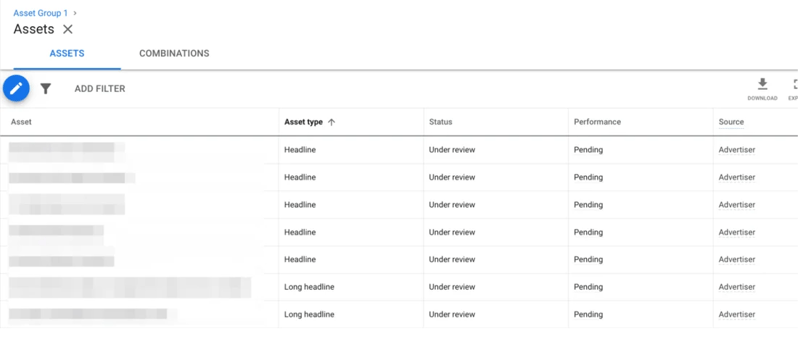 Checking asset overview | Performance Max in Google Ads
Back to the Top or
---
Performance Max campaign examples
When launching a Performance Max campaign, you need to know what you want to achieve with it.
You may want to optimize your marketing budget and thus increase efficiency and profits.
You may want to generate valuable new leads.
You may want to reduce cost–per-result (CPR) and generate more relevant clicks compared to traditional search campaigns.
You may want to analyze high-potential assets within the specific asset groups, contributing valuable insights for strategic planning and future campaign development.
Depending on your goals, you can utilize Performance Max in different ways and follow different Performance Max best practices. Below we present two basic strategies with PMax:
1. Strategy 80 vs 20: If you're just starting out with Google campaigns
PPC campaign is a great option if you're a business in search of an efficient method to generate fresh leads.
However, the challenge lies in determining the optimal PPC campaign to choose. Each product and service requires a unique strategy when creating a PPC advertising campaign. This includes decisions such as choosing the right type of campaign (search, display, YouTube, etc.), setting a budget and preparing creative assets.
The general rule that works for many newbies in online advertising is to allocate 80% of your budget to establish a Performance Max campaign, and dedicate the remaining 20% to a campaign type of your preference.
The rationale behind this approach is to harness the potential of Performance Max's machine learning and cross-inventory capabilities. You can quickly evaluate your market, looking deep into data including optimal asset combinations, most engaging channels and strategically planned ad schedules.
Once you've gathered a significant set of data on audience preferences and identified combinations that yield higher conversions, you'll know how to configure a campaign that delivers the best performance.
2. Strategy 20 vs 80: If you're experienced in Google campaigns
If you've already been working with Google Ads over a specific timeframe and you know what kind of marketing actions work best for your business, the recommendation is to allocate 20% of your budget toward starting a new Performance Max campaign.
The goal behind this approach is to leverage Performance Max's AI capabilities to discover fresh customer segments and space for business growth. Performance Max's machine learning feature possesses the po0wer to analyze customer interactions across various channels and pinpoint the most effective ad format for each platform.
Advertisers can increase brand visibility across channels, gain comprehensive insights into their customer behavior trends and identify untapped possibilities for lead generation. This multi-channel exposure helps to build deeper relationships with audiences.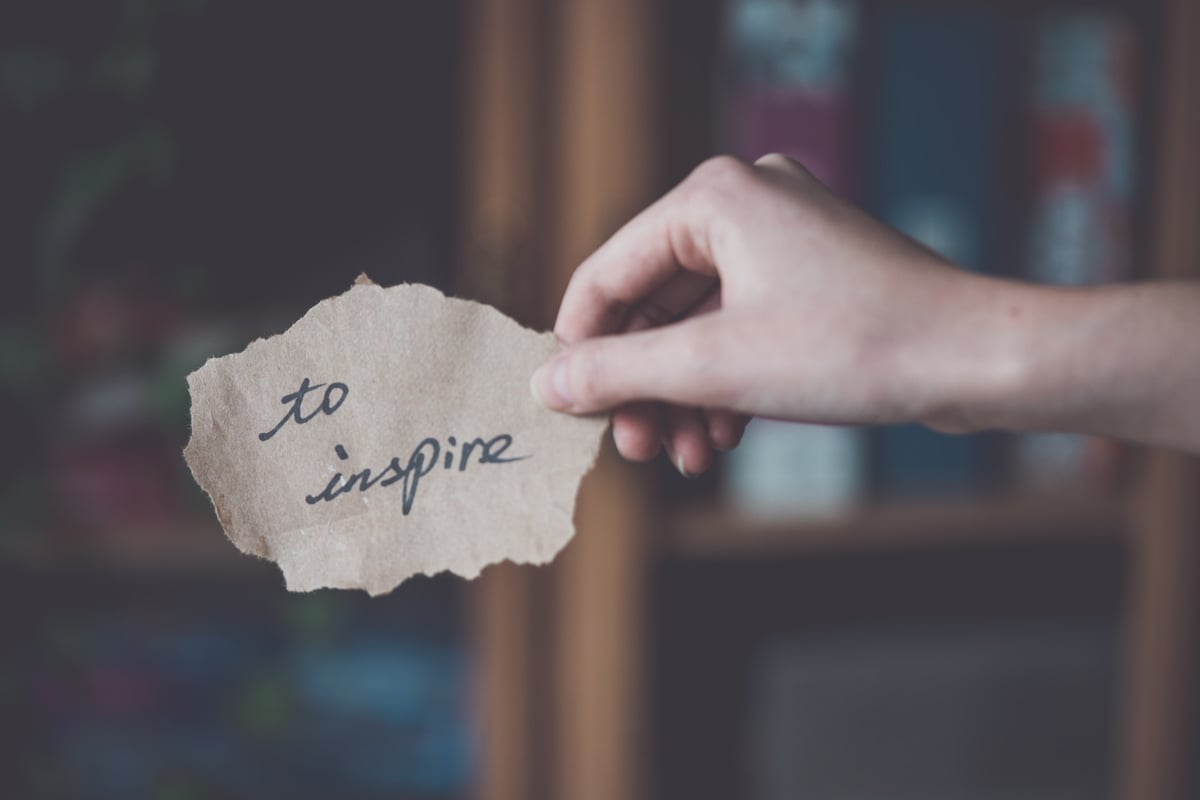 Back to the Top or
---
Performance Max success examples
Brands harness the power of data-driven insights and creative brilliance offered by PMax campaign type. These Performance Max examples illuminate the diverse approaches employed to get the most out of Google's offering.
Boosting conversion/ conversion value
Allianz Spain
The company aimed to optimize its marketing expenses by enhancing the effectiveness and profitability of its advertising efforts. In collaboration with the agency Jellyfish, Allianz employed Performance Max campaigns to boost the number of qualified car insurance leads, achieving a reduced cost-per-lead compared to their previous campaign efforts.
The result of using PMax
Car insurance leads increased by 15 % and Cost-per-lead decreased compared to the previous Search campaigns.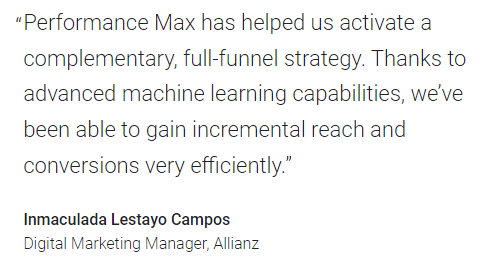 Increasing Performance Max revenue
Studio Capello (WMR Group)
Studio Cappello's primary objective involved enhancing their Google Performance Max campaign through the utilization of business intelligence (BI) data, ultimately driving higher revenue.
They successfully imported their CRM data into DataFeedWatch using a Google Spreadsheet. This strategic move allowed them to segment their PMax campaign utilizing business intelligence (BI) data. Now they were able to create a custom label within DatafeedWatch.

Creating a custom label for Performance Max | DataFeedWatch
The rule you see here works like this: Whenever a product's ID is listed in a certain Google Sheet that has the best-performing products according to BI data, it automatically sets the "Top" value in the custom_label_4 column for that product.
The result of using PMax + DataFeedWatch
7% increase in Performance Max ad spending but 80% increase in revenue.
Generating new leads
Deezer
This music streaming platform's main goal is to drive an increase in their subscription base. They test out fresh functionalities and flexibly allocate budgets across various marketing approaches.
Despite primarily focusing on app-based advertising, Deezer wanted to expand web subscriptions and find new customer segments across diverse media platforms.
Through the implementation of Performance Max, Deezer and with the help of a digital agency, they managed to achieve a significant increase in web-based subscriptions while reducing the cost per subscription compared to their app-based approach.
The result of using PMax
Subscriptions increased by 28% on the web path and decreased cost-per-subscription by 15 % compared to the app path.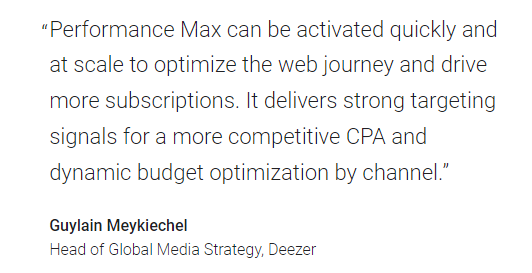 Back to the Top or
---
Conclusion
Performance Max has emerged in recent years as a center of innovation and opportunity for advertisers. From captivating attention-grabbing assets and various Performance Max ads that are completely different on each Google Network channel, to diverse approaches on how to implement Pmax into your marketing strategy, these examples highlight the transformative power of Performance Max campaigns.
Tell us about your experiences with PMax campaigns and if you don't feel experienced enough yet, read our other articles on the topic:
Guide to Google Performance Max Campaigns
Performance Max vs Discovery Ads: How are they different?
12 Performance Max Best Practices [CHECKLIST]
9 Data Feed Hacks for Better Performance Max Campaigns
---
FAQ
What are Performance Max image examples?
Performance Max image examples include a variety of attention-grabbing visuals, such as product displays, lifestyle shots, and graphics. You can add five types of images to your Performance Max campaign: landscape image, square image, portrait image, square logo, and landscape logo. These images enhance engagement and drive campaign success.
---