Retailer´s guide to selling on Fruugo:
---
What is Fruugo?
Fruugo is an online marketplace from the United Kingdom. Fruugo sells in countries around the world, including the UK, the US, France, and many more. The brand markets itself on being flexible in terms of being able to sell across borders easily, which is not the case with many other marketplaces. This helps Fruugo to stand out from the competition.
The platform offers a wide variety of products sold by thousands of different brands around the world.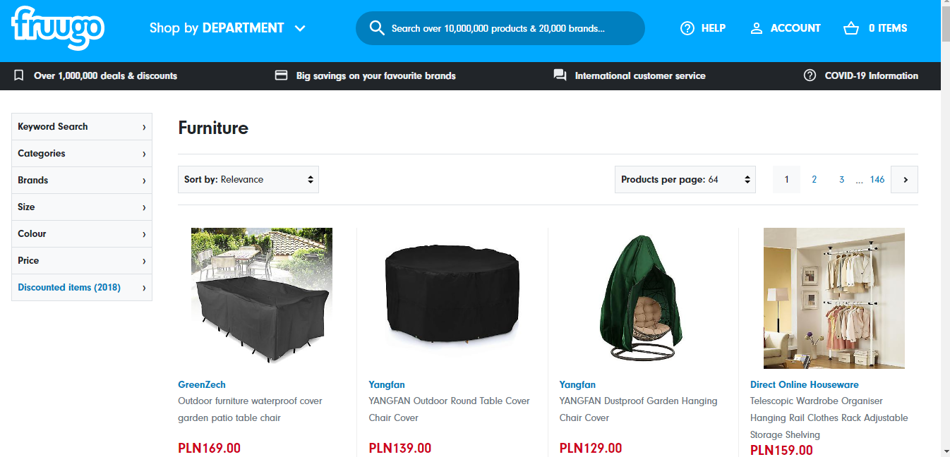 Return to top of page or Download the Complete Guide to Data Feed Optimization.
---
Why should you sell on Fruugo?
There are a few advantages to selling on Fruugo. But the main stand-out advantage is that you have a potential worldwide sales reach, in up to 46 countries. Add this to the fact that Fruugo is growing and gaining more customers by the day, you have a great opportunity to reach new buyers. Fruugo even translates your product advertisements for potential buyers around the world and adjusts the currency to their needs.
Another advantage of the marketplace is that it offers foreign market insight to its sellers. That means if you are considering selling across borders, you can check which products of yours are the most likely to sell in certain locations. This gives sellers a head start, and also means they can cut costs by reducing their own levels of market research.
In addition to those advantages, you also get your own dedicated account manager. This very personalised aspect of Fruugo saves you time and money doing a lot of the calculations yourself, or employing someone to do so.


Last but not least, Fruugo also has a long list of affiliates in 46 different countries. That means that without actually having to do anything, your product is already being promoted for you globally, through Fruugo's large network of affiliated websites and partners.
Return to top of page or Download the Complete Guide to Data Feed Optimization.
---
Getting started
To first start selling on Fruugo, you need to meet the requirements of the marketplace. These include:
Be able to ship internationally
Being able to integrate products automatically - This can be done through direct integration or through a feed service integrated with Fruugo

like DataFeedWatch.
Having images set on a white background, with no watermarks, or unrelated information
Having relevant and up to date product information
Having a basis for expected shipping times and costs - Ideally, costs should be under 10% of a product's price.
Once you have met the above requirements, you are ready to begin the sign-up process.
To apply to sell on Fruugo, you will have to enter the following details:
Your contact information - including name, surname, email, and telephone number

Your company details - this consists of your companies trading name, your website and catalogue URL, your registration country, and your approximate annual sales on marketplaces. You will also need to state whether you are sales tax/VAT registered, and whether you currently sell on other marketplaces.

Your fulfillment capabilities - this includes whether you can ship internationally (highly recommended on Fruugo), whether you can track shipments, and where you are shipping from.

Product information - this includes the number of products you intend to list on Fruugo, whether they all have GTINs or not, and whether you are a manufacturer exempt from GTINs or not.

Technical information - here you will need to state whether you have reviewed the technical documentation. You will also need to state your integration method.
After that, all you need to do is click I'm not a robot, then submit!
Return to top of page or Download the Complete Guide to Data Feed Optimization.
---
Fruugo and feeds
If you want to really streamline your content, and provide maximum detail in less time, you can use a feed. Fruugo currently processes feeds every 30 minutes.
Title
Descrition
GTIN/Product ID
SKU ID
Stock status and quantity
Image URL
Price
Price with VAT
VAT rate
Fruugo also recommends including these optional fields:
Brand
Category
Language of content (for translation purposes)
Colour
Currency
Size
Return to top of page or Download the Complete Guide to Data Feed Optimization.
---
Top tips for optimisation
Optimising your Fruugo feed isn't that different from how you would optimise it for a standard marketplace. But here are a few top tips to guide you along the way:
Make sure your titles and descriptions include the right keywords
Like on all marketplaces, your descriptions and titles are key to drawing the attention of buyers. Try to do plenty of keyword research for each of your products. Once you work out which keywords are drawing people in, make sure to include them in your titles and descriptions.
Make use of Fruugo's foreign market insights to further focus your best selling items
We all know by now that marketing all items isn't the most profitable thing to do, as some may be more popular than others. But whilst it is great to focus on your best selling items, Fruugo allows you to go one step further. Because of the marketplace's global reach, you may wish to specifically reach out to a new market. That is the perfect time to use Fruugo's market insights tool. It will help to give you an idea of what product types sell best in each country. Perhaps you have a best seller that would be of no interest in a certain part of the world, whilst you may also have a product that rarely sells in the UK, but is very popular in the US.
This is a great way to use Fruugo, and your feed combined, to get a greater ROAS.
Related: Exclude selected products from your data feed


Ensure your written content is well structured
This is something that should be done anyway. However, it is all the more important to write clearly, and correctly on Fruugo. This is because your written content (titles, descriptions, specifications) will be translated into numerous other languages. If you use slang, order things poorly, or make a grammatical mistake, the translation will often be incorrect. That would then cause your product to come up in less relevant searches.
For titles, try a structure similar to the examples below. This will help with translations.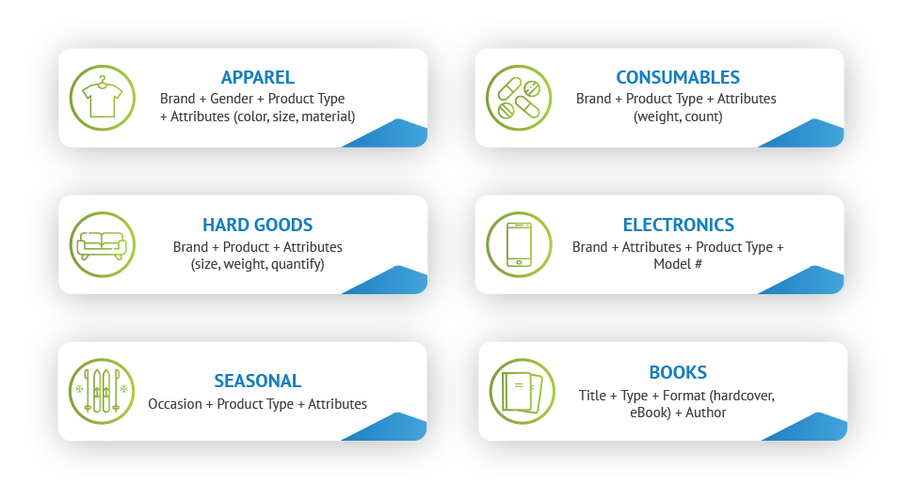 Utilise dynamic repricing tools
Dynamic repricing is integral when you are working across borders. Prices fluctuate rapidly in one country, never mind over forty. Dynamic pricing tools allow you to stay on top of competitors' prices, and ensure yours are equally competitive no matter which country your product is being shown. This can be achieved through the use of custom labels, which you can create price brackets with.
Return to top of page or Download the Complete Guide to Data Feed Optimization.
---
List your products on Fruugo with DataFeedWatch
To make selling on Fruugo even more simple, try integrating through DataFeedWatch. Like we mentioned before, you can use data feeds to create your listings. And with the help of a tool like ours, your data becomes even more powerful.
The whole process is easy and automated, allowing you to create rules that optimise your listings by using our mapping tool. Your listings will look exactly how you want them to and always be up-to-date without any headaches involved.
One of the hurdles to listing anywhere is knowing which fields are required and if you have filled them out correctly. We help with this by giving you a pre-set template with all the mandatory fields clearly defined.That way you know exactly what's needed to get your listings approved. You can get started right away for free and try it out for yourself.

---
Final thoughts
Fruugo opens up your brand to a much wider range of nations. It is certainly a marketplace worth considering if you are looking to expand interest in your product, and sell successfully in countries you have previously left untouched.
Grow Your eCommerce Sales by Expanding to New Channels: