Criteo is well known as one of the leading digital marketing suites that is used by over 19,000 advertisers and has been proven to be successful in over 130 countries across the globe.

The number and the names certainly back up the claims that Criteo has made on its website. As of today, Criteo has a total of 750 Million daily active users and 35 Billion daily browsing and buying events.
What is Criteo?
Criteo is a digital advertising platform similar to Google marketing platform, that empowers businesses of all sizes to deliver personalized online advertisements to consumers. It operates on a robust machine-learning platform and boasts a rich suite of tools to aid marketers in targeting their audience with precision. Criteo's advanced algorithms analyze massive volumes of data, identifying patterns and behaviors to predict which products will interest a particular user, thereby enabling tailored ad experiences.
Key offerings of Criteo include:
Highly personalized retargeting solutions that turn window shoppers into buyers.
Dynamic product recommendations that adapt in real-time to user behavior.
Advanced customer acquisition tools to help businesses reach new, high-intent audiences.
Essentially, Criteo aims to revolutionize advertising by making it more relevant and immersive, enhancing the shopping experience for consumers, and driving profitable growth for businesses.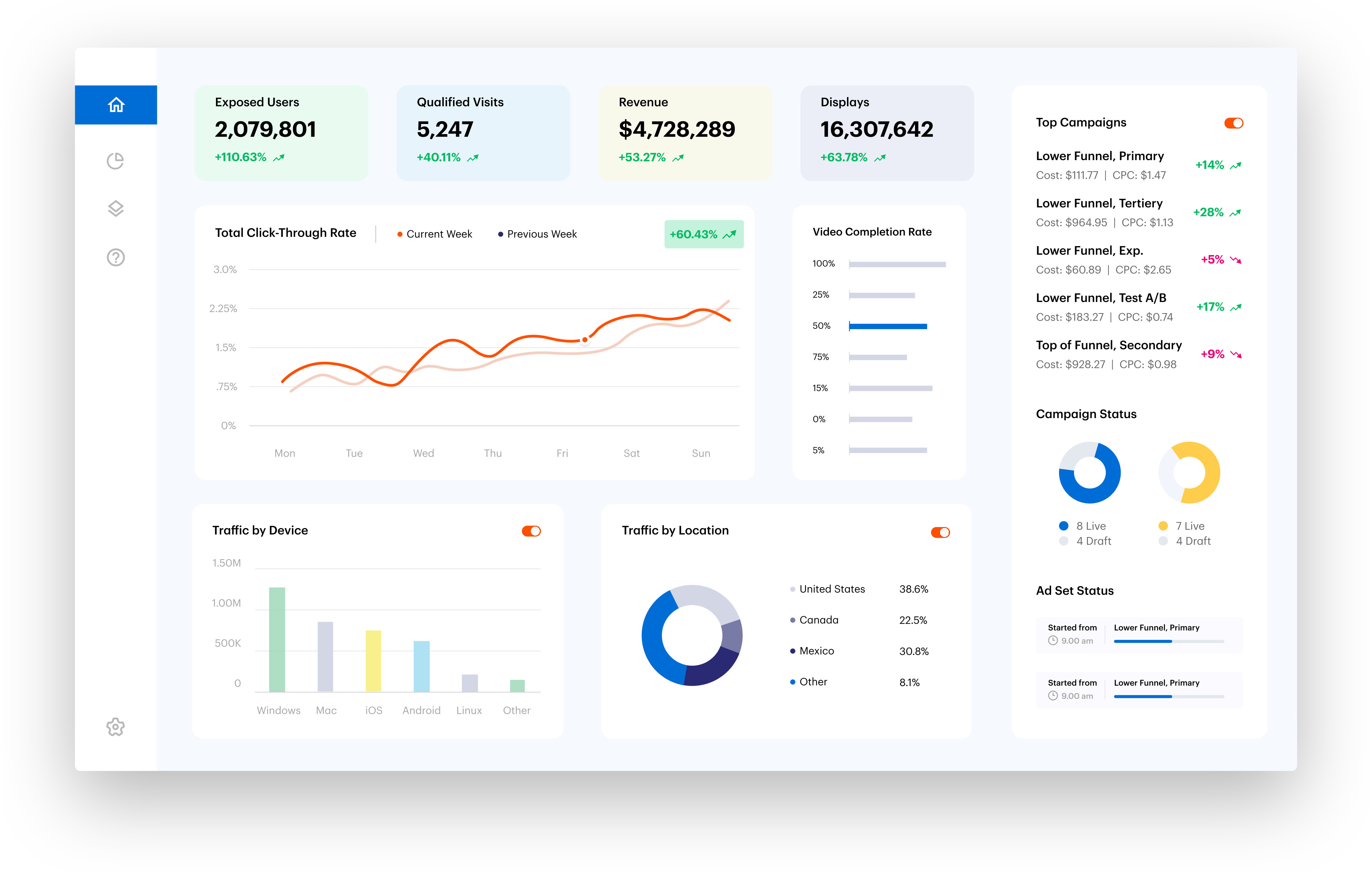 Criteo dashboard | Criteo
---
Benefits of using Criteo
Criteo offers numerous benefits that distinguish it in the crowded ad tech landscape:
Increased Conversion Rates: Criteo's personalized retargeting techniques drastically improve conversion rates by engaging customers with products they've shown interest in.
Higher Return on Ad Spend (ROAS): By targeting high-intent audiences, businesses can often achieve a better return on their advertising investment.
Improved Customer Lifetime Value (CLV): The dynamic product recommendations help businesses upsell and cross-sell to customers, thereby maximizing CLV.
Data-Driven Insights: Criteo's advanced analytics arm businesses with actionable insights to continuously optimize their ad campaigns.
Scalability: Criteo's platform is designed to scale, making it suitable for businesses of all sizes, from startups to large enterprises.
Overall, Criteo delivers an extensive suite of tools that enhances ad relevance, boosts conversion rates, and drives business growth.
---
What does Criteo do? Criteo solutions for merchants
At this point in time, Criteo is offering its clients several distinct products, each of which is uniquely designed to boost sales and optimize marketing endeavors.
Customer Acquisition: This solution is designed to connect businesses with potential customers who, while not yet familiar with the business, are likely to be interested in its offerings. Criteo uses its advanced machine learning algorithms to identify these users, helping businesses to expand their customer base.

An example of this can be found with the online retailer, Photobox. They used Criteo's Customer Acquisition to connect with potential customers who had an interest in personalized gifts. By using Criteo's advanced machine learning algorithms, Photobox was able to expand their customer base significantly.
Customer Retention: This tool focuses on increasing the lifetime value of existing customers. By understanding their preferences and shopping behaviors, Criteo helps businesses to engage these customers with relevant and personalized advertisements, thereby fostering loyalty and repeat purchases.
Criteo helped the online fashion retailer, La Redoute, to increase the lifetime value of their existing customers. By understanding customer preferences and shopping behaviors, personalized and relevant advertisements were presented to customers, fostering loyalty and repeat purchases.
Dynamic Retargeting: This solution increases conversions by presenting personalized product ads to users who have already shown interest in the business. By analyzing user behavior, Criteo can show the most relevant products to each individual, driving them towards a purchase.
Clarks, the international shoe manufacturer, and retailer, used Criteo's Dynamic Retargeting to present personalized product ads to users who had shown interest in their products. This increased conversions and drove customers toward a purchase.
Audiences: With access to the largest commerce dataset, this tool helps businesses find and retain high-value customers. Through analysis of this extensive data, Criteo identifies the most valuable prospects for businesses and helps to keep them engaged.
Criteo assisted e-commerce giant, eBay, to find and retain high-value customers using their Audiences tool. Through an analysis of extensive data, Criteo identified the most valuable prospects for eBay and helped to keep them engaged.
Video Advertising: This solution leverages CTV, OTT, and online video to engage users and drive discovery. Through targeted video content, businesses can capture attention and encourage user interaction.
Criteo's Video Advertising solution was used by Toyota to leverage CTV, OTT, and online video to engage users and drive discovery. Through targeted video content, they managed to capture attention and encourage user interaction.
Contextual Advertising: By combining commerce data with contextual information, this solution allows businesses to level up their targeting strategies. This results in more relevant ads that resonate with the user's current context, improving engagement and conversions.

The online retailer Rakuten combined commerce data with contextual information to level up their targeting strategies. This resulted in more relevant ads that resonated with the user's current context, improving engagement and conversions.
Retail Media: This tool helps businesses reach shoppers with relevant ads at the digital point of sale, converting interest into purchases. Personalized and omnichannel, these ads provide a consistent shopping experience across customer touchpoints.

Criteo's Retail Media tool helped the global supermarket chain, Carrefour, to reach shoppers with relevant ads at the digital point of sale. Personalized and omnichannel ads provided a consistent shopping experience across customer touchpoints.
Ad Trust and Safety: This solution ensures the highest level of quality and performance in advertising. By maintaining strict standards and monitoring ad quality, Criteo helps businesses build trust with their customers and achieve better ad performance.
Criteo ensured the highest level of quality and performance in advertising for the online travel company Agoda. By maintaining strict standards and monitoring ad quality, Criteo helped Agoda build trust with their customers and achieve better ad performance.
---
Criteo product feed specification
The accuracy of your product data is essential to improving the ad relevancy for a customer search. Your data feed has to be optimized for Criteo to bring shoppers to your website, increase ROAS and make the most sales.
Since the data feed is essential, it is important that it matches the items being sold in your store. In order to retrieve the product feed, Criteo requires merchants to use CSV or XML format.
Required Fields for Criteo
The required fields for Criteo are essential parameters that need to be filled out for the successful integration of your products onto the platform. These data points play a pivotal role in product identification, display, and pricing, thereby facilitating an effective advertising experience.
Id: A unique identifier that represents a single product. It can only contain ASCII characters and must not include quotation marks.
Title: Represents the product's name, typically as it is displayed on the product's detail page.
Link: The link is the dedicated detail page for the product and is usually unique to a given product.
Image_link: Specifies a file path to a given product's image. Images should ideally be at least 800x800 pixels and under 16MB. The image link must start with http:// or https:// followed by the full URL of the product's image.
Price: Specifies the cost of the product in the same currency as your site.

Brand

(required for Criteo Retail Media): Represents the product brand's name.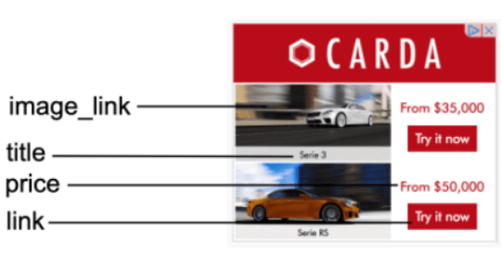 Criteo ad example | Criteo
Optional Fields for Criteo feeds
It is not mandatory for businesses to provide Criteo with information on the following fields. However, doing so will make it easier for Criteo to match the user query to the product. In addition to that, you will be reducing your advertising costs by providing optional fields that increase the probability of getting relevant clicks.
The more relevant clicks you have, the more revenue you are likely to earn from product sales. These fields may not be as important as the ones mentioned above, but their significance in enhancing the effectiveness of your online advertisements cannot be undermined under any circumstances.
Additional_image_link: An additional link that specifies a file path to a given product's image.
Sale_price: Indicates the cost of the product when it is on sale.
Availability: Shows if the product can be purchased on the site.
Description (required to run Facebook ads): A brief description that gives more information about a product.
Google_product_category: Indicates the category of the product being submitted according to the Google product taxonomy.
Star: Represents the product's rating, with numbers from 1 to 5 in increments of 0.5.
Item_group_id: A unique parent-level product identifier.
Adult: Indicates if the product is safe to be shown for all users and all audiences. This value must be yes or no.
You can check the different product catalog specifications for different business types and all information needed on how to best prepare your feed for Criteo on their product feed specification page.
---
How to optimize your feed for Criteo?
If you are already using Google Shopping, or Facebook Advertising (especially retargeting strategy), you'll be happy to hear that Criteo uses the same product feed as Google and Facebook. If you have already optimized your feed for Google or Facebook, there's not much you can do other than transfer your feed into Criteo's system.
If you have just started building your feed, you can start by making sure you follow the requirements, and you optimize it:
With DataFeedWatch, you can also take advantage of preloaded channel templates and feed review tool that will ease onboarding onto Criteo and keep the feed optimized.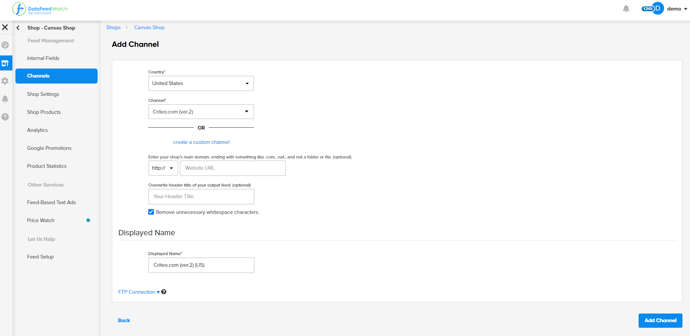 Channel templates | DataFeedWatch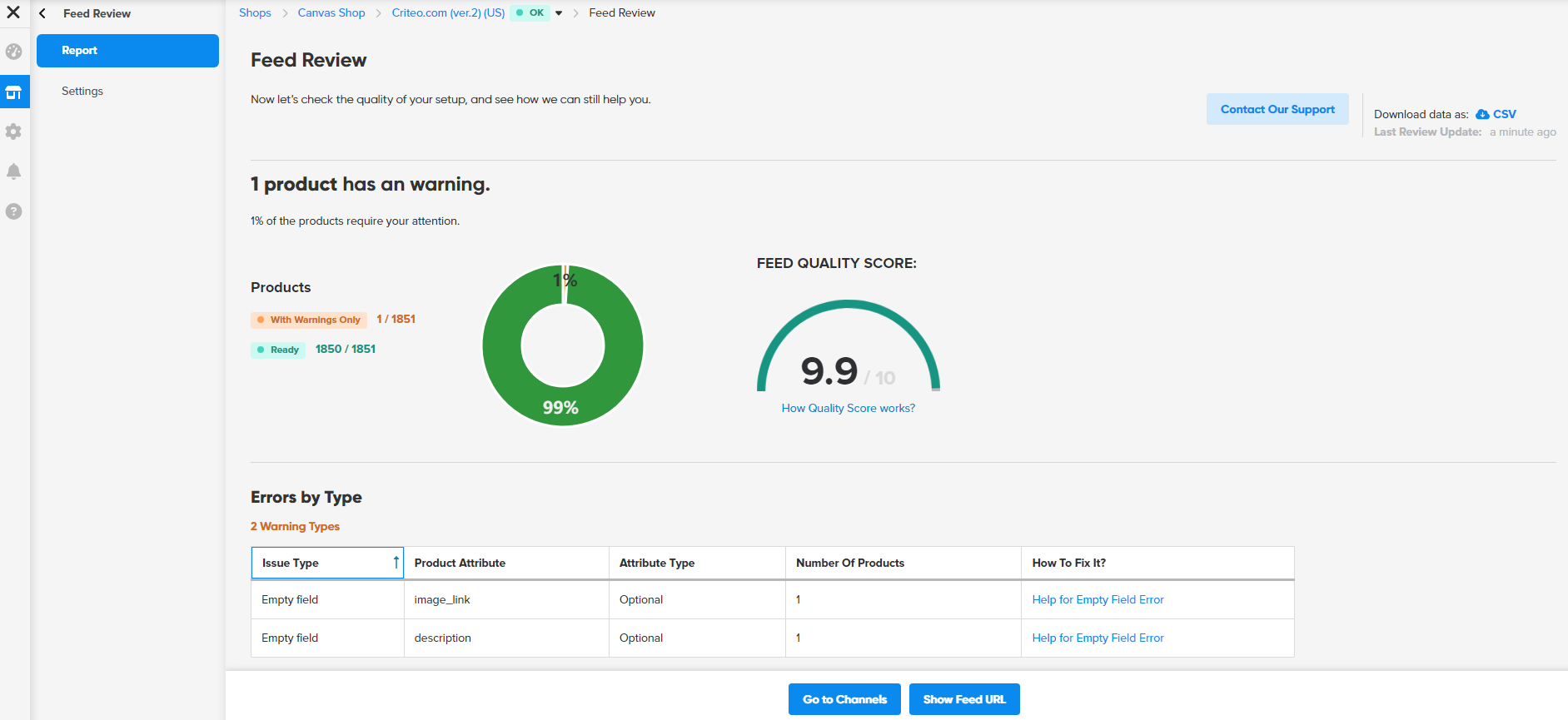 Product feed review | DataFeedWatch
Don't forget to optimize attributes such as your product titles and the images that show up in the listings, add the product types to the list of fields, and use custom labels to organize your products.

Criteo feed optimization | DataFeedWatch
Optimizing your feeds is not a one-off activity; therefore, you should aim for constant optimization. The Criteo Publisher Marketplace can be used to frequently monitor the campaign and market performance. This puts the business in a better position to eliminate errors, optimize the advertising campaign, and general additional revenue.
---
Dynamic remarketing with Criteo
Dynamic retargeting on Criteo helps businesses re-engage with their website visitors by delivering tailored ads designed for measurable performance. It is one of the best and almost only known channels to focus on retargeting tactics.
Here are some key bullet points on how Criteo dynamic remarketing works:
Strategic Ad Placement: Precisely target potential customers by displaying tailored advertisements during their shopping journey. By implementing a custom code on your website, the Criteo AI Engine assesses shopper interactions and integrates pertinent product suggestions into your ads.
Premium Publisher Engagement: Access superior ad inventory opportunities. Our expansive network comprises numerous esteemed publishers globally, guaranteeing optimal ad placement on prominent websites.
Rekindle Purchase Intent: Capture sales from visitors who exit your website without completing a transaction. Leveraging personalized offers presented at the ideal moment and format, you can successfully entice these potential buyers to return and finalize their purchases.
Optimal Budget Utilization: Employ shopper-specific bidding to optimize your budget allocation. Through predictive bidding technology, you can accurately predict shopper engagement, conversion rates, and basket values, ensuring every investment is maximized.


Making sure your website tags are set up correctly is really important for successful retargeting through Criteo. It's similar to how Google does dynamic remarketing – you need to put the right codes in the right places on your website.
Criteo's retargeting plan involves different groups of people, like those who bought before, left their carts, viewed products, and visited the homepage. Good retargeting depends on having accurate data for each group.
One common mistake is not checking if the right tracking codes are on all parts of the website. This can lead to problems like showing ads to people who already bought something. To fix this, having a list of past buyers is crucial. It helps with retargeting and stops ads from going to people who already bought stuff.
For effective tracking and retargeting, you need to put the right tracking codes in the right places on your website. This includes spots like when people look at products, go to the cart, and complete their purchases. You can also put codes on category pages to show ads to people who checked out specific categories.
---
What are Criteo cookies?
Cookies are small text files that websites use to enhance a user's browsing experience. Marketers and advertisers use them to show ads or opt-in campaigns to customers who have already interacted with their site in some way. According to the law, cookies can be stored on your device if they are essential for the website's functioning. However, for other types of cookies, your consent is required.
Criteo employs various kinds of cookies, including those set by third-party services that are present on Criteos web pages.
In response to user privacy concerns and in compliance with new regulations, browsers are gradually discontinuing their support for third-party cookies. By the latter half of 2024, Google intends to fully phase out third-party cookies in Chrome (Microsoft and Safari already did it).
Criteo is proactively adapting products and developing new offerings to guide clients through evolving changes, prioritizing privacy-by-design principles. Leveraging its extensive insights and AI expertise, Criteo ensures impactful advertising, benefiting both industry players and consumers.

If you want to know how to disable Criteo on your browser or mobile app, go to this website and click the "disable Criteo services" button. It will result in the cessation of personalized advertisements delivered by Criteo. However, it's important to note that this does not mean you will stop receiving online advertising altogether - it simply means these ads will not be tailored to your browsing habits and preference.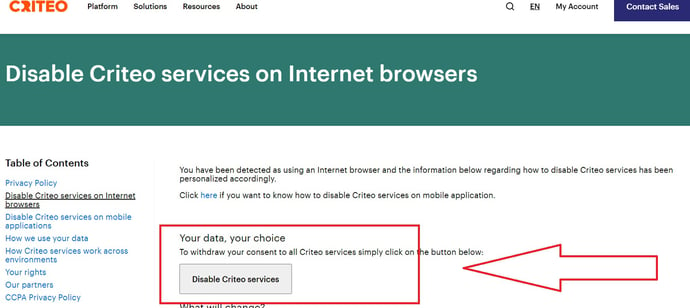 How to disable Criteo | Criteo
---
Conclusion
To conclude, Criteo stands as a pivotal force in the digital marketing arena, serving clients across numerous countries with its personalized ad solutions. Boasting a vast user base and impressive engagement figures, Criteo's influence is undeniable. Operating on a robust machine learning platform, Criteo empowers businesses to target audiences precisely, yielding tangible results. Its offerings, such as customer acquisition, retention, and dynamic retargeting, cater to diverse business needs, fostering growth. By ensuring accurate data feeds and leveraging Criteo Analytics, businesses can optimize their ads and make informed decisions. Notably, Criteo's dynamic retargeting strategy is a recognized avenue for effective retargeting. In summary, Criteo plays an integral role in businesses' success, offering personalized strategies, insights, and advanced retargeting methods that enable growth in the digital landscape.
Grow Your eCommerce Sales by Expanding to New Channels: