---
Why use Price Watch?
It's no secret. Knowing what your competitors are up to can give you the upper hand when planning your next moves. This is especially true when it comes to pricing decisions.
eCommerce business is fierce and unkind. You need to stay ahead of your competitors, and how do you do that? You start with data.
You're probably not the only one active in your market, so it's almost certain your competitors are keeping a close eye on you as well. They're looking for information like:
What products you're selling
What prices you offer
If you provide free shipping
What your advertisements are like and even what your costs look like
Many of your competitors might already be undercutting you, if not on all products then at least for the top selling ones. If your prices are unmatched then they might come up with other strategies to steal business from you. For example, they might beat you on pricing and then compensate for that loss with higher shipping prices. Many of them will be happy to take a loss on that one transaction if they can justify the LTV (Customer Lifetime Value).
If you're not doing the same, you are at a significant disadvantage.
Return to top of page or Get your Ultimate Guide to Data Feed Optimization
---
Benefits of Using Price Watch
If you're advertising your products online, keeping up to date with your competitors will work to your advantage.
You'll be able to:
Have a complete overview of your market
Know where you stand compared to competitors
Save time by not having to search manually for your competitor's activity
Have data to back up your decisions when forming strategies
Increase your ROI
View suggested prices for your products
Return to top of page or Get your Ultimate Guide to Data Feed Optimization
---
PriceWatch and DataFeedWatch
We're always taking the next steps towards expanding our services and implementing new features. Our focus is to best support our customers in this competitive environment by providing a more comprehensive feed marketing solution.
Price Watch enables you to monitor your competition by getting access to a plethora of data about them. This will give you the data you need to effectively fine-tune your pricing strategies.
With Open Beta you'll be able to check 1000 products and get 2 updates a week.
Under the hood
At its core, Price Watch is a tool that searches for other advertisers that are selling the same products you are. You'll be able to view the products and metrics all together and get a clear look at your pricing position.
It does this in a few steps:
Your products are identified and matched
We scrap the pricing data
The data is downloaded and broken down into various metrics
The data is presented to you in a structured way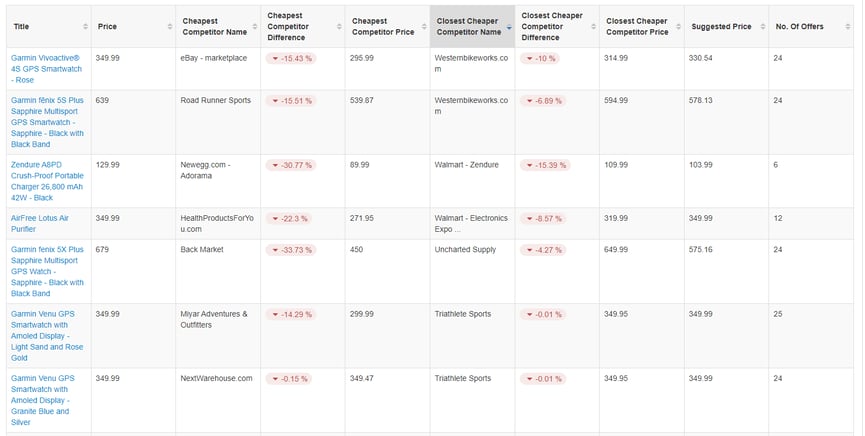 We're able to identify products from your feed by matching the GTIN number with your competitor's for a specific channel, like Google Shopping for example.
Matching the GTIN number works as a much better approach compared to matching the product name. This is because the error rate is non-existent unless you or the competitor have an incorrect GTIN.
The data is divided into the following metrics:
Cheapest Competitor
2nd and 3rd Cheapest Competitor
Next Cheapest Competitor
Competitor's Price
Price Difference (in percentage or by number)
Number of Offers
Google Offer Position
Offers Above and Below
Another big feature is the filtering system. You can choose which competitors to sort the data by. This comes in handy if you're wanting to keep an eye on someone specific.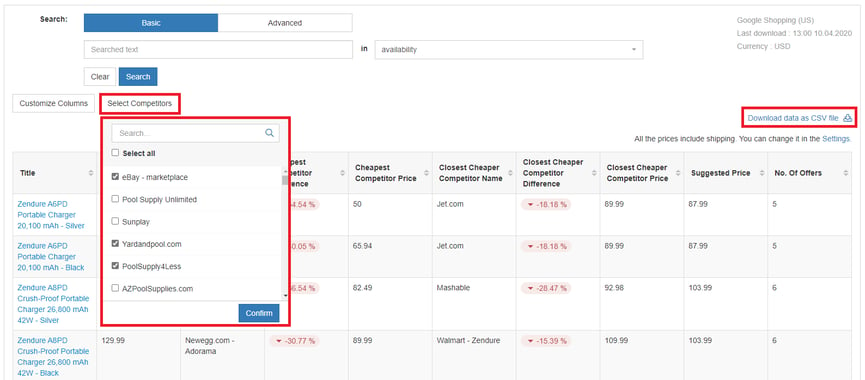 Along with being able to view this data online, you can also download it and take it with you. All the pricing data in a CSV file is just a click away.
GTIN Validation
Price Watch has a feature called GTIN validation. This feature will allow you to check if you have the correct GTINs for the selected products. Price Watch uses GTINs to identify products on any given channel (such as Google Shopping) and matches them with your competitors.
If you'd like to brush up on your knowledge, you can learn more in our article about finding GTINs for your products.
This means that when you select products during the Price Watch installation, we will check every product and inform you of any GTIN issues.
Price Watch also informs customers about products with missing GTINs. Missing or incorrect GTINs can be added directly in your feed. Using our quick filters, which are located in the status section, you can also check products with different GTINs. An example of this is the invalid GTIN filter, which will highlight all products with an invalid GTIN.

In the Alpha version of Price Watch, customers were seeing a lot of products with no data in the dashboard. This was down to products either having an incorrect GTIN or no GTIN. In the Beta version you can only select products with correct GTINs. We believe this feature will make it easy to understand and troubleshoot any issue our customers have with pricing data.
Return to top of page or Get your Ultimate Guide to Data Feed Optimization
---
How to sign up for Open Beta
Our Price Watch Closed Beta was a great success, and we were happily flooded with access requests. We're grateful for all the feedback you've given us so far. We took all your comments and suggestions into consideration to prepare for Open Beta.

If you requested access in the past and weren't able to use it, you can go ahead and start using it right away.
Even if you didn't request it, you can still start now. To get access, just follow these simple steps:
Log into your DataFeedWatch account
Click on 'Price Watch' on the left panel
Follow the instructions provided from there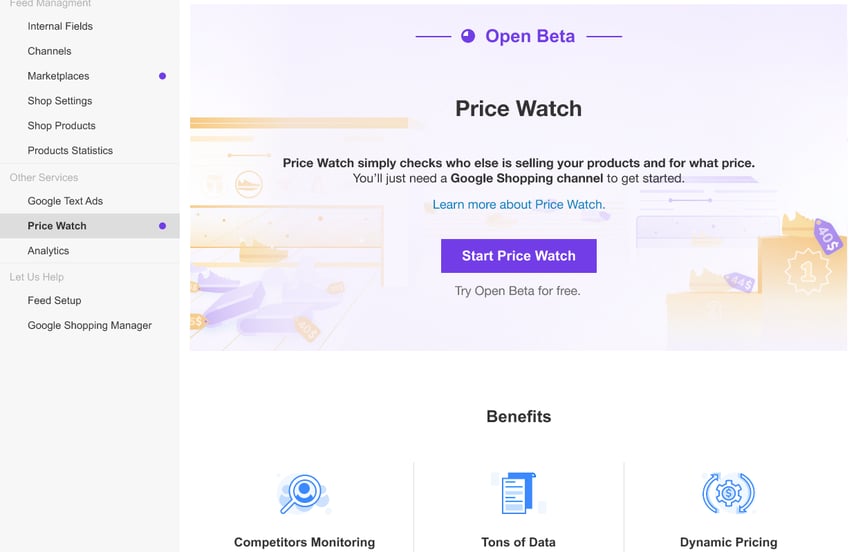 What's next?
We've been improving the Price Watch tool with each stage of our beta testing. The goal of Price Watch is to provide you with as much relevant information about your competitors as possible.
However, we know this amount of data can sometimes be overwhelming. That is why we are always thinking of ways in which to present data in a more coherent manner.

One example of that is shown in the next screenshot. In Price Watch Beta we decided to add a pop-up to give you more information in one glance.
If you are familiar with Price Watch, you may know we have metrics like Cheapest, 2nd Cheapest, and Closest Cheapest Competitor, which give you perspective on your rivals. However, to see these metrics, you needed columns.
With the latest update, you can view all these metrics at a glance. This is done by hovering over a metric, as seen below:

We're not stopping here. With future releases we'll be adding more metrics and channels.
Price Watch is now available everywhere Google Shopping is.
More Regions
Price Watch Beta already enabled our users to monitor their competitors in the regions below:
| | |
| --- | --- |
| Region | Country |
| The Americas | Brazil (br), Canada (ca), Mexico (mx), United States (us) |
| Asia | India (in), Japan (jp), Korea (Republic of) (kr), Turkey (tr) |
| Europe | Austria (at), Belgium (be), Czechia (cz), Denmark (dk), Finland (fi), France (fr), Germany (de), Greece (gr), Ireland (ie), Italy (it), Netherlands (nl), Norway (no), Poland (pl), Portugal (pt), Russian Federation (ru), Spain (es), Sweden (se), Switzerland (ch), United Kingdom (gb) |
| Oceania | Australia (au) |
Return to top of page or Get your Ultimate Guide to Data Feed Optimization
---
Power up your campaigns
"Information is Power" is something we are all aware of, but according to the New York Times, Bestselling Author Daniel Burrus "Information is power only if you can take action with it. Then, and only then, does it represent consequently, power."
At DatafeedWatch, we strongly believe in that.
We already have many features planned for the next version of Price Watch like Price Alerts, Repricing, direct integrations with shopping platforms, higher number of channels and more.
So if you have a suggestion, please feel free to send it to Rahul@DatafeedWatch.com. If you're already using our Price Watch tool, your feedback or feature request is highly appreciated and encouraged.