TikTok is a video-based social media that has become a very important advertising opportunity for brands. At this point in 2023, it is the third largest (source:TechCrunch) of the social networks worldwide, just behind Facebook and Instagram.
It has over 1.6 billion monthly active users worldwide.
TikTok is a great advertising channel for online retailers who want to reach a young audience looking for inspiring content. It will help you get more targeted traffic to your site and sell more of your products, giving you a good ROAS.
In this article, we'll help you understand what TikTok is all about and guide you through how to create a successful ad campaign.
How does advertising on TikTok work?
TikTok allows users to make videos of approximately fifteen seconds in many different genres, such as dance, pranks, tricks and comedy. Many famous brands advertise already on TikTok but to really succeed there is one condition they all must meet. A brand's offer should be a good fit for TikTok's video format.
Thanks to this format, TikTok advertisers can show their products or services in action and make information easily digestible. Video ad type is perfect for B2C brands who want to show their potential customers highly engaging content. However it can be challenging for the B2B industry whose services are often difficult to present.
TikTok has many different ad types available, so every advertiser can choose one that fits them most. There are In-feed ads, Brand takeover ads, Top view ads, Branded Hashtag ads and some more. We write about each of them in detail further in this article.
TikTok in stats
TikTok is, as of 2023, available in 154 countries worldwide and in 75 languages.
TikTok has 834.3 million monthly users worldwide as of 2023.. It is one of the fastest growing social media ever. Between 2019 and 2021 TikTok doubled its user base from 291.4 million to 655.9 million which makes it a phenomenon.
TikTok advertising audience
The number of global internet users is increasing every year, and so is TikTok's number of users.
TikTok's audience is young and vibrant as you can see from statistics as of April 2023. TikTok is the right ad for you if you are targeting people in the age group up to 35. Women between 18 and 35 make up 38 % of global TikTok's audience (male 34%).
Women between 18 and 24 years account for 21% of TikTok's audience.
Male between 18 and 24 years account for 17.5% of TikTok's audience.
Women between 25 and 34 years account for 17% of TikTok's audience.
Male between 25 and 34 years account for 15.5% of TikTok's audience.
The TikTok audience includes both males and females with the predominance of females. Women are 53% of all users in general.
As of 2023, TikTok's largest audience lives in the United States. There are 117 million users in that country that engage with TikTok's content. Other countries where TikTok is popular are Indonesia, Brazil, Russia or Mexico.
---
Types of TikTok ads
On TikTok's ad platform there are many kinds of ads you can run. We explain most important ones in detail below:
In-feed ads
TikTok In-feed ads are ads in a video format that you see inside the news feed when you scroll through the "For You Page" (FYP). They blend well and it happens that you don't recognise them as the actual advertisement.
Users viewing your video in-feed ad can like, share, comment and interact. You can include call-to action buttons inside your in-feed ads (even multiple of them). Thanks to them, you can encourage viewers to take various actions, for example shop now, download your app, or visit your website (online store.
You can get super creative with In-Feed Ads. You can include multiple call-to-actions and make your video anywhere between 9 to 15 seconds.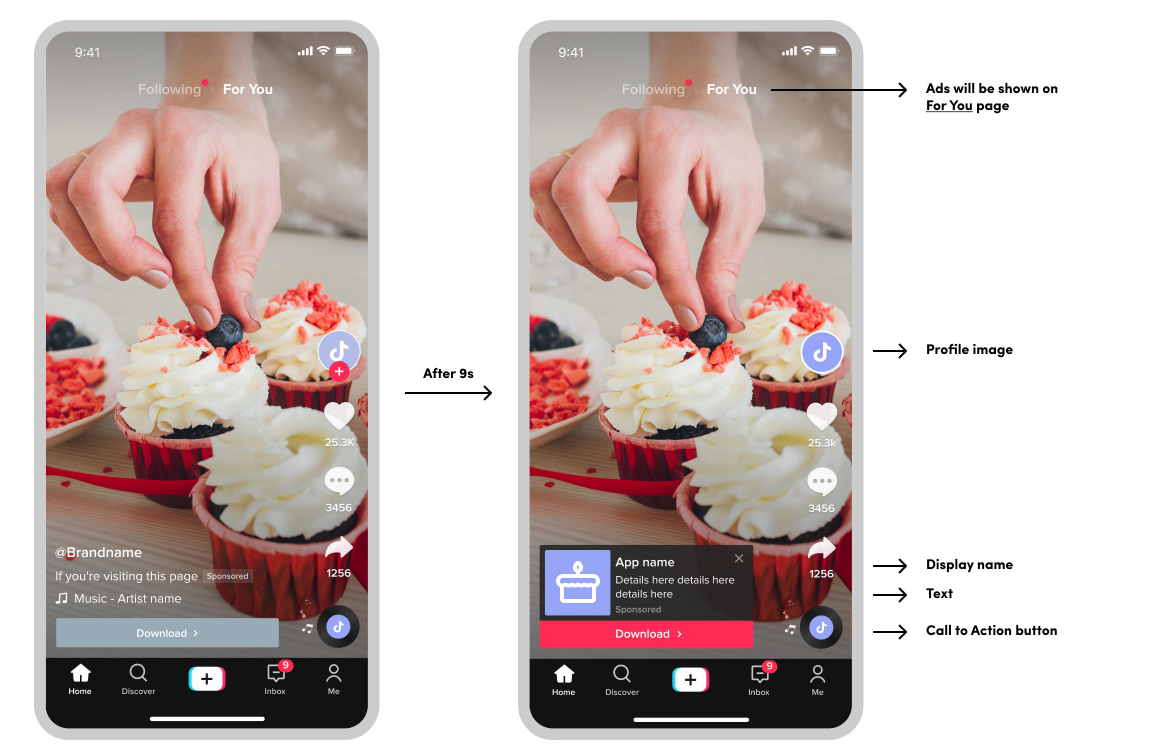 In-Feed Ad sizes and specifications
Aspect ratio
9:16, 1:1, or 16:9
Video dimensions
≥540*960px, ≥640*640px, or ≥960*540px.
Allowed file types
mp4, mov, .mpeg, .3gp, .avi
Maximum TikTok video length
Maximum 60s, however TikTok recommends 9-15s
Video size
≤500 MB
TikTok Ads based on your product feed (product catalog)
Below we describe a few TikTok ad formats which are powered by product data from your data feed. This way of creating TikTok ads works seamlessly and does not require a lot of effort if you are working with optimized feed. And it can be even easier if you choose to invest in the right feed solution.
Integrating product data with TikTok using DataFeedWatch:
Catalog Listing Ads
Catalog Listing Ads is an ad format that combines the power of your data feeds with TikTok's algorithm. TikTok uses this combination to create and showcase product ads to TikTok users all around the platform.
Catalog Listing Ads are 100% based on your product feed (uploaded to TikTok), so it's not required to create any video contents at all. This is a very easy way for brands to present their products in front of TikTok users. TikTok pulls all the product data from online retailers' feeds and shows them in shoppable placements (for example on the For You page).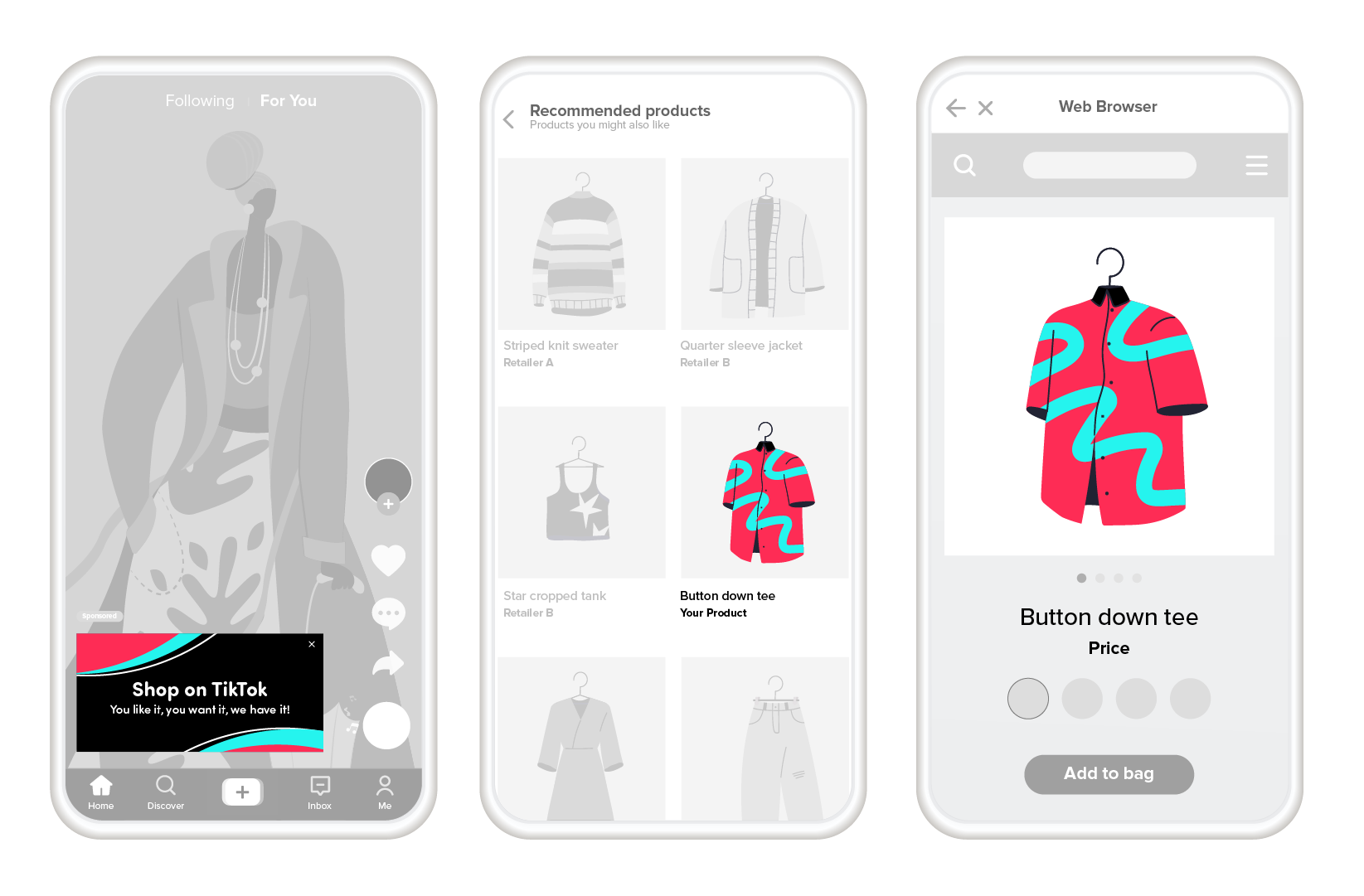 Dynamic Showcase Ads
Dynamic Showcase Ads are personalized video ads that are powered by product catalogs for millions of products. TikTok creates them in real-time based on an ad template. This template is filled with product data from a data feed that you've uploaded and that is frequently updated.
TikTok's Dynamic Showcase Ads are very similar to Google Dynamic Product Ads. Online retailers use them to advertise large product inventories at scale.
Collection Ads
Collection Ads are also in-feed video ads. What sets them apart from other in-feed ads is the fact that they lead viewers to an Instant Gallery Page.
While regular TikTok ads require your potential customers to leave TikTok and visit your website, collection ads allow them to browse for your products directly in the app. This possibility gives your customer an engaging shopping experience.
To create catalog ads you need to set up a TikTok product catalog and you will be able to automatically import all information about your products (included in tweh data feed) to your gallery.
You can also create Collection ads manually but this way of doing it is much more consuming and much less convenient.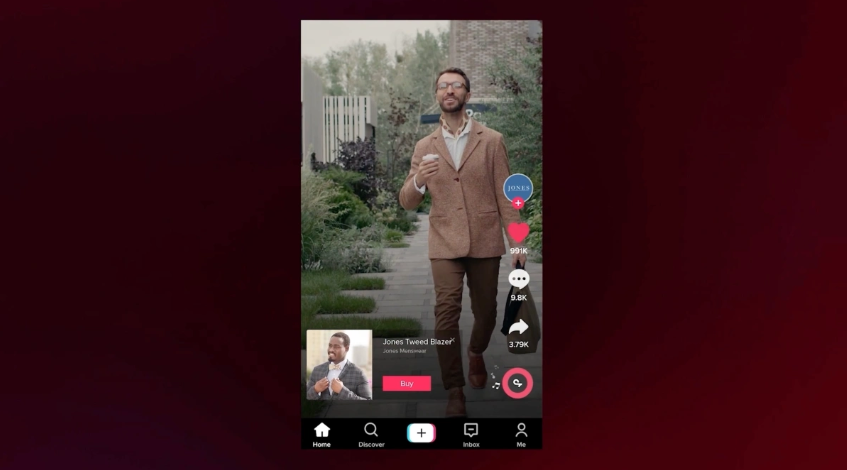 TikTok Brand Takeover ads
TikTok Brand takeover ad is an ad that appears immediately after a user opens the TikTok app and after a few moments changes into an In-feed video ad. This type of ad is also displayed in full screen.
Just like still images or videos, they also show up on the "For You Page" with clickable links that lead to specific landing pages within TikTok.
Brand Takeovers ads are being served for the right audience, therefore this ad format is one of the best formats for gaining attention and direct sales.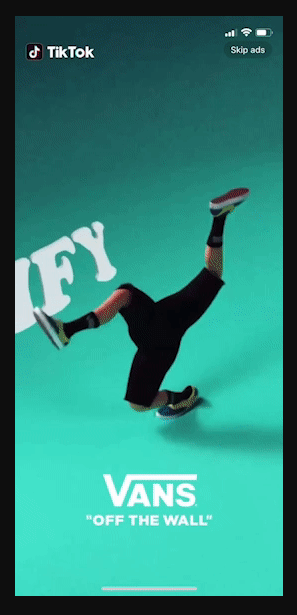 Brand Takeover Ad Sizes and Specifications
Supported file types - static images
JPG or PNG.
File size
<50 KB
Video duration
3-5 seconds
Supported file types - video
.mp4, .mov, .mpeg, .3gp, .avi
Aspect ratios (recommended)
9:16, 1:1, or 16:9
TikTok TopView ads
These are similar to brand takeovers ads - this type of ad also appears at the top of the user's For You page. Their main goals are to reach a wide audience and get their attention.
What is different about TopView ads is the fact that they don't cover the full screen immediately after opening the app. They occupy the first In-feed post for a few seconds. After that, a full-screen video lasting up to 60 seconds with auto-play and sound is displayed. As the name of the ad format suggests, the placement of a TopView ad should be impossible to miss - it's at the top of the page. It captures the viewer's attention with both image and sound.
Twitter allows you to link to both internal and external landing pages when creating a TopView ad.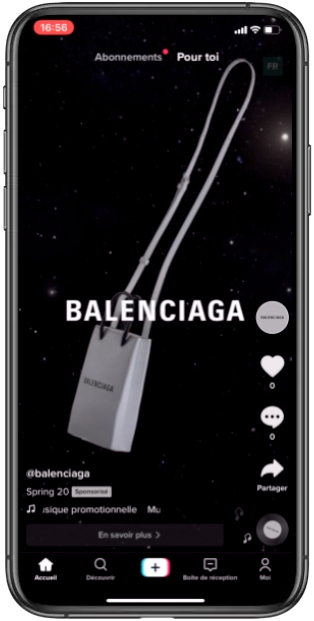 TopView Ad sizes and specifications:
Maximum video length
60 seconds
Recommended resolution
≥540*960px, ≥640*640px, or ≥960*540px.
Aspect ratio
9:16, 1:1, or 16:9
Supported file types
.mp4, .mov, .mpeg, .3gp, .avi
File size
≤500 MB
Bitrate
≥516 kbps
TikTok Branded Hashtag (ads) Challenge
This ad type appears at the top of TikTok's Discover page. Here, companies create a challenge, for example a dance or a sketch, under a specific hashtag. Each challenge has a unique sound that users can reuse when performing the challenge. When the user clicks on the hashtag, they are taken to a landing page with the advertiser's logo, website link, description of the challenge and a collection of other videos from the same hashtag challenge. This ad type is one of the most popular on the platform.
In practice it's a three- to six-day ad campaign format whose goal is to boost engagement and brand awareness.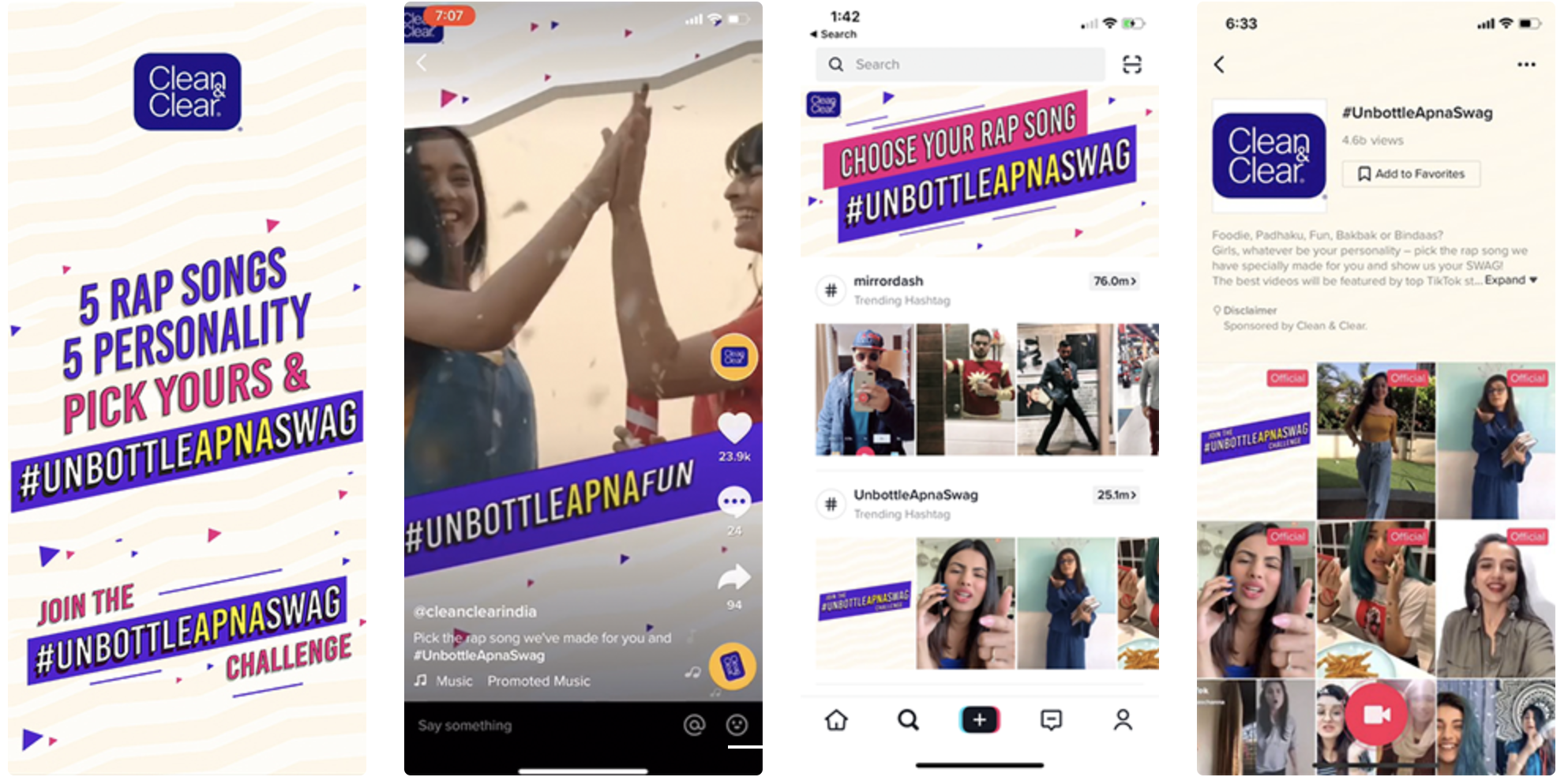 Branded Hashtag Ad sizes and specifications:
Aspect ratio
9:16, 1:1, or 16:9. Vertical videos - 9:16 ratio recommended.
Minimum resolution
540 x 960 px or 640 x 640 px. Videos - resolution of 720 px by 1280 px recommended.
Supported file types
mp4, .mov, .mpeg, .3gp, .avi
Duration
5-60 seconds; TikTok's recommendation: 21-34 seconds.
Max file size
500 MB
Image upload maximum weight
maximum 100 MB
Bitrate
above 2,500 KBPS
Profile image
square image less than 50 KB
TikTok Branded Effects ads
This ad format allows advertisers to create an ad with custom stickers, filters and special effects that users can use and share. This ad type allows users to interact with your brand in a fun and different way. Branded Effects ads are great for adding personality to your brand's ads. This ad type can be live for up to 10 days. The goal of this kind of campaign is to increase user engagement.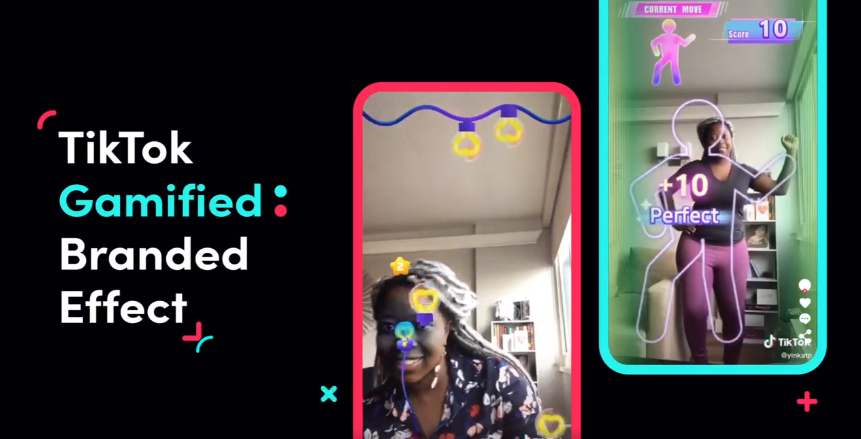 Source
Branded effect ad sizes and specifications
2D & Gamified:
Maximum Asset upload
Maximum 3 MB
Supported file types
.png
Image dimension
540 pixels by 960 pixels recommended
3D&Branded Scan:
Maximum file upload size
3 MB
Supported file upload types
3D project files: .max, .ma, .c4d, .fbx or .obj
Icons:
Maximum file upload size
60 KB
Supported file upload types
.png
Design area size
144 px by 144 px
Round angle - 18 px round angle
Exported size - 162 px by 162 px.
Read also: TikTok Live Shopping for Beginners: How it Works & Where to Start?
---
Benefits of using TikTok as advertising channel
TikTok is becoming an increasingly popular platform for online retailers, and not without reason. Below we've listed the key facts about why TikTok can be a great place to run your online product ads.
TikTok's audience is the fastest-growing consumer segment
The biggest group of TikTok's users is the Generation Z, meaning people born between late 1990s and the early 2010s. This audience is in fact the fastest-growing consumer segment and its purchasing power is on the rise. According to Forbes Generation Z reached the spending power of $360 billion.
This means that if you target young people with what you're selling, Tik Tok is a great advertising channel for you. With a properly targeted audience your Tik Tok campaign can generate lots of revenue.
TikTok's users engage a lot
TikTok's average monthly time spent is constantly growing. In fact it grows faster than any other app on the market. For example in 2020 it grew 80 % in the UK and 70 % in the U.S. That is a big difference.
In general TikTok campaigns are very engaging. If you optimize your campaign on TikTok and put effort into running perfectly optimized TikTok ads, the engagement rate will increase even more. People will like, share and comment. This will in turn result in increased brand awareness and more conversions for your business.
TikTok users are very engaged audiences and that's a good sign for brand advertising on this platform.
TikTok advertising video format really works
Video marketing is working, because it's easier to digest than other forms of content. Its popularity will only grow with time. Viewers of video contents say that they are able to retain even 95% of information included in a video after watching it. What's even more important is that over 90 % of advertisers claim that they got a new client because of a video present on social media.
Using videos in your online product campaigns helps you reach more potential customers. And TikTok is the platform that makes it very easy for you to include video ads in your campaign strategy.
TikTok ads reach an international audience and connects people
TikTok operates in 154 countries worldwide and in 75 languages. If you want to target users in many countries, TikTok will allow you to do that without any problems. Viewers of your ads from around the world will be able to interact with your content. For example, if you run in-feed ads, they will be able to follow, like, comment, share, as well as shoot videos.
---
How to set up a TikTok campaign?
We've prepared a detailed guide on how to create a TikTok campaign step-by-step.
1. Create your TikTok Ads Manager login
Start with signing up to

TikTok

: add your email address (you'll receive a verification code) and your phone number.
Then you need to agree to TikTok Ads terms and conditions, and simply click Sign Up.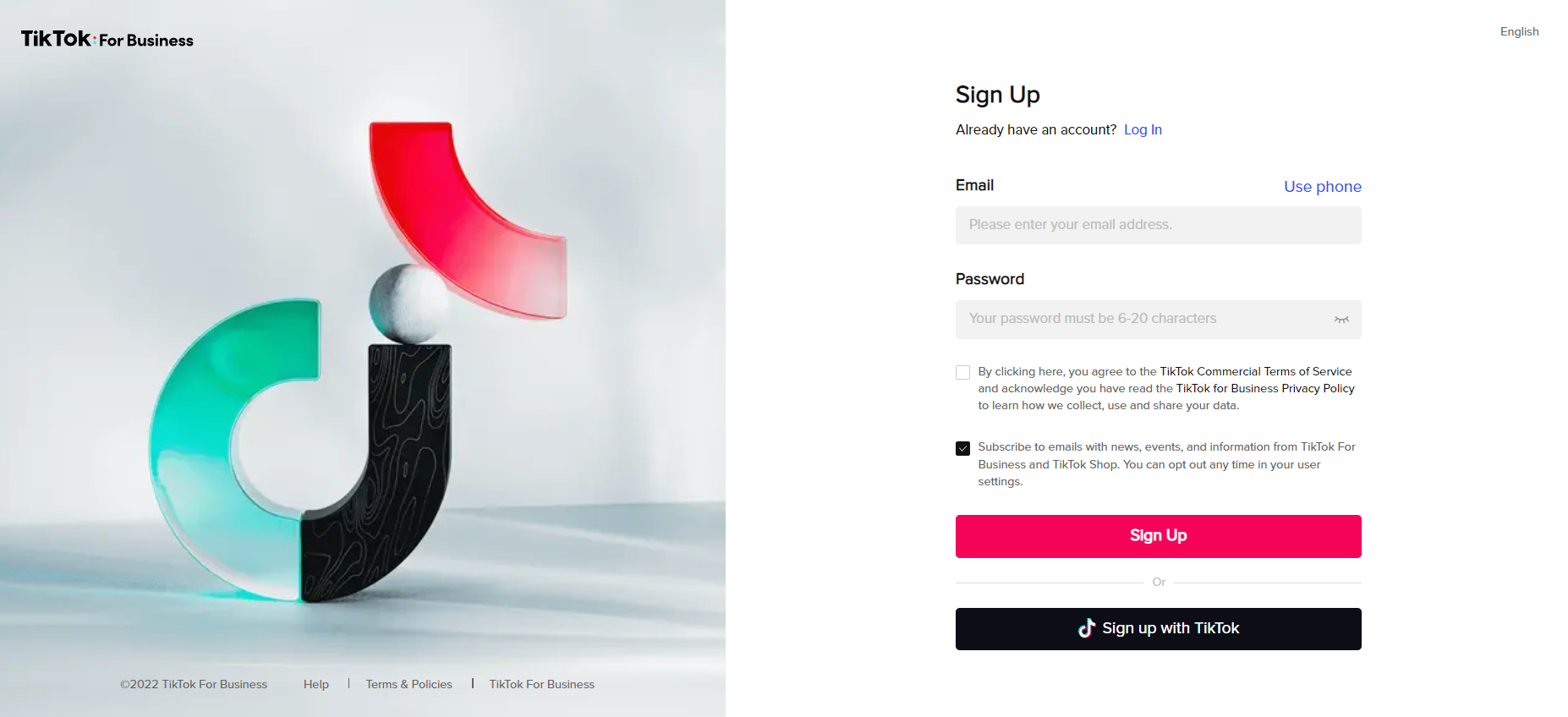 Signing up to TikTok | TikTok
Select your billing country from the list and let TikTok know if you're gonna use the account for a business or individual purpose.
Creating an account for business | TikTok
2. Create an account
The next step is to provide some information about your business:
Enter the country where your business is based.
Select the time zone where your business is based.
Enter the name of your business - it must be the same as, or closely related to, your company's official name.
Select the currency you're going to use in your billing.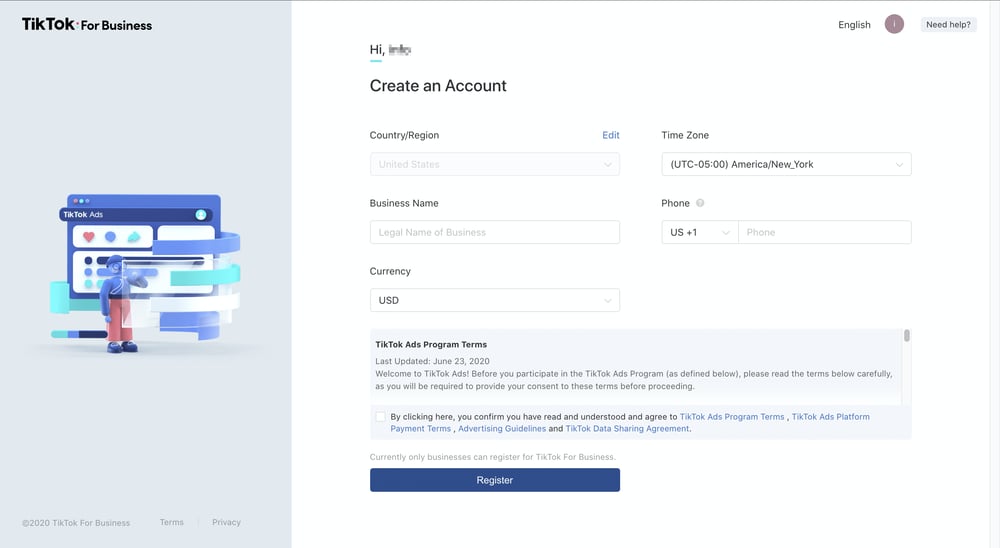 Creating a new business account | TikTok
3. Finish the setup of your new TikTok account
From your Dashboard, go to Account Info under your Account Settings.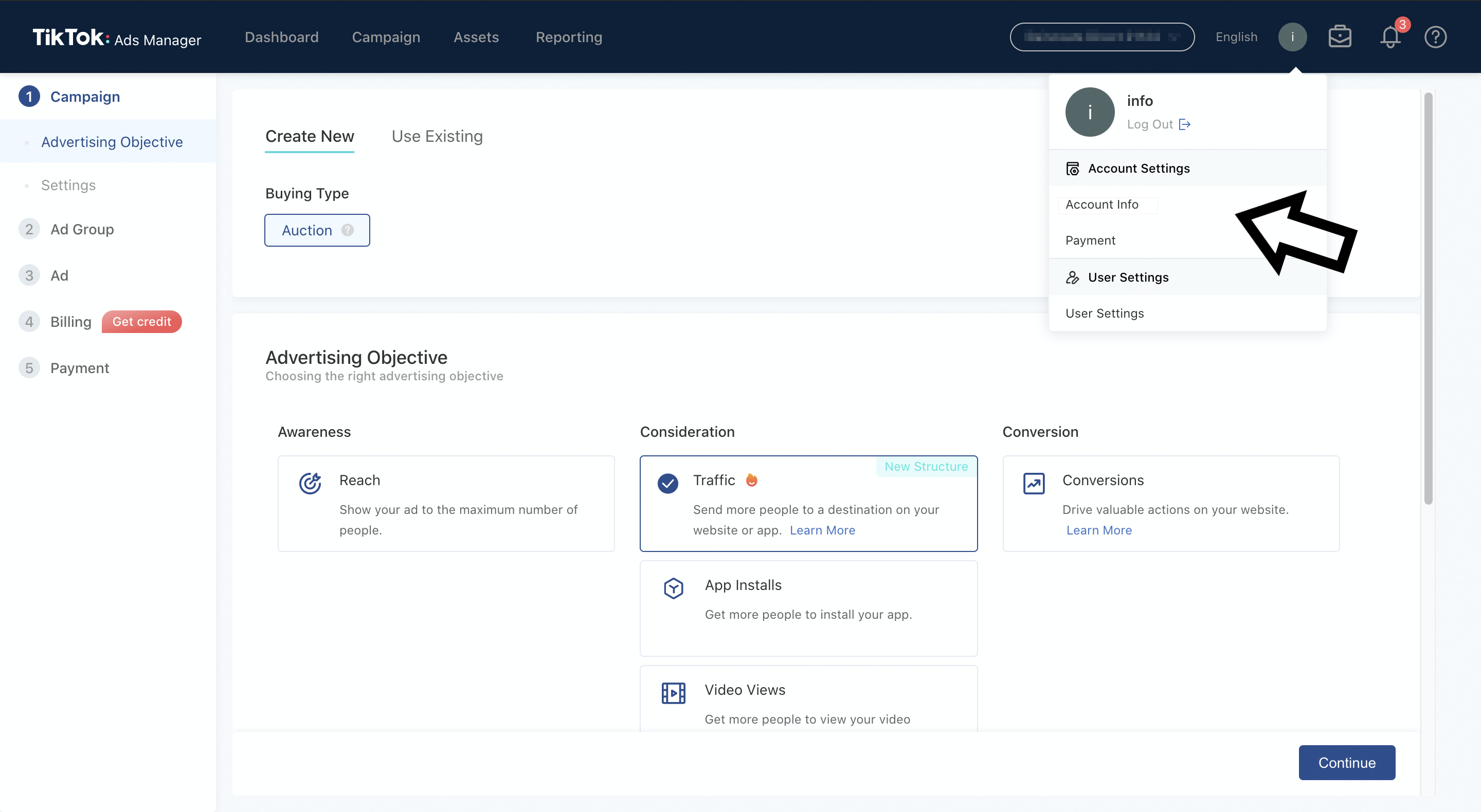 Setting up account | TikTok
Enter all the missing information about your business on the Account Setup page.
URL of your company's website
Industry
Street Address
State/Province
Postal code
Business Verification (Optional)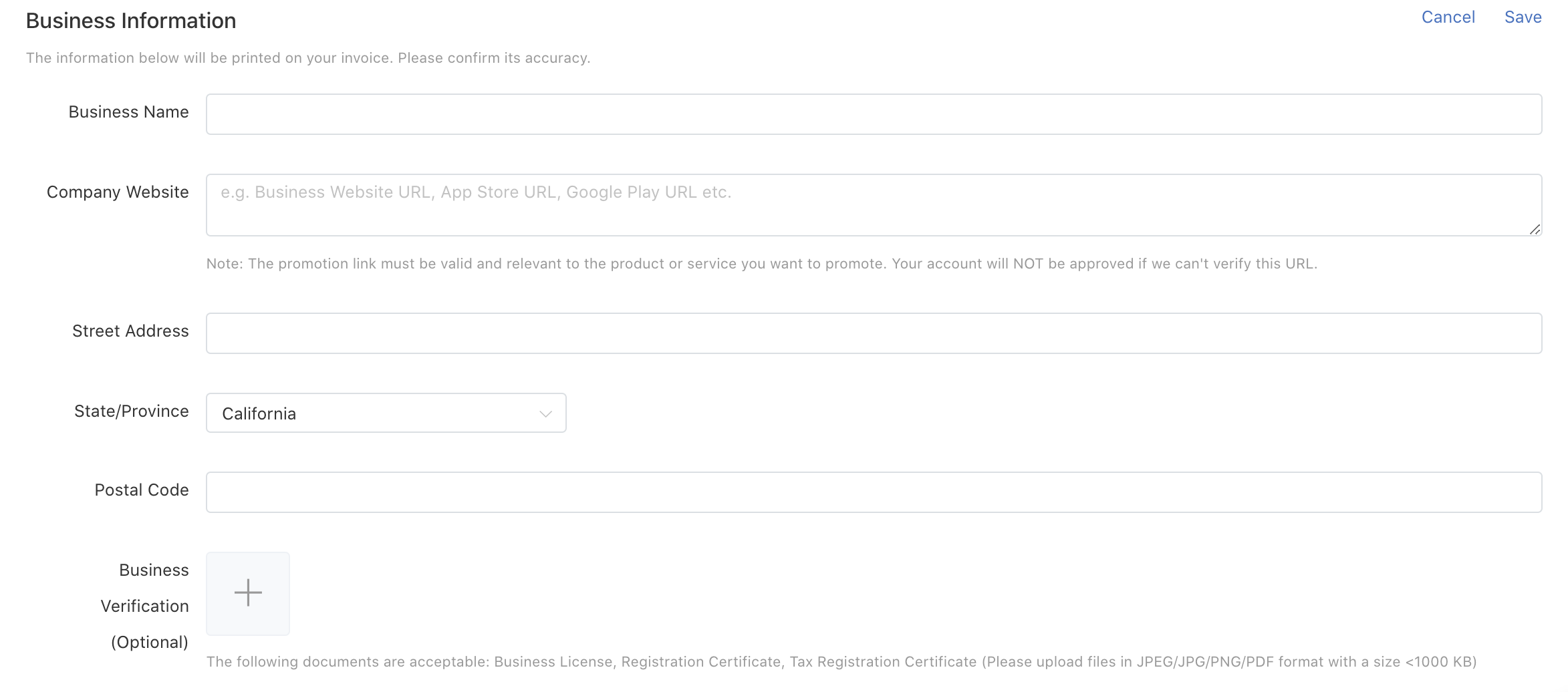 Entering account information | TikTok
Choose your Payment Method: Manual Payment or Automatic Payment.
You can read more on this TikTok's helpage.
4. Create and upload your product feed to TikTok
In order to be able to run some Tik Tok ads such as Dynamic Showcase Ads, Collection Ads or other Shopping Ads, you will need to upload your product feed to TikTok and create a catalog directly on the platform. Based on the data provided, TikTok will create your ads.
A TikTok catalog allows you to store all your product information in one place. Once you've created it, TikTok can create ads showcasing specific products with up-to-date information about each product, like availability, price or sizes.
If you upload your data feed to TikTok you will be able to:
Upload all relevant product information directly to TikTok Ads Manager, including

product titles

, descriptions, prices, images, videos and so on.
Easily manage your products by creating product sets.
Generate custom videos for all of the items included in your catalog using the TikTok's Video Template and Dynamic Video Generator tool.
Feed creation (in DataFeedWatch)
Add a new channel - TikTok

Adding TikTok channel | DataFeedWatch
Enter your store information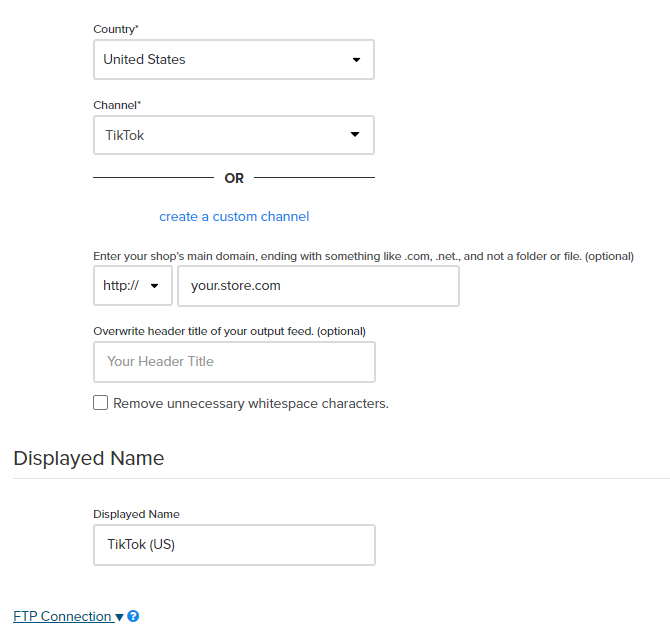 Entering store information | DataFeedWatch
The system will provide you with a TikTok feed template. It will indicate which attributes are required according to the TikTok specification.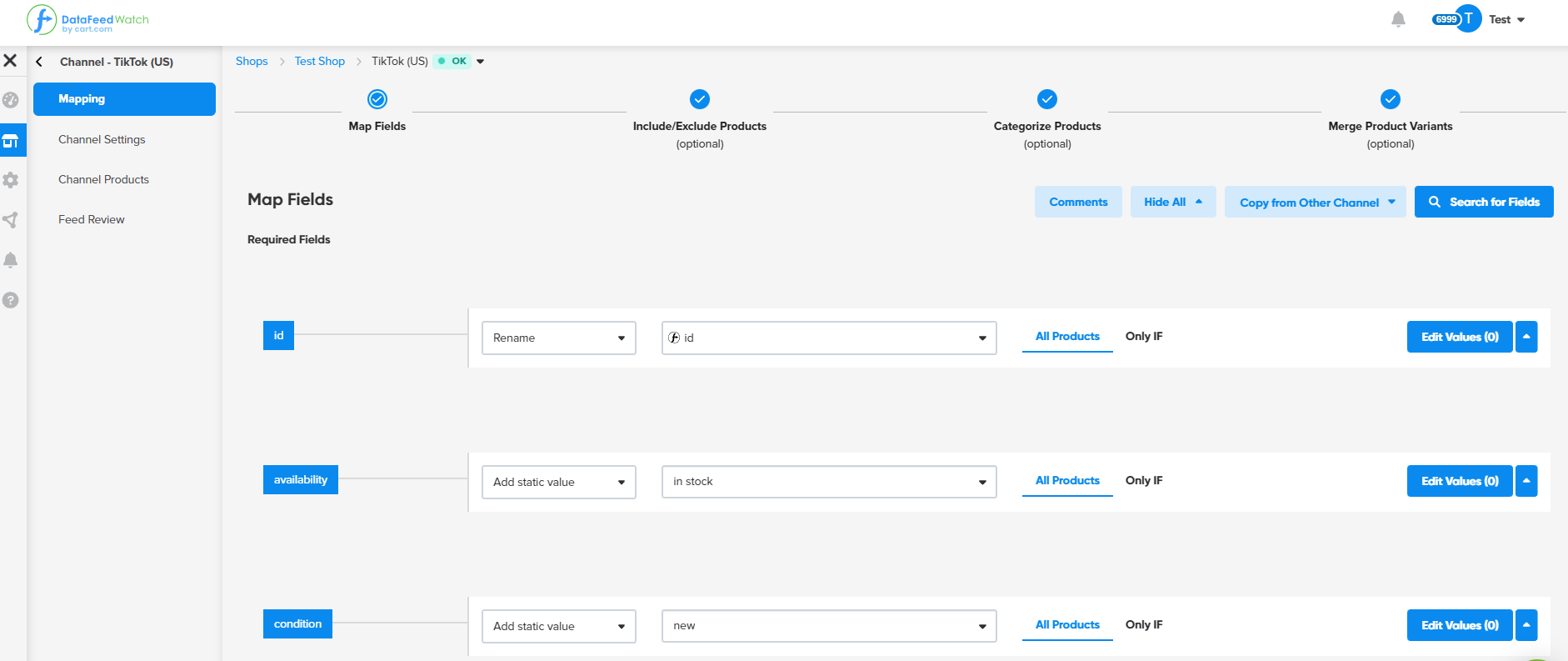 Mapping TikTok feed | DataFeedWatch
Catalog creation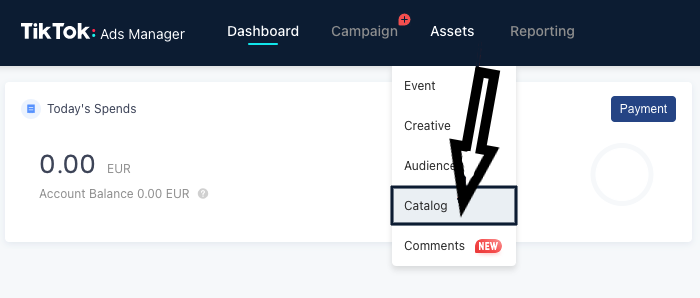 Creating catalog | TikTok
Click Add Catalog.
Fill in all the necessary information: Name, Location, Currency and click Create.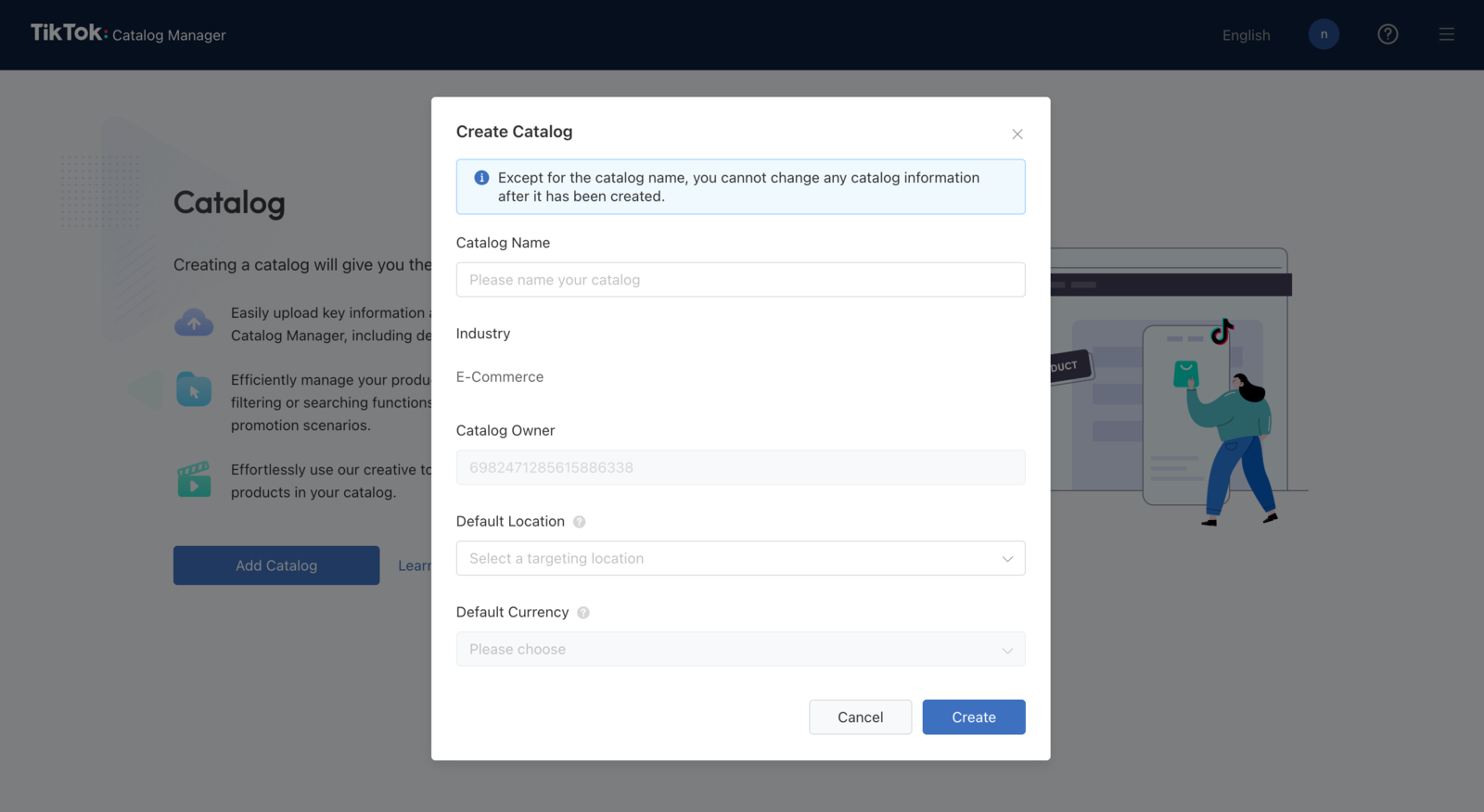 Filling in catalog information | TikTok
Uploading feeds to TikTok
In your TikTok Ads manager, go to Assets -> Catalog.
Select the catalog you have created and to which you want to add your products.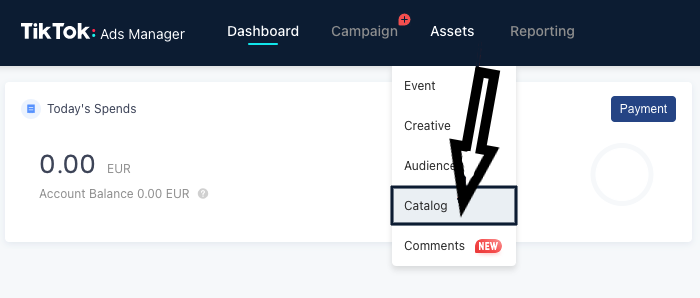 Finding catalog | TikTok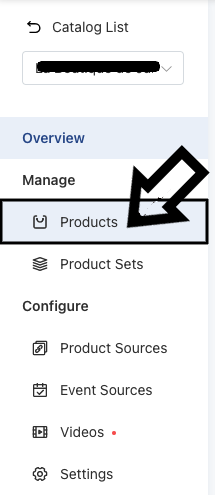 Finding Products tab | TikTok

Adding products to catalog | TikTok
Select the option: Data Feed Schedule.
Scheduling data feed | TikTok
Give your TikTok feed a name. TikTok recommends that you include the specific country, language and currency in the name of each of your feeds.
Add the product feed link to the Data Feed URL field on the Feed Schedule page. You can get the feed URL from your feed tool (DataFeedWatch) by simply copying it.

Copying feed URL | DataFeedWatch
Schedule the hourly and daily data update time.
Select Update Method.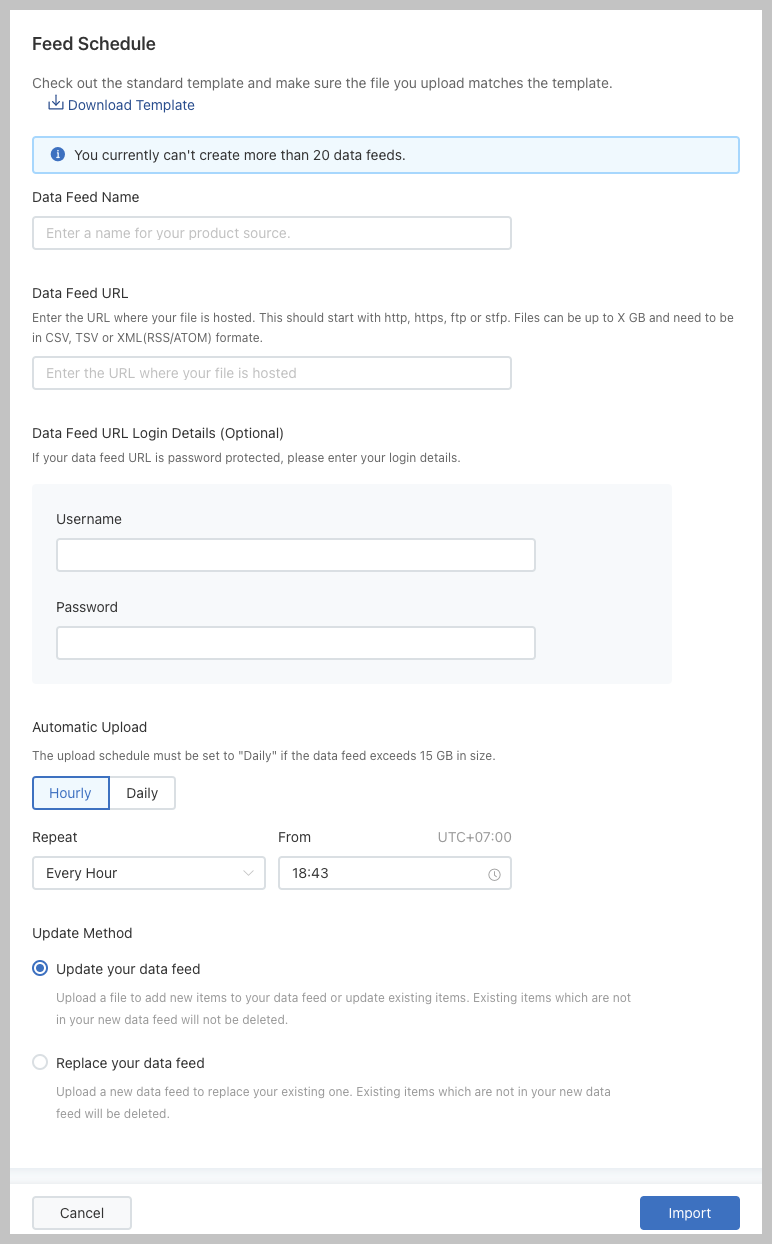 Click Import. TikTok will show all feed-related information.
TikTok will automatically load all products into your TikTok catalog and keep your product data up to date.
5. Set up TikTok pixel
Just like Facebook, TikTok has its own pixel that allows you to track the performance of your ads. It's a piece of code that your developers need to install on your site to help you monitor visitors behavior, sales, conversions and other related events. Once you have gathered all this information, you can target the right TikTok audience with your ads.
With TikTok pixel installed, you can create Custom Audiences and Lookalike Audiences and run retargeting campaigns.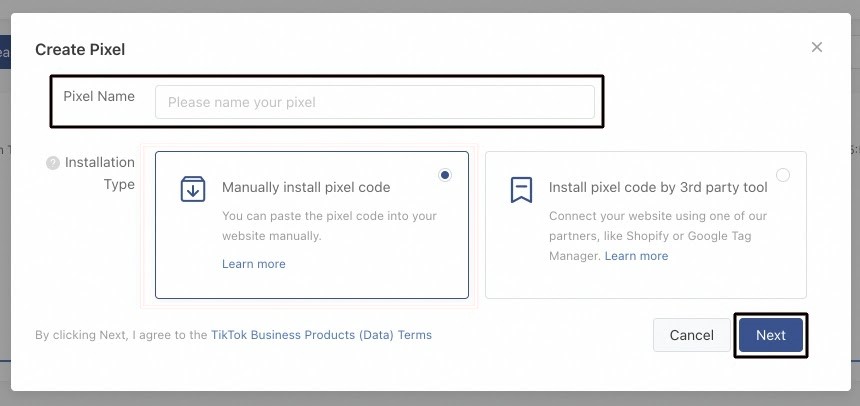 Setting up pixel | TikTok
Install the TikTok Pixel: select "Standard Mode" or "Developer Mode".
Set up events in your TikTok Ads Manager.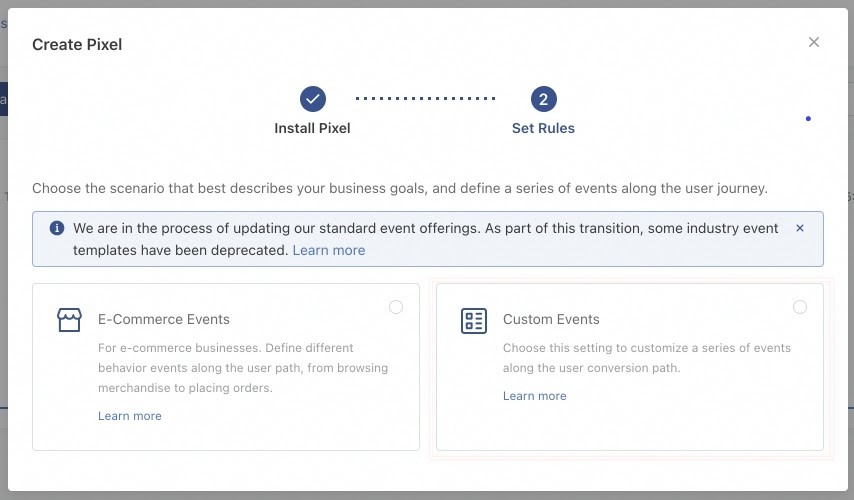 Setting up pixel | TikTok
Review your cookie consent settings.
Download/ copy the Pixel code and paste it into your website header.
Read more about installing a TikTok pixel on this help page.
6. Create your first ads campaign on TikTok
Log in to your TikTok Ads Manager and navigate to Campaign at the top of the page and then click on Create button.

Creating ad campaign | TikTok
Choose your campaign objectives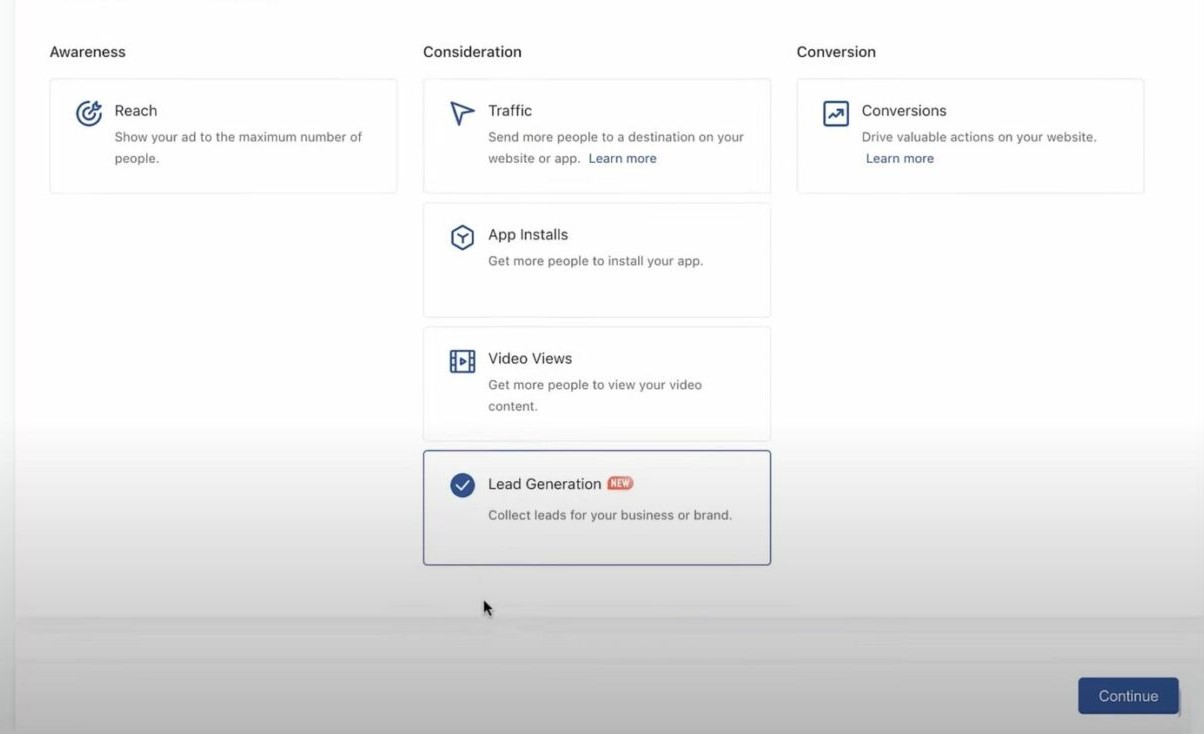 Choosing campaign objectives | TikTok
7. Create ad groups for your TikTok campaign
At this point you need to define the ad placements, audiences, target audiences, budgets, bids, optimization goals and schedule. These are important decisions.
Select the promotional goal: Website or App Install.
Choose the ad placements.
Ad placement is the place where your TikTok ads will appear on TikTok. You can pick the Automatic Placement option (TikTok will choose the placement for you according to your specified campaign objective) or select Placements manually.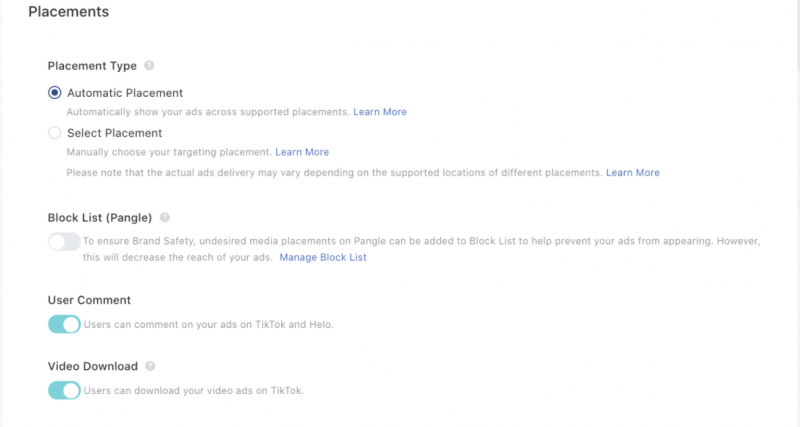 Choosing ad placements | TikTok
Choose your creatives for the TikTok campaign
TikTok provides you with the Automated Creative Optimization feature. If you turn it on, TikTok will automatically create variations of your creative assets, test their engagement and deliver only the best working combinations. If you're not interested you can always turn it off.

Choosing creative type | TikTok
Choose the target audience for your TikTok ads
The next step is to pick the audience you wish to target with your TikTok ads.
On TikTok, you have the option to create both custom audiences and lookalike audiences (with TikTok Pixel installed). You can reach your audience based on their demographic and device preferences. For example, you can target audiences differentiated by age, gender, interests, behavior, location, language or device price. You can also reach people who have previously interacted with some of your content. You get this information from various sources, such as customer files, engagement, site traffic, lead generation or app activity.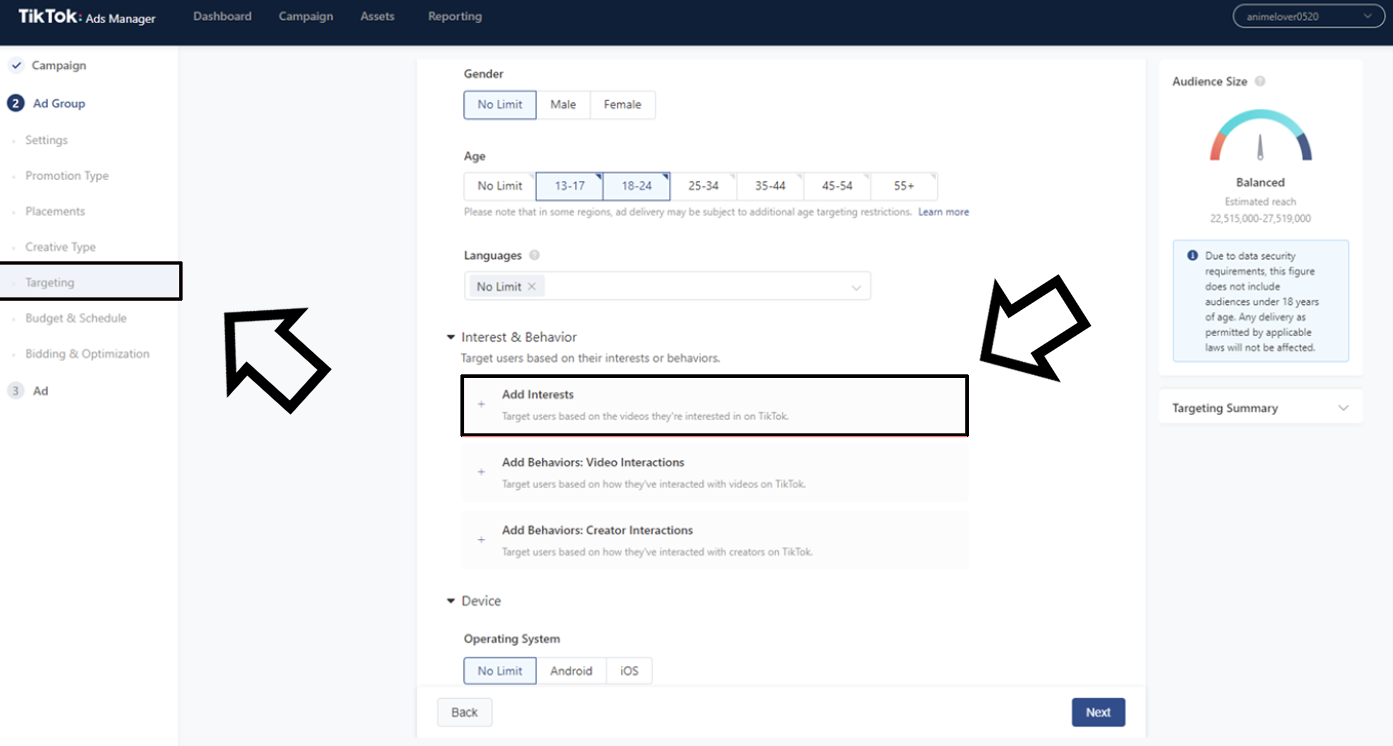 Targeting | TikTok
You can also exclude some audiences that you don't want to show your ads to.
Integrate events (if you want to retarget audience)
If you want to target a specific audience that has taken a specific action on your site, you need to create a TikTok catalog and fill in the pixel and create "events". TikTok then is able to track this activity and match it with your TikTok product catalog.

Integrating events | TikTok
Set up a budget and schedule for your campaign.
You need to specify your budget for the TikTok ad. There is an option to set up a daily budget or a lifetime budget.
Your other task is to set up a schedule to specify the start and end time for your TikTok ads. You can choose a date range to run your ads. You can even select specific time periods in a day.
The other way is scheduling your ads to run continuously for as long as you wish.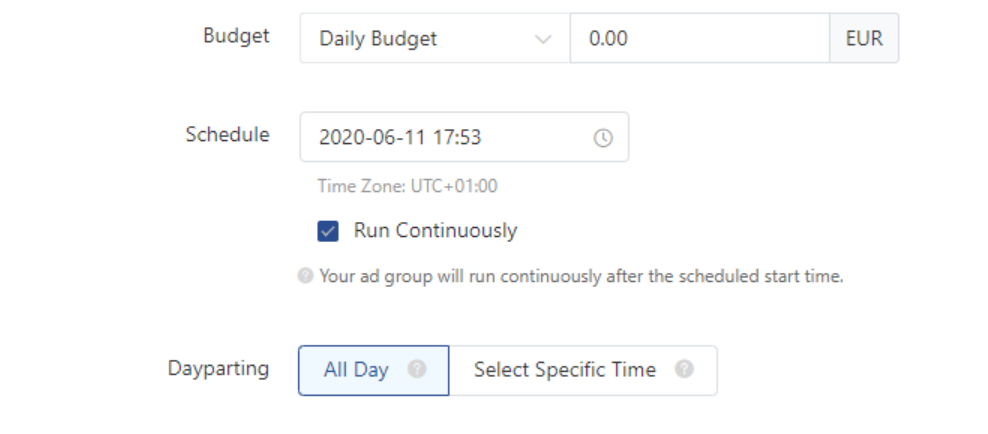 Setting up campaign budget | TikTok
Choose your bidding strategy and set up the bids
You have 3 optimization goals to choose among: conversion, click or reach. TikTok automatically sets the billing event (CPM, oCPM, CPV, CPC) based on the optimization goal that you've chosen.
You can read all about Tik Tok ads manager bidding methods here.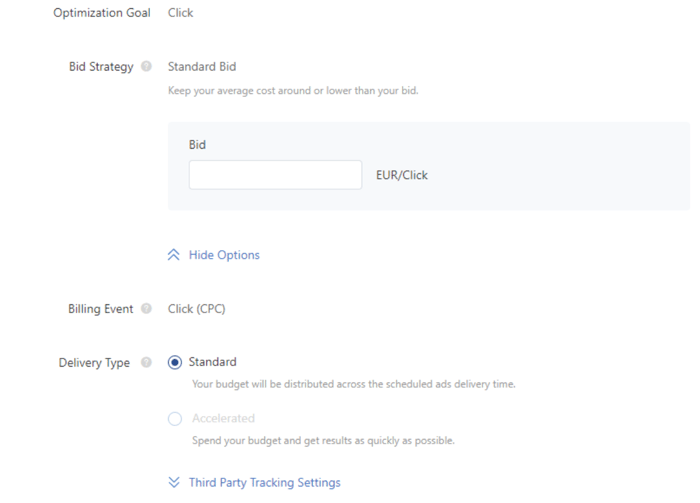 Choosing bidding option | TikTok
You can choose a standard or accelerated delivery type. The standard one ensures that your Tik Tok ads will be displayed during high-traffic times throughout the whole ad delivery period and your budget will be spent evenly during your campaign. The accelerated delivery type means that your ad budget might be spent pretty quickly during the campaign as its goal is to get the most people to see your TikTok ads as soon as possible.
8. Create TikTok ads

There are different ways to create ads, depending on whether you choose to run Tik tok ads powered by the catalog, or if you want to create fewer ads in specific formats separately (ad formats such as Brand Takeover ads or Branded Hashtag ads).

A. Generating one or multiple TikTok video templates


If you have uploaded your data feed to TikTok and created a catalog on the platform, you can simply generate a video template. TikTok provides you with many different ad templates in different styles. You will definitely be able to find a template whose style suits your content, because you can also customize and adjust these according to your preferences.

TikTok will automatically create ads out of your selected ad templates and fill them with product data from your catalog.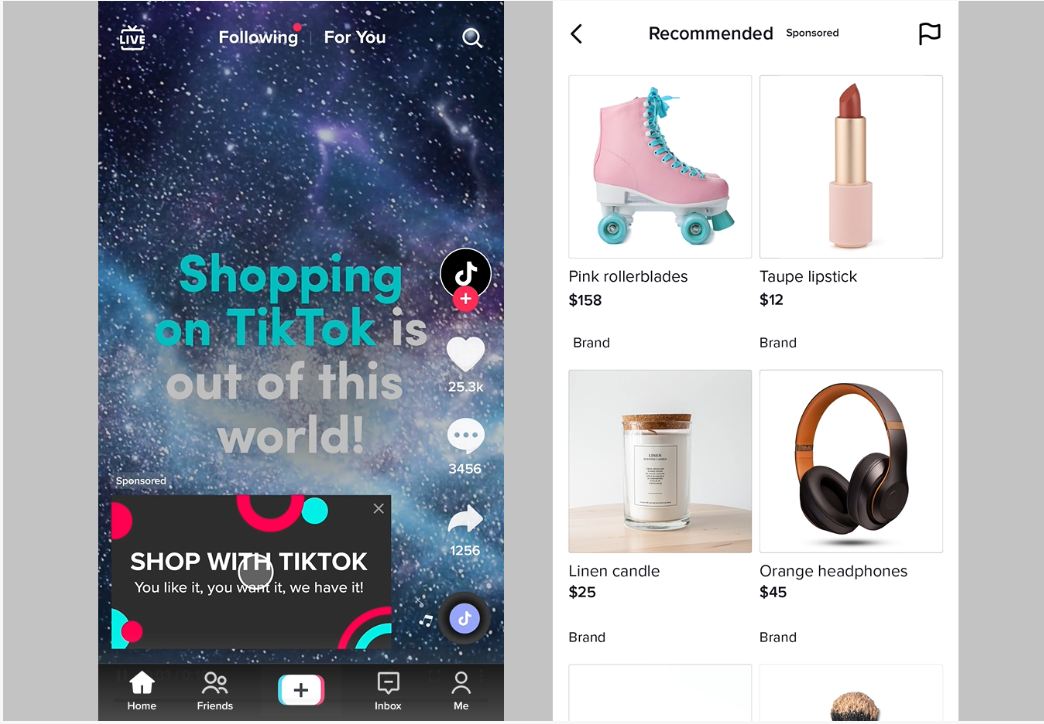 Configure your first ad and click Submit.
You can upload either image files or videos as your ad creatives. Make sure to meet all the requirements regarding ad specifications.
Once you've created your ads you'll have the possibility to preview them. You can add text (12-100 characters) to some TikTok ads - it will appear above them. You will also be able to select different Call to Action buttons such as: "Sign Up", "Shop Now", "Book Now"
---
How much does it cost to run ads on TikTok?
As you may have guessed, you can't advertise on TikTok for free. However, you can set up a free TikTok ads account and set everything up before you have to pay anything. This way you can test how TikTok ads work and see if you like it.
On TikTok you can choose between two budgeting options: a daily budget or a lifetime budget. You can change your budget settings at any time, and Tik Tok will never spend more than you set.
There are also different bidding methods available on TikTok.
The price obviously depends on the type of TikTok ad you want to launch, so it can be difficult to find information on the average price of a TikTok ad.
An average CPM on TikTok is $10
The minimum investment TikTok requires is $500
Minimum daily ad spend is $50
It's certainly not cheap, but in return you get access to a channel with a billion users and the opportunity to reach entirely new audiences, giving you new sales opportunities.
---
TikTok advertising best practises
Be honest but interesting to your TikTok audience
The TikTok audience is young and trustful. What you show in your ads should be consistent with your brand image. Whether your business is serious or trendy, your ads should relate to this image.
At the same time, your ad content should be engaging. Remember to optimize your images and videos, and show your products in many different situations and from different angles. That way, you're more likely to get your potential customers' attention.
Be creative and flexible with your ad content
Don't use one type of creative or similar creatives all the time, because people will quickly get bored of it. Be dynamic with what you show to your potential customers.
TikTok suggests updating your images and videos every week to avoid audience fatigue.
A good solution here would be to upload your product feed to TikTok and create a catalog based on that. If you choose to run the TikTok ads such as Dynamic Showcase Ads, Collection Ads, or Shopping Ads, the system will automatically pull the product data from your catalog and create your ads. The ads content will change dynamically.
Test and optimize
Review your Tik Tok campaign performance systematically. Check TikTok analytics or analytics in your feed tool.
Check how each product is performing on TikTok and what is the overall performance of all of your items on TikTok.
On TikTok analytics look at metrics such as views, interactions and CTR, and adjust your content strategy accordingly. Keep on improving your ads.
Read also: How to Sell Shopify Products on TikTok: The Ultimate Guide
---
Summary
TikTok is a very popular social media, and it doesn't look like that is going to change any time soon. It offers plenty of advertising opportunities and can connect you with whole new audiences. As an online retailer, you can't ignore the power of it. All you have to do is arm yourself with optimized product data and great images or videos, and then try to increase your sales with TikTok.