If you are currently advertising your product catalog on Google Shopping, you can re-use the same feed to help you get started but in the long run you will want to optimize this feed specifically for Facebook DPAs.



Set up your Facebook Feed
When building a house, you want to make sure you are building on a strong foundation. Think of your product feed as your foundation for dynamic product ads.
Having clean data is the key for successful ads, even if you are a Facebook wiz, there isn't much you can do if your pixel is only matching to 20% of your feed or your titles are bad.
The good news for Google Shopping users is that the same Google feed works on Facebook as well. This is a great way to begin using DPA's if you haven't used them before. To get started you will need upload your product feed into Facebook.
If you aren't currently on Google Shopping but want to run DPA's you can find a list of required attributes in the feed here: Facebook Feed Requirements. This will guide you on how to create your own product feed for Facebook and what is required for you vertical.

Of course, if you want to run

Facebook Dynamic Ads for automotive

, the feed specifications will be even more different.

There are many strategies that you can use to optimize your Dynamic Product Ads depending on what you are trying to accomplish.
1. Create compelling titles
Because of the way the ads are shown, there is no need to add the brand to the beginning of the titles. The brand is already at the top of the ad, and because its remarketing, they are familiar with your brand already.
You only have 25 characters that show in the beginning of each title so you want to front load the titles with as much relevant information as possible.
This includes: gender, product type, color etc. Depending on which vertical you are in will depend on what information you will want to show first.
Use the structure below to guide you when creating the titles for Facebook DPA.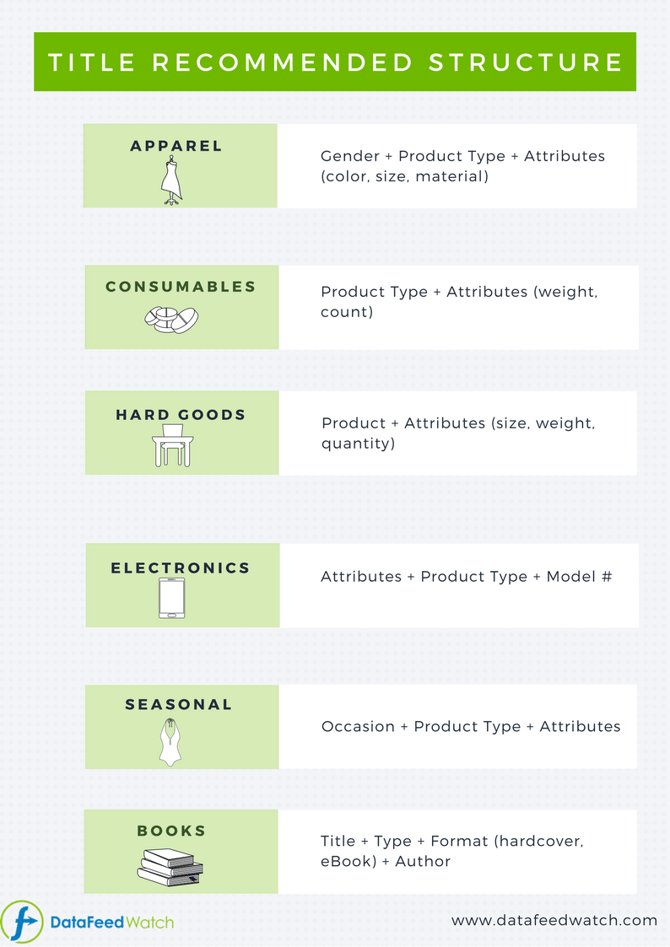 2. Add custom labels to your Facebook product feed




You will also want to create custom labels for your feed. A great use for these is to display any sales you are running, that way you can target specific products with a sale you are running instead of showing them on all products.

You can create custom labels based on a number of other criteria, so if you want to read more on custom labels we recommend you read: Boost Your ROI with Custom Labels.
They will also allow you to create new attributes, custom labels and makes it a lot easier to run A/B tests using keywords or product vs. lifestyle images.
3. Automatically update product prices
A large part of being competitive in your space depends on price, especially if you are a reseller of goods. By introducing a dynamic pricing solution into the mix, it will take care of the heavy lifting of manually checking competitor's prices and updating them in your feed.
You will be able to run daily price checks to see how your pricing is stacking up against your competitors.
With a price ranking tool you can create rules and criteria for the automated repricing, based on competitor's prices, product types, shopping channels or marketplaces.
for a certain product type or brand you always want to have the best price so you set up a rule that automatically makes your product 1-10% cheaper;
you want to be number one for some products, but the price should never less than X;
you can select which competitors you want to reprice against. Let's say you always want to be the cheapest but never cheaper than Company A and B since they'll always be cheaper than you.
After you've updated the prices in your shop then you can export a file of the pricing and merge it with your product feed, matched by ids. This is great if you update your products and pricing a lot.
These are 3 quick tips to help you increase your return, and expand your reach.
If you are an online merchant trying to tap into Facebook's full potential and you have found this post useful, then you'll find our eBook Techniques for Growing your Facebook Ads ROI useful. Download it and learn how to improve the quality of your Facebook campaigns.
Discover more Facebook-related content you may find useful: