How you
configure the data
impacts the
output
. And the
output
impacts the
reaction
.
245, 378, and one… It took me optimizing 245 feeds, 378 hours spent on calls with online retailers, and one really delicious brownie to conclude with certainty:
Optimizing your feed is a lot like composing great music.
There's a specified key you follow (aka feed specifications). The rest is about striking the right chord with your audience.
So, should we talk about what is needed to compose your own feed symphony?
Side note: the processes explained apply to most PPC channels, however, I will be referring to Google Shopping for clarity and consistency.
---
3 angles to look at your data feed
The view that a data feed is only meant to get products approved by the sales channel impedes eCommerce performance.
Sure, it does get your products listed but that is just the tip of the iceberg. In reality, feeds impact your online advertising in a multidimensional way:
Feeds are a conversational tool with customers
The information submitted in the product feed is what your Shopping ads are made of. This means that the way to control the message you're sharing with potential customers is through the feed.
Feeds are your facilitator for channel algorithms
Advertising platforms use their algorithm to display the product ads to shoppers that are most likely to result in a conversion. Knowing how channels go about analyzing your feed and aligning your product data with those algorithms will help you influence impressions and placement for the better.
Finally, feeds are a strategy tool
It's not only Google Merchant Center or online shoppers you're feeding your data to. Whatever your data feed contains, carries over to Google Ads too. And the best part is - you can use it to make your campaign better. Establishing campaign goals will be your compass in selecting the feed optimization tactics that support the same objective.
---
Benefits of data feed optimization
The advantages of running eCommerce campaigns on optimized feeds are plenty.
Before naming them, let's see what the numbers have to say first.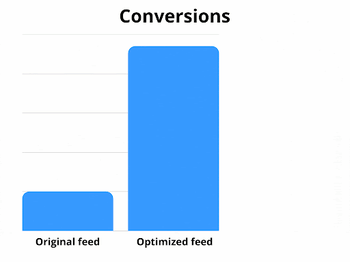 Quick background:
A store selling an assortment of light-weight, everyday items. The feed was just enough to meet Google's requirements, except for the products disapproved due to missing information.
View the case study here
Key actions:

Disapproved products fixed
Data enrichment by adding optional attributes
Campaign optimization

Result:

379% increase in conversions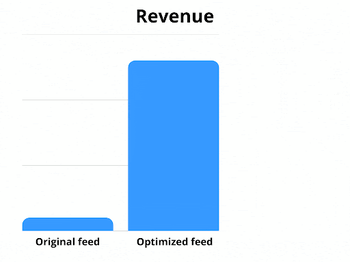 Quick background:
A well-known sunglasses company successful on social media, with struggling Google Ads. 66% of the ad spend was being spent on unprofitable traffic.
View the case study here
Key actions:

High-value keywords added to titles & descriptions
Best selling products labeled in the feed
Keyword-targeted campaigns

Results:

1300% Revenue growth

40% increase in ROAS
1238% lift in clicks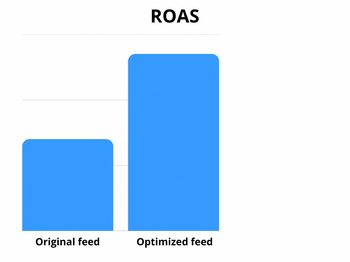 Quick background:
A Danish webshop struggling with low ROAS and revenue on Google Shopping.
View the case study here
Key actions:

Product feed structuring
In-feed product margin % calculation
Optimized bidding

Results:

Conversion Rate increased by 73%

602% boost in Revenue
ROAS up by 96%
The avg. order value increased by 69%
Going for a collective conclusion based on numerous industry studies, I'd say the main advantages of properly optimizing (see What you need to properly optimize your feed section) your product feed include:
A high-quality feed gives you better odds for locking in prominent ad placements. Not to mention, the visual appeal of an optimized ad itself can draw the attention of shoppers.
Higher ad relevance & CTR
Aligning the message of your product ad with what searchers are after means more opportunities to convert.
An optimized feed contains relevant product details and is up-to-date at all times. Avoiding mismatches and ensuring completeness will lead to an uninterrupted online presence and a trustworthy company image among consumers.
More control over your results
By enhancing product data, you give ad platforms a more specific direction on who to show your ads to. It also grants you access to advanced campaign optimization tactics that would otherwise be out of reach.
Ok, we know the WHY. Now, onto the HOW of feed optimization...
---
How feed optimization works
The level of success you can bring to your eCommerce campaigns by integrating feed optimization will depend on a few factors:
The condition of your product feed pre-optimization
The depth of product feed optimization
The way you leverage it in your campaign
To achieve the kind of results you saw across those data sets above, it is fundamental that you engage both in-depth feed optimization and strategic campaign management.
It's easy to grasp when visualized. I'd distinguish 3 levels of feed optimization that advertisers generally go for. The flow graphs below explain the process and benefits in a simplified way.
---
What do you need to properly optimize your feed?
We've covered the value feed optimization can bring you. Now, let's take a look at the resources you may need to make it drive your business objectives.
Feeds are located at the intersection of the consumer buying path, PPC campaign management, and channel algorithms.
The 5 ingredients listed below will shed more light on how this plays out in practice.
#1 Know the rules
To make proper use of your product data within the feed, you need an awareness of both possibilities at hand and limitations.
Look at the data feed specification defined by the advertising channel. The boundaries it sets will help you decide on the direction and craft a feasible optimization plan.
For instance, knowing the title character limit on Google Shopping will prevent me from planning a 200-characters-long title stuffed with high-value keywords, since I know it's not going to make it through. (for the curious: the limit is 150 chars.)
Most platforms make these criteria accessible online, like for example Google, Facebook, or Pinterest. For some others, you will need to ask a representative for the requirements.
Shortcut: If you don't feel like familiarizing yourself with feed specs, you can always reach for ready-made solutions, like a feed management software. Such tools usually offer feed templates programmed to work in alignment with the channel's criteria.
#2 Know your customers
I can't stress this enough. Take the time to get to know your audience. Too often advertisers focus so much on the product that they forget the person it was made for. It is them you need to convince with your ads.
The product feed is your tool to get the right message across.
Obliviousness to your audience's needs and purchase motivations can lead to creating a feed that looks like it's optimized, feels like it's optimized...but it's really not.
Let's put an example to this theory.
Case Study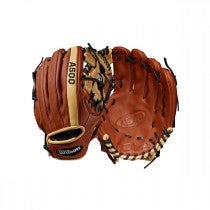 Product: Baseball gloves
Title: Wilson Classic Baseball Gloves A500
Looks good right?
Brand name - 🗹 check!
Product type - 🗹 check!
Model number - 🗹 check!
If you're following industry-set recommended practices, you could call it a day at that point. Fortunately, this particular retailer decided to dig deeper.
The audience insight:
what the buyers really cared about was the material of the glove and whether it was left-handed or right-handed. (insights from i.a. the Search Terms Report)
Result of further optimization?
+250% increase in clicks with audience-oriented titles (eg. Wilson Youth Leather Baseball Gloves - Left Hand Throw)
You can find the full case study here.
Getting to know your customers - resources
If you're in need of inspiration, here are a few tools helpful for defining your customer profile:
1. Search terms report in Google Ads
Key Insights: learn what search terms have triggered your shopping ads, and how effective they were in attracting and converting shoppers
2. Organic queries from the Google Search Console
Key Insights: Understand what the main reasons are for visitors coming to the webshop organically.
3. Google Analytics audience insights and site behavior
Key Insights: Who are your potential customers? Where do they come from and what pages do they visit most often?
Key Insights: How the shop visitors behave on the page, which parts of your product pages do they pay most attention to.
Key Insights: What do your customers say? What values do they focus on and what words do they use to describe your products?
#3 Know your goals
Are you looking to increase the conversion rate of your ads,or maybe… driving more traffic is what you're after?
Your goal will be (one of) the determinant of the optimization strategy you pick.
Here's a real-life example to make it palpable:
In pursuit of getting more quality traffic to their client's store, Easton Digital went for a duplicate products strategy. SKUs got duplicated within the feed and titles got diversified.
As a result, a single product was represented by a few ads that corresponded to bottom of the funnel searches and top of the funnel queries. That in turn led to increased relevance and way more traffic to the store.
Very powerful hack. But, if your primary objective is to scale the conversion rate you might be better off with a feed tactic such as labeling and prioritizing currently discounted products.
The takeaway: have clarity of your goals. Optimize towards them.
#4 Apply PPC expertise
Understanding how exactly Google Ads work and what type of campaign optimizations move the needle will enable you to truly scale and unlock a new level of control.
The favorite feed optimization tactic of our CEO, Jacques van der Wilt, happens to illustrate this perfectly:
Imagine you're managing an apparel store that offers shoes at very different prices. Your overall CPA is $15, and your avg. margin is $35. Not bad at all.
Now, what if you look closely at the profits per each price group?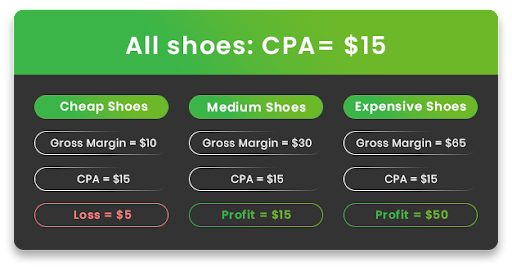 Conclusion: You need to fork over $5 each time you sell a pair of cheap shoes. Hardly profitable.
Advanced users of Google Ads would know that using custom labels to optimize bidding per product group can tip the scale in their favor.
And that's just it! Custom labels are not visible to shoppers, nor are they considered by Google's keyword algorithm. They will serve as a campaign segmentation and bid moderation tool for the ad manager.
All in all, practical PPC knowledge will enable you to uncap the potential of paid media channels you use.
#5 Have the right tool to facilitate your growth
Last, but not least. You will need to have the right tools that will facilitate the data transformation needed and give you space to act on your expertise, your customer insights.
That could be a Google Spreadsheet, a process established between you and your IT team, or a dedicated data feed optimization software.
Call me biased, but I'm gonna say that a feed management tool is the best method, most of the time. Still, let's discuss each of them.
Side note: I've purposefully left out the store-to-channel API method since feed adjustments would require making changes directly in the store too.
Ways of managing your product feeds
What will help you decide on the best option is the size of the product portfolio and its dynamicity.
Manual set-up:
For larger catalogs, manually setting up rules and updating the feed has the potential to quickly turn into a full-time job. This defeats the purpose by taking time away from other key business operations.
Having said that, it could work perfectly well if you have a handful of products to advertise and changes to inventory are rare. You just have to stay alert and manually apply updates to your product feed to reflect the store inventory.
IT cooperation:
A big advantage here is the almost unlimited possibilities of data sourcing and manipulation, but it comes at an equally big cost: waiting time is often beyond acceptable. Hence, you miss out on opportunities.
Plus, we all know how IT likes their bills high.💰
Using a feed solution:
It combines speed, freedom of data transformation, and the ability to translate your marketing insights to your product data configuration.
It also ensures continuity without you having to keep a close eye on product catalog changes.
The biggest drawback I can name is the learning curve.
Recommendation: If that would be the option you reach for then I recommend DataFeedWatch as the best feed marketing solution out there. Hands down.
(Yes, yes...I'm not the most credible of reviewers, but no need to take my word for it. You can give it a free test with no strings attached.)
---
What's next?
If I were to condense all of this article to a single, most important takeaway it would be the following: Treating data feed optimization as an integral element of your eCommerce growth strategy is a choice. One that will greatly influence your PPC performance over time.
You know the drill now. So, what do you choose?