What is Generative AI and why it's relevant
If you ask ChatGPT (the most popular generative AI application) what Generative AI is, you'll get the following answer:
"Generative AI refers to AI models that can generate new, original content. They learn from training data and use that knowledge to create similar samples. Applications include image synthesis, text generation, and music composition."
The keywords here are "original content", "training data" and "similar samples".
On the one hand, generative AI can create new and original content. On the other hand, it does so by learning from existing content, which results in the generation of "similar samples" rather than truly original pieces.
This clarification is essential to understanding that the better the training data, the better an AI output.
For those of us in marketing, this means that the quality of our work and content will always matter. It may matter even more in the future when AI is widely adopted and the need for differentiation becomes greater.
With this in mind, let's dig!
---
Google Generative Search Experience
On May 10th, 2023, at its annual I/O conference, Google revealed its new Search Generative Experience (SGE). We asked Bard (the Google conversational AI app) what Search Generative Experience is: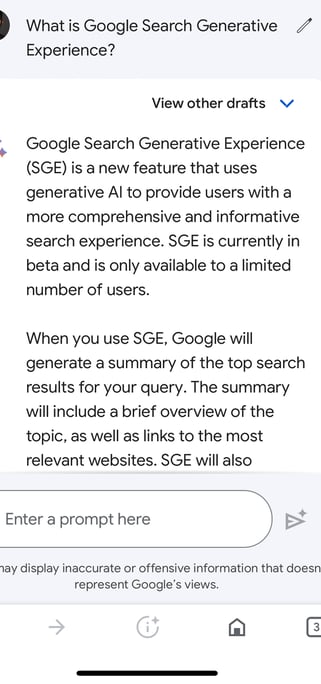 In essence, SGE combines Google's artificial intelligence and search capabilities, into a new generative AI search experience. Users can perform a traditional search query or engage in a ChatGPT-esque conversation with Google. These two experiences are blended into a single user interface, allowing users to either follow up on traditional search queries or directly engage in a more conversational experience.
This comes in response to the new Microsoft Bing Experience, which integrated ChatGPT in its search engine, back in February 2023.
For example, if you search for "What is Google Bard '' on the new SGE, you'll get an AI-generated response above regular search results. The AI snapshot also includes sources and follow-up questions to spark a conversation.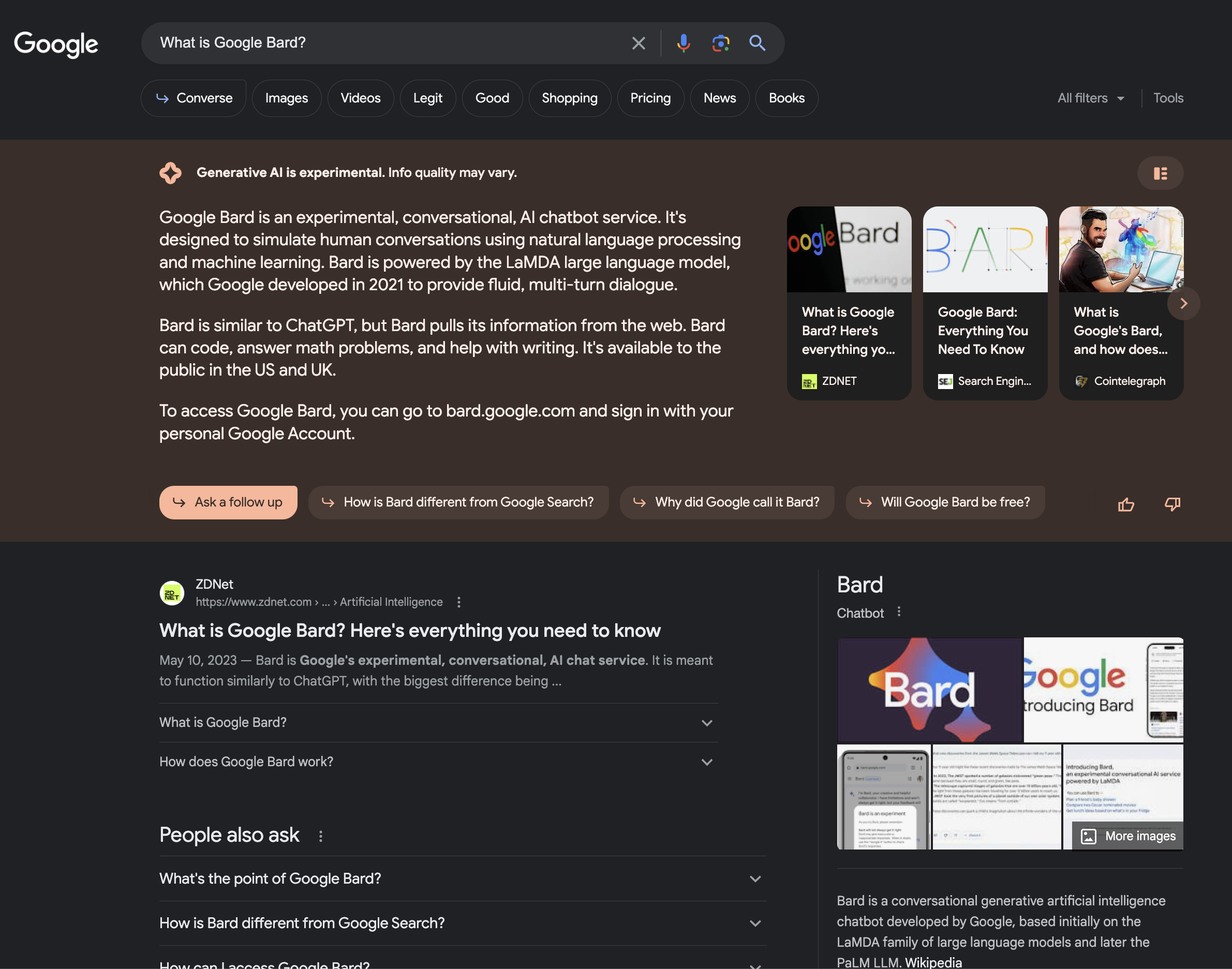 Source: Search Engine Journal
If you don't feel like chatting with Google, you can simply skip to the search results, which look as always.
Unfortunately, the Google Search Generative Experience is not yet available to the public. However, if you live in the US, you can sign up to the waitlist at Search Labs and gain early access.
Google Search Labs allows common users to try out and test new experimental features such as SGE, AI in Google Docs and Spreadsheets, music and more. We definitely recommend you check it out and sign up!
Back to The Top or

---
How Google Search Generative Experience work
You might be thinking: what's the advantage of Generative AI compared to regular search results? To begin with, it is not limited to providing factual information, but it also offers personal suggestions.
In the following example, you can see that for the query "best 4k camcorder under $500", the results not only include a list of the best cameras under $500, but also suggestions on what to consider when making a purchase decision.
Source: Search Engine Journal
The second advantage is the ability to "chat" with it, to gain deeper insights, more suggestions or options.
In the following example, the Generative AI gives the option of several follow-up questions like "Is Semrush free worth it?". The answer can be very "personal" and not necessarily factual.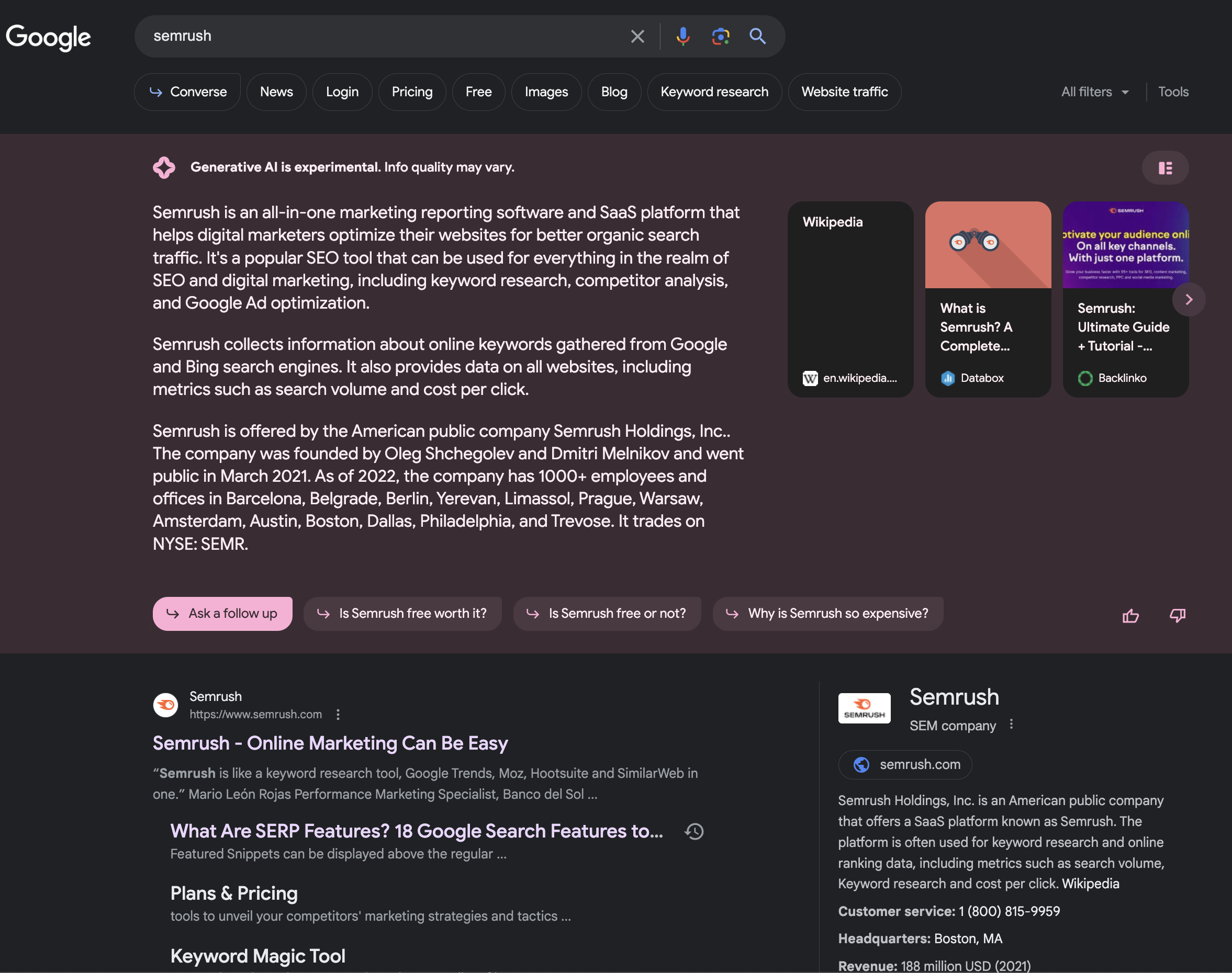 Source: Search Engine Journal
The main idea behind SGE is to improve the user experience by answering all questions through a single user interface, without requiring them to navigate between multiple pages or websites.
This poses challenges for both publishers and advertisers, who may see a decrease in their traffic. However, by referencing the sources in the AI response, we can already see that Google is making an effort to address this problem.
Back to The Top or

---
Is Google Search Generative Experience different from the new Microsoft Bing AI experience?
Considering that Google is by far the most popular search engine in the world, its new AI experience is a big deal. However, let's not forget that it doesn't differ much from the new Microsoft Bing AI experience, which launched in February 2023 and is already available to the general public, also in Europe, via the Microsoft Edge Browser. Advertisers should watch both closely.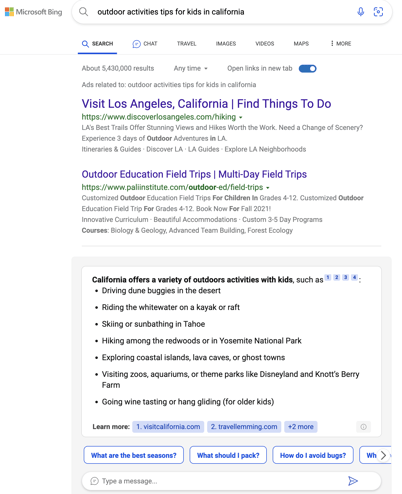 In the screenshot above, you can see the AI snapshot appearing below a couple of organic results. The snapshot also includes links to sources and follow-up questions, similar to SGE. Users can either click on one of the suggested questions or type their own in the "type a message" box. They are then directed to a new UI that does not display any regular search results. Instead, it resembles a chat interface.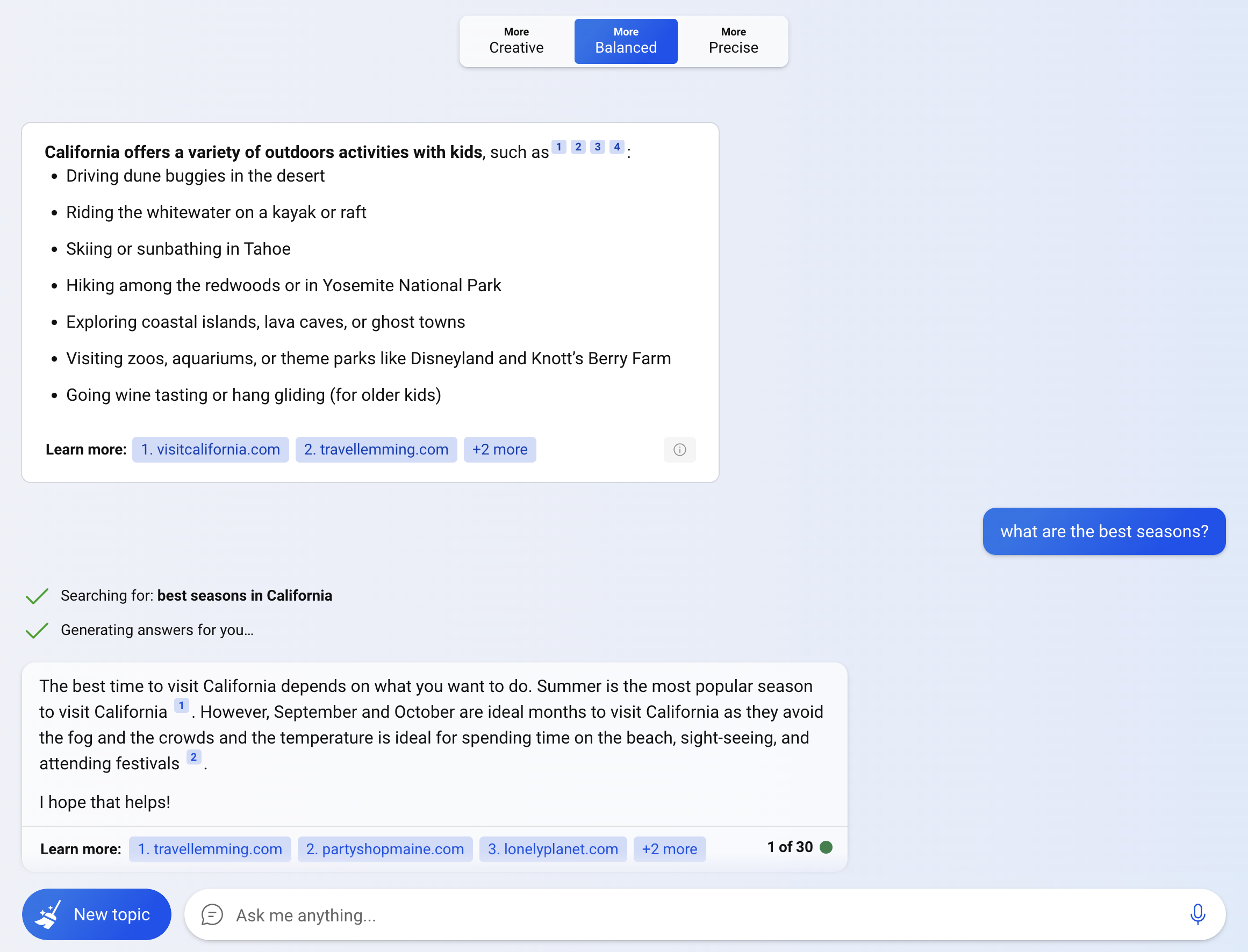 This is possibly the main difference between the two products as of June 2023. Google keeps users on the same page, while Bing brings them to a new dedicated section. In Bing, users can return to the search experience by clicking on "search" in the top-left corner.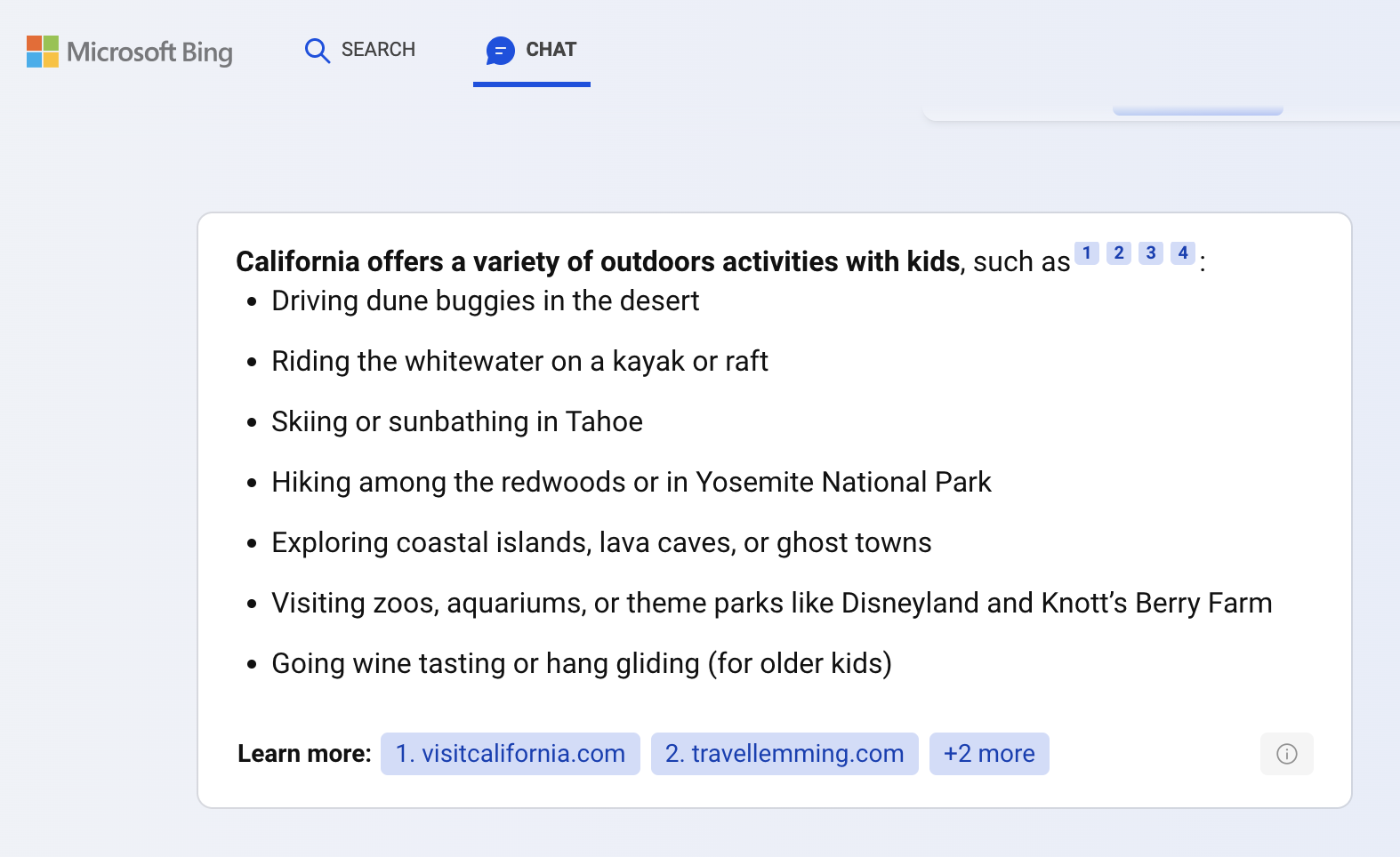 ---
What does Search Generative Experience mean for marketers
Now you know what Generative AI and Search Generative Experience are. But what do they mean for marketers?
First of all, Google AI is still "experimental" and the way it looks and works might change over the next few months and years. Same goes for Bing or any new competitor that will arise.
However, what we do know for sure, is that AI search is a huge milestone in the history of search marketing.
Why?
Search marketers used to create and provide content against users' search queries. Now, it's all about answering a user's need or desire, rather than a specific query. Sometimes, those needs are not clear from the beginning, and it takes a chatbot conversation to uncover them.
This shift marks the death of keywords as we know them. In search advertising, keywords have become less relevant in recent years due to a strong push towards broad match and away from exact, specific queries. The new Performance Max campaign type just topped it all, removing the possibility of choosing keywords for your campaign. All of this was in preparation for what eventually arrived. The end of queries and the start of desire-based search marketing.
Now, for brands, the question is: what will it take to be the answer to these new desires?
Again, it's almost impossible to answer right now.
However, if we return to the basics, we can say that users in the end still want to find answers to their questions as quickly as possible. This has not changed from the past. The disruption lies in the way users express their questions and marketers' ability to understand them. But if we keep focusing on the main concept of "serving our users", we will be successful.
Back to The Top or

---
What will search ads in the Google generative AI experience look like?
Search Generative Experience looks very exciting. But something is missing from the screenshots we showed above. Ads!
Jerry Dischler, Vice President of Ads at Google, reassures us. "As the future of Search evolves, the future of advertising will evolve too — bringing more opportunities to grow your business […]. […] ads will appear above and below this new experience. […] we'll experiment with Search and Shopping ads that are directly integrated within the AI-powered snapshot and conversational mode. We'll also experiment with new formats native to SGE that use generative AI to create relevant, high-quality ads that are customized to every step of the search journey."
Google still doesn't have a clear view on how Ads will be integrated in its new conversational experience, but one thing is certain: we're in a "new era of AI-powered ads".
We already have some demos from the Google Marketing Live event on May 23rd.
The experience starts by searching for "outdoor activities to do in Maui". The above-the-fold view is occupied by two old-fashioned search ads.
Scrolling down, we see the answer from the Generative AI. The snapshot shows some text, sources, and follow-up questions. No ads here, yet.
The user then asks for a custom follow-up question: "hiking backpack for kids". Note how two different queries are part of the same conversation or "desire". The desire for a family holiday with kids in Hawaii. But the user still doesn't know exactly what they will do there, they're still in an exploratory mode. It's Google's and marketers' task to suggest, inspire and eventually sell the ideal experience.
The generative AI then suggests three suitable backpacks, the first of which being a sponsored result.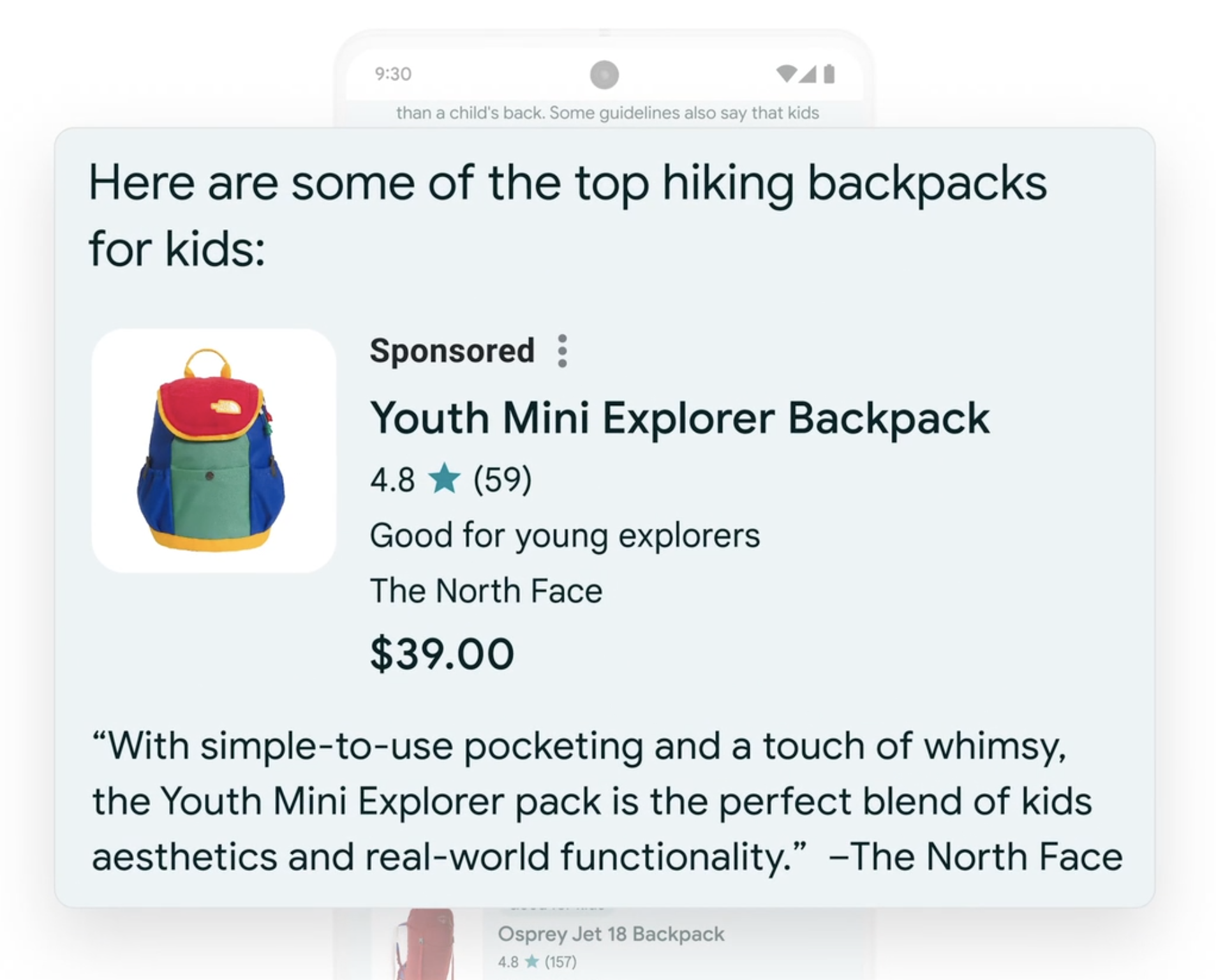 The sponsored product looks quite like a shopping ad. It shows a nice image, the title, reviews, the brand, the price, a description, and even a short statement "Good for young explorers".
Below the AI snapshot, there are other backpack ads. These are most likely traditional Google Shopping ads.
The conversation is not finished yet!
Now the user asks "is it easy for them to learn surfing", to which the AI understands "is it easy for kids to learn surfing in maui". This shows the great conversational capabilities of the new generative experience.
Google replies with an AI snapshot showing text and sources, but just below that, a large text ad by GetYourGuide, the leading experience and activities marketplace.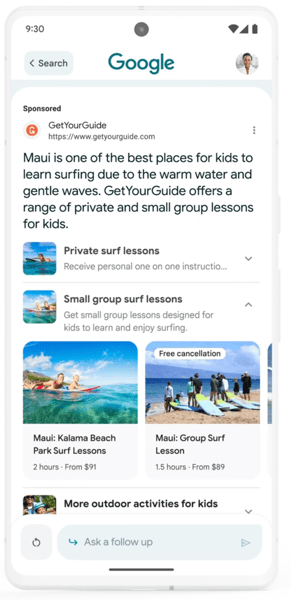 This text ad looks very different from the traditional ones. The text is most likely AI-generated, to fit perfectly into the conversation. Below that, it shows modern ad extensions that suggest specific courses and activities to book on their site. The ad is visually-appealing and perfectly blends into the customer's conversation, while still suggesting specific answers and products.
If this is the future of search ads, we like it very much!
Back to The Top or

---
7 new AI ads features in Google Ads
Google Marketing Live unveiled many new AI-driven features in Google Ads. Beware that not all of them will be available worldwide, if ever available at all. As often happens, new features are first released in beta, then in English-speaking markets like the US and UK and only afterwards in other countries. But it's still important to familiarize yourself with what might come next!
Let's dig into the most relevant news for retailers:
1. Build better Search campaigns with the new conversational experience in Google Ads.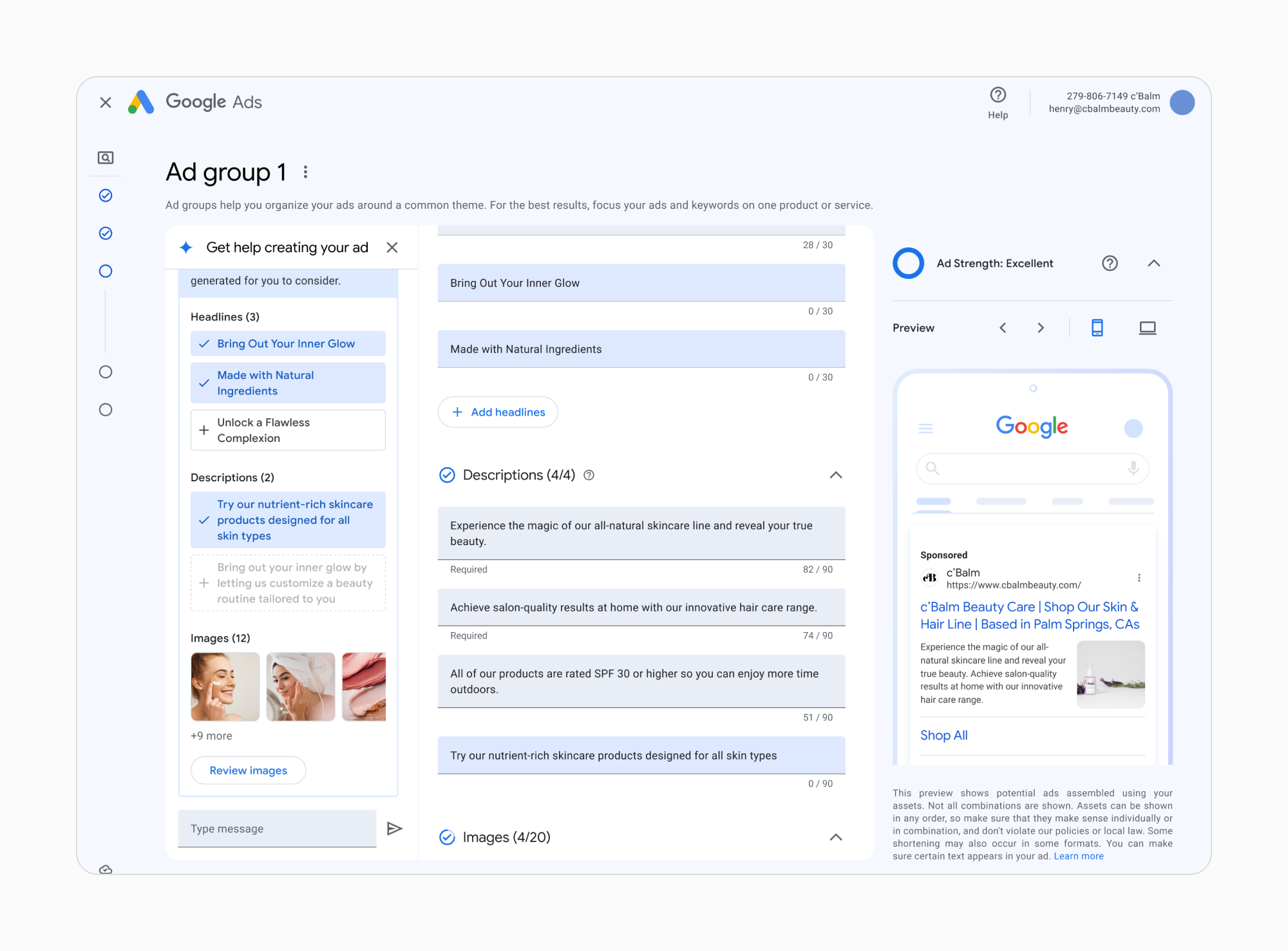 The same AI conversational experience offered to search users, will be implemented into the Google Ads campaign creation flow. Advertisers will "have a natural language conversation with Google Ads to help them create keywords and assets that drive better Search campaign performance".
2. Show more relevant ads with improved automatically created assets.
Automatically Created Assets will be spiced up by generative AI. Google Ads will customize your Responsive Search Ads automatically based on the content of your website and, most importantly, on the user's intent.
"For example, if a user searches for "skin care for dry sensitive skin", your ad will be able to show original, AI-generated headlines that draw from your landing page and are even more relevant to the query, such as "Soothe Your Dry, Sensitive Skin".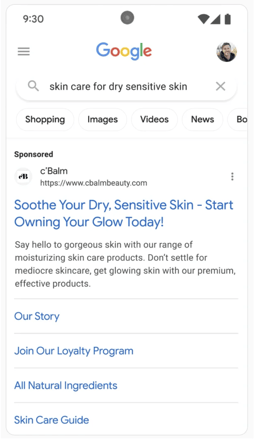 3. Add business information and logo to make your Search ads more helpful and engaging.
This is not an AI-driven feature, but it is essential to making sure you'll be ready for ads in AI search. As you've noticed from previous screenshots, the new search experience will be a mix of text, images and logos. Make sure you have these assets in place!
4. Generate new, high-quality assets in Performance Max.
The AI-enhanced ads creation flow also applies to Performance Max campaigns. "Provide a few details to help Google AI learn about your business, and get multiple options for text and image assets that you can easily add to your campaigns."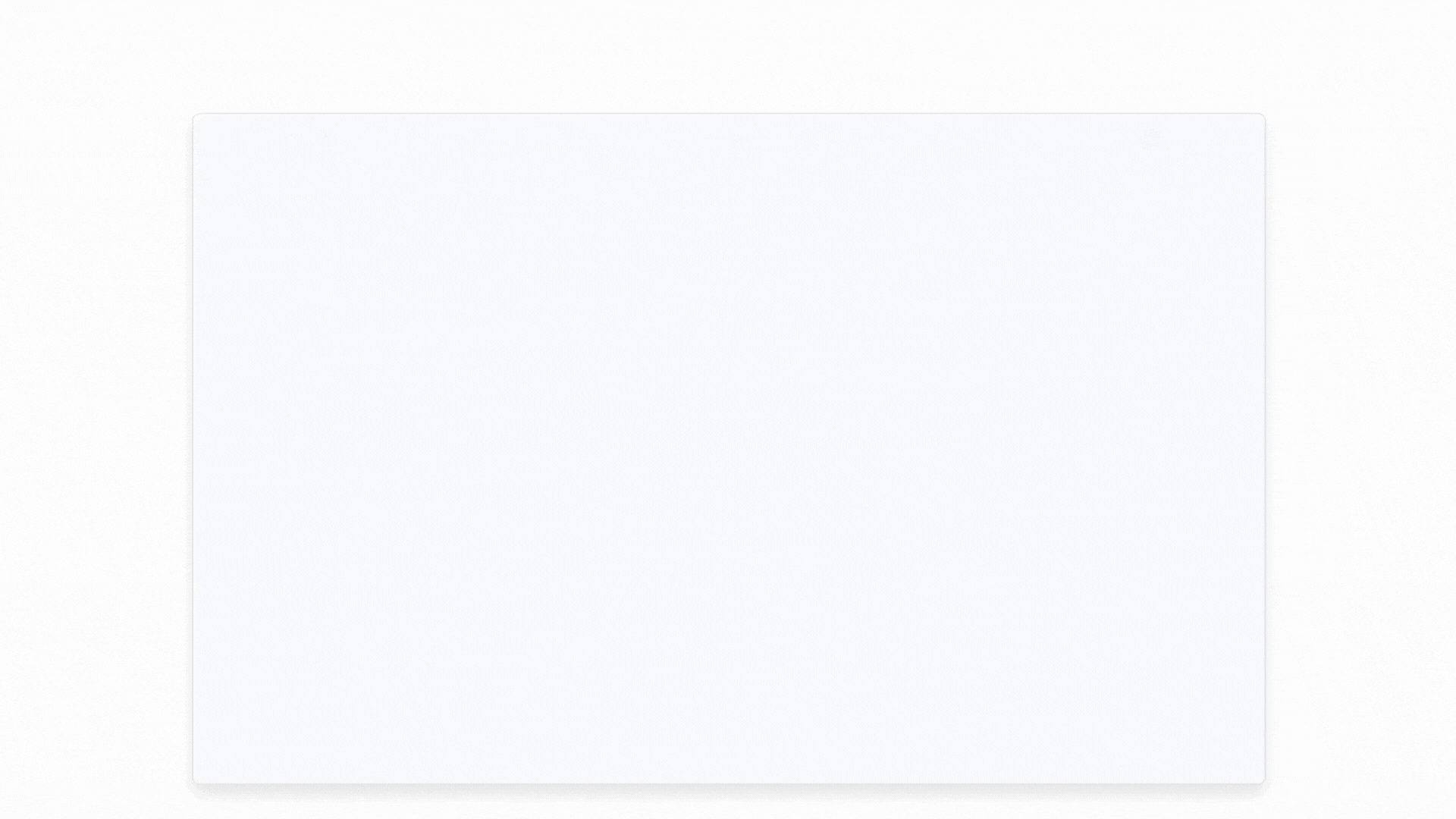 5. Use Google Ads Creative Studio to spread your best assets across search, display and video.
New tools and features are coming to Ads Creative Studio. We strongly recommend you open an account if you haven't yet! Build amazing creatives for search, display, video, pMax and whatever comes next in a matter of clicks.
6. Get faster and more efficient with Google Merchant Center Next.
Merchant Center Next is the new simplified interface of Google Merchant Center. Among other new features, product feeds will be automatically parsed from your website and enhanced by AI. Also, it's going to be easier to upload new products and manage feeds, as well as access cross-platform insights in a revamped "performance" tab.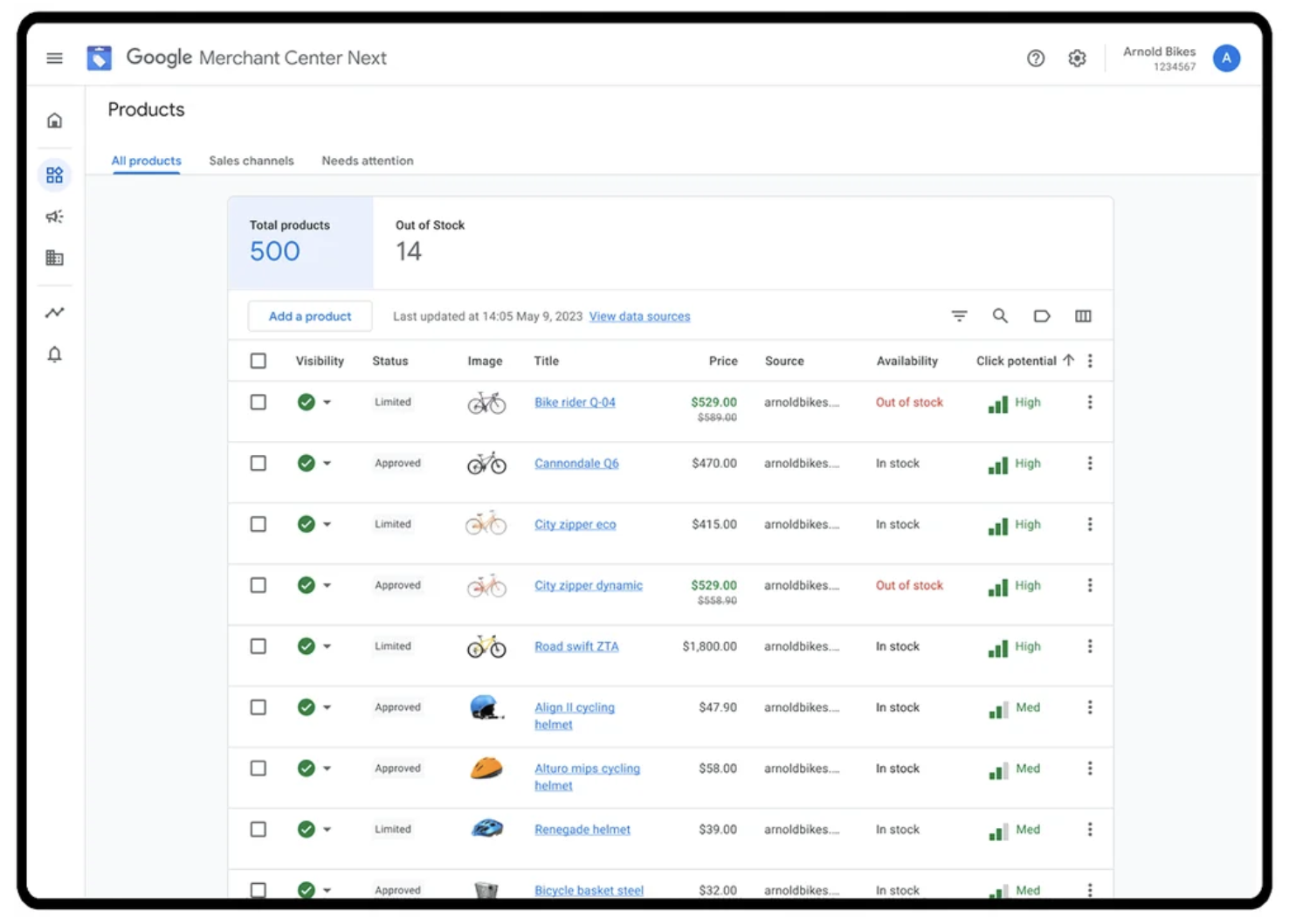 7. Use generative AI to make creative product images.
This is one of the most exciting features announced at Google Marketing Live. With the introduction of Product Studio, merchants can "easily create unique product imagery using generative AI right from Merchant Center Next".
Marketers will be able to remove or edit image backgrounds, increase contrast, luminosity and more!
As any of you shopping advertisers know, product images are at the core of every campaign's success. This new AI-powered feature will incredibly improve the quality of your images and therefore enhance your campaigns.
Back to The Top or

---
4 ways to optimize search ads for the AI search [Checklist]
Now, let's get our hands dirty! How can you use all the above information to prepare for the future of search?
Well, if you've read this far, you've already completed the first step! Being aware of what's coming is the first major action you can take.
It's still very hard to tell which of these new features will actually be implemented and when. However, by familiarizing yourself with them now, you will be ready when the time comes.
The second step you can take is to learn the Google AI Essentials. Let's have a look:
1. Improve on-site tagging and tracking
Implement a robust site-wide tagging with the

Google tag

. Also, collect and maintain users' consent with the Google

Consent Mode

. In a scenario driven by AI, tracking conversions correctly is essential to unlocking Google Ads intelligence capabilities. Only with a strong tracking, Google can serve your ads to the best users at the best time, against the most suitable conversation/desire.
Upgrade to Google Analytics 4 to gain deeper insights across your websites and apps. With predictive and modeling capabilities, Google Analytics 4 helps you prepare for the future of measurement.


2. Setup conversions based on BI data
Set up enhanced conversions

to improve the accuracy of your conversion measurement. This is a follow-up on the previous point. Enhanced Conversions make sure you take advantage of your first-party data and lose less conversions due to privacy restrictions.

Assign values to your conversions based on your business goals

(e.g. revenue, profit margins, or lifetime value). This is also essential. You can instruct the AI on which conversions are most valuable for your business. The AI will learn and optimize your campaigns based on that. Do you remember the first paragraph? An AI output is only as good as its input.


3. Run search ads along PMax and use high-quality assets
4. Run tests in a controlled environment
Directly align marketing KPIs with business goals and partner with your CFO to quantify marketing's impact on key financial metrics.
Create a

culture of experimentation

(test, learn, scale).
Stay agile and break down silos (data, budget, and channel silos).


Back to The Top

or
---
Feed-driven advertising in the era of AI
Feed-driven ads have always been among the most intricate tactics in search advertising. The complexity arises from the need to create, maintain, and optimize feeds, which often require time and resources from multiple teams. However, it's also been among the most profitable tactics!
We at DataFeedWatch are all about AdWords intelligence and make the feed-based ad creation process automated, encouraging advertisers to jump on board and unlock new profits. This couldn't be more relevant in the era of AI.
Product feeds serve as the ideal dataset to "feed" AI algorithms (pardon the wordplay 🙂 ).
Particularly in retail, product feeds will be even more important for PPC strategies. Numerous demos showcased at Google Marketing Live featured some kind of shopping ads. Even the ad from GetYourGuide, despite not being a retailer, included links to individual activities, likely uploaded via a product feed.
With DataFeedWatch, managing feeds and achieving success with them will become easier. There will be no excuse not to utilize this powerful Google Ads automation tool! What we refer to as feed-driven text ads will continue to gain relevance.
Provided you use broad match keywords, a strong conversion tracking and value-based bidding, the Google AI will have plenty of product-centric content to leverage. Consequently, your product-specific ads will seamlessly appear in conversations such as "what are the best backpacks for my kids for a hike in Maui."
---
Challenges of AI in search advertising
We're all very excited by the advancements in AI and how they will revolutionize search marketing. However, there are still some challenges:
1. The better the AI response, the less clicks to external sources.
This is probably the main challenge that Google is facing right now.
On the one hand, they want to improve the user experience and make the AI response as comprehensive as possible. On the other hand, they need to keep publishers and advertisers happy by ensuring a steady flow of traffic to their websites.
The problem arises from the fact that if an AI response already fulfills a user's request, the same user may not click around and explore other websites, resulting in reduced traffic to external sites.
The key will be finding a balance between seamlessly integrating ads and external sources into the AI conversation mode. It's also important to note that Google is committed to strong AI principles outlined here.
We believe that it will take some time before AI search becomes normalized and fully incorporated into every marketer's strategy.
2. Privacy concerns about the content of the conversations.
One thing is tracking users' search queries. Another one is monitoring their chatbot conversations, which may potentially contain private and personal data.
Once again, there is a trade-off between user privacy and user experience. The more extensive the tracking, the more valuable input can be provided to the AI, resulting in improved responses.
It remains to be seen how much of this data will be shared with advertisers.
Back to The Top or

---
Conclusions
In conclusion, the integration of AI and advertising opens up new possibilities for growth and success. Advertisers can harness the power of Google Ads intelligence and Google's AI tools to unlock valuable insights, streamline campaign management, and deliver personalized experiences.
But, the AI advertising journey has just begun, and we have only provided you with a glimpse of what lies ahead. It's easy to get lost into new features and announcements, but ironically, in the era of AI ads, getting the basics right is more crucial than ever.
Make sure you follow our suggestions, and you'll be set for success!