Multichannel selling is also helping retailers who see the disadvantage of retailing on just one platform. For example, retailers using just Amazon to sell their products often lose a lot of income if their account hits approval issues or more recently. It's a similar story when you're only relying on Google Shopping to bring in the sales - if your Google Merchant Center account gets suspended, you lose sales.
At this point, expanding to new sales channels, especially those with a well-established online presence is simply common sense.
---
So, What Exactly is Idealo?
Idealo lists pretty much anything - from airplane flights and fares to trainers, deep-fat fryers, E-Scooters, and garden furniture. It's a great site to use to find the most competitive prices on just about any product you can think of.
There is a useful and interesting magazine section where shoppers delve into products, trends, and social media strategies amongst many other topics. As a seller and a customer, this section is well worth keeping an eye on for ideas and testing the waters to see what the latest crazes are.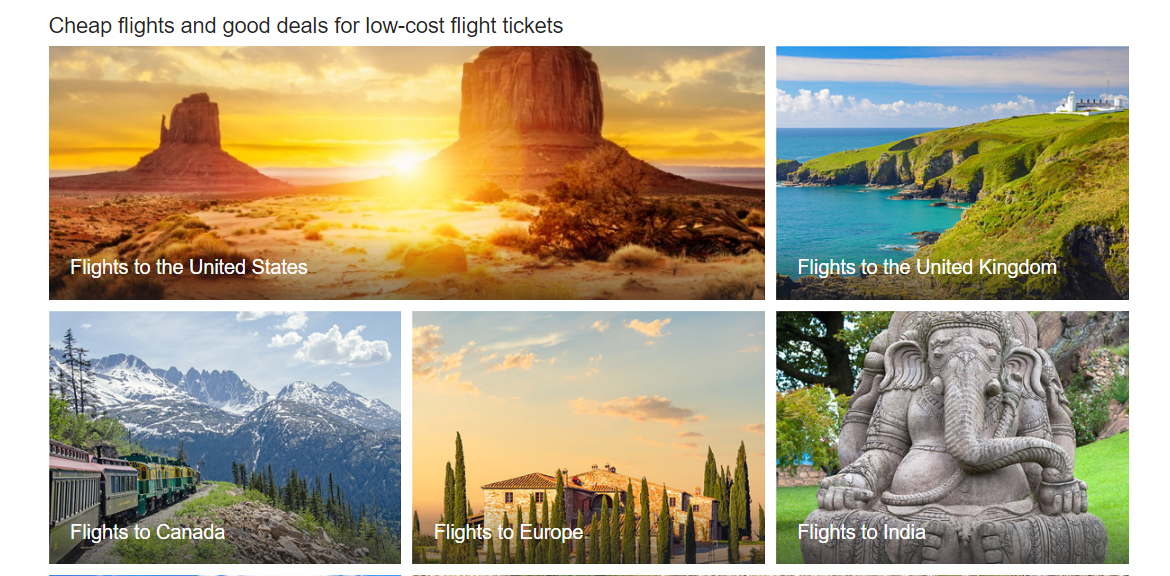 Tens of thousands of people visit Idealo a day and promoting your products on the price comparison site could be driving an average 42% more orders on your site.
Set up in Germany in 2000, Idealo is a price comparison site that allows its users to compare prices across a range of products from a variety of stores and then direct them to the relevant site and product page to purchase.
Show Me the Stats
Let's break down the statistics…
Over ten million monthly users
Idealo boasts over ten million monthly users from six different European countries (including the UK and Germany).
More than 50,000 shops currently use Idealo and as a result, there are more than 210 million products listed for comparison. Huge numbers make this platform a very interesting proposition for eCommerce businesses.
7% of registered users who have added products to their basket purchase
Did we mention that only 3% of users actually register? Arguably, that's a tiny number of users in comparison to the site's visitor numbers.
This isn't a massive issue for retailers who reap the advantages of showing their products to those looking for them. However, this does somewhat hinder personalization on the site due to the lack of information of each user.
3 visits before a purchase
The site does see a lot of drop-offs in sales due to the buying circle seeing an average of 3 visits on average before a user purchases. Referring to the point above, this creates a bit of a roadblock to bringing people back to the site with personalized emails.
Back to The Top or
---
Idealo Features & Benefits
Idealo really comes into its own when the customer features are considered.
User-friendly comparison engine
Customers can find the cheapest price easily (the cheapest price is always listed at the top of the 'Price Comparison' section).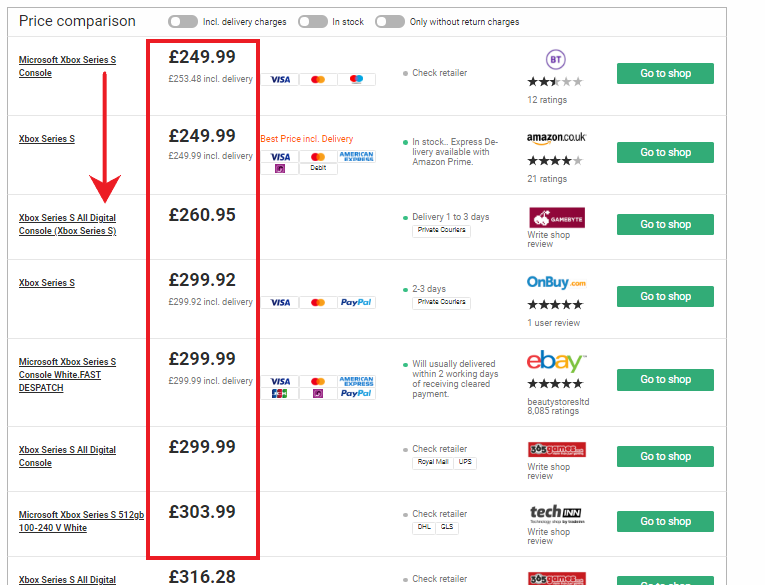 They can also search for the lowest price the product has ever been listed for using the handy
'Price History' function.

Price alerts for bargain hunters
The best of all (for those prepared to wait for the product they want) is Idealo's price alert feature. Idealo will email you when a product you're interested in hits a certain price! To get this kind of notification, users simply need to hit the 'Price Alert' link button. Easy!

That's a nice way to remind your potential customers about your products when you happen to run a sale in your store.


Filtering


It's also easy to filter search results to see whether the product is in stock, includes delivery prices, and to also see top 10 sellers based on similar products. It's very user-friendly and intuitive.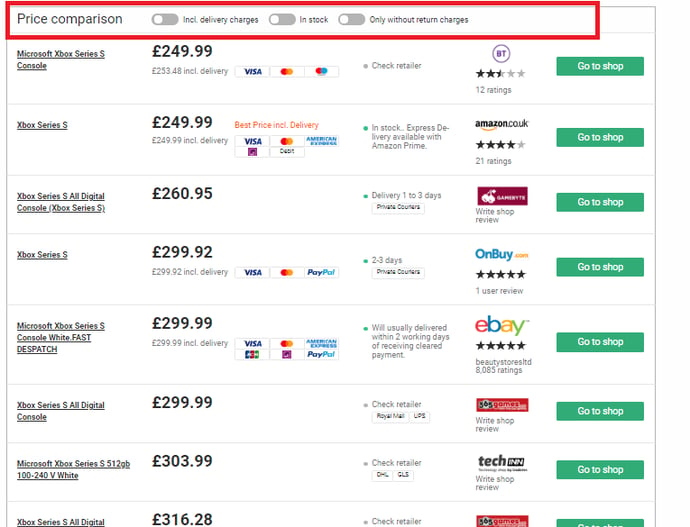 Reviews section


We all know the important role social proof plays in decision-making for online consumers. Idealo addressed it by including the reviews section. These are left by other customers and can help you make the purchase you want and ensure that both the product and the vendor are acting as they should be.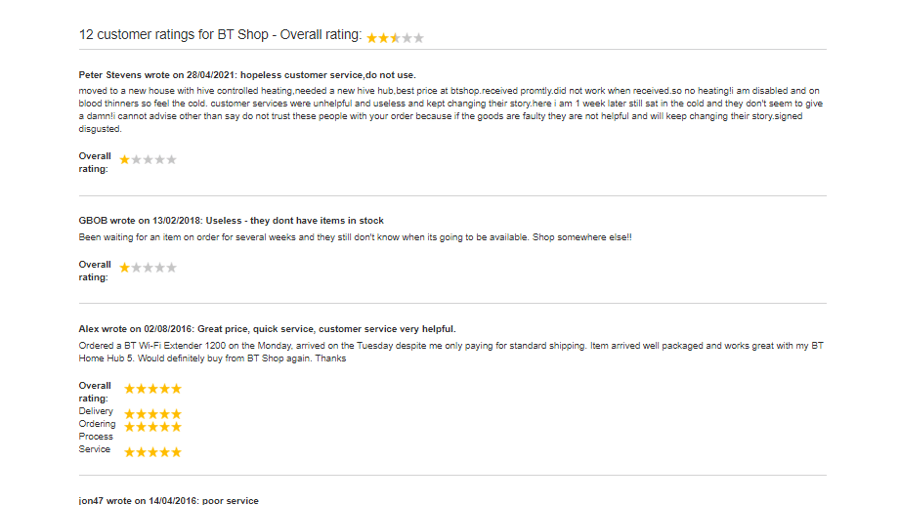 User ratings
Next is a great little feature to help top vendors and top products stand out. User ratings can help make choosing a store to buy from easy to do at a quick glance.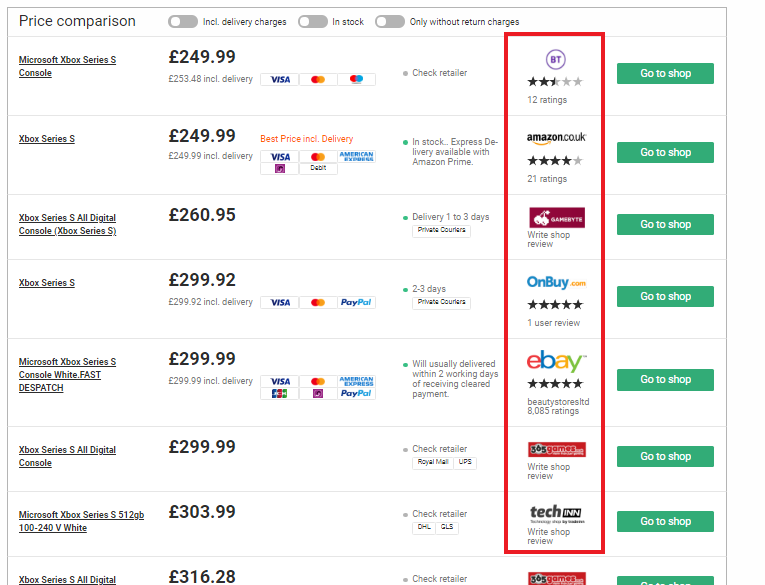 Simply look for the store in the 'All Stores' section of the website and you can select the most trusted companies in general or specific to a certain industry or product category.

Quality & accuracy assurance
Idealo also has a team of over 250 content curators. Their job is to ensure product information is accurate, honest, and current. So there is peace of mind for customers that all pricing and products are up-to-date and truly reflect the item listed.
No listing fees
Idealo doesn't make money from listing the products, there is no commission so any partners they have must offer the best prices the same as every other seller.
So how do they make money?
Idealo is funded solely through its own shops and works with partners on a PPC (pay per click) basis. Everyone using Idealo has the same opportunity to succeed, big or small.
Carbon Neutral business
One further nice point - in this day and age of climate concerns there's a push to retailers and society at large to prove their green credentials. Idealo is a listed Carbon Neutral business.
So you can get that warm, fuzzy feeling without adding to the climate crisis! Lovely!

As a vendor using Idealo there are some useful features that can help you best serve your customers.
Performance Pixel


The tracking performance pixel gives the vendor a full customer history of activity that lead to the sale (or not!).

If you are getting a high bounce rate (people arriving and then leaving immediately) then you can examine if something in your store put the customer off, such as incorrect pricing, hidden charges or fees, etc.
Support
Another advantage of the platform is a high
level of support from the Idealo team
. They act as your 1st line of support if customers have queries (although if they do go through to your online store then they will of course come to you).
They also analyse and optimise your product feed to make sure you are getting the best results from Idealo.
Back to The Top or
---
Getting Started on Idealo
How easy is it to get your e-commerce business listed on Idealo?
You will need to meet certain prerequisites to become a listed partner on Idealo.
The reason for the requirements is to ensure only high-quality, genuine vendors are listed.
You can start the journey here:
You'll Need:
A Shop with an online ordering system.
At least two payment options (one of which will need to be secure such as Paypal)
A physical address (this can be a warehouse, you don't have to have a physical shop)
Contact telephone number
Email address
URL for your online store
At least 6 months of trading
You must also:
Charge prices including VAT where applicable.
Be compliant with EU guarantees and rules.
Not be a solely B2B (business to business) retailer. Products are for sale to the general public so no trade membership type businesses can get listed.
Remember! Selling weapons, drugs, cigarettes, or animal fur on Idealo is forbidden.
How much will it cost me?
Idealo charges 0.24 £ per click in the UK. Pricing varies in different countries, but the list of costs for each country can be found HERE.
Some countries have different pricing depending on the category of goods you want to sell, so do check what pricing your products would attract based on the location of your physical premises.
The good news is that there is no contract term, no extra fees to pay, and no hidden charges.
Idealo works on the CPC (Cost per click) basis mentioned above. That's it! Given that they can send a huge amount of pre-qualified traffic to your site, selling on Idealo is a very inexpensive way to get those sales up using your own web store as your shop front.
In short - you do what you do best - sell your products! Let Idealo drive the traffic to you.
Back to The Top or
---
How to Upload Your Product Feed on Idealo
You can use .csv .txt or .xml files to upload your product feed on Idealo via your eCommerce system using an FTP or HTTP web server. You can also use zip files and password-protected files to ensure your upload is both quick and secure, which can come in handy.
You can use an API web service provided by Idealo that allows you to provide your offer information and product details in real-time. This service is addressed via HTTPS and uses the JSON exchange format. This is known as Idealo PWS 2.0.
A link to the required fields for your feed can be found HERE. The important information required to get your products listed include:
Product Group
Manufacturer Name
Product name
Product Description
Price (Inc. VAT)
Discount Price (Inc. VAT)
Delivery Time
Cash in Advance/Credit Card - at least one payment type
Part Number
URL to your product page
URL to image
Attributes (size, colour etc)
EAN/GTIN/Barcode
Energy Efficiency Rating (If applicable)
Quantity (for multipacks)
You'll need to update your feed several times per day to ensure your prices and availability are current (unless using API). This helps prevent customer disappointment in the event of overselling or price changes once they access your web store via Idealo.
Back to The Top or
---
Optimisation Tips to Ace Selling on Idealo
#1 Keep your prices and Product information up-to-date
Incorrect pricing is hugely frustrating to the customer. Be sure to keep your product feed up-to-date. It goes without saying that your prices need to be very keen and competitive (why else would you bother using Idealo?)
Idealo is hugely competitive by nature, so be sure to take advantage and keep your feed fresh at all times!
#2 Use more Images
Using more than one image in your feed can make a big difference in converting a browser into a buyer.
People like to see multiple angles and like to see lots of product details in images. More high-quality images make a sale more likely.
#3 Make the Most of the Product Description Field
This goes for any product listed on any platform, but is especially important with Idealo.
You have 1000 characters of space. Use it to describe your product in detail (including specs, etc.).
Don't leave empty space in the middle of the description or use signs, odd characters, or emoticons as these can be flagged by the Idealo curators and disapproved. Also, they look terribly unprofessional in the eyes of your customers.
Good quality, descriptive information that informs the customer and allays any fears or uncertainty is vital. Always write your product information from the point of view of your customers. Think just like them:
What are they looking for?
What are common questions they might ask?
Would you understand the product from your description if YOU were the customer looking for the first time?
Use the description field wisely and watch the sales come rolling in!
#4 Include variations in your feed
For example, if you're selling a product that is available in multiple colours, Idealo will read each of these as separate products. Separating this out in your feed will help your products show up for the most relevant searches.
#5 Export your feed regularly
You probably already know this, one of the biggest bounce rate and conversion drop-off causes is advertising a product with inaccurate information.
For example, leading customers to a page that displays different information such as increased prices from the advertised will not only cause people to leave without purchasing but will also negatively impact your customers.
Making sure your feed is up to date and exported regularly (up to several times a day is ideal) will help ensure all the information you are giving Idealo is accurate at the time the customer views the product.
Back to The Top or
---
Conclusion
Idealo is a fantastic way to get your business in front of some seriously large numbers of customers. By using their price comparison gravitas and pull to get customers interested, it is up to you to make it work when they get there.
Don't forget to keep your pricing and feed updated daily and there is scope for huge success for your webstore.
The Cost-Per-Click model essentially acts in a similar way to paying for marketing via Google or Bing but on a platform where the customers are 'warm' leads. This means that they have been actively seeking the best price for your product and are eager to purchase.
The pricing model also means that there is no fee to pay until traffic is driven to your site, making this a no-brainer really.
Can you afford NOT to be on Idealo?
That's the question best asked when considering the platform.
With no contract or base fees, you won't be left short if your products aren't quite getting attention, allowing you time to examine your web store or product feed details to spot opportunities to improve.
The curation method of support is fantastic as it encourages high-quality product lists and issues are quickly addressed.
Idealo has made it their mission to make a compelling and very useful platform to bring the best prices and best vendors to the fore, based on a pricing system that only charges for success in sending customers to your site.
The model Idealo uses is very intuitive and easy to use for both seller and buyer, and is growing quickly every year, making this a platform you can't afford to miss out on.
Grow Your eCommerce Store by Expanding to New Channels:
Wish.com

for Merchants

- A-Z Seller Guide