Table of Contents
Fashion eCommerce Overview
Best practices for apparel sellers
Optimizing and improving sales
Summary
Return to top of page or Supercharge your Data Feed with our ebook
---
Fashion ecommerce general overview
Numbers to understand the market
More people than ever are using online retailers for their fashion purchases. The amount of revenue being created by those people has allowed businesses to grow and is now integral to their success.
Statistics show that e-commerce is now an essential tool for the fashion industry. In 2018, the industry generated a worldwide revenue of $481 billion. In 2019, that statistic rose higher to $545 billion and is projected to rise further to $713 billion by 2022.
The constant rise in revenue generated is partially down to the rise in potential consumers. The number of consumers is expected to increase by a further 1.2 billion by 2020, with most of those new buyers being aged between 16-35 years of age.
Fashion ecommerce is helped by growth in several sections of clothing. And whilst growth is slowing in many of them, the projections are still positive.
The strongest of those sections is the accessories and bags sector, which grew by a huge 15.6% in 2018 and is projected to still grow by 8.7% by 2022.
Here are a few other statistics of note that have contributed to the growth of ecommerce in the fashion industry:
43% of purchases are made after personalised recommendations (via advertisements)
75% of consumers brands to personalise messages, offers, and products
China was the most free-spending nation in 2019, spending $740 billion on ecommerce. That is $179 billion more than was spent in the USA (the second largest market).
77% of people in South Korea made an online fashion purchase in 2019. That is the most of any nation.
Characteristics of the industry
Fashion ecommerce is showcased by a range of characteristics. These include:
Presentation – The design of any ecommerce website is its lifeblood. It not only has to be easy to read and use, but it also needs to stand out.

Service that excels – Many of the best online retailers use promotions and customer service together. By intertwining them, it binds customers to the brand and creates long lasting brand loyalty.

Loyalty schemes – The clearest way to build brand loyalty. Reward customers who return again and again. Loyalty schemes are showcased across almost any ecommerce-based business.

Alternative marketplaces – Whether this is via eBay, Facebook marketplace, Amazon, Bol or elsewhere, the biggest brands tend to offer other ways to buy their products.

Live chat – An easy way for customers with queries to get in touch.

Automation – The entire process can be done without conversation with another person. Just a few clicks and purchases are made

.
What are fashion shoppers looking for?
Online shopping offers fashion shoppers a new world of opportunity and they are looking to get the most from that. Whether that is from personalising items or gliding through a simple interface on mobile devices, buyers are influenced by a wide range of factors that lead them to prefer the online experience.
Personalization: online shoppers
Online shoppers tend to regard personalised offers highly. Many customers will shop around for the best deal. However, if there is a deal tailored specifically to the person, for example a birthday discount; then the customer will more than likely use that store.
Personalised products have a similar effect with drawing customers away from the competition by offering unique products.
Reviews: building long lasting trust
Over 98% of fashion buyers also stated the importance of reviews. This was down to customers wanting to get an honest perspective of the product they are considering buying. However, reviews were deemed less important when buying through trusted e-retailers with strong return policies.
Customized results: great filtering systems
Finally, fashion shoppers also tend to demand to quickly find the product they want. An easy and effective filter system also contributes to an online shops interface.
The best filtering allows customers to easily access other areas of an online fashion retailer (for example 'striped shirts > blue striped shirts'). This allows customers to find similar products to the ones they searched for, whilst enjoying their browsing experience. Fashion shoppers may also use a variety of channels to filter for themselves.
A great example of how important tailoring becomes among online shoppers is the Facebook Marketplace. It offers customized results and it's increasing 77% every month. And this is only one of many relevant examples.
Return to top of page or Supercharge your Data Feed with our ebook
---
Best practices for apparel sellers
Social media presence
Getting the right social media presence is vital. Each platform has its own pros and cons, whilst some platforms may suit some brands a little better.
With fashion ecommerce, Instagram is the most influential platform, with apparel brands averaging 13.71 interactions per 1000 followers.
This is far higher than the next best platforms which are LinkedIn at 1.12 interactions per 1000 and Pinterest at 0.49. Instagram's simplistic design draws attention to photos.
This allows fashion retailers to market their products on their primary functions, design and appearance.
The most common promotional practice on Instagram is the partnership with influencers. Sometimes influencers can be celebrities.
However, fashion brands tend to use lesser known influencers, with high amounts of followers. The aim of this is bridge the gap between the brand and potential customers and have someone easily relatable to promote the brands produce.
Most brands will utilize several other social media platforms alongside Instagram. They usually consist of Pinterest, Facebook, Twitter and Snapchat. If you're interested in how you can increase revenue with Snapchat, check out this case study: Scaling Snapchat Revenue by 86% with 10x ROAS.
Each of these platforms has distinct advantages but in the case of the fashion industry, they are usually used alongside Instagram or one another to drive engagement.
Facebook's advantage is that it allows online fashion stores to target specific demographics with advertisements. This means that the consumers seeing the adverts are more likely to be interested in what they are seeing.
Facebook is not only the most accurate social media for targeted demographics, it is also the most popular one, with 2.38 billion active users.
The sheer quantity of Facebook users means that brands can get more out of an advertisement on Facebook than anywhere else. However, on the downside, Facebook advertising might be intrusive at times and can be dismissed by users.
Twitter also reaches out to users through campaigns using demographic and geographic targeting, just like Facebook. However, the advantage of Twitter is that adverts are in stream rather than to the side.
That means whenever users scroll through their feed or trends, they will see advertising. This allows fashion brands to get an increased response to advertising but also understand who isn't interested in their advert.
It also means brands can easily drive engagement with polls that most users will participate in, unlike on other platforms where they may be ignored.
When used correctly, all social media can be very useful to apparel brands. It can help to drive engagement, gather data on consumers and build long lasting brand loyalty. All of this helps to contribute to building the brand for the better in the short and long term.
Behind the scenes there is the importance of the quality of the data retailers deliver to those platforms. When optimized data feed bring much higher chances to capture the attention of the buyer as the ads are better matched with the user's interests etc.
To dive deeper into that, read more about top optimization tricks for Facebook advertising.
Website appearance
Website appearance is one of the most important things for any online business. It is the first thing customers see and judge a brand on.
A poorly designed website could lead to lower sales and customers who do not return. For those reasons, online fashion stores put a lot of thought into their online appearance. Some of the most important areas to focus on for a successful ecommerce website are:
A simple easy to navigate homepage
A sleek design with products and the brand as the main focus (no flashing lights or distractions)
Clear and concise information on the main areas of business (delivery process, types of produce etc)
Clear color scheme – should relate to the brand
The website should be efficient and fast – it can look amazing but if it takes an age to load on certain platforms customers will give up and take their money elsewhere.
Best ways to communicate with customers
Ecommerce businesses have a few options available when it comes to communication with their customers. These include:
Live Chat – A fast and simple way to talk to customers via the website. Good for solving simple issues fast during working hours.
Email – Best for updating customers about orders and keeping them up to date with the latest promotion and fashion. Queries can also be answered but slower than Live Chat.
Phone – Good for solving issues fast and more personal than Live Chat.
Social Media – By becoming a part of buyers daily social life and gaining their trust you may win a relationship in the long run. This is fast and personal way of communicating with customers and resolving any issues. Thanks to familiarity built with social media presence you can announce promotions as well as new releases.

The most effective ways to boost sales
Of all the ways of increasing online sales in the fashion sector one of the most effective would be to be targeting existing loyal customers.
Offering regular personalised promotions will ensure customers keep coming back to the same brand for products. Common ways of achieving this are loyalty schemes, birthday discounts and even newsletters highlighting new features.
Another way to boost sales from loyal customers is by making their shopping easier. This can be done by making the store more accessible on other platforms, for example apps.
Alternatively, easier and increased payment options have been proven to have a positive effect on sales.
Additionally, you could appeal to your customers by offering stock that relates to current affairs. ASOS recently increased sales from both pre-existing and new customers, simply by introducing an environmentally friendly range of their own produce.
By being one of the first online stores to introduce this feature, the brand ensured many customers will stay loyal to them whilst new customers will look to the store first for environmentally friendly products.
Expanding your reach to sell across more channels and going global are the most common ways to increase sales of your existing products. Try to expand your market reach and go multichannel.
Expanding to different geographies and cultural groups will expose your products to new audience.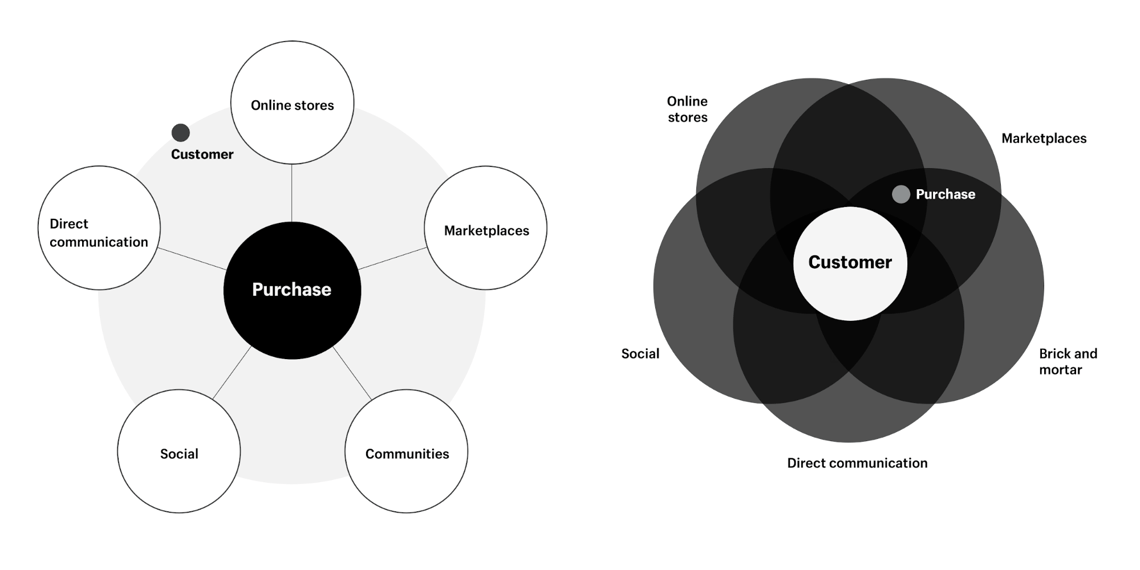 Graph: omnichannel vs. multichannel
Return to top of page
or Supercharge your Data Feed with our ebook
---
Optimizing and improving sales
Channels to sell on
If you are aiming to sell online on a wide scale, you will be selling on a variety of channels.
The best channels to sell fashion to currently utilise if you are in the fashion and apparel industry are:
Google shopping – Google is usually the primary place people search and therefore a great choice. Check out how to improve customer conversion with Google Shopping.
Amazon Marketplace – A popular choice with a wide range of high-quality products. One of the first places many people will look. Amazon also suggests products based on past purchases and viewed products. Here are some pros and cons of selling on Amazon.
Facebook Marketplace – Facebook tailors products shown to what users like or show interest in. Therefore you are more likely to hit your target demographic.
Instagram – a good option for online fashion stores due to its targeting and focus on product images.
EBAY – another common first choice when people are looking for apparel which again tailors products shown to what you have viewed or purchased.
Local websites – Even if you aim to go global, local is never a bad place to start.
The importance of feed quality
Data feeds are vital when selling apparel on multiple channels. Therefore it is important to have a high-quality data feed. A good feed is essential as it gives you an advantage over the competition.
Advantages of a good quality feed include:
All product information is consistent and stored in one place. This makes it easier to use the information and helps to ensure information on every marketplace is up to date
An effective feed will lead more people into seeing your product and increase general visibility over all the channels.
Feeds are a simple and easy way to manage all the information
New customers can be acquired, as well as current customers maintained with the data collected.
If optimized correctly, a data feed can vastly improve sales. Accurate product descriptions with appropriate and well-placed keywords can lead to a product being shown higher and more frequently in marketplaces.
Effective SEO management and interpretation of the data provided will ensure you get the most out of your data feed.
Return to top of page
or Supercharge your Data Feed with our ebook
---
Summary
The world of eCommerce is developing at a staggering rate and keeping on top of information has never been more important. It is clear data is the best way to gain an understanding of what customers want.
But it is equally important to utilize it to maintain the current loyal customers.
As eCommerce continues to develop, competition will continue to grow between retailers. The ones that thrive will be the ones managing information in the best way.
You may also find interesting: