Google Shopping ads are without any doubts a powerful tool for retailers looking to enhance their online visibility and boost sales. With the potential to showcase products directly in search results, these ads offer a prime opportunity to capture the attention of potential customers.
However, achieving success with Google Shopping campaigns sometimes requires more than just setting up ads and hoping for the best. It's the number one channel for almost all online retailers, as revealed in Multichannel Marketing Report in 2023, and the competition is huge. It demands a strategic approach, creative thinking, and a commitment to continuous improvement.
In this article, we'll dive into the world of Google Shopping campaigns and present you with ten outstanding examples of what different brands have done to achieve remarkable success. From meticulous campaign segmentation to feed optimization, leveraging customer reviews, and presenting high-quality images, these brands have demonstrated the art of turning clicks into conversions.
So, let's not waste time and explore our online retail advertising examples!
Power of shopping ads for eCommerce
A Google Shopping ad, also known as a Product Listing Ad (PLA), is a type of online advertising format provided by Google. These ads are designed specifically for retail businesses and e-commerce websites to promote their products directly within Google's search results.
Google Shopping ads are highly visual and display key product information such as the product image, title, price, and store name. Additionally, in your ad you can include other attributes like, promotional price or reviews, and more to increase conversions.
Google Shopping Ads appear at the top of the page, prioritizing them over organic or paid search results. This means they are the first thing you encounter when conducting a search.
How do Google Shopping ads work?
Retailers create a product data feed that contains information about their products, including attributes like product name, description, price, availability, and more. This feed is then uploaded to Google Merchant Center, which is a platform for managing and organizing product data.
In Google Shopping Ads, each ad is created for a specific product based on information about it included in your product feed. You don't bid on keywords like you do with Google Display and Search Ads.
As of 2023, competition on Google Shopping for most product categories is huge. This is why you shouldn't approach Google Shopping Ads campaigns without careful preparation. Running a successful Google Shopping Ad Campaign involves several important steps
Product feed optimization
Choosing the right bidding strategy
Structuring the campaign properly
Adding social proof
And more!
Let's examine some excellent Google Shopping ads examples you can learn from and then explore in detail how to effectively manage your campaign.
---
Google Shopping ads examples - Apparel
Many clothing brands have harnessed the power of Google Shopping ads to showcase their products and capture the attention of online shoppers. In this section, we'll explore notable paid search advertising examples in the apparel industry, delving into effective strategies and innovative approaches
1. Ecco
ECCO is a Danish footwear brand known for its high-quality shoes, boots, sandals, and other footwear products. The company relies primarily on revenue generated from its physical store in Oxford and its online e-commerce platform.
The footwear industry is challenging to break into, dominated as it is by major players such as Reebok, New Balance, Adidas and Nike who have a significant market share.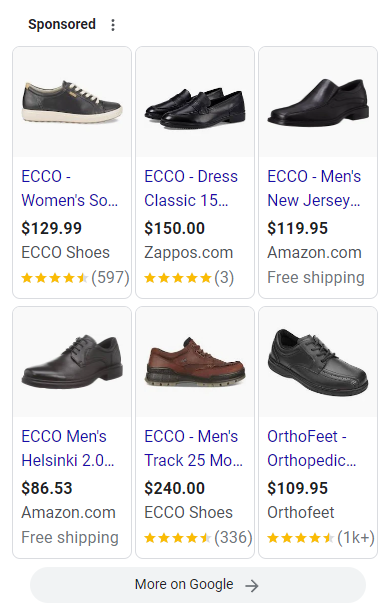 Feed creation and optimization
The challenge ECCO faced was an unusually high cost for acquiring new customers, which eroded their profit margin.
To address this, ECCO Oxford allocated a portion of their marketing budget to invest in Google Shopping ads, enabling them to develop a targeted marketing strategy.
They began by researching the products and product details on the ECCO Oxford website. With this information in hand, they formulated a targeting strategy and figured out how to refine and organize the product range. Based on that they created a product feed and dedicated significant time to optimize it.
A product feed is a structured file that contains information about a merchant's products. It is a fundamental component of online marketing and e-commerce, particularly for advertising on platforms like Google Shopping and others (e.g. Amazon, Facebook).
A product feed typically includes essential details about each product, such as: product title, description, brand, price, availability, images, SKU, Category, URL, Variants. It holds the most significant influence on campaign performance. That's why it's so crucial to have your feed optimized
Tips to consider:
Use a feed optimization software to make optimization easier - here's how you

choose the best one

.
Include relevant and high-volume keywords in your product titles and descriptions
Example of product title optimization | DataFeedWatch
Add as many information (attributes) about your product as you can
Include URLs to high-quality images
Precise Google Shopping campaign targeting
To effectively compete with this huge competition, ECCO Oxford had to ensure precise targeting in its advertising efforts, ensuring that its ads reached the appropriate audience.
They concentrated their targeting efforts on identifying the most cost-effective sources of traffic. They tested different targeting methods until they found the one that worked best for them.
When it comes to targeting Google Shopping ads, you have the option to focus on new visitors who show search behavior similar to that of your current customers (similar audiences). You can also upload promotional email lists and existing customer data to Google Ads and target these individuals (customer match targeting). Finally, you can adjust bid percentages based on a customer's location and customize region targeting with performance goals (geotargeting).
Updating product offer regularly
It's important to note that once the plan was implemented, it required ongoing maintenance. This wasn't a "set and forget" approach.
ECCO's marketing activities had to continually adapt to accommodate changes in their product lineup. They regularly updated their product selection to align with seasonal and fashion trends.
Results
Through this strategy, ECCO achieved the following results:
Increased new website visits by 24%.
Reduced the CPC by 14%.
Improved the overall conversion rate to 28%.
Raised the average order value by 38%.
2. Buttercloth
Buttercloth is a clothing brand known for producing men's shirts that are designed to be exceptionally comfortable while maintaining a stylish and professional appearance. Buttercloth shirts are reputed for their use of high-quality, breathable fabrics that provide a soft and flexible feel.
Buttercloth has achieved impressive results in Google Shopping by employing a well-thought-out strategy. Let's see, how they did it: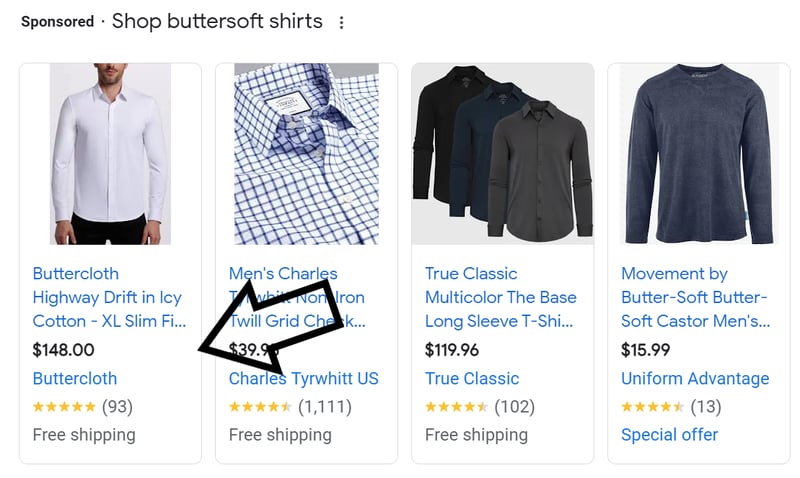 Creating a separate Google Shopping campaign (campaign segmentation)
The agency MuteSix, that Buttercloth hired, created a separate Google Shopping campaign to promote the release of a new collection.
The primary goal of campaign segmentation is to prevent your advertising budget from being wasted on irrelevant searches. By segmenting your campaigns, you gain more control over how you allocate your budget, set bids, and optimize performance for different kinds and groups of products.
You can set specific bids for different product groups based on their performance, profitability, or strategic importance. This helps ensure that you're bidding appropriately for each product, maximizing your return on ad spend.
Campaign segmentation allowed Buttercloth to increase their advertising budget and emphasize recently introduced potential of the top-selling products.
Managing inventory can be challenging in the apparel industry, particularly when popular items are selling rapidly online. Therefore, the focus was placed on displaying ads exclusively for new and highly popular shirts that had sufficient stock available.
Getting customer reviews
The higher the overall quality of your reviews, the greater their influence on the choices of potential buyers. People come in various body shapes and sizes. In the Apparel industry, it's crucial to allow customers to view your products on regular individuals to understand how they fit.
Buttercloth introduced a tiered rewards system to encourage customers to share their feedback on their products and inspire them to include pictures and videos. This approach helped them gather more reviews and enhance their overall quality.
Results
This approach yielded positive results in Buttercloth's Launch Collection campaign, which, in comparison to their Main Shopping campaign, achieved:
1.25% click-through rate (compared to 0.8%)
7% reduction in cost per acquisition
8% higher return on ad spend
3. Boden
Boden is a popular British clothing retailer known for its stylish and colorful clothing collections for men, women, and children. Boden's clothing is often characterized by vibrant prints, classic designs, and a focus on quality and comfort.
It utilizes Google Shopping ads to visually showcase and promote its products. Given the intense competition within this segment of search results, it's crucial for the brand to craft attention-grabbing ads.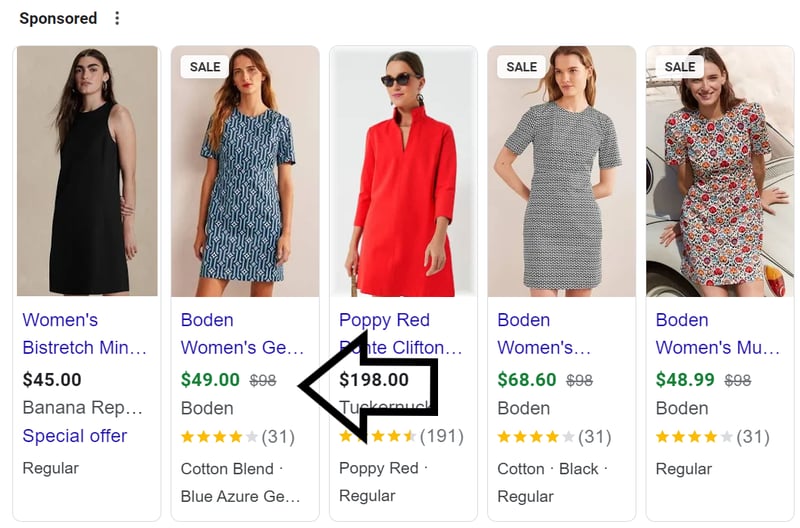 Using promotion labels
Boden effectively showcases discounts in its ads, making it easy for shoppers to see the savings they could enjoy. They use sale price annotations for it.
These labels are like signs in the ad. They show the original price with a line through it and the new, lower price right next to it. Showing a special sale with an instant percentage off immediately caught the attention of Boden's viewers and helped their ads stand out in a sea of competitors.
To make Sale price annotations work, Boden had to configure certain details in their product feed. First, they provided the regular prices for all your products using the required [Price] attribute. Then they included the discounted price using the extra [Sale_price] attribute to reduce the price of certain items and offer discounts on them.
Google offers various annotation options. In addition to sales annotations, you can for example also leverage shipping and return/refund policies annotations to provide transparency and build trust with shoppers. By offering these extra incentives and information, you not only increase your chances of winning more impressions and clicks but also improve your ad rank, ultimately driving more conversions and revenue for your e-commerce business.
Adding high-quality images
Boden's ads stand out from other search results by presenting the products in a clear way and from a unique angle.
The quality of your product images is crucial when it comes to a customer's decision to buy something through Google Shopping. Having bad-quality images can significantly reduce the quality of your product feed and negatively impact your overall Google Shopping campaign performance.
That's why Boden always adds multiple images of their products, and they're always of the best quality.
Incorporating Google ratings
Reviews and ratings play a vital role in influencing purchasing decisions. By including star ratings alongside the number of reviews, Boden gained a competitive advantage. Additionally, the visual appeal of the star ratings helps the ads stand out further.
---
Google Shopping ads examples - Home & Garden
From elegant furniture and decorations to beautiful garden accessories, the Home & Garden industry has found success on Google Shopping. It's a top online channel for retailers in this sector.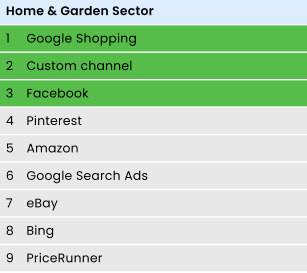 Source: Multichannel Marketing Report 2023
In this section, you'll learn inspiring stories of Google Shopping ads, including smart shopping ad examples (today's Performance Max), within the Home & Garden sector, uncovering tactics that have led to increased visibility and sales
4. DW Candles
DW Candles is a brand known for producing scented candles and related home fragrance products. They offer a wide range of candle varieties, including jar candles, votive candles, pillar candles, and more, each infused with various scents to create a pleasant ambiance in homes.
They use Google Shopping to increase their reach.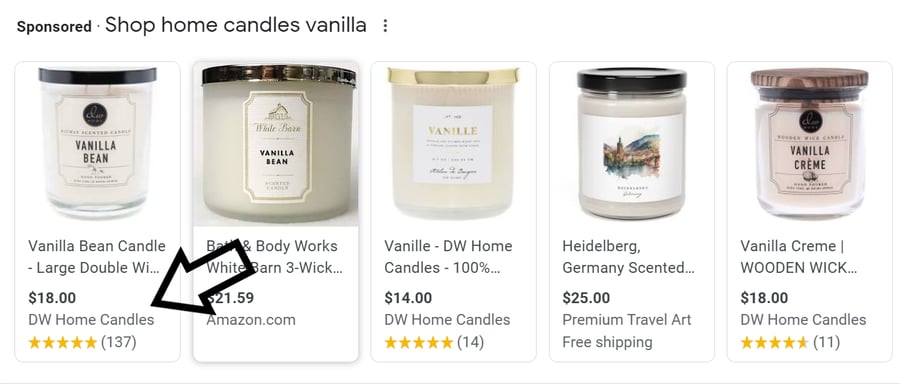 Stuffing product titles with relevant keywords
The candle industry is highly seasonal, with fall being a peak purchasing season. Therefore, using relevant keywords in Google Shopping titles during specific seasons is a well-timed strategy.
MuteSix, which is DW Home's agency, improved their client's visibility through adding relevant keywords to their product titles. They used search terms like "best smelling candles," "crackling candles," "fall candles," and "wooden wick candles" to attract potential customers.
They also targeted specific candle characteristics like "crackling" and "wooden wick." This approach helped them connect with users who had a clear intent to purchase a particular type of candle.
In addition to emphasizing scents and characteristics, MuteSix embarked on a strategy to experiment with completely fresh product titles that emphasize unique selling points, setting DW Home Candles apart from competitors. For instance, DW Candles proudly adhere to a 100% vegan and cruelty-free, lead-free ethos. The team incorporated these aspects into the product titles to underscore the brand's distinctive features
Campaign segmentation
The agency decided to break down DW Home's Smart Shopping (today's Performance Max) campaigns into segments, and one such segment was dedicated to 'low-performing' products. These were items that didn't receive as much visibility in Shopping ads when compared to their best-selling products. By creating this specific campaign, the brand was able to give more attention to less-popular products by bidding higher on them, ultimately leading to an improvement in their performance.
Campaign segmentation can be especially useful for businesses with seasonal products or promotions. It allows you to easily create and manage campaigns tailored to specific events, holidays, or sales periods.
Results
In contrast to their main shopping campaign, this particular segment achieved notable success, boasting:
1.08% click-through rate (compared to 0.53%)
15% reduction in cost per acquisition
45% higher return on ad spend (ROAS)
5. Paper Culture
Paper Culture is a company specializing in eco-friendly and personalized stationery and paper products. They are known for their unique and environmentally conscious approach to creating a variety of paper goods, including: Greeting Cards, Wedding Invitations, Birth Announcements, Holiday Cards, Business Cards.
Paper Culture is an eco-conscious company dedicated to environmental sustainability. They take pride in offering products made entirely from 100% post-consumer recycled materials.
One of the most significant challenges of Paper Culture as a small business is the absence of a brand presence comparable to their larger competitors. To address this, Paper Culture turned to Google Shopping Ads as a complement to their existing Google Ads campaign.

Adding high-quality images
Google Shopping allowed Paper Culture to convey their narrative by showcasing their distinctive product designs directly within Google search results.The brand successfully merged Google Shopping's visually engaging approach with a focus on understanding customer intent.
A diverse range of high-quality images are integral to the success of Google Shopping campaigns. They improve the overall shopping experience, enhance your brand's credibility, and can lead to conversions, and customer satisfaction.
Google's algorithms may use image quality as a factor in determining ad placement and relevance. Well-optimized product images often mean higher ad rankings and visibility in search results.
Precise targeting
Through precise targeting like targeting specific geographic locations, creating audience segments, incorporating additional relevant keywords into their product titles, Paper Culture made certain that their message reached prospects who were genuinely interested.
When considering how to target your Google Shopping ads, you can choose to concentrate on fresh website visitors who exhibit search patterns resembling those of your present clients (similar audience). You also have the ability to import promotional email lists and current customer information into Google Ads and direct your efforts towards these specific individuals (customer match). Lastly, you can target customers on a specific location (geotargeting).
Results
This is what Paper Culture achieved:
threefold increase in their return on investment (ROI) when compared to alternative marketing channels
reduction of up to 50% in their cost per lead.
---
Google Shopping ads examples - Food & Beverage
The Food & Beverages industry has also discovered effective ways to captivate consumers through Google Shopping ads. In this section, we explore compelling retail advertising examples from the Google Shopping platform in the Food & Beverage sector and highlight effective strategies that have increased visibility and sales in this delicious market.
6. Bev
Bev is a beverage company known for producing canned wine. Bev has gained attention for its innovative approach to wine packaging and marketing, particularly targeting a younger and more diverse demographic of wine consumers.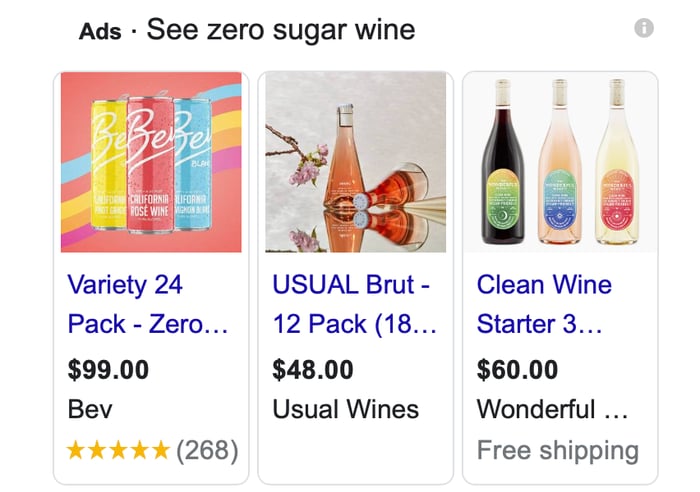 Keyword research/ Adding relevant search terms to titles
Bev made Google Keyword targeting its top priority. To promote their innovative sugar-free wine brand, they identified high-volume search queries such as "low carb wine", "best canned wine 2023" or "zero sugar wine". These selected keywords were centered around user intent.
Each of these keywords sets Bev apart from its numerous competitors by emphasizing its status as a healthier alternative.
Bev and agency MuteSix included these keywords in the product titles to help their ads appear to the right audience.
Product image optimization
Bev went beyond basic optimization efforts by experimenting with fresh product visuals. They chose vibrant, attention-grabbing product images instead of the typical plain white background commonly seen online.
Customers usually make product decisions based on the following criteria in this order of priority:
Image
Price
Title
Bev took a great step. Their focus was on capturing their specialized audience and ensuring their drinks not only stood out, but became exceptionally hard to miss. Their Google Shopping campaign was a huge success.
Getting product reviews
Bev understood the importance of displaying customer reviews for their products. First they ensured their reviews align with Google's Product Ratings program policies.
Then, they configured auto-publish settings to only display reviews that have ratings equal to or greater than four, originate from verified buyers, lack media attachments, and have a positive tone.
The large number of reviews attracted even more customers.
---
Google Shopping ads examples - Health & Beauty
The Health & Beauty sector is experiencing a big boost in online sales, for example on TikTok. Still, Google Shopping is a number one channel for this product category.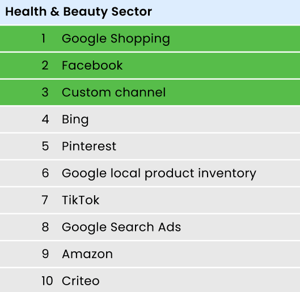 Source: Multichannel Marketing Report 2023
In this section, we'll show real-world examples of how companies have leveraged the Google Shopping platform to shine a spotlight on their Health and Beauty products, and how their strategies can inspire success in this vibrant industry.
7. Moon Juice
Moon Juice is a wellness brand known for its unique and innovative approach to health and nutrition. Moon Juice specializes in creating products that incorporate adaptogenic herbs, superfoods, and other natural ingredients believed to promote health and well-being.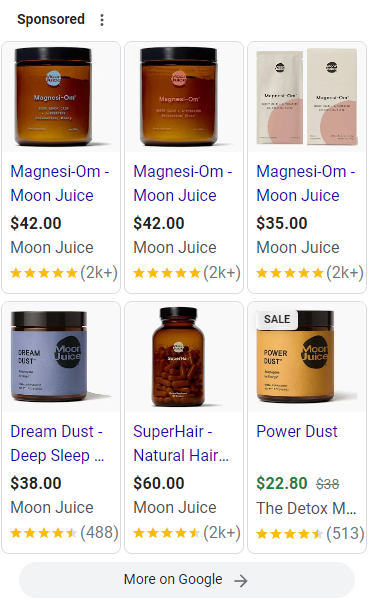 Campaign segmentation
The key factor contributing to Moon Juice's success was dividing their Shopping campaigns based on product collections. This approach ensured a more even distribution of exposure across Moon Juice's range of products, preventing one or two items from consuming the entire campaign budget.
Campaign segmentation can be easily done with custom labels. Using custom labels, you can divide your products within a shopping campaign according to any criteria you define, including based on collections.
Getting customer reviews
Regularly updating your reviews each month is important to maintain the relevance of your product feed to Google's algorithms. Moon Juice implemented an automated post-purchase review request email sequence to consistently gather customer reviews for display alongside product listing ads. To achieve optimal results, it is crucial to determine the ideal timing for sending these request emails.
Results
In total, Moon Juice's shopping campaign harnessed the potential of Google Shopping by segmenting their campaign, incorporating product reviews, as well as creating compelling titles and captivating images. Consequently, the brand experienced impressive growth:
120% increase in ad spend
184% rise in purchases
164% surge in revenue
18% improvement in return on ad spend (ROAS)
8. Spongellé
Spongellé is a vibrant collection of bodywash-infused body buffers designed like floral bouquets. These buffers create a foamy lather enriched with exotic extracts, luxurious moisturizers, and mild cleansers.
Title optimization
The agency MuteSix, which Spongellé worked with, tested exact match keywords related to Spongellé's products. After they managed to achieve the ideal Cost Per Acquisition, they expanded their efforts within each segment by incorporating a broader range of keyword variations. They then used this data to enhance the titles within the Shopping campaign feed, aiming to rank for these highly relevant keywords on both Shopping and Search.
The idea is to perform tests with the most prominent product attributes by using them as keywords. By incorporating them into your product titles for Google Shopping campaigns and testing them, you can identify the keywords that generate the highest conversion rates.
Campaign segmentation
Subsequently, Spongellé categorized their products according to different target Return on Ad Spend (ROAS) goals. This approach allowed them to allocate more budget to high-performing products and gradually increase spending on products that might underperform.
Google ratings visible
Spongellé understood that social proof is important these days. To enhance their Google strategy even further, Spongellé started showcasing their organic product listings with Google rich snippets. When a product listing appeared in the organic search results on Google, a third-party review partner's star ratings and review information was included below the product listing. This rendered Spongellé's products more attention-grabbing compared to regular search results, ultimately resulting in an increased click-through rate (CTR) for organic listings.
Results
By implementing these strategies, Spongellé and their agency achieved remarkable outcomes. When comparing the shopping performance over a 60-day period to the same 60 days in the previous year, they observed a significant increase:
+191% in Return on Ad Spend (ROAS)
200% growth in revenue.
---
Google Shopping ads examples - Other categories
Other industries have also had success with Google Shopping campaigns. In this section, we explore examples of Google Shopping ads in sectors such as furniture, travel, etc. Depending on the type of product being advertised, the strategy can be both similar to other sectors and very different.
9. Argos
Argos is a British catalog and online retailer that offers a wide range of products, including electronics, home and garden items, furniture, toys, clothing, and more. Argos is known for its catalog-based shopping system, where customers can browse products in a physical catalog, order them through in-store kiosks, or purchase them online for home delivery or in-store pickup.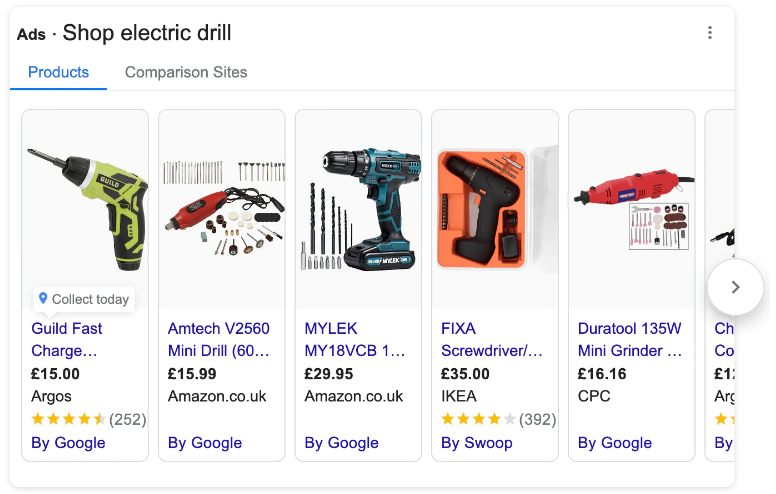 Stuffing product titles with relevant keywords
Argos employs Google Shopping as a means to advertise their extensive product catalog, strategically focusing on particular keywords included in the product titles to attract shoppers actively seeking to make a purchase.
Incorporating Google rating
The part of Argos' strategy is getting reviews from happy customers. The nearly full star rating fosters confidence and trust in the brand, especially among shoppers who may not have previously made a purchase from it.
"Collect today" option available
Argos seamlessly connects the online and offline channel through its ads, emphasizing its "collect today" service. This means that customers can obtain their selected product within a few hours. This ad holds significant appeal for consumers who urgently require a drill, for example.
10. TravelSmith Outfitters
TravelSmith Outfitters is a popular catalog and online retailer that specializes in travel clothing and accessories. The company offers a wide range of travel-friendly apparel and products designed to make traveling more comfortable, convenient, and stylish. This includes items like wrinkle-resistant clothing, lightweight luggage, travel-sized toiletries, and various accessories tailored for travelers. After many years in the market and great success, the company has ceased operations. However, many fans of the brand are hopeful that operations will resume.
They considered Google Shopping as a pivotal marketplace for their success.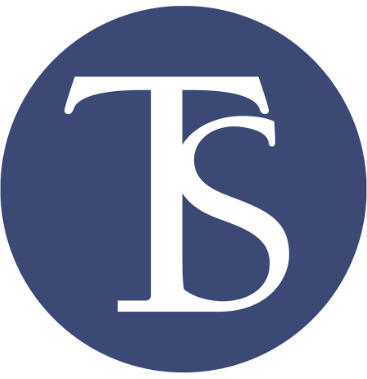 Feed optimization
To achieve this huge success, TravelSmith Outfitters focused on providing comprehensive data to Google, which encompasses catalog information, advertising details, product data, as well as inventory, order fulfillment, and financial data.
The optimized data feed was the key to increased visibility of their products on Google. High-quality images, product titles filled with relevant keywords, extra attributes like color, pattern: all contributed to TravelSmith Outfitters' overall success on Google Shopping.
Results
TravelSmith's strategy involved enticing shoppers with appealing offers, and it yielded remarkable results. They witnessed an impressive overall results:
increase of more than 20% in Return on Ad Spend (ROAS)
Google Shopping sales increased by over 200%
year-over-year growth of approximately 4,000% attributed to Google Shopping Ads.
order volume increased by 35%
26% rise in conversions
---
Conclusion
These 10 Google Shopping ads examples serve as valuable sources of inspiration for retailers looking to enhance their online advertising efforts. By studying and replicating these successful strategies, you can refine your own retail campaigns, drive more traffic to your products, and ultimately boost your e-commerce success.
Remember that while these examples provide a solid foundation, it's essential to continually test and adapt your approach to align with your specific business goals and evolving customer preferences.
We'd love to see your thoughts on our paid search advertising examples in the comments section below so we can all continue to learn new ways to promote products on Google Shopping.
Read also:
Ultimate Guide to Google Shopping Ads 2023
6 Google Shopping Feed Types and How to Use Them
10 Google Shopping Ad Elements You Should Improve for Better Results
---
FAQ
How to see examples of all my Google Shopping ads?
To see examples of all your Google Shopping ads, you'll need to access your Google Ads account. Follow these steps:
1. Sign in to Google Ads
Go to the Google Ads website and sign in with your Google account credentials.
2. Access Your Google Shopping Campaign
Click on the campaign where your Google Shopping ads are running. If you don't have a Shopping campaign set up, you'll need to create one.
3. Navigate to Ads & Extensions
In the left-hand menu, click on "Ads & extensions" under the "Campaigns" section.
4. Filter Your Shopping Ads
On the Ads & extensions page, you should see a list of your ads. To narrow it down to just your Google Shopping ads, you can use the filter options to filter by campaign type or other criteria.
5. View Ad Previews
To see examples of your Google Shopping ads, click on each ad in the list. This will typically open a preview of the ad, including the image, title, description, and other relevant details.
---