---
Why product titles are important
Google values the title second, only behind the image. It is one of the 4 attributes that consumers see on Google's results page. Even if the picture visually demonstrates the product, the title must be compelling.
The Impact of product titles on your Shopping Campaigns
Product titles are one of the feed attributes that when enhanced have an immediate impact on the performance of your ads. Title optimization is a crucial part of improving your Google Shopping campaigns. Giving suitable details in your titles makes them work well for high-purchase intent searches. It ensures a better match between the search query and the ad that is shown. This then results in higher conversion rates.
Furthermore, the Feed Marketing Report 2022, finds that titles are the #1 focus when optimizing data feeds. That's because online retailers realize that an enriched, optimized title is an important factor in determining the success of an ad.
Results of product titles optimization: 250% increase in clicks, conversion increased by 93.65%, and more!
Search Engine Land case study
A couple of years ago, Search Engine Land presented a case study that showed just how important it is to optimize your titles. There were 3 groups of products - one control group with original titles, and 2 groups with enriched titles that included category information, additional attributes, and finally, search terms.
The result?
The more keyword-rich product titles saw a CTR uplift of 18 percent; while the CTR increase on the exact query match to the termbadded to the title was 88 percent!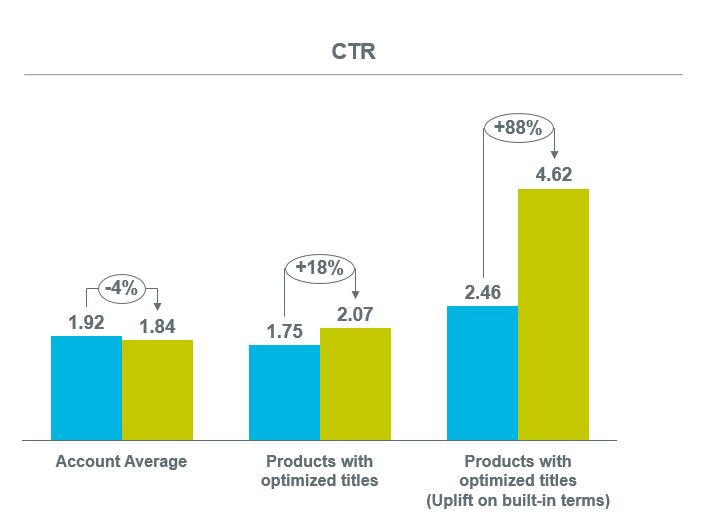 source: searchengineland.com

Zoobgear case study
Another excellent example is Zoobgear; they managed to optimize Google Shopping product titles to the point where they saw a 250% increase in clicks.
A big part of their strategy was conducting keyword research. That research helped them understand exactly how their potential customers search for sports equipment, and what information was the most relevant. They then included additional important information describing products to the product titles.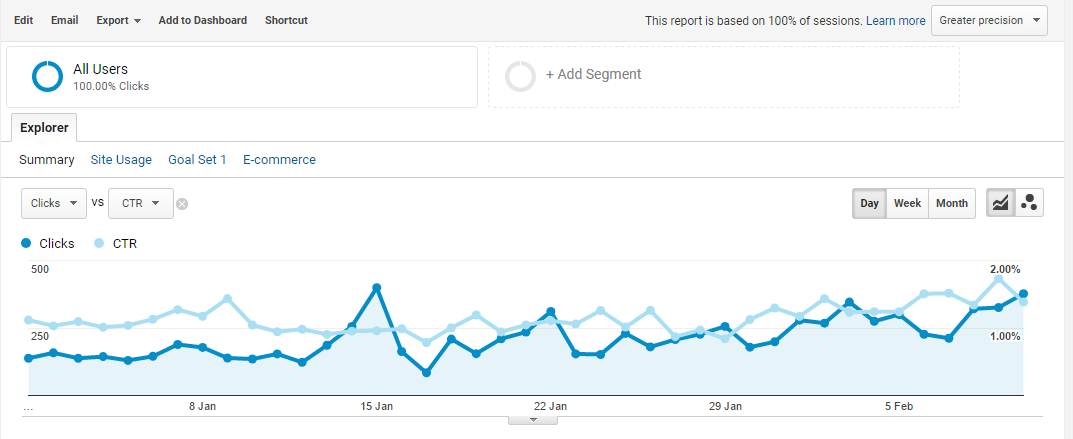 Searchmind case study
Another SEO & PPC agency, Searchmind, admits that their clients often provide them with insufficient titles in their product feeds. They miss relevant information such as product type, color, brand, size etc.
To fix this Searchmind optimizes titles by implementing different kinds of rules. They replace generic words with specific ones, combine different attributes from the feed into titles, or in the worst cases, they overwrite the existing titles completely.
As a result, they noticed a 38.42% increase in CTR year-over-year. The bounce rate decreased by 9.32% and conversions increased by 93.65%.

Explore also other examples of brands that have had success with title optimization in Google Shopping ads.
Back to Top or
---
The role of keywords in product titles
Google uses the attributes of your titles as a proxy for keywords, so optimizing them and other feed data is crucial to improving the campaign's performance. Shopping algorithms share common points with SEO, therefore putting the most important words in the product title is crucial for the optimization process.
If you know your industry well and you've analyzed your customers' path, you will know how they search for your products.
Do they search by brand name? Then use your brand first. But if your brand is largely unknown or you are selling unbranded items, use descriptive words first.
Do they search by category or maybe by the product's UPI (as in the case of electronic devices)? Your knowledge will help you understand the intent of your customer and find applicable keywords to boost the title.
Reports and statistics are worth trusting when it comes to finding the right keywords for your titles. Don't forget to explore your search query report, starting with the queries that are converting well and those that aren't.


Use keywords with a positive impact on your product feed health. Properly optimized titles can boost your campaign impressions and clicks quickly.


Consider the order of keywords. The sequence matters as Google puts weight on keywords placed at the beginning of the title. When choosing keywords and their order don't forget to test. Check out multiple title formulas and keywords. This is the best way to tailor your tactics according to performance.





---
What does an optimized product title look like?
Structure vs. Important Information
The structure of the title is just as important as the information included in it. They are two complementary components. To figure out which attributes should be added, you need to understand how Google's algorithm chooses products to be displayed in the search.
In general, Google considers the words at the beginning of the product title as the most important when determining which ads are the most relevant to the search query. So the order also matters.
Here are some recommended title structures that can be used as templates:
Brand + Product Type + Color + Material
Brand + Size (length, width, height) + Product Type + Color
Material + Product Type + Color + Brand
Style + Color + Product Type + Brand
Product Type + Size + Color + Feature + Brand

Rules to optimize product titles
When you have completed a comprehensive analysis of your reports, vertical, and product types, you can then combine the most relevant attributes in your title. In DataFeedWatch this can be done quickly, with the assistance of rule-based mapping.
To include every relevant attribute in your title, you can simply combine them, like below:

Creating product title | DataFeedWatch
You can replace some keywords used in the titles with the most appropriate ones.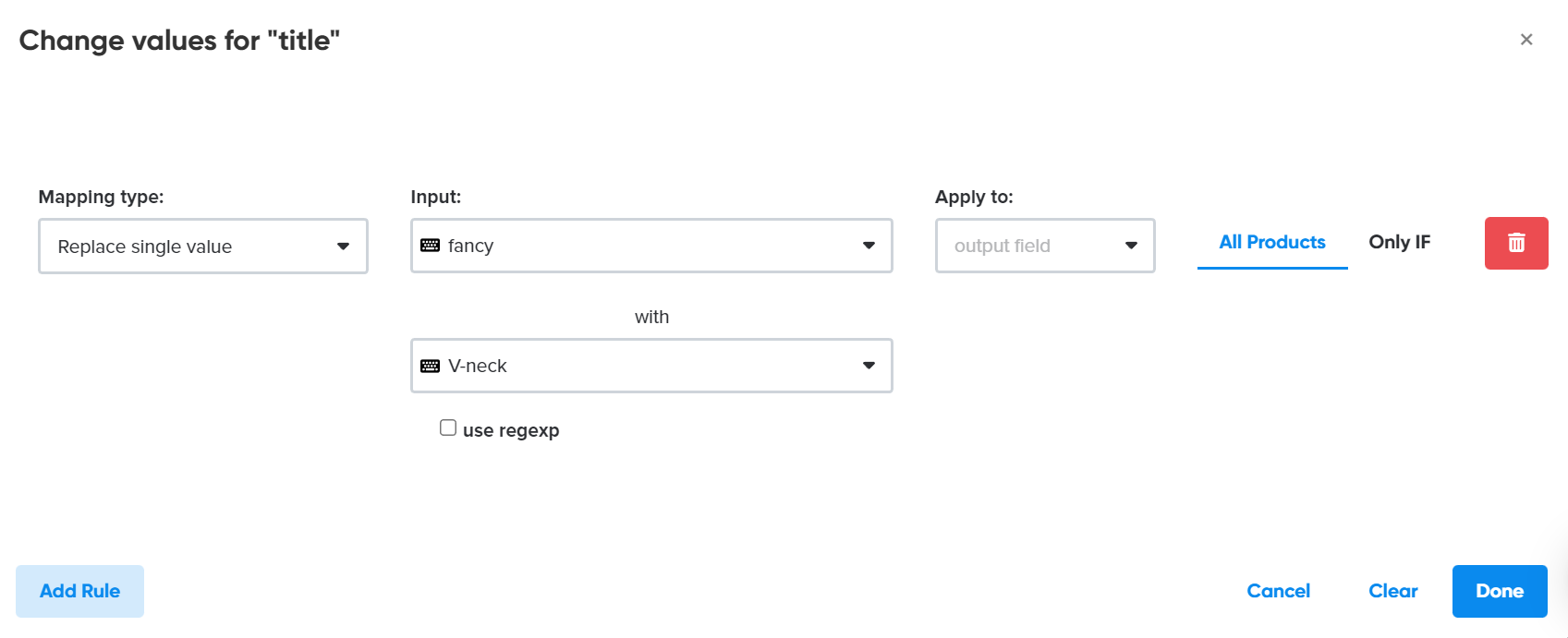 Replacing values in a feed | DataFeedWatch
You can rebuild your titles completely.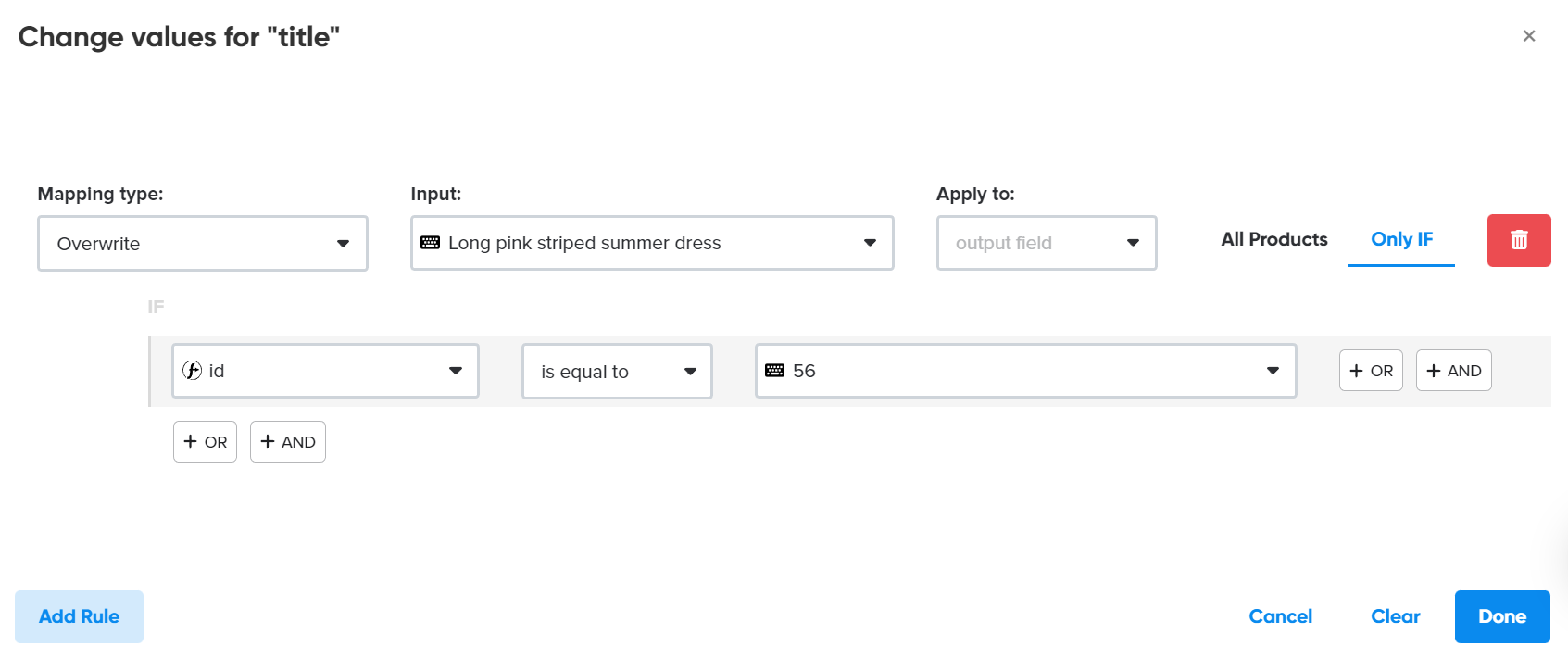 Overwriting values in a feed| DataFeedWatch
You can also easily remove duplicates using such a simple rule:

Removing duplicates | DataFeedWatch
You can learn more tricks in the video below:
Advertising product variations efficiently
If you're selling a product with multiple variants, each color, size, material, and pattern must be submitted as a unique item with a unique title.
This is when you have to decide if you want to advertise a "parent" product on its own, or also advertise its variants. Pay attention to this detail as it's easy to overlook.
Related: Advertising variants vs parent products only - which is best?
---
How to optimize Google Shopping product title
1. Think like your target audience
Titles should highlight the most relevant product attributes so that shoppers can easily skim through and determine if the product is worth clicking on.
If you are an online retailer you are obliged to know your consumers' behavior. Recognizing the most significant factors that push customers toward making a purchase is crucia.
There is no one-size-fits-all. Especially when it comes to optimizing product titles. Every industry and every customer is different. Analyze your target audience, as they are key to understanding the intent of your shoppers.
2. Follow Google's requirements for product titles
Google has very strict rules for the use of capitals and exclamation marks. If you add too many capitals and exclamation marks to your title, Google won't approve your products.
To avoid disapproval, follow Google Shopping's regulations to the word. Check the most important title requirements here.
3. Use your search query performance data to make changes to your titles
Use the Google Ads search terms report to see what the highest performing queries are, and which of them have brought you conversions.
Search console (organic results) and Google Trends may be additional sources for insights.
4. Add relevant keywords to your product titles
Google analyzes your feed and chooses which queries or keywords your shopping ads are most relevant for. Optimize the titles of your products by putting the most important keywords at the forefront of your titles.
Besides analyzing your search query performance, you can find additional relevant keywords using tools such as Semrush or Ahrefs.
5. Include product details in the titles: color, size, material, specifications etc.
Remember that customers often use words describing the product to refine their searches, for example: "Blue t-shirt XS" or "tv samsung 32 inch". They do this because they are looking for a very specific product and they are not interested in anything else. It's therefore worth being as specific and detailed as possible with your titles. This approach will increase your chances of appearing in relevant searches and thus increase your conversion rate.
QUICK RESEARCH:
Category: Apparel ads
Color attribute:
Based on research of a few hundred ads for the phrase "Women Winter Coat", we got the result that only 30.71% of them have color in the title. This means that many online advertisers still do not include the color attribute in product titles. This, in turn, gives you an opportunity that if you add color to your titles, your ads are likely to be more visible than those without this attribute. Your ads will also appear when shoppers want to search for a winter jacket in a specific color.
Size attribute:
Based on the same ad sample for the phrase "Women Winter Coat", we found out that only 23.57% of ads mention size in their titles. That's an even worse result than colors, and an even bigger chance to get results with your online campaign if you decide to add this attribute to your titles.

6. Follow the best practices for your vertical
Depending on what you're selling, you need to adjust your attribute tactics. Try to think about how your customer would search, and then decide which features are relevant enough to be added to the titles.
In every industry, customers are different and they search for products online in their own way. Some industries need very specific products, while others are more flexible. For some products, color and material are important characteristics, while for others, weight and size are crucial.
Check out the recommended title structure per vertical here.
7. Add category and brand to product titles
Brand loyalty is one of the main reasons why people make a purchase. Many shoppers are looking for specific brands or categories. If your brand is already fairly well-known among your target audience, be sure to include it in your ads. On the other hand, if you are selling products from a brand that no one has ever heard of, it makes no sense to include it in your ads.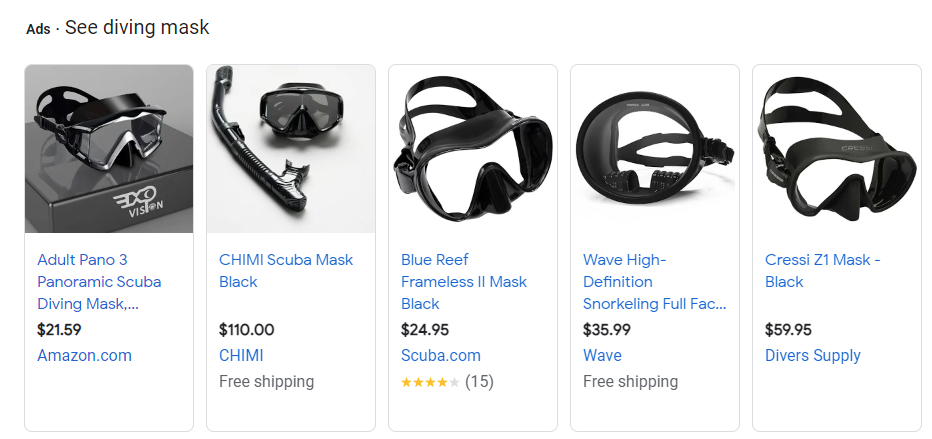 8. Place important information first
Google will show as much of your product title as possible, but probably no longer than 70 characters. Make sure you put the most compelling information at the beginning of your product titles, so everybody can see them in your ad.
9. Consider using all 150 characters in the titles
Despite the fact that Google often shows only 70 characters from your product titles, it's recommended that you add all available 150 characters. You can add many important features to your titles such as: brand, material, color, model number, and other relevant details.
The reason you should fill all available space is that the non-visible part of the title still influences Google's decision on whether or not to display your product ad. The only thing you should remember is to put the most important product information in the first part of the title.

Length of product titles in Google Shopping feeds
2022 DataFeedWatch anonymized data
Our research documented in Feed Marketing Report 2022 shows that 25.82% of titles in Shopping listings exceed 70 characters, while 74.18% don't make use of the extra space to enrich titles further. This is a good opportunity for you to gain an advantage over your competitors.
10. Make ongoing tests and improvements
A well-optimized product title can double or even triple your click-through rate and improve your conversion. But there's no one way to create product titles. Remember that different types of consumers search in different ways and that they're all at different stages in the buying process. Try to change your titles according to statistics and performance.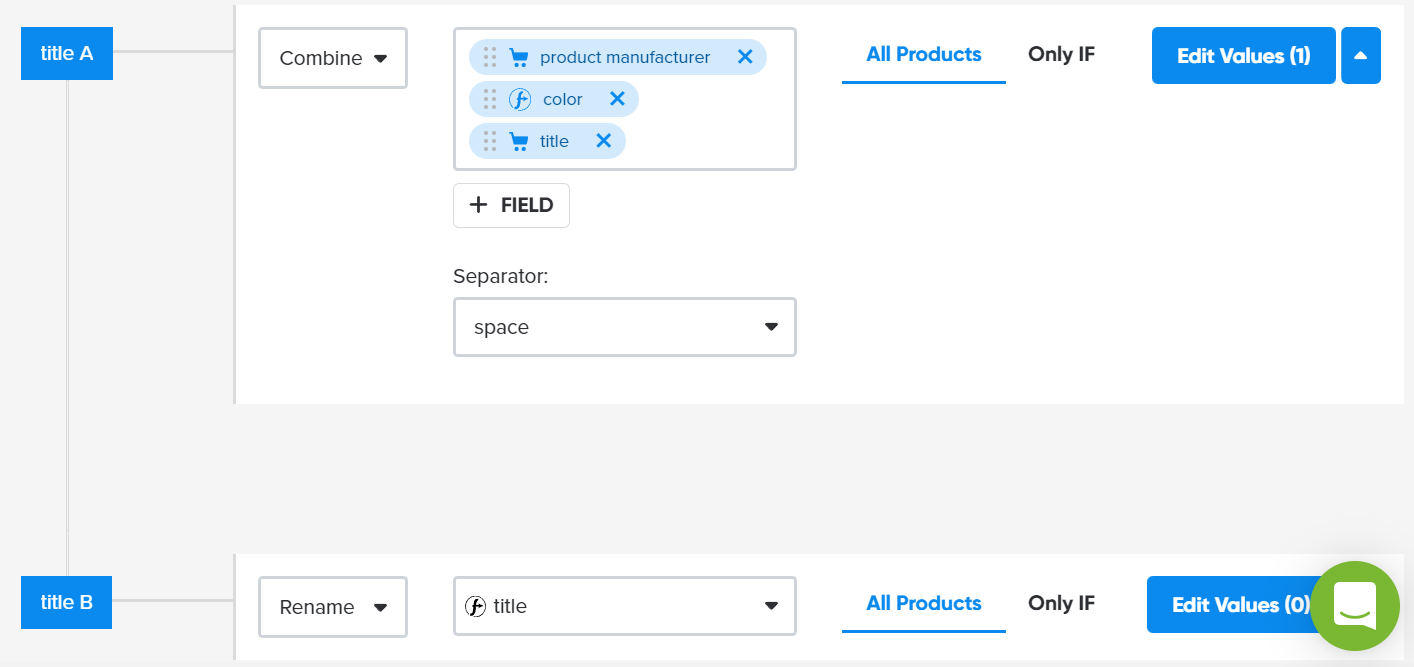 A/B testing titles | DataFeedWatch
You can also A/B test your product titles to find out which option is better.
Check out this case study of a fashion retailer that increased their ROAS by 25% by A/B testing product titles.
Bonus: Use duplicate ID tactic
Using a duplicate ID tactic gives you a good opportunity to use several titles for the same product. This way, you can capture consumers looking for your product at different stages of the buying journey - at the same time.
For example, run Google Shopping ads for a t-shirt under 2 different titles:
Cotton T-shirt with Cactus Patterns
Funny T-shirt Gift for the Boyfriend
You can read all about the duplicate ID strategy here.

Duplicating product IDs | DataFeedWatch

Back to Top or
---
Google's requirements for product titles
Google has strict requirements for product titles. Let's take a look at some of the most important ones:
Remember about length limits
Pay attention to the length of your titles. Ensure they don't exceed the maximum character length of 150 characters. In some cases, only 70 characters can be displayed, for example on mobile devices. If you exceed this length, your title may be truncated.
Google will display as much of your product title as possible, but it will often be shortened. So make sure you put the most compelling information at the beginning of your product titles.
Avoid Capitalization
Capitalized text is common in spam and untrustworthy ads. Use capitalization only when it's needed. Including for abbreviations, phone numbers or countries.
Don't include promotional text
Don't add information such as price, sale price, sale dates, shipping, delivery date, other time-related information, or your company's name to your titles. This kind of information is reserved for other attributes.
Avoid words from foreign languages
Unless they are well understood by everyone, words from foreign languages can confuse customers and have a negative impact on your advertising results.
You may also find it interesting: Selling In Multiple Languages.
Distinguish between variants
Be specific and add the specific details for each variant. Does your product come in different colors or sizes? Include these attributes in the title (and remember to use your variant images!)
Back to Top or
---
Product titles best practices per vertical
Recommended Title Structure per Vertical
Relevant key attributes and their sequence in the title differ across products type and industries. For example, model numbers are an important attribute for electronics but not an attribute to highlight when it comes to clothing.
Fortunately, based on Google's Shopping Best Practices, we have prepared a handy guide on how to structure your product title depending on vertical.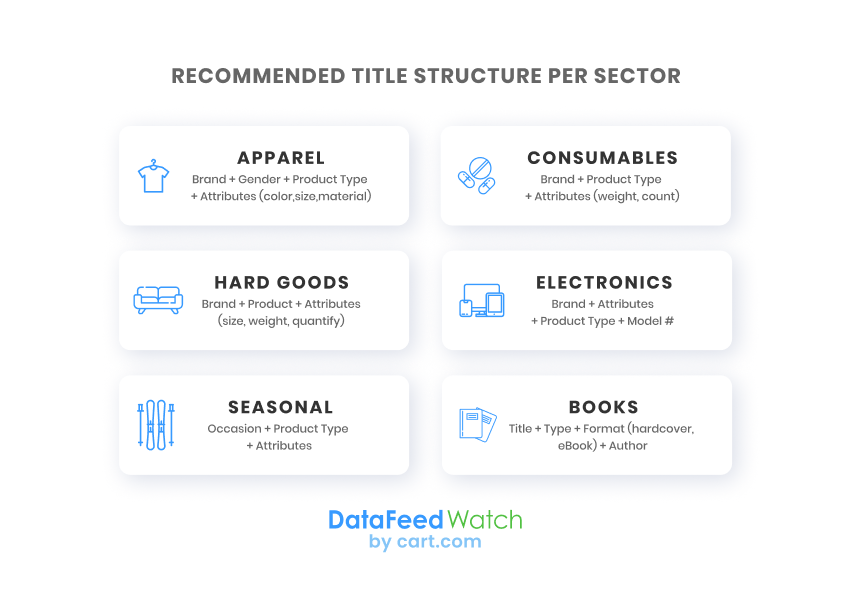 Apparel
Brand + Gender + Product Type + Attributes (color, size, material)
Example: Adidas Women Running Shoes Black 39
Art and Entertainment
Style + Product + Material + Size
Example: Abstract Rainy Cityscape Oil Painting on Canvas Large Original Rain, Art for Home
Baby and Toddler products
Size + Material + Product + Age Group
Example: 9 Ounce Stainless Steel Single Wall Wide Neck Baby Bottle 0+ months
Books/ Media
Title + Type + Format (hardcover, eBook etc.) + Author
Example: Harry Potter and the Philosopher's Stone - 25th Anniversary Edition [Book] by J.K. Rowling
Ceremonies and Events
Material + Product + Style + Color
Example: Wooden Wedding Arch 10.2Ft, Rustic Arch for Wedding Ceremony
Consumables
Brand + Product Type + Attributes (size, weight, quantity)
Example: Good & Gather Unsalted Dry Roasted Peanuts - 16oz
Electronics
Brand + Attributes + Product + Model + Color
Example: Sony PlayStation 5 Disc Video Game Console (Ps5 Disc Console), Black
Furniture
Brand + Product + Attributes (size, weight, quantity, material)
Example: Set of 6 Upholstered Fabric Dining Chairs with Button-Tufted Details, Black
Health and Beauty
Brand + Ingredients + Product + Size
Example: Bobbi Brown Vitamin Enriched Face Base - 1.7 oz. / 50 mL
Office Supplies
Product + Material + Product Type + Attributes (size + color + other attributes)
Example: Pen + Gear Metal File Organizer Set, Size: LxWxH: 29.2*34.8*39cm, Black
Seasonal products
Product Type + Attributes (size, material, color) + Occasion
Example: 5 ft. Poseable Skeleton with LED Illumination Halloween
Sport Equipment
Features + Product + Attributes (color + size)
Example: Cap High Density Oversized Exercise Yoga Mat with Carry Strap, 15 mm (75 inch)
Toys
Material + Product + Age Group + Gender
Example: Baby wooden toy train, ages 3 +, boys and girls
Vehicles and Vehicle Parts
Year + Make + Model + Mileage
Example: 2017 2018 2019 Toyota Corolla Engine 1.8l 2zrfe W/ Vvt 38k Miles
Back to Top or
---
Conclusion
Without an optimized product title, you could be wasting precious ad budgets and missing out on countless opportunities to convert shoppers. It's definitely worth making an extra effort to optimize your product titles. If you have thousands of products in your feed, this might seem like an impossible task. But you can optimize them little by little and slowly see how your ads become more effective.

Start with your 10 best-selling products or 10% of the best-selling products. You're likely to see the positive impact of your changes within a few weeks.

Taking the time to optimize your product titles in Google Shopping will ensure you're always one step ahead of the competition.
Read more about How to Improve Your Google Shopping Ads:
---